Warning!
This post is in our archives. Links in this post may have been updated to point to similar cars available to bid on eBay.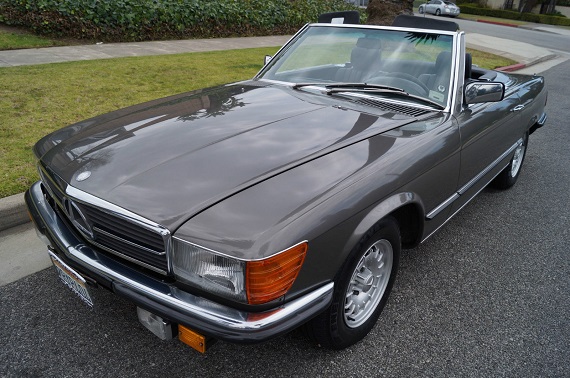 While for a few generations it's been fairly predictable that newer used Mercedes-Benz models are cheaper than the older, well kept models, there's been an interesting turn in the market over the past 6 months. We are witnessing a trend of ever increasing prices on all the 1980s iron, but really specifically in the Mercedes-Benz world the R107 is on the rise fastest of all. In a 5 month period, Hagerty has re-assessed its evaluation of the model's worth, with most models doubling or tripling in value seemingly overnight. What was, in 2014, a $10,000 – $15,000 example will be on the market for double that today, or more. Is the R107 the next E30, or is this simply a demand spike that recognizes some of the best built and engineered Benz models produced? Well, it certainly does beg the question – if you were going to spend $30,000 on a R107, what other classic Mercedes-Benz models would fall into that range. For comparison, I lined up a lovely W111 coupe to consider – nearly the same miles, condition and asking price, and both are Euro-spec manuals. Which would be your choice?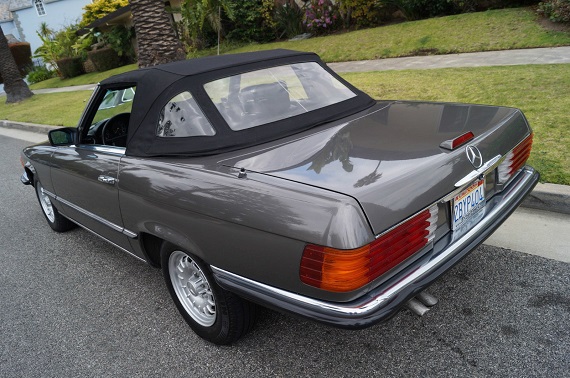 Year: 1980
Model: 280SL
Engine: 2.8 liter inline-6
Transmission: 5-speed manual
Mileage: 59,200 mi
Price: $29,500 Buy It Now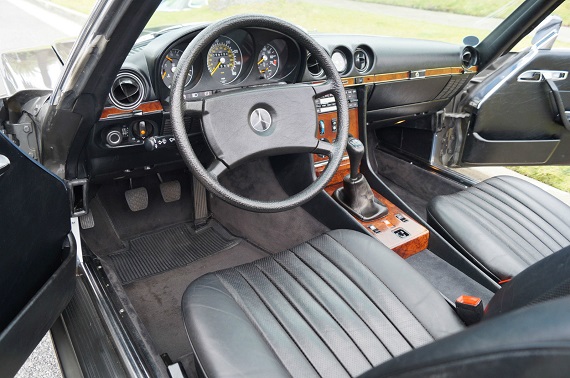 VIN #: WDB1070421A012963

West Coast Classics are proud to present an extremely rare original southern California owner example of this 1984 Mercedes 280SL roadster with very desirable original factory options of a 5 speed manual transmission, original 'Anthracite Gray metallic' color paint, Black leather upholstery, anti-lock brakes, power steering, air conditioning, 'Becker' radio/cassette, tinted glass, alloy 'Bundt' wheels, Black German canvas soft top and original factory hard top!

Purchased by original and only southern California owner on 11/20/1984 from 'Dasan & Co, Autosalon GmbH', Mercedes-Benz dealers of Frankfurt, Germany California with all original 1984 import paperwork from Germany to California, original owner's manuals, factory options breakdown with pricing, owners service and warranty booklets, Pre-delivery inspection form, original Mercedes 280SL catalog (profiling this particular car in this color combination for the whole series!) and just an absolutely extraordinary amount of original paperwork including all service records (which will prove priceless to the Mercedes enthusiast or collector!) to be included in the sale.

By 1963 the 190SL (Super Light) and the 300SL Roadster were neither Super or Light and the 190SL was simply too heavy to compete with the likes of even the British MG or Triumph and completely underpowered compared to the Austin-Healeys or Jaguars. Mercedes had two choices, either return to the premise of the original 300SL and build another pure sports car or create a new grand touring sports car that would continue the reputation of the SL's as touring cars rather than super racing cars. The 280 SL was introduced in December 1967 and continued in production through 23 February 1971, when the W113 was replaced by its successor, the entirely new R107 350 SL. Over the years, the W113 evolved from a sports car into a comfortable grand tourer and US models were by then usually equipped with the 4-speed automatic transmission and air conditioning with manual transmission models being extremely rare in the US models. In Europe, manual transmissions without air conditioning were still the predominant choice.

By the early 1980's, an elite few American enthusiasts who desired the more handsome European models with manual transmissions, which were not being sold in the US, were starting to import the cars at great expense in order to avail themselves of the true SL driving experience. One such buyer was a prominent southern California businessman and retired Captain who purchased this car from a Frankfurt dealership and drove it only 59K miles since new. It was always serviced at Mercedes independent specialists or dealerships since new either at his second home in the Palm Springs area or near his home in the Rolling Hills Estates, California.

As previously stated, this particular example was ordered by its original southern California owner in 1984 direct from 'Dasan & Co' in Frankfurt, Germany and was sold without cruise control (which was only available on automatic models) with a desirable 5 speed manual shift gearbox – it simply must be seen to be appreciated – the original factory 'Anthracite Gray Metallic' (Code 172) color paint is very striking and without any noticeable blemishes. The chrome work is all excellent and the original Black leather interior is quite stunning with all the gauges and options working as they should including the air conditioning. The original leather dashboard is still virtually perfect and the seats and carpets have all obviously been covered with all original specifications intact! The original Black German canvas soft top is still as new and by all accounts hardly ever used and the hard top is also as new.

The car is well equipped with its factory air conditioning, Becker' radio/cassette, 5 speed manual transmission, power steering and two tops. With only one southern California owner since new and with all the original documentation for the car and still titled to its original California owner as in 1984 with its original California style 'Pink slip', this must be one of the rarest example's available anywhere of an original southern California owner car with only 59K original and documented miles of this highly collectible and desirable 1984 legendary 280SL 6 cylinder roadster in rare turn-key ready daily appreciating, daily driving and daily head-turning condition!

For further information contact West Coast Classics through EBay or on 310-399-3990 during regular California business hours.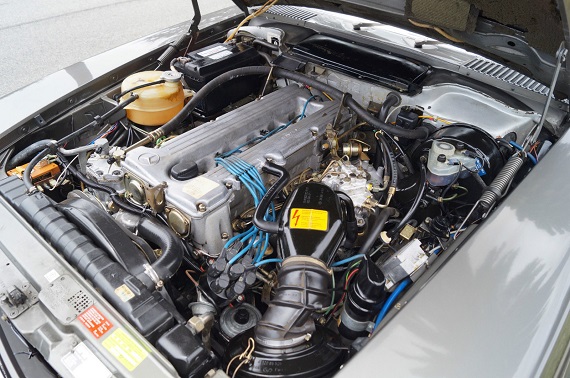 California, 1980s, drop-top Mercedes-Benz. I can already hear the theme song from "Hart to Hart" playing in my head. But this car is more than a cliche; first off, in my opinion it's a better looking
European model. Slim bumpers and flush lights, as we saw with the 300SL from last week, really dress up this model. But even better, this is a M110 car hooked up to a 5-speed manual gearbox; a bit of a rarity in the R107 world, and certainly in the U.S.. As a driver's car, then, this is probably more suited to those who really appreciate the derivative of the model name "SL"; sporty and lighter than most of its brethren. That doesn't mean it's also not luxurious, with a leather interior, air conditioning and two tops, this car is also loaded. And the condition, it must be said, is certainly top notch. It's a lovely color combination with lower miles. Were I going to get into a R107, it would be a strong candidate such as this that would really peak my interest – and with the market seemingly on the rise, perhaps it's a good example to get into and be able to drive and enjoy while it appreciates.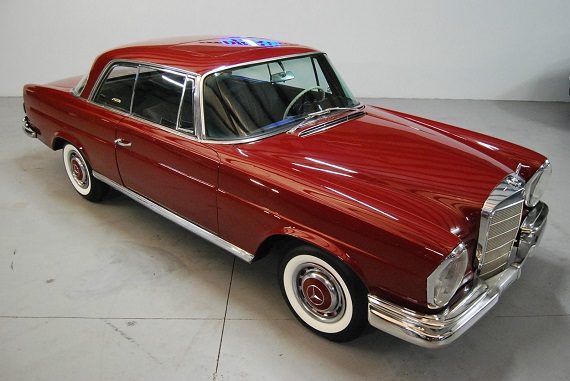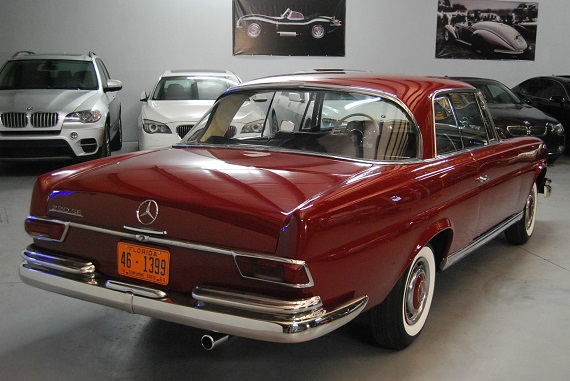 Year: 1964
Model: 220SEb
Engine: 2.2 liter inline-6
Transmission: 4-speed manual
Mileage: 50,799 mi
Price: $29,994 Buy It Now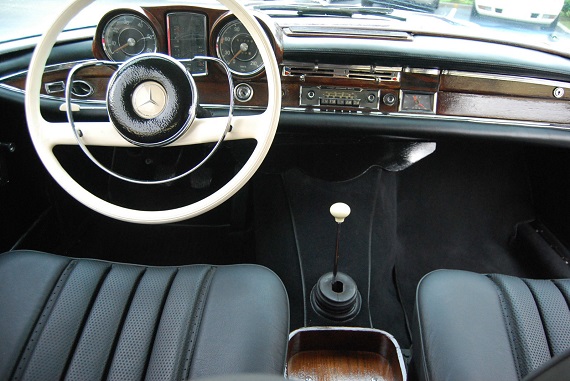 Here is a beautiful 1964 Mercedes 220SE Coupe in Red with Black leather. This car is a manual with less than 50,000 miles. THIS IS ORIGINAL COLOR COMBO DB 516 Medium Red (Mittle Rot) for the body040 black (Schwartz) for the interior.

You can check out paint codes here:

http://www.landiss.com/paintcodes.htm

This very nice SE is not perfect and far from a 100pt Show car, however, she is definitely an SE you can drive every day without hesitation and without feeling guilty about. This example has had 2 owners over the course of its' 48 years and we are brokering the car for the second owners daughter. The undercarriage has no rust at the moment but it has some evidence of rust repair on one of the floorboards. (Please see pictures) and the frame has zero rot. One thing is for sure; this stunning SE is mechanically sound and drives fantastic. The engine has been completely refreshed with new spark plugs, wires, condenser, rotor, points and ignition and many many other parts have been replaced. It starts on a dime and will drive you anywhere. Just a few other of the many new parts include: new fuel injector, master cylinder, brakes, radiator, oil cooler, tires, hoses, wiper motor, battery, and the option of A/C which was factory installed. Engine does not leak any fluids (small amount of seepage which is common in older cars) Original manuals and spare tire, lug wrench and kit are also included.

The title is clear, in my name and the car can be exported, transferred and registered in any state.

Here is what I know to be true as documented in a History Channel Special:

"………….Of the cars Mercedes ever made, the 220SE is quite possibly their finest work to date. This car was built to drive. Its' engine will last forever as long as the oil is changed and it is driven regularly.

A bit of History

http://en.wikipedia.org/wiki/Mercedes-Benz_W111

Values:

5/15/2015

1964 Mercedes-Benz 220SE

2 Door Coupe

NADAguides.com Price Report

Low
Retail

Average
Retail

High
Retail

$20,200

$28,100

$43,000

$20,200

$28,100

$43,000

Now here are some highlights:

· Paint is less than 1 year old (We paid $6,800 to the shop to get the car out)

· A Euro model with gauges in KMPH with MANUAL 4 speed transmission

· 100% RUST FREE

· All gauges work and clock does keep time but needs resetting every now and again

· Interior is NEW. Seats, carpets, panels, dash is all new and headliner ($5,300 receipt for NAPA leather seats, carpet and headliner)

· Original Paint color 516 Medium red – mittle rot ( Oxblood red)

· The interior was NEVER USED. We installed it.

· The wood on the dash are intact, has bowed a bit, but restored nicely (see photso)

· Tires are new and we paid $1000 for them.

· NEW Bumpers $4200

· New brakes all around

· New plugs, rotor, distributor, wires, oil and coolant.

· Becker Grand Prix Radio is rebuilt and now works

· 50,799 Kilometers on the cluster

There are many more small detail which I can on and on about, but if you are interested in the entire history of the vehicle, please call me 904-994-2021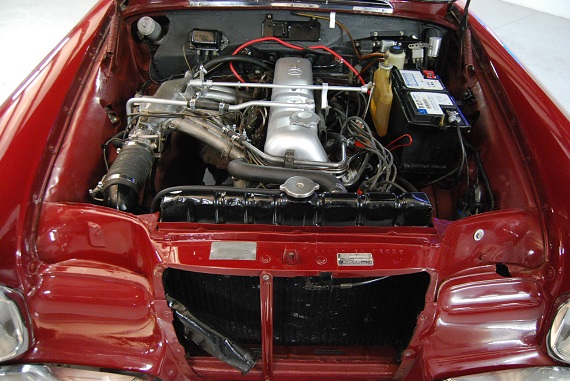 Perhaps I'm at a different point in my life than I once was, but increasingly I see the appeal of the older W111 models. Not as tossable, sporty or sun-bleached as its two-decade newer cousin, this 220SEb is none-the-less absolutely stunning to me. Again, the right bits are there; Euro body, 4-speed manual and classic lines plus room for my growing son in the back seat. The recent paint and mechanical refresh mean while they admit it's not a show car, it's a lovely driver quality car that still really stands out. While traditionally these cars held more value than some newer models, the market has shifted slightly and suddenly we see the opposite coming true. I'll grant that this isn't my dream Benz, but neither is the R107. So, for my classic Benz money, were I sinking $30,000 into a Mercedes, it would have to be the older girl. Investment-wise, that may not be currently the smartest decision – likely, a well bought R107 might double in value in the next few years. However, I'm not particularly interested in speculating on what cars might be valuable in the future. Cars, to me, are all about how they make you feel. While I'm sure the R107 would be a very fun drive, I can't help but think that it would be the W111 that would make me smile more, and would be the car I'd want to be sitting at an ice cream shop with my son, looking with him across the parking lot at the lovely machine that brought us there together.
-Carter