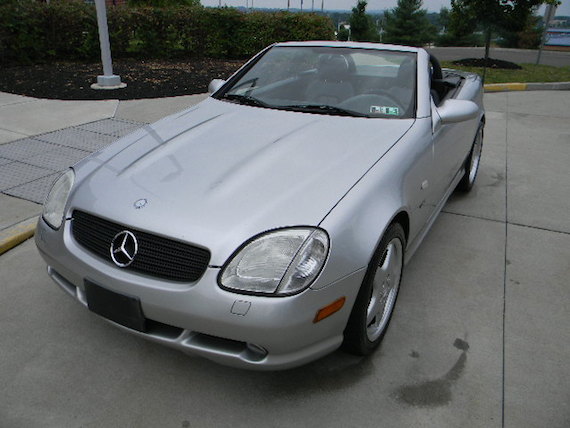 It was around my second year in college that the chance arose for me to finally get behind the wheel of the (then) newly introduced Mercedes SLK230. My first impression is that for such a small car, it drove just like a regular Mercedes. Except it was smaller. Up until around 15 years ago, I maintained that you could blindfold me and I could tell you if I was riding in a Mercedes or not. The SLK was no different. Steering with a bit of heft to it, a firm but compliant ride and a smooth automatic gearbox were the order of the day. Some complained about the agricultural nature of the supercharged inline-4, but it offered plenty of power to scoot you around in a hurry.
Mercedes upped the enthusiast ante shortly after the SLK debuted and offered a 5-speed manual gearbox. Not since the 190E had US customers been able to spec a Mercedes with three pedals. To this day, you can still order a new SLK250 with a 6-speed manual, but who knows how long that will last. I tend to think someone at Mercedes-Benz USA forgot this was on the menu. If you don't want to plunk down the coin for a new SLK, this SLK230 for sale in Pennsylvania gives you the chance to enjoy a lot of fresh air and the freedom to row your own.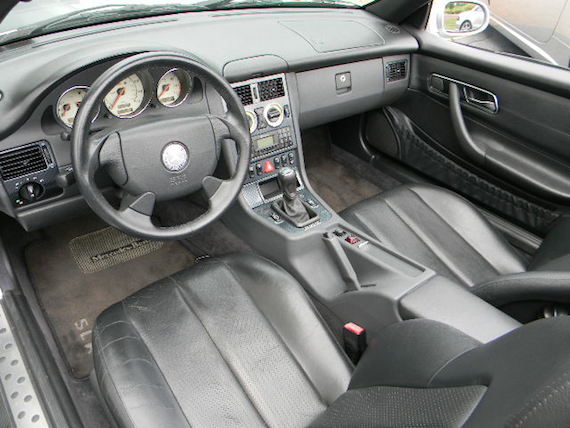 Year: 2000
Model: SLK230
Engine: 2.3 liter supercharged inline-4
Transmission: 5-speed manual
Mileage: 25,440 mi
Price: $14,999 Buy It Now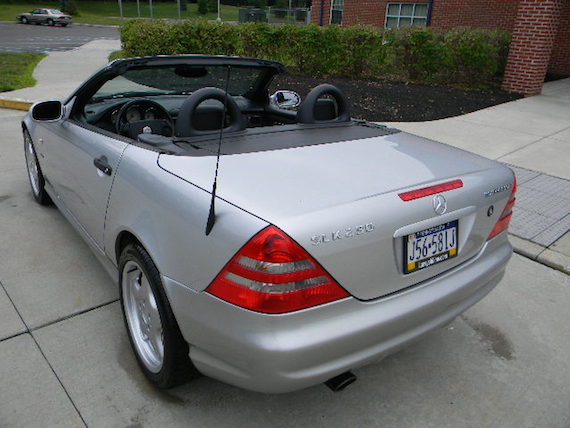 1 OWNER Carfax Certified in SHOWROOM Condition. ONLY 25K. WARRANTY! RARE MANUAL 5SPD! JUST TOTALLY GONE OVER/SERVICED with NEW PA INSPECTION/EMISSION. 4 NEW TIRES JUST INSTALLED. CARFAX SAYS ITS WORTH $1,460 MORE THAN AVG RETAIL PRICE BASED ON ITS HISTORY.

FEATURES: SP1 AMG SPORT PKG- $4,050 incl: Sculpted low body AMG designed Aerodynamic Enhancements (Bumpers Sidesills Projector Bean Fog Lamps and MONOBLOCK AMG WHEELS, HEATED SEATS- $605, WOODGRAIN Interior Pkg, CARBON FIBER TRIM PKG, Power Windows, Locks, Mirrors, & RETRACTABLE HARDTOP, PREMIUM SOUND SYSTEM, CD Changer, Telescopic Wheel, ABS, DUAL CLIMATE CONTROL, Security, TRACTION Control, Trip Computer, Mercedes Embroidered Floor Mats, Directional Stability, Homelink, Keyless, Trip Counter and MORE.

WE HAVE ALL BOOKS, MERCEDES CASE & 2 KEYS/REMOTES. This has to be the CLEANEST, CHEAPEST, FULLY LOADED, FULLY WARRANTIED SLK MANUAL 5SPD AVAILABLE. UNLIKE MOST OTHER SLKS THIS NON-SMOKERS INTERIOR IS IMMACULATE WITHOUT ANY PAINT PEELING OR CHIPS ON THE CONSOLE OR DASH. NO STAINS OR ABNORMAL WEAR ANYWHERE. THE EXTERIOR SHINES LIKE NEW WITHOUT ANY DINGS. THE RIMS ARE PERFECT WITHOUT ANY CURB RASH. THE UNDERCARRIAGE IS AS CLEAN AS THE CAR ITSELF. THE ENGINE COMPARTMENT APPEARS NEW. I CANNOT EMPHASIS ENOUGH HOW CLEAN THIS CAR IS INSIDE AND OUT. METICULOUSLY OWNED AND OBVIOUSLY GARAGED. THE CAR DRIVES AND SHIFTS LIKE NEW. YOU WILL NOT FIND A CLEANER 1 OWNER EXAMPLE ANYWHERE. THE CAR SHOWS LIKE IT HAS BARELY ANY MILES.

We are selling the with a 3 MONTH WARRANTY which can be EXTENDED for 5 YEARS 100K Miles useable anywhere including Mercedes. We are a QUALIFYING DEALER able to offer this WARRANTY because we inspect & serviced our cars prior to sale. This car LOOKS & RUNS like NEW. YOU MAY FIND A CHEAPER CAR BUT DEFINITELY NOT A CLEANER SLK WITH ALL ACCESSORIES FROM NEW AND IN PRISTINE CONDITION. THIS SLK IS A COLLECTORS DREAM. THESE PRE-2002 MERCEDES BENZ CARS ARE THE MOST RELIABLE CARS EVER PRODUCED BY MERCEDES. THIS IS A BEAUTIFUL 1 OWNER CAR IN PRISTINE CONDITION & A SUPER RARE MANUAL. THIS CAR WILL NOT LAST ONCE THE RIGHT BUYER SEES IT.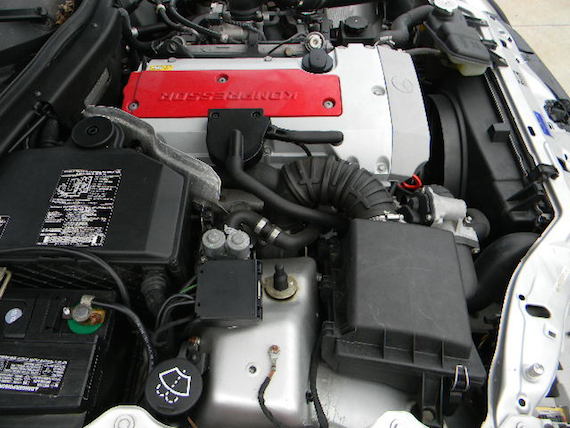 I'm torn about the early SLKs. Generally, when I seek out a car this small, I want something a bit more nimble and lighter. Mazda just debuted a new Miata and much has been said about it shedding weight. I'll be honest, I'm intrigued by the new Miata and every time I go for a ride in the Miata of fellow GCFSB staffer, Rob, I'm reminded of the benefits of shedding pounds. You aren't buying a Mercedes like this to win the lightness race, though. However, with the manual gearbox, you'll be making the most of the supercharged lump, as guttural as the engine may be. At almost $15,000, this is steep territory for an early R170 SLK, especially given that most shoppers would want theirs specced with an automatic gearbox. However, not many of these SLK230s exist with such low mileage and to find one with the 5-speed manual would certainly be near impossible.
-Paul