In my usual searches I had an interesting dichotomous reaction to one number: $16,500.
The first I came across was a 1988 BMW M3 with a no reserve auction bid up to $16,500. "Wow! That's actually pretty reasonable! I thought. Next, I saw a 1994 BMW 325i with a 'Buy It Now' of the exact same $16,500. "What the hell is the seller thinking?!? How absolutely ridiculous!" I scoffed.
Yet, neither car was as it originally seemed once the descriptions were opened, and suddenly a comparison was in order…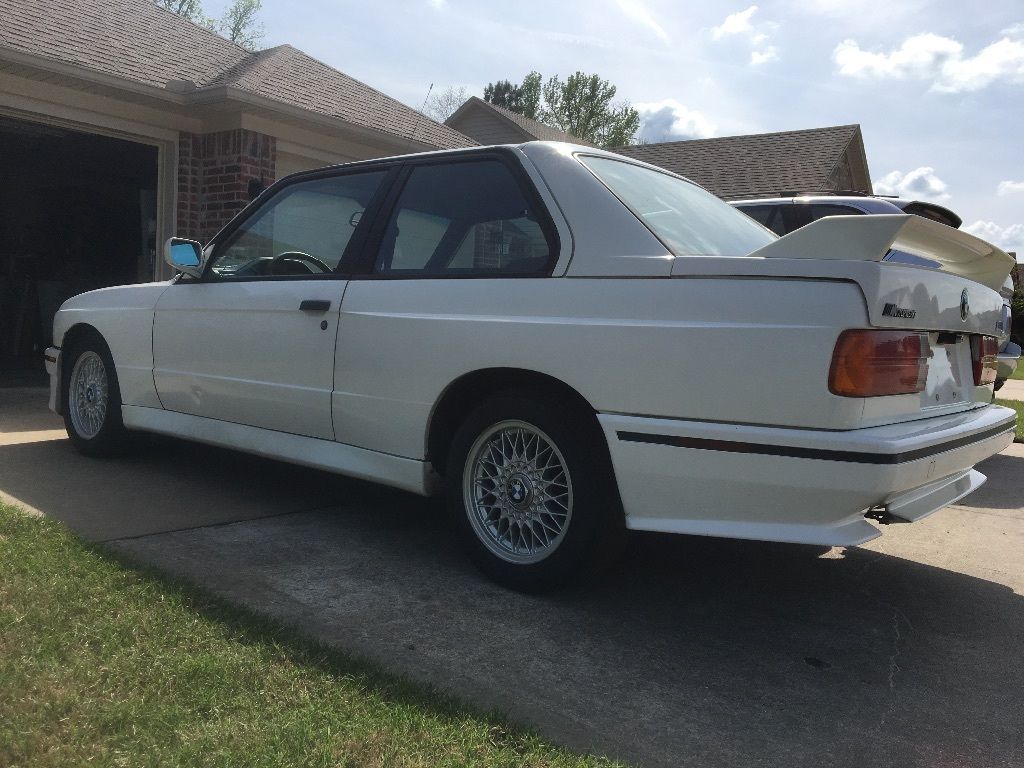 Year: 1988
Model: M3
Engine: 2.3 liter inline-4
Transmission: 5-speed manual
Mileage: 126,825 mi
Price: No Reserve Auction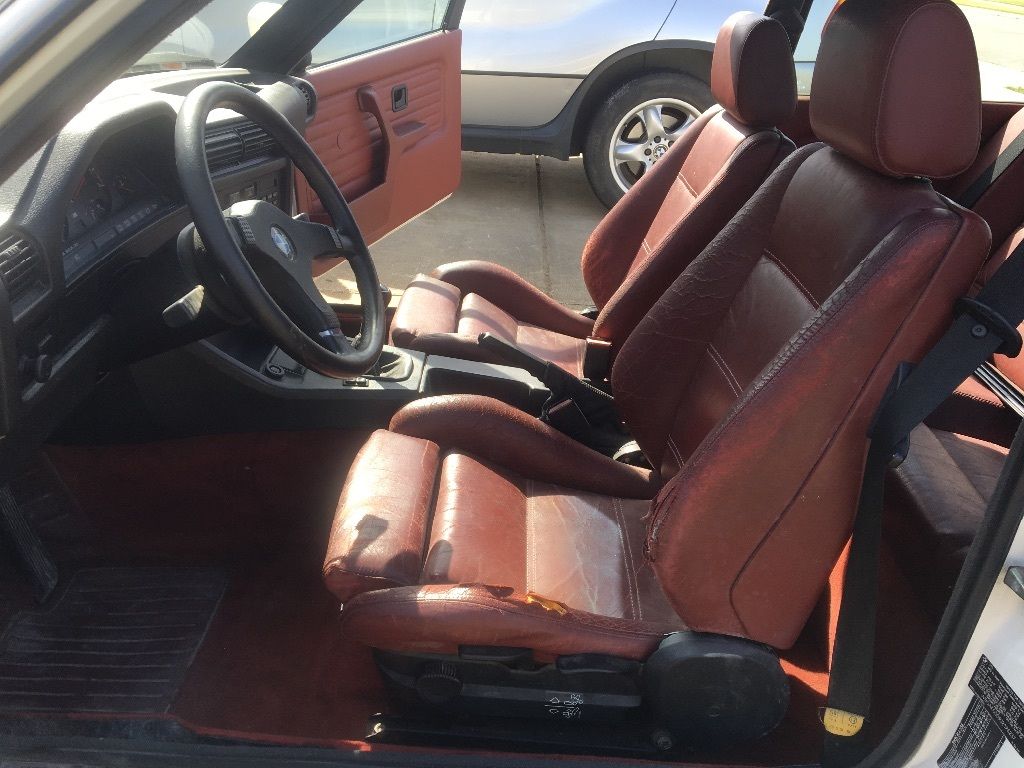 This auction is for a 1988 BMW E30 M3. This car is a non running project car with some rust issues. I bought the car several months ago. A few weeks after purchasing this car, I had the opportunity to buy an E30 M3 in a lot better condition. So, I am putting this car up for sale.

The car has a clear Arkansas title but carfax shows a complete loss in 2006.

The car is currently not running and has been parked in a warehouse for around the last 10 years, according to previous owner. I had a mechanic friend use a bore scope and he was able to determine the piston in the #1 cylinder is broken. The engine has not been torn down for further inspection. The exhaust is all there expect for the muffler.

All visible vin numbers are matching. The car has rust in both floor pans. The driver's side appears to be worse than the passenger side. Looks like the previous owner made a temporary patch in the floor around the gas pedal. There is some rust around the wheel arches, at the bottom and top of windshield, and in the trunk around the jack area and battery tray. It has a few cracks in the strut tower under the fuse box. The car has a few dents in the driver's door. It has a small crack in the bottom of the front bumper. The paint is chipping in some areas like the front fenders, hood, and side of the trunk lid. Some of the panels appear to have been repainted at some time in it's life. It appears the car was in an accident at some point because of the rust at the back of the battery tray and bubbling in the passenger side quarter panel. It also has some scuffs, scratches and dings here and there. The rear spoiler is discolored compared to the rest of the car. One of the headlights is cracked also. The wheels are in fair shape. All center caps are included. One wheel has a bend and another has some finish coming off. See pictures.

The dash is crack free. Carpet has some stains and a hole under the clutch pedal. Driver's seat has holes in the leather, in the bottom, and top portion of seat. The rest of the seats are in decent condition with no rips. The plastic door trim is included, but is not shown in pictures. They were pulled out to show rust in the floor.

Basically, this is a mostly complete e30 m3 non running project car that needs some paint and body work. I have tried to represent this car to the best of my knowledge. I'm trying to be truthful so the buyer will have no surprises once they get the car.

The winning bidder is required to pay a $500 non refundable deposit within 24 hours after the auction is closed. Car is located in central Arkansas.
The list of issues present in this chassis is astronomical. It's been sitting for a decade, so you get the usual electrical and mechanical degradation that goes along with that. That's coupled with a body that's not in particularly good shape and paintwork that needs a lot of help, and an interior that while cool in color looks just about shot. But the kickers are the motor and the rust here. The blown S14 means, at the minimum, you'll be spending $3,000 – $6,000 on a proper rebuild (depending on how you do it, maybe even more). Or, do you go unoriginal and slap a much more affordable S50/2 in there to enjoy? Once that's done, you'd got the amazingly unfulfilling job of cutting and replacing the major rust issues that exist. Honestly, this is the type of car that you begin looking for what's salvageable rather than what needs to be replaced, and the list of the former seems surprisingly short for so few miles. If that wasn't enough, the car appears to also have a branded title or have gone through title-washing. Despite that, with two days to go the auction is up to a heady $16,500 – a number which could easily be doubled in repairs just to get the car roadworthy. What else would that money buy you?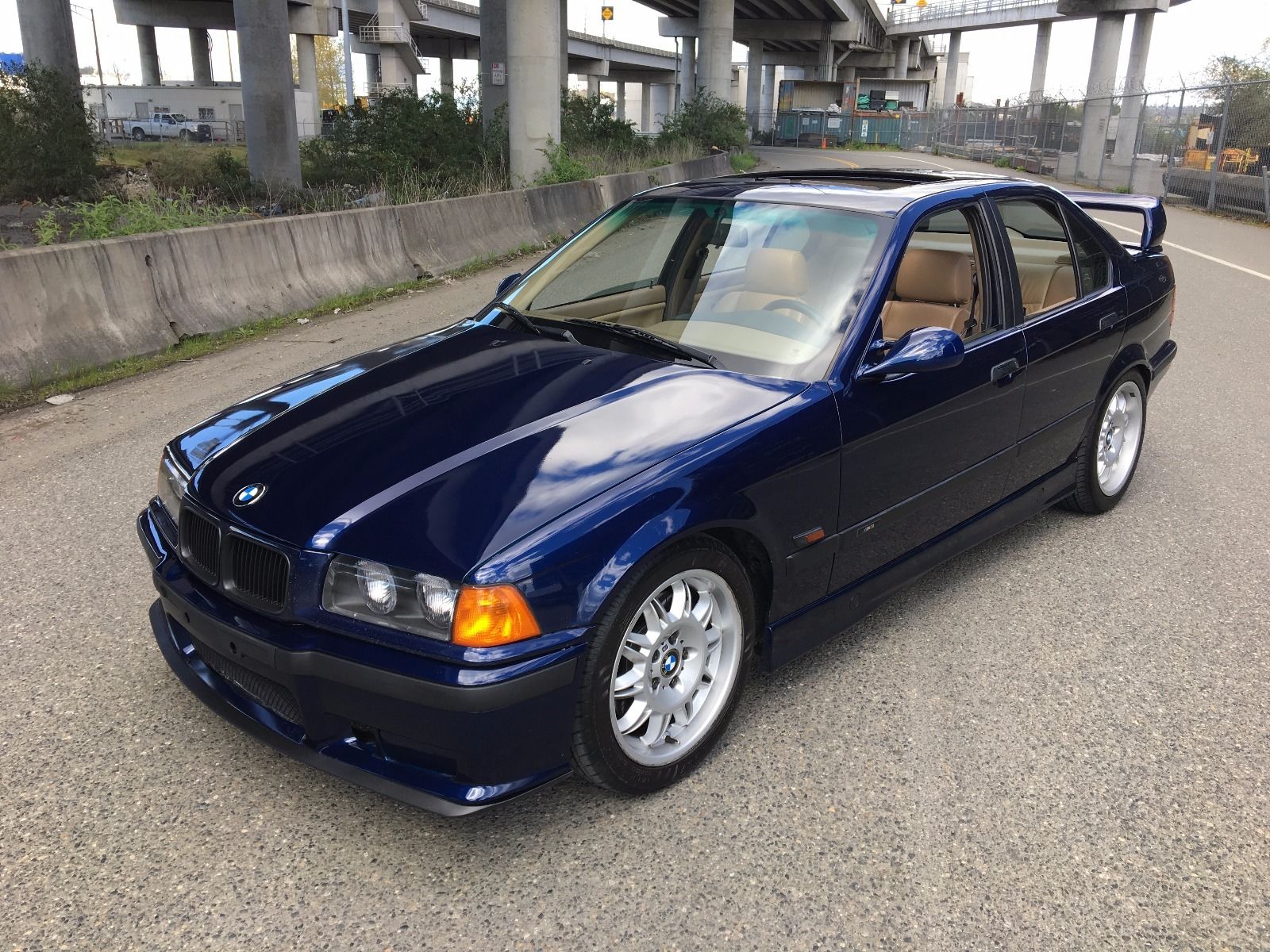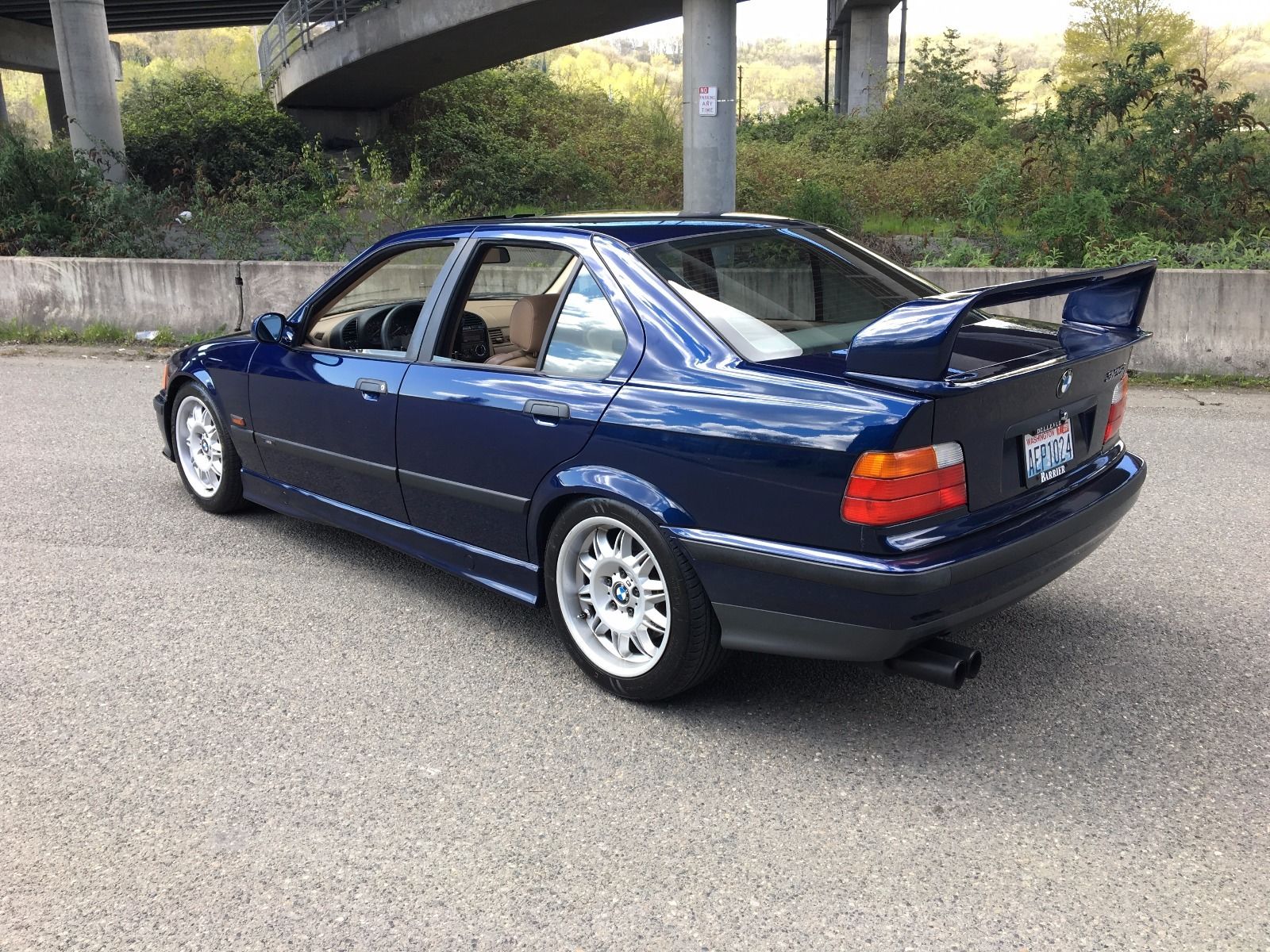 Year: 1994
Model: 325i
Engine: 5.7 liter V8
Transmission: 6-speed manual
Mileage: 184,000 mi
Price: $16,500 Buy It Now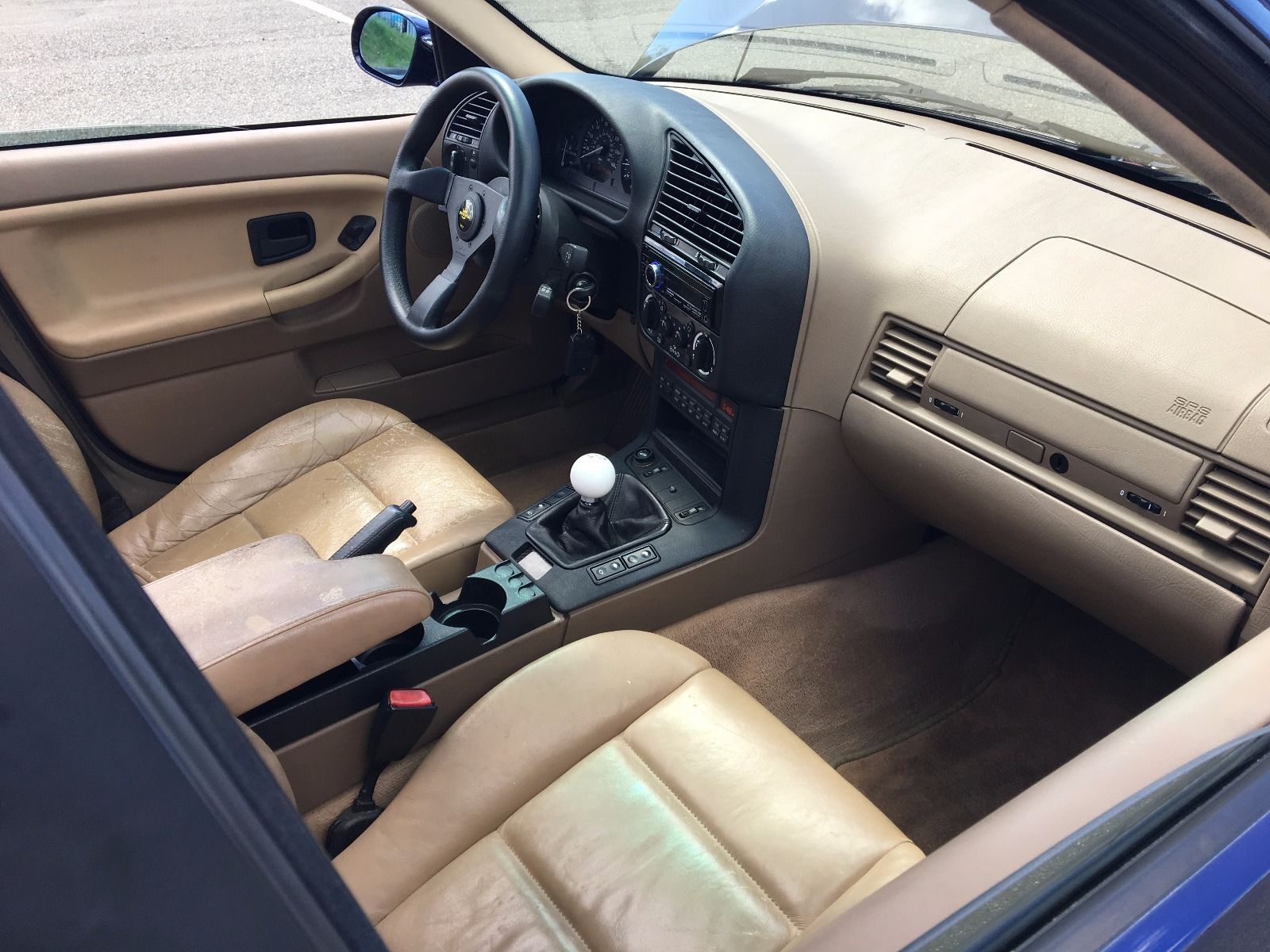 Selling my 94′ 325i. It has been swapped from the original M50 to an LS1 out of an 02′ Corvette. The swap was extensive, no corners were cut. The car is about as close to an M3 as you can get (Rear end, axles, brakes F&R, RTAs, sway bar, trim, mirrors, side skirts, etc.)

The car is very fast, sounds amazing, and has four doors making it pretty practical as well. Zero driveability issues, it idles perfect and pulls hard, 100% daily driveable. All the gauges work, (Speedo, Tach, Temp, Fuel), oil pressure warning light is also functional. I'll try to list the modifications here but I'm pretty sure I won't be able to remember them all. The car will also be getting a full detail before it goes off to it's new home.

I also wanted to leave the car aesthetically stock, I have the original 325i mirrors and side trim if the M look is not for you. The spoiler is also just temporarily mounted so it can be removed without any damage to the trunk. I was able to utilize both the Corvette oil pan and accessories, which let me put the engine as low and far back as possible while still having much better ground clearance.

If you're interested you can text me at (206) 225-9588 (NO CALLS) . Due to my last experience with test drives and the power of the car, I wont be doing any more test drives in the rain. If you want to test drive it, be ready to have cash in hand.

VIDEO —> Search Youtube for "LS1 Swapped E36 325i Walk-Around"

No Trades

$16,500

I'll get better pictures up by tomorrow.

Drivetrain:

– 02′ LS1 with only 59k
– T-56 from an F-body
– New LS7 clutch, flywheel and TOB
– LS6 Intake Manifold
– Wiring Specialties Swap Harness (with CEL and OBD2 port)
– ECU Tuned by LSX Power Tuning (can go over specifics if interested)
– New PST driveshaft
– Mcleod Modular SFI Bellhousing
– CXracing Swap Kit (headers, engine mount, trans mount, y-pipe, catback)
– Titanium wrapped headers
– Speedway remote clutch bleeder
– Energy Suspension transmission mount
– DBC Throttle body
– 3.43 LSD
– K&N Filter
– Red LS1 coil covers
– Optima Red Top
– New:
Water Pump
Intake manifold gaskets
Exhaust manifold gaskets
Knock sensor/harness
Valve cover gaskets
Serpentine belt
Tensioner
Idler pulley
Oil pump gasket
Plugs

Chassis:

– M3 Brakes front and rear – NEW (slotted rotors in front)
– M3 Master cylinder and booster
– M3 Rear trailing arms
– M3 Rear sway bar
– M3 LSD diff
– M3 axles
– M3 Front Hubs
– Coilover suspension (close to stock height, rides great)
– Most suspension bushings have been replaced recently, car feels very tight.

Exterior:

– M3 front bumper
– M3 side skirts
– M3 mirrors
– M3 trim
– Replica LTW spoiler (paint is O.K., not the best)
– M3 DS2 wheels
– New Headlights
– Keyless Entry
– New Nankang NS-20 tires all around

The hood, fender, front bumper, and side skirts just got out of paint. Before I owned the car, vandals felt like sitting on the hood and denting past the point of repair, (have pictures) and the fender just had a dent in it. I still have the fender if you would like you can have that also.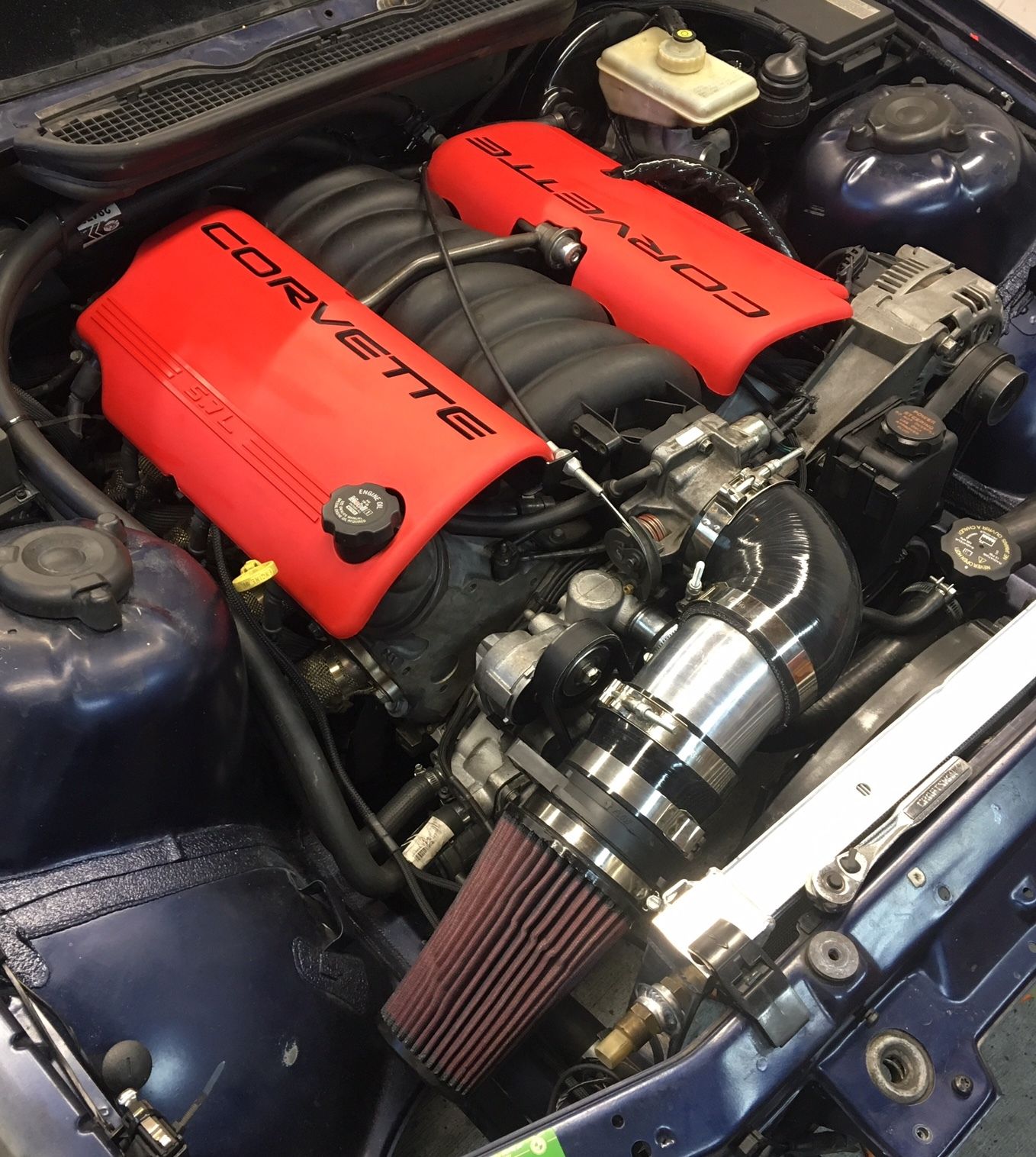 A quick look had me doing a double take to try to figure out how there was such an early and unusually colored 4-door M3 on my screen. While it's just a 325i wearing big brother's clothes, the original Mauritiusblau Metallic color looks fantastic. The front and side M3 treatment looks nice along with the addition of the DSIIs, while the wing is a bit ostentatious but hints at the performance hidden under the hood. While this car was original a M50 automatic, gone are both and the replacement LS1 V8 coupled to a 6-speed manual has found its way in. Upgraded suspension and M3 bits throughout ensure that power is transferred to the ground. The execution is overall excellent and, minus the rear wing, this would really be a super sleeper 4-door. The only real let down, though they are original, are the Sand comfort seats. But M3 replacement seats are easy enough to come by as not to dissuade a potential buyer. This car is far from original, but at $16,500, it sure looks like a lot of fun and unlike many swapped E36s is really well presented.
Which is the winner? Well, if you really want a basket-case M3, a V8-swapped E36 325i isn't going to sway you. And, in all honesty, it's not likely that anyone is cross-shopping these cars. But it really drew the crazy market we're in into a clearer focus for me. It's just unbelievable that here sits a serious performance BMW for entry-level economy car money with no takers, while the boxflared boat anchor has hot bidding.
Indeed, what a strange world we live in.
-Carter