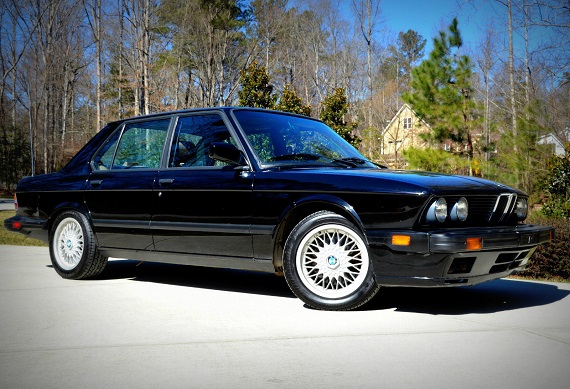 Fans of the venerable and arguably original super sedan, take note! This post – and the included auctions – are two that you probably want to pay attention to. Why? Well, we have two examples of the awesome 1988 BMW M5 – not unusual, in all honesty, over the past few years. But the two examples differ in many ways; one is a flawed but original, lower mile example, while the other has high miles, plenty of modifications and is generally very clean. The kicker, though, is that both auctions are no reserve and with a few days to go on each, they're racing for the top spot. Which will be garnished with the highest bid and where is the market heading?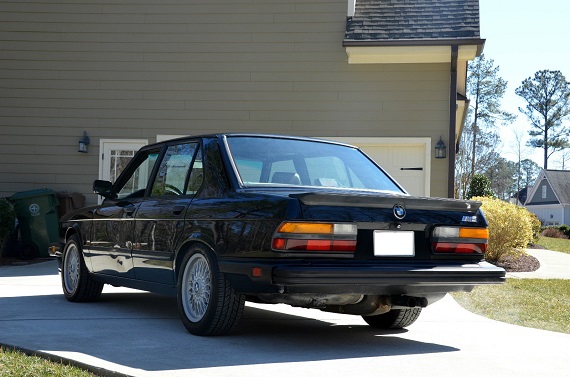 Year: 1988
Model: M5
Engine: 3.5 liter inline-6
Transmission: 5-speed manual
Mileage: 87,438 mi
Price: No Reserve Auction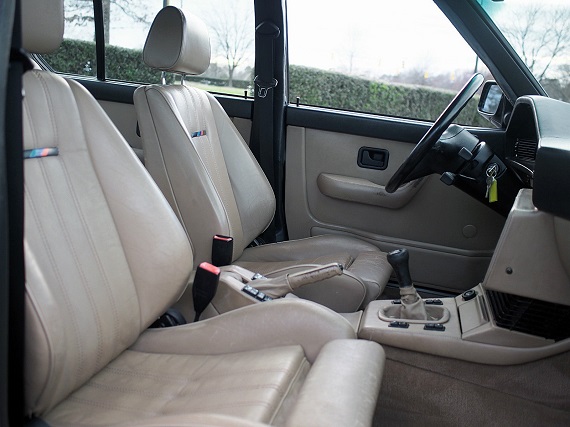 You are looking at an all original, low mileage, rare E28 M5. Original paint, all matching vin tags in place, no modifications, 2nd owner. Please read my ad thoroughly. I had a pre-purchase inspection performed (including compression and leak down) just a few weeks ago to eliminate any concerns with the car's mechanical condition. Also, I am including a link to over 100 high quality pictures, which include the pre-purchase inspection results and accurately represent any of the car's current cosmetic imperfections. I certainly understand the risk buying a vehicle sight unseen, I hope that any prospective buyers will appreciate the time I have spent putting this ad together.

I am a BMW enthusiast. I have owned many M3's and when I came across the opportunity to buy this vehicle, I jumped on it. I had planned to carefully and patiently restore this car back to its perfection, however my family needs have recently changed and I simply will not have the time to dedicate to this car for the foreseeable future. There is no need to speak of the rarity of this car, if you are searching for one, you know the details on that. What is unique about this vehicle is that it is an all original, unmodified, low mileage example of the E28 M5. Original paint, original panels, never restored, just like you want it. That being said, it's far from perfect. It is a fantastic candidate for a restore or with some mechanical updates, would make a great driver right from the start for you. It has great bones and just needs a little TLC to bring it back to form. I am the second owner of this car. The original owner was forced to sell it last year due to a work transfer out of the country. The vehicle has spent most of its life in New Mexico (where it was purchased new), Colorado and Texas. Due to the vehicle spending 10-15 years in storage per the original owner, the elements have taken their toll on the car over time. The original paint has clear coat cracking on all top surfaces. The driver's door lost a battle with the wind and wound up on a concrete post and needs professional body work to repair. The fuel door also has a crease in it. There are other minor dents and dings as you would find on a 27 year old car. The interior is in good shape for an all original 27 year old car. The dash has the typical cracks you see on the E28, the leather is a little dried out on the seat cushions, however it is not torn or damaged anywhere. I have done my best with pictures to represent the car in its current condition. In addition, I had the vehicle inspected top to bottom at a very reputable BMW performance specialist here in Raleigh, NC last month. They stated the vehicle was in good shape for having been sitting for so long. Mechanically, this car will need a suspension refresh, tune up, tie rods and other odds and ends right away. Please review the full mechanical pre-purchase inspection, found in the link I have provided below. I would not recommend driving the vehicle much until those items have been taken care of. I also had a compression and leak down test performed and these were the results:

Cylinder 1: 190 psi / 20% leak down

Cylinder 2: 190 psi / 12% leak down

Cylinder 3: 190 psi / 15% leak down

Cylinder 4: 175 psi / 23% leak down

Cylinder 5: 175 psi / 20% leak down

Cylinder 6: 190 psi / 12% leak down

Comments were: "All cylinders are within spec and car runs smoothly for the age of vehicle."

Additionally, the transmission shifts smooth and the clutch feels good.

The link provided below includes the full mechanical write up, a copy of the Carfax which guarantees a clean history and over 100 high resolution pictures of the car. I've done my very best to take pictures of any major cosmetic condition issues on the car, however keep in mind this is a 27 year old car and I am not advertising it to be in perfect condition. Please review thoroughly and let me know if you have additional questions.

https://www.flickr.com/photos/30203724@N03/sets/72157650422080017/

Cash, wire or certified funds only. $1000 deposit due within 48 hours of auction close. Full payment is due within 7 days of auction close. Buyer is responsible for arranging for payment and shipment of the vehicle. I will not deliver the car (unless it's local). Clean and clear NC Title ready to be signed over to the lucky new owner. Thanks and good luck.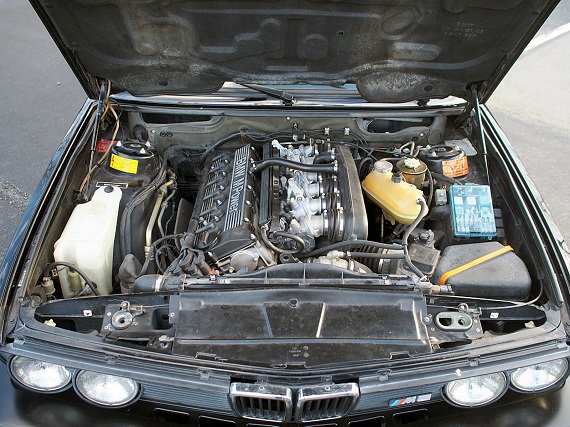 One of the big items that seems to always pop up with BMWs is original VIN tags on the body panels; in a recent post, one commenter even suggested the seller remove the front bumper to prove that it was an original piece. One would presume, then, that this all-original M5 would be free of criticism, but the result of that originality is some pretty serious dents on the driver's door. Additionally, the fog lights are missing from the bruised front air dam, the fuel door is warped, there are rust spots on the roof and plenty of flaws on the outside. The Roundels are tired and the paint on the spoiler is bubbling off. Inside the Natur leather looks better than most, but isn't perfect by any means. That said, the seller documents all of these items, and though the previous life hasn't been perfectly pampered, this is a lower mile example not often seen with a reported clean bill of health. That means that, despite the need of at least a cosmetic restoration, this M5 has already surged past $20,000 in bidding with several active parties.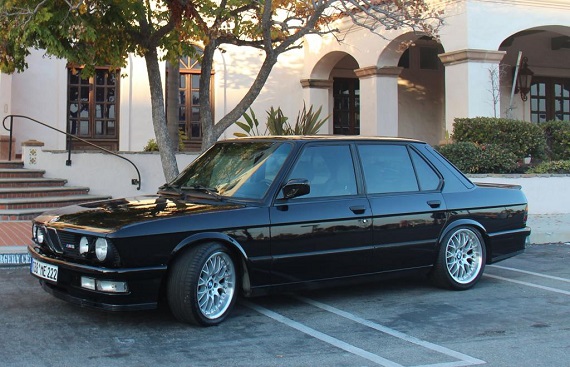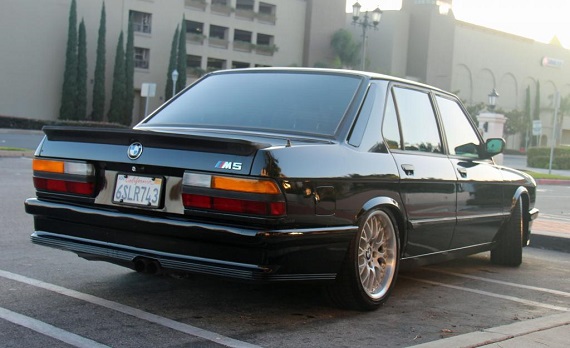 Year: 1988
Model: M5
Engine: 3.5 liter inline-6
Transmission: 5-speed manual
Mileage: 217,415 mi
Price: No Reserve Auction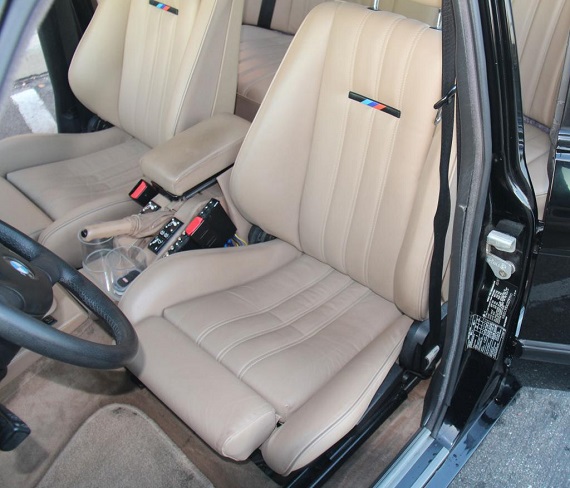 1988 E28 M5

Original & Lifetime So Cal Car – Incredible Condition – Well Taken Care Of – Needs Nothing!

Wow, where do I start? This car was / is a true labor of love. I've spared no expense since I bought it in 2010 to make it the best possible example of what is a very rare car. There are not a lot of them left and this one needs nothing but a new owner. If I told you this car had 50,000 miles on it you would believe it by looking at it in person. It's a clean…….rust free, never lived outside California, perfectly driving example, the likes of which are not seen much anymore. They didn't import a lot of these….only 1239 to US specs according to the BMW M Registry. How many are left after 27 years?? Not nearly as many I'm sure.

Partial List of Mods

• Bilstein Sport Shocks
• Spax Springs
• Racing Dynamics Strut Bar
• Frank Fahey Crank Hub
• Frank Fahey Cam Sprocket
• Timing Chain / Guides Update
• Jim Conforti Chip
• Split Second Mass Air Conversion
• Lightened Flywheel
• UUC Short Shifter
• M Tech Steering Wheel
• M Tech Rear View Mirror
• Alpine iDA-X305 Stereo (Bluetooth / XM / Ipod)
• Infinity Amps / SubWoofer
• Clarion EQ
• Focal K2 Speakers / Tweeters Front and Back
• Custom Subwoofer Enclosure with Sub in Trunk
• Style 42 BBS Wheels
• Euro Headlights with wipers & Euro Grill
• Euro Front & Rear Bumpers with M Tech Body Kit
• 540i Rear Brake Calipers
• Rear Window Shade
• Rear Head Rests
• Saab Glass MoonRoof Conversion
• Hardwired for Valentine One Radar Detector

I bought this car and did a "baseline" as I do with all my projects. This included a thorough inspection and a full detail.

The engine runs beautifully and there are ZERO odd noises or sounds or anything of that nature. It runs exactly as it should and makes a ton of power…..driving it is a true pleasure and this car is a perfect example of everything the S38 is famous for. The oil is changed every 3500-4000 miles. It's never driven hard till it's warmed up. The BMW S38 engine is truly a wonder. Don't be fooled by naysayers who claim it's a maintenance queen…..it's NOT true. These motors are TOUGH and were built to LAST. There are TONS of examples with way over 200,000 miles that just won't die. I know of more than one that has bested 300,000 miles. A rebuild is not cheap…..but this isn't a car to be bought and have lots of miles piled on anyways. Buy it…drive it on the weekends and to the meets and there are many years left in this engine. Don't believe me? Google is your friend as is the M5board and mye28 board. Research it and you will find that it's true. With the right upkeep / upgrades (which this HAS had) these cars are good to go.

The Split Second Mass Air Conversion (https://splitsec.com/product/maf-kit-e28-m5-a/) mades a big difference on the S38's. The basic setup was easy….but the first time it was smogged using it was tough. It has a lot of adjust ability and was labeled a "Gross Polluter" because it took several attempts until the right combination of settings was achieved and everything was optimized. We welded in a bung to the exhaust and using a Innovate Motorsports wide band Air / Fuel meter dialing it in was easy. Now it passes smog with no problem. I highly recommend the Split Second MAF kit and the Innovate LM2. The catalytic converter has less than 5000 miles on it.

I took the car 100 miles from OC to San Diego to Jim's Upholstery (Best BMW upholstery shop in the business!) and had them work their magic. Front seats (and back of seats) and rear seats and all headrests now sport brand new leather. It still smells like a new car…I love the smell of that leather. The devil is in the details here. The texture, the color, right down to the size of string and style of stitching is OEM quality. It's as good as it gets! And at about $2000, not cheap.

As I am a music lover, It has a NICE Alpine iDA-X305 stereo that automatically plays the music off my Spotify (or whatever) on my phone as soon as I enter the vehicle. The bluetooth for the phone works as good as the factory bluetooth on my new Audi. I added Infinity Amps and a custom made sub enclosure that fits in the trunk (blends in so nice you would ever know it was there by looking). You can see the Clarion EQ that is mounted (with velcro) to the center console next to the seat. And of course what good is a quality sound system without proper speakers? So I used Focal K2's in the front and also in the rear using Focal crossovers. I have over $3000 in the stereo and Yes, it sounds amazing. I am very happy with the stereo. I also have a second unused faceplate/controller as the one that came with the Alpine didn't match the console electronics color that well. Now it does.

I have a stack of receipts 4″ tall…..going back 20 years or more. This is a well documented car. Additionally……I am a long standing member of the mye28.com forum. I purchased it from another mye28.com member as did he before him. So this car has been owned by enthusiasts for a LONG time. If you don't know mye28.com and are serious about a e28 M5 or any e28 BMW……You are missing out on what is probably the best resource on the web for these cars. This car is also listed in the BMWM5 registry. http://www.bmwmregistry.com/detail.php?id=9836

This car starts on the first turn of the key….regardless of how long it's sat. The Interstate battery is 2 years old and the car is always on a Battery Tender. It never sits outside. There are ZERO odd noises or vibrations…there is NO BMW 50mph shimmy what so ever. The Steering box has been reinforced with the MWrench dowel and bolt fix. http://www.mye28.com/viewtopic.php?t=63659 But let me be clear….there was NO failure of the steering box of ANY kind..this was done as a preventative measure and was also part of the process to completely rid the car of the famous 50 mph shimmy as was replacing all the bushings etc. I'd like to think that what sets this car apart from the crowd is the attention to detail. Little things like the keyless entry that was added or the George Graves module so the lights dim out rather than just shut off when you close the doors. Or the 3 flash turn signal upgrade (like the new cars – just momentarily tap the turn signal stalk left or right and you get three flashes from your signals) that my brother sells on his website www.davebarton.com. Speaking of my brother…he is VERY well known in the Volvo enthusiast community and has developed many other upgrades and manufactures and sells wiring harness's for classic Volvos. We (OK, I'll admit…mostly he) rewired my Euro headlamps all the way back to the the alternator with new heavy duty wiring and new OEM connectors (that he sells) to the alternator (including his adjustable regulator that he sells) and were thus able to install high wattage bulbs. H1 100 watts Luks Bulbs and H4 100/90 Luks bulbs. I also have NIB spare sets of both. Seriously……probably one of my favorite things about this car now are the headlamps. They are the finest light producing headlamps I've EVER owned. Better than the HID's on my Audi, or the HID's that were on my 2006 BMW or my 2001 TT Porsche. They are outstanding and VERY impressive. And no, they do NOT blind oncoming traffic….unless you hit the hi beams……then it's game over….and with the adjustable regulator, your voltage never drops down low even with the stereo and lights. It's a NICE set up.

Also the rear headrests……..the rear sunscreen……the armrest..I replaced the seatbelt receptacles, the leather on the seatbacks….to me it's all about the attention to detail.

You know, thinking about it…..the Euro lamps are probably not my favorite thing about this M5……it would actually have to be the MTech Euro front and rear bumper treatment. I'm just not a fan of the "Diving Board" North America mandated bumpers for these cars. The Euro bumpers make this car how it was designed. And they are BEAUTIFUL. They were installed when I bought the car but they were't perfectly aligned. It took all day in the garage but now they are properly installed and perfect. And boy do they just make this car look "Right". I also have the side pieces……in black……but I never got around to installing them. This is NOT a cheap upgrade. Ask around….parts and install are north of $3000.

I installed Spax Springs and Bilstein Sport Shocks front and rear for the perfect stance AND while firm….it is NOT a jarring "lowered" style ride….it really is impressive. Very comfortable and I wouldn't hesitate to drive it across country.

The rear brakes are from a BMW 540i and the pads have a couple thousand miles on them at most. And the front are e34 M5 calipers with equally new pads…..2000 miles at the MOST. Suffice it to say….the braking on this car is phenomenal.

The wheels are BMW Style 42's (Made by BBS) bought NEW for THIS car $$$, They have less than 10,000 miles on them and are in PERFECT condition. The tires are 235/40-17 Goodyear Eagle F1's have about 1000 miles on them. There is ZERO rubbing or touching. These are GREAT tires. Wheel / tires ran about $2500

I only use 20w50 VR-1 Racing oil for the added Zinc and will throw in a case to the buyer and have 3-6 extra Mann oil filters as I buy them in quantity.

ALL the period correct tools are present in the trunk ($$$)

The interior (IMO) is a SOLID 9.8 out of a 10. There are 2 SMALL cracks on the dash (see pics) but they were there when I bought the car in 2010 and have NOT increased in size.

The paint is very good to excellent. – (see the reflections in the paint in the pics) I did have the hood resprayed by the same paint shop that did work on my TT Porsche, my 06 BMW M5 and my 66 Mustang Fastback. All three of those cars were also sold on ebay to very satisfied buyers as you can see by my feedback. I only did it as there were some rock chips and some hard water spotting and it was just not up to my standard and was part of my baselining. They do perfect work as you can tell by the photos. ALL VIN stickers are present.

Of course there are some imperfections as can be expected with a car of this age…a couple super small marks, a couple of dings and I believe one scratch that about 2 inches long…..the rear spoiler is ever so slightly weathered (although I may refurbish it if I get time…not difficult to do) but this is a rust free, original SoCal car and it presents VERY well. I was even invited to a local BMW only car show (ArchiesFest) a couple years ago as they had classic Euro examples up front and center and needed a nice M5 to round it out…..see the photos….that's mine next to the M1.

When I first purchased this M5, I daily drove it for about a year while I added my touch, baselined it and made it as nice as I could. Since then I only drive it a couple times times a month and to the occasional vintage BMW meet. It's PERFECTLY sorted as it sits right now….if you're looking at this and you are anywhere in the continental United States……I would encourage you to fly in and DRIVE it home. I've done it several times with cars that I've purchased and it makes for one heck of a road trip.

I had a PPI done at Coast Motor Werks in Huntington Beach CA (http://coastmotorwerk.com/) when I bought it (5 years and about 7500 miles ago) and I'll try to dig it up if I can. At that time the owner of Coast stated that the compression test and leakdown were within spec given it's age and mileage. I think there was mention of weeping on the powersteering pump as well which is a common. I will cooperate with and would encourage anyone thinking of buying this or any M5 to do a PPI through a reputable mechanic (like Coast Motor Werks) knowledgeable about vintage BMW's.

Here are some photos taken a couple weeks ago.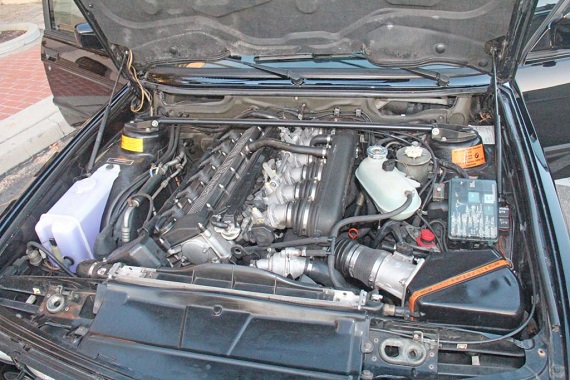 On the other end of the spectrum is a restored and modified M5. Again, all of the VIN tags are present, but this car has received paintwork to accept European bumpers and lights, and the hood was resprayed. That's not surprising given the 217,000 miles covered. The restoration moved inside where the seats were recovered, and mechanically this car has several upgrades in performance including MAF replacement, a chip and suspension work. The Style 42 BBS wheels are a popular and good looking upgrade for the E28s, as are the numerous M-Tech bits though neither is correct. The car appears to be well documented, but lacks the originality of the first example – not a problem for someone who likes the look, but for someone looking for a collector status car, it does present a bit of an issue. Like the 87K car, bidding has been very active with multiple engaged parties.
Which will get the highest bidding? This truly is a litmus test for the E28 market, as both should indicate where the market is heading. I think the modified car will gain higher bids mostly because the look is desirable to many and it immediately appears to need less to be a show-off type car. I wouldn't be surprised to see the M-Tech car to break $25,000 – $26,000, while the original example will likely fall in the $22,000 – $23,000 range – strong money for both, I'd argue, since we've seen many examples fall in the teens even recently. It's also certainly an indication of where the market on these cars is heading; amazingly, for the first time since new they're outpacing their sibling M6s.
-Carter