Warning!
This post is in our archives. Links in this post have been updated to point to similar cars available to bid on eBay.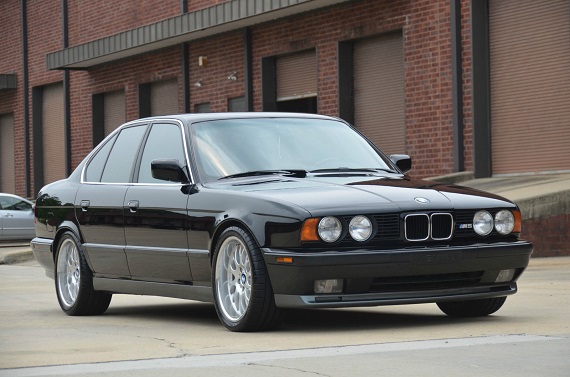 There's been an avid ongoing discussion of E28 values in the 1988 535i Dinan 3.9 post from Tuesday; partially, it centered around the comparison of that car to M5 values. And, like all other M products, values – or at least, perceived values – of M5s are all over the map. We've seen asking prices from $10,000 right through $100,000 on E28s, and much of the same carries over to the E28's replacement, the E34. For most fans, the second generation M5 wasn't quite the definitive super sedan that the original was, nor is it as desirable as the 400 horsepower V8 model that followed. But that doesn't stop some from asking high prices for the their examples, and today we've got two to that are very similar with different asking prices to consider; which is on target?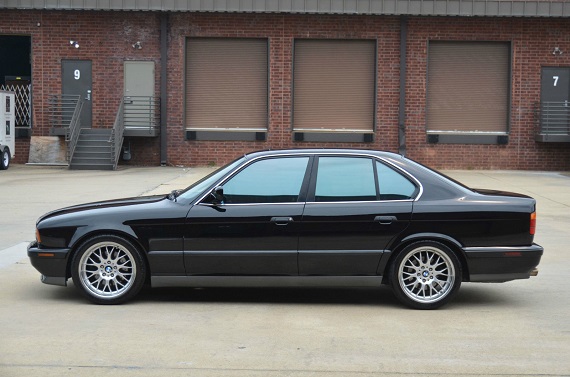 Year: 1991
Model: M5
Engine: 3.5 liter inline-6
Transmission: 5-speed manual
Mileage: 176,000 mi
Price: $30,000 Buy It Now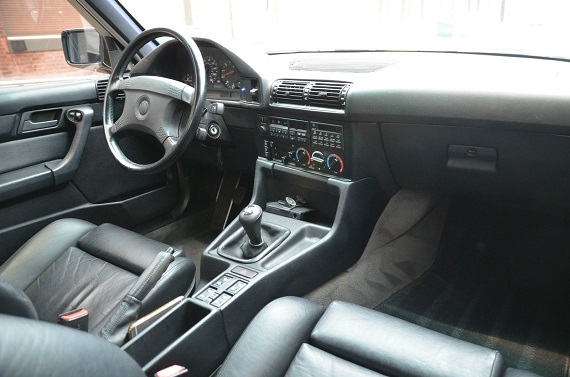 You're bidding on a mint 1991 BMW E34 M5 Black with Black interior. Car is a perfect example of the classic E34 M5 that you will not find on eBay. Clean Carfax and Amazing Autocheck. I have a large private car collection and looking to sell this so I can make room for a newer M5. This is always in the garage never driven out in rain etc.

This has been maintained by the book and you can see the whole list of service records. Brand new Michelins were installed last week on the Euro-Spec Wheels. Just got the spark plugs changed and a tune-up done. Back in 2006 car went under a full exterior makeover aka paint correction for $5000. As the pictures show, this is MINT. CLEAR bra was installed on the front as well.

Here is a partial list of what has been done to the car with documentation-173,820 clutch slave cylinder, compression spring , clutch master repair kit–173,250 power steering pressure -170,171 install new windshield mouldings and clip167,709 four wheel alignment-radius arm and radius rod bushing e34 catalytic converter for m5 only install clear bra install new assembly new front left door actuator install new general modules install new trunk latch lock and repair wiring latch replace spark plug wires and spark plugs removed and replaced cleaning and flow testing,sychronized air flow through throttles using balance tube,performed compression test-ALL cylinders well within spec-168,919 install new front cam and camshaft o-ring seal install cam valve cover gasket replaced 3 spark plug tube gaskets install new rear head cover gasket install new driveshaft flex disc 167,291install new heater of cylinder head remove driver seat and sent out for new leather upholstery install new vacuum brake booster valve and associated hoses-add fuel system cleaner 164,472 replace and fabricate self leveling system bypass and brake lineinstall new coolant expansion tank and all vent pipes new upper radiator hose add bmw antifreezeinstall new engine mounts armnew air intake boot install new rear parcel shelf install new self leveling hoses 147,597 install new rear shocks and shock mounts new rear sway bar links install new front strut ,Bilsteins install new engine accessory drive belts install new power steering pump and tension adjustment bracket 133,845 install new dinan suspension kit M5 stage 1 Bilstein valve etc.

I understand that mileage is a bit high for the year but it runs excellent and you will not find a better E34 M5 on the market. feel free to call anytime with any questions or to set up an inspection, vehicle is sold as is and comes with no written or expressed warranties. Thanks and happy bidding!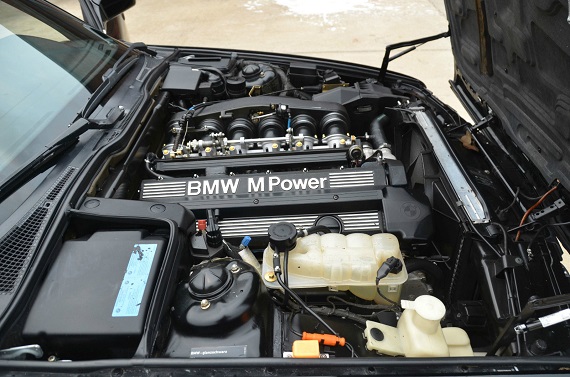 I always get a bit of a chuckle weeding through the typical seller hyperbole on eBay; the words "MINT", "perfect", "excellent", and "you will not find a better example" are often tell-tales that if you look, you can find a better example. However, outside of the purple headlights this car does seem to be in great shape; helped by a recent repaint, but the interior also looks to be exceptional. If there's a gripe on the outside it's that M5 badge in the rear, which looks slightly out of place and would drive me bonkers for what otherwise looks exceptionally clean. Maintenance is claimed up to date and some of it is disclosed; along with expensive newer high performance tires, the compression is claimed to be good, too. This car was produced fairly late in the 1991 run, being made in February of that year (the '92 below was made only 5 months later). The original M-System wheels have been replaced by Style 42s that look nice, but aren't "Euro-Spec" as the seller claims. But the real gripe is the price – at $30,000, this is one of the highest asking prices on an E34 M5 I've seen recently, and the best part of double the asking price of most other equivalent examples. Nevermind finding a better example – which, like this 15,000 mile example I wrote up in June, I think we've done – can we find a matching example at a better price?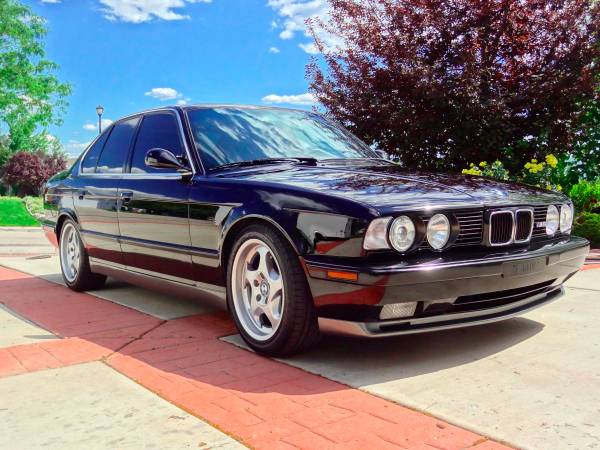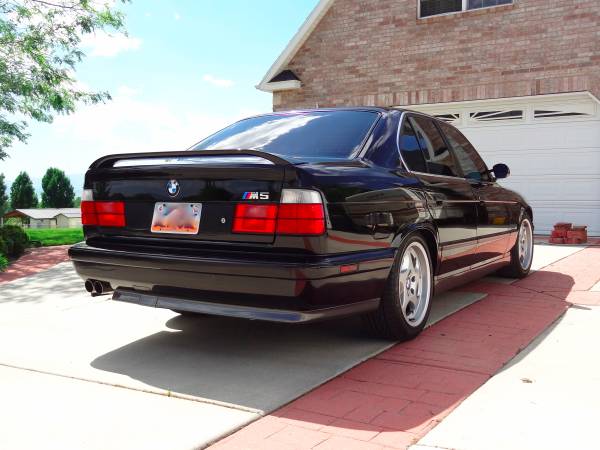 Year: 1992
Model: M5
Engine: 3.5 liter inline-6
Transmission: 5-speed manual
Mileage: 186,000 mi
Price: $17,500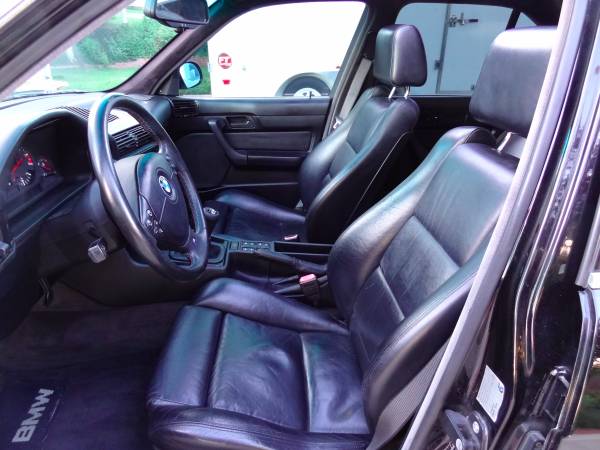 Black on black 1992 BMW M5 for sale. This is a turnkey classic in excellent shape all around. All original and unmolested.

The E34 was the last truly hand made M car made by BMW. It oozes cool and holds unmatched quality.

The paint is in excellent shape with great shine and no fade. The interior is in even better shape, the leather is supple with a deep, clean black. There are no tears, deep cracks or heavy wear on any leather (including shift knob, hand break, steering wheel or bolsters) or any plastics. Seats have firm bolsters. Floor mats are worn but in good shape considering their age.

California-Arizona-Utah car. Zero rust. Never driven in snow.

Mechanically sound with no known problems or issues. No warning lights. Everything works. Regular and up to date maintenance. Full tune up with battery, oil, etc etc within 1000 miles. New performance tires with under 400 miles. Wheels refinished 400 miles ago by allow wheel specialists in Salt Lake. Car runs strong the doors still even thunk with authority.
If maintained regularly these cars will run indefinitely.

I have a binder with receipts dating back to the original owner, (excluding the owner previous to me who owned a repair shop and did all the work himself and did not keep his receipts)

The car is in original with only BMW OEM parts used. ALL modifications from stock, most of which were done by the original owner, are:

M-tech aerodynamic review mirrors
M-tech spoilerM System II wheels
Dinan engine upgrades (350hp)
Window tint
Hidden aux cable installed in radio
Euro smiley headlights with euro clear parking lights

The car is driven regularly but not daily, I don t want to give the impression that it is concourse perfect but it is in excellent condition; especially considering 24 years of steady use.

I have more pictures and a pdf car fax i can email you if interested.

I would be happy to arrange shipping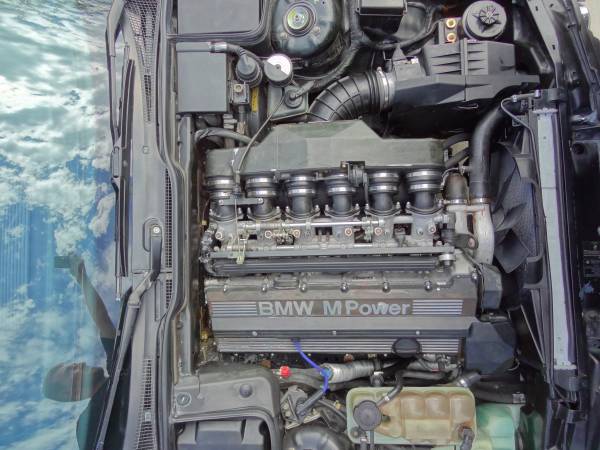 We nearly made it through two M5 listings without one of them saying "last of the handbuilts". Right off the bat, I'm a fan of this example which has maintenance and receipts to back it up too. I especially like that the owner kept the M-System wheels; though I'm an admitted one of the few that likes the Turbines, the Throwing Star replacements still look pretty great. What I'm not a fan of is the M-Tech rear spoiler that was added; to me, the only thing it spoils are the looks of the rear. Other upgrades like the lights and mirrors are just fine, and the Dinan bits in the engine – though likely overstated on power output – aren't bad additions either. 1992 and 1993 models are exceedingly rare compared 1991s; only 121 made in here in that year. '92s had some upgrades over '91s, including revised steering with a new ZF Servotronic system rather than the speed-sensitive system in 1991s and a slightly lazier rear gear ratio. The steering wheel is also non-original – perhaps a better BMW expert could place the model it's from, but it looks like an E39 M-Sport wheel. This example was produced in July 1991, so it does not have the updated sill plates of later cars. As these super-sedans go, this is certainly a nice example of a rare model with an even more rare model year, and the black over black – while not as imaginative as some other examples – is classic M5.
To me, neither of these examples is a collector and both are drivers; with that in mind, considering the near exact match of condition between them, it's hard to see the $13,000 premium on the 1991 example. In some ways, you could argue both are slightly high in the market, but I think the 1992 is much closer to a realistic asking price than the 1991 example, which is really a reach to me.
-Carter