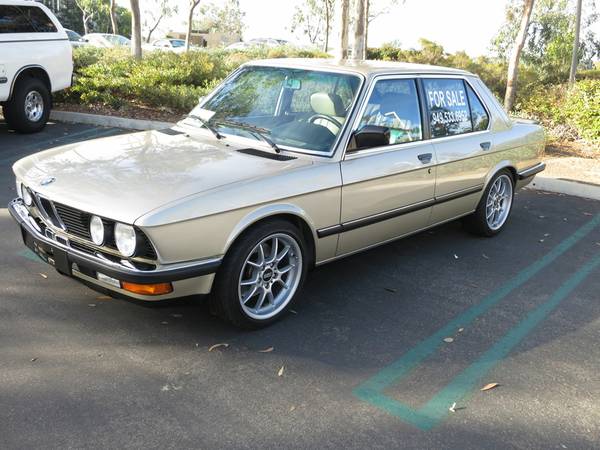 The E28 is a great chassis, no doubt, but often the normal 535i gets overlooked as a potential classic. We search out instead examples of the M5-look 535is or indeed the S38-motored legend itself, but today's example will give those that dismiss the "normal" 535i a reason for pause. Upgraded with the full repertoire of Dinan bits and given a European specification makeover and repaint, this is one seriously good looking and well built 535i:
Year: 1988
Model: 535i
Engine: 3.9 liter inline-6
Transmission: 5-speed manual
Mileage: 186,000 mi
Price: $16,500 Buy It Now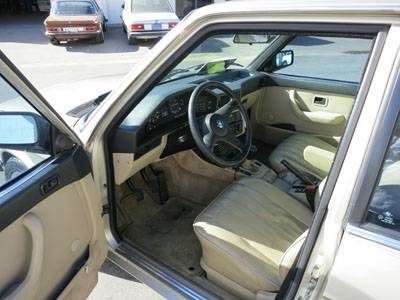 *** Classic 1988 BMW 5 Series, with Dinan 3.9L Stroker & Euro Conversion

1988 BMW 535i, 5-SPEED, 186K MILES, With Euro Bumpers and Headlights

Here's your chance to own a Classic Dinan BMW 5 Series car that runs fabulously but doesn't cost a mint to maintain.

This is a US 535i with a Euro Bumper and Headlight conversion done by Ron Perry at Vintage Motorsport In Duarte. The Euro conversion was done with all original BMW Euro parts. Ron's team removed the US front and rear valences and replaced them with the correct Euro valance pieces. All pieces were painted to match the cars paint. His team used all the correct bracketry and hardware to mount the bumpers as needed to do it correctly. The proper Euro headlights and grills were installed to complete the Euro conversion look.

Dinan from Mt. View California did the 3.9 liter engine conversion about 8 years ago. They started with the original engine with only 90k miles on the odometer and applied their magic to bore and stroke the engine from 3.4L to 3.9L. The horse power numbers increased from approximately 208HP to 265HP @ the Flywheel (225HP @ rear wheels). The Torque increased to approximately 300Ft/lbs at the Flywheel (243 Ft/lbs @rear wheels). Dinan also created a custom DME chip to go with the engine to gain the most from this combination while preserving its ability to pass the California Smog test.

The car underwent a complete Quality repaint at Spectrum Collision in Irvine California. Spectrum Collision is a Certified BMW repair center and does fabulous work. The repaint process took a little over a year to get the exterior paint as near perfect as it could be.
This car is gorgeous inside and out and needs to be seen to be truly appreciated.
This is a one owner car with clean title. This car deserves a good home and an owner who cares about keeping it looking and running fabulous.
I got totally carried away with the restoration and created a wonderful car that is fun to drive. The car always attracts attention at car shows and events or where ever it goes.

Asking $16,500 or best offer, Will consider any reasonable cash offer.
Brad show contact info

Engine Upgrades:
1 – Dinan 3.9L Stroker Motor, 225HP, 243ft-lbs Torque
2 – Custom Dinan DME chip
3 – Dinan Cat Back Exhaust
4 – Powered coated valve cover (Silver)
5 – Powered coated Intake Manifold (Silver)
6 – Extruded Honed Intake Manifold
7 – Opened up intake ports to match intake manifold
8 – K&N Air filter
9 – New Radiator, Water pump, radiator hoses top and bottom
10 – New battery
11 – Fuel injectors recently cleaned and re-calibrated
12 – All fan belts replaced
13 – Brake fluid changed every 10K Miles
14 – Oil Changed every 5K miles

Transmission & Differential:
1 – M5 Clutch and Press Plate
2 – New Slave cylinder
3 – Trans. Fluid changed within last 15K
4 – replaced guibo recently
5 – replaced trans mounts
6 – rebuilt 3.73 Limited Slip diff
7 – rebuilt shift linkage recently

Suspension
1 – Dinan Stage II suspension Front and Rear
2 – Bilstein Sport Shocks Front and Rear
3 – Dinan M5 Sway bars Front and Rear
4 – Urethane filled subframe bushings rear
5 – Milled 750 liquid filled front thrust rod bushings

Exhaust
1 – Dinan Cat Back Exhaust with Dinan Chrome tips
2 – 2X E36 M3 Catalytic converters

Brakes
1 – E34 M5 Brake calipers and Posi-Quite ceramic pads front,
2 – E39 M5 Brake calipers and Posi-Quite ceramic pads Rear

Body & Interior
1 – Complete body repaint to original factory specs.
2 – All body trim replaced during restoration
3 – Euro M5 front bumper valence and chin spoiler
4 – M5 rear trunk spoiler
5 – New headliner
6 – New dashboard
7 – Rebuilt instrument cluster
8 – All Stereo Speakers replaced
9 – New antenna mast
10 – BMW Style 5 – 17″ wheels or 17″ BBS RK wheels
11 – New 205/55ZR17 Yokohama tires
12 – All door and trunk lid seals replaced.
13 – New hood shocks
14 – Upgraded to BMW E34 stereo AM/FM/cassette/CD + CD/changer
15 – Euro Bumper conversion
16 – 7″ & 5 1/4″ Euro Headlights with H1/H4 lighting

Asking $16,500 , will consider all reasonable cash offers, Brad show contact info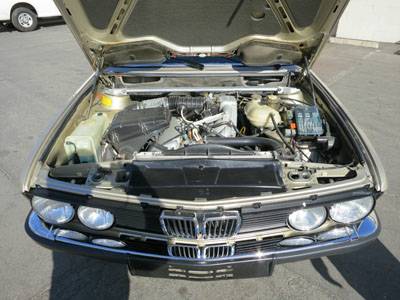 A quick check of the VIN decoder reveals this car was originally configured as shown; a 535i 5-speed in Bronzit Beige Metallic with 0206 electric seats, and was produced in June 1987. It probably led a fairly docile life as an unassuming normal 535i until around 1997, when it began its transformation into an ultimate sleeper machine. The Dinan 3.9 upgrades give M5 levels of power, while upgraded Dinan suspension and a mix of E34 and E39 M5 brakes address a weak point of fast E28s. Ron Perry's crew did a transformation to match on the outside, with a correctly done European bumper and headlight swap leading towards a full respray in the correct colors. The seller includes options of wheels; no second thought would be given to my selection of the BBS RC090 "Style 5s" as the perfect fit for this look. The car is stylish but not over the top; well presented with quality modifications and a tremendous amount of work performed. Break down each individual change and you'll find that they alone eat up large chunks of the car's asking price. While it's not a 535is or M5, this is one of the more desirable E28s I've run across and I think is a great value for the work that's been done here. Save yourself a lot of time, headaches and sourcing rare parts; buy this car and enjoy it as it's hard to see how you could go wrong or regret the decision.
-Carter