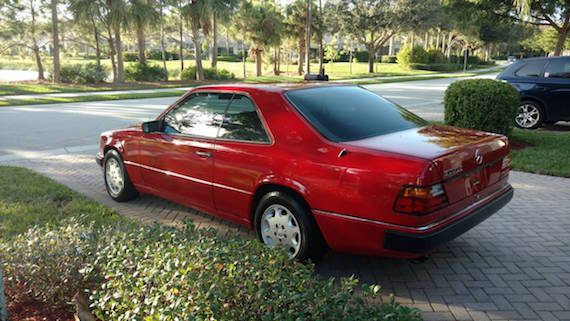 To some, the W124 might look like just another Stuttgart taxicab. But to those in the know, the 80s/90s era E-class stands for all those traits that once made Mercedes-Benzes the best cars in the world: over-engineered, incredibly safe (for the time) and remarkably durable, capable of cracking over half a million miles if properly cared for. While I've written up a number of sedans in the past, I haven't posted many coupes. That's a regrettable omission; the coupe offers all of the aforementioned characteristics only repackaged into a stylish, pillarless two-door body shape. The 300CE, produced between 1987 and 1995, was built on a slightly shortened version of the sedan chassis. Initially powered by the SOHC 12v, 3.0 liter version of the M103 engine – good for about 180 hp – cars sold from 1990 onwards came with the DOHC 24v M104 motor instead, pushing output to around 217 hp.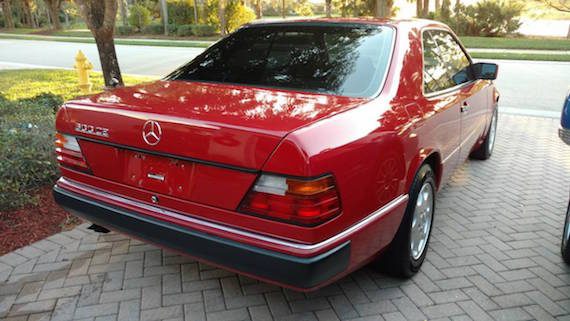 Year: 1992
Model: 300CE
Engine: 3.0 liter inline-6
Transmission: 4-speed automatic
Mileage: 78,066 mi
Price: $10,000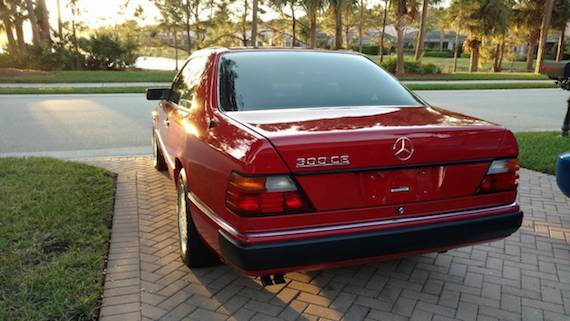 This rare "Signalrot" coupe was sold new to a prominent doctor in Ohio where it was barely driven until it relocated to Florida in 1998. The car remained in FL from that point forward and it shows as it does not have any rust at ALL.

The 300CE was later purchased by the service manager of my local Mercedes-Benz dealer and it was sold a few years later to the owner of Prestige Mercedes of Fort Myers (arguably the BEST Mercedes-Benz specialist in Southwest Florida) and it has been his personal vehicle to date.

– The car has only 78K miles and comes with a clean Carfax, no accidents, clean title, no stories.

– Service book stamped by Mercedes-Benz dealerships both in OH and FL since new.

– The car is in pristine mechanical and cosmetic condition with the exception of a couple minor rock chips on the nose.

– Everything works, power windows, sunroof, headlight wipers, powerful AC, original radio, original Mercedes-Benz CD changer, seat belt presenters…I mean everything.

– Original paint code 568 Signalrot.

– Original floormats.

– Original NEVER USED Michelin spare tire.

– Original, never used tool set.

– Original, never used first aid kit.

– All owners manuals included.

– NO RUST. Not even superficial rust.

Long story short, the BEST W124 Coupe I have seen in person.

To those scammers trying to make an easy buck: Do not waste your time as I can smell your dirty intentions from 1,000 miles away. Don't even test your luck with me because I will report your numbers and email addresses to the authorities. GET A JOB instead of stealing money from hard working people.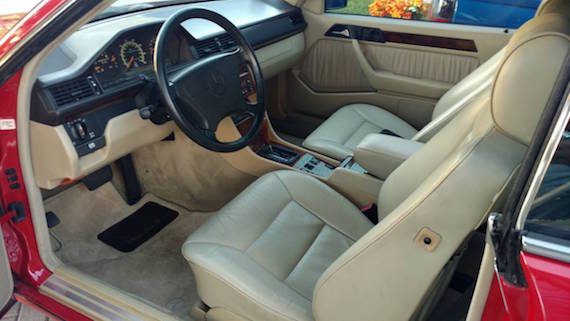 This low-mileage, '92 appears to be close to mint, marred only by some rock chips on the nose. The signal red paint looks glorious over the mushroom cream leather interior. All accessories are said to work and the car is said to be rust free, having resided in Florida since 1998. $10k is a lot of money for a C124 with low but not ultra-low miles, but I can't remember the last time I saw one in such apparently nice condition. I should imagine it's like driving a practically new car. Of course, rubber gaskets and seals break down with time as well as mileage, so potential buyers would want to inspect the car for any untoward leaks that might be present even if the car hasn't been driven much.
What if you have a hankering for a 300CE but can't quite stretch to the price of a this example? A forum member on Benzworld is putting his well-used example up for sale, and the price is bargain-basement level.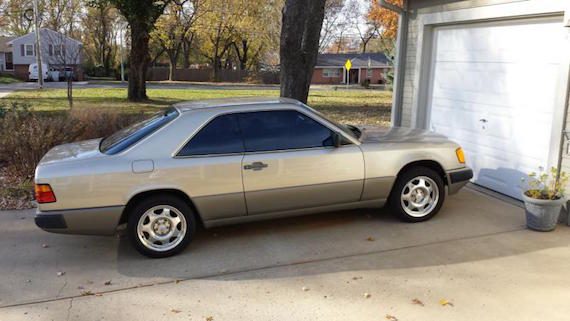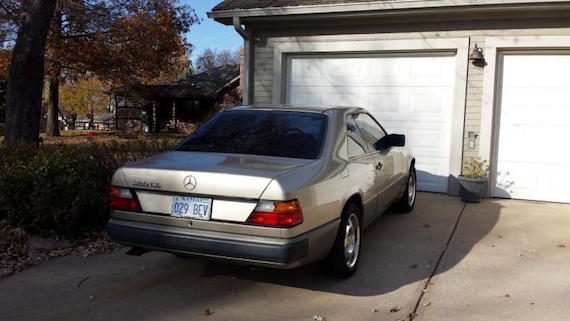 Year: 1988
Model: 300CE
Engine: 3.0 liter inline-6
Transmission: 4-speed automatic
Mileage: 213,000 mi
Price: $3,500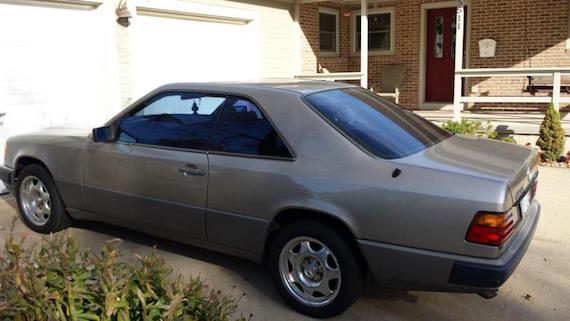 Hi all,
Against my better judgement, but with my wife's (let's say) "encouragement" I need to sell my 1988 300CE as I can hardly get into it anymore. Getting old sucks enough without arthritis… I love this car and hope to find someone fairly local who is as passionate about it's awesomeness as me. The car is not perfect but could be a daily driver or the better than average starting point for a complete restoration. I would consider it to be in good condition and has some decent aftermarket add-ons like remote start, keyless entry and the aluminum alloy wheels. The car has spent most of the last several years in my garage, insured as a classic car with only limited allowable mileage. My son used it recently as his daily driver (when he lost the timing belt on his car) It currently has 213k miles. I'm located in the greater Kansas City area, I'm posting here to avoid the craigslist scammers and to increase my odds of finding someone who may be looking for a fairly rare w124…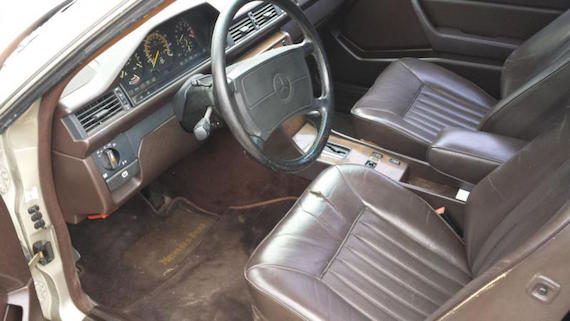 The pictures aren't great (curiously neither of these sellers have photographed the front end) but what we can see shows a nice looking smoke silver exterior free of any obvious defects. The seller has put a set of lightweight wheels from a 90s era CLK on the car, and while I'm generally not a fan of newer wheels on older metal, this is the one occasion on which I approve. The interior appears to be brazil brown leather and is marred only by a tear in the driver's seat. The car is described as a daily driver or an above average starting point for a full restoration. Judging from the pictures, I would tend to agree. And it's difficult to disagree with the price.
– Craig