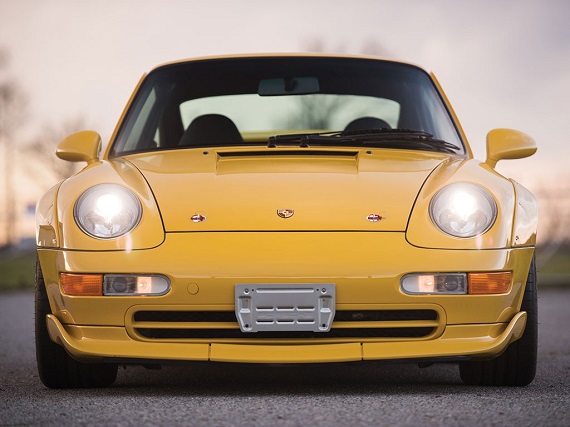 Few Porsches capture the imagination and turn heads like the 911 GT2. And among the various iterations of the GT2, the 993 GT2 is the most coveted. While engineering and technological progress naturally have rendered later models more powerful and sophisticated performers, the raw prowess of the original car remains the benchmark. Serving as both the first 911 GT2 put into production as well as the last and only air-cooled GT2 produced, the 993 brings with it the kind of rarity that rapidly elevates prices. Add in that it represented the highest performance among production 911s of its day and you've pretty much checked all of the boxes a collector could desire. The example we see here, a Speed Yellow 1996 Porsche 911 GT2 having traveled around 33K kilometers during its life, will be up for auction next Friday at RM Sotheby's auctions in Phoenix.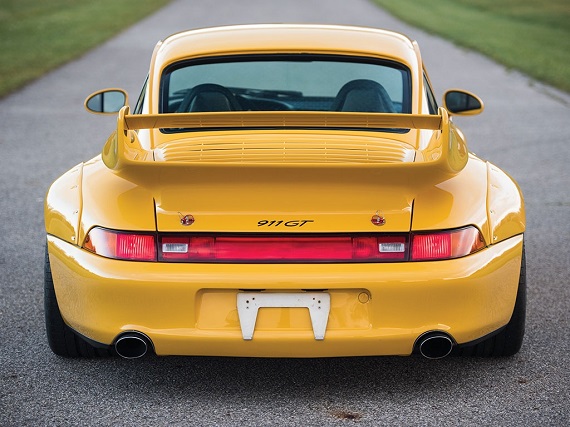 Year: 1996
Model: 911 GT2
Engine: 3.6 liter twin-turbocharged flat-6
Transmission: 6-speed manual
Mileage: 33,000 km (~ 20,505 mi)
Price: Reserve Auction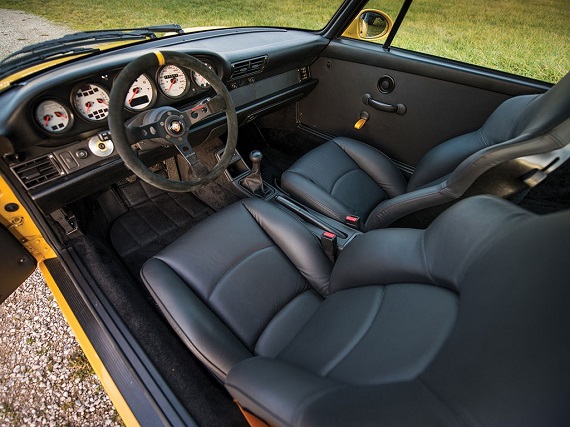 To be OFFERED AT AUCTION at RM Sotheby's Arizona event, January 19-20, 2017.
Estimate:
$1,100,000 – $1,500,000 US

Please note that Internet bidding is not available for this lot. Interested parties that are unable to attend the sale may register to bid by telephone or place a commission bid online at rmsothebys.com.

Type 993. 430 bhp, 3,600 cc SOHC air-cooled horizontally opposed six-cylinder engine with twin turbochargers and Bosch Motronic M 5.2 management, six-speed manual transmission, independent front suspension with McPherson struts, Bilstein coil-over dampers, and an adjustable anti-roll bar; independent rear suspension with semi-trailing arms, Bilstein coil-over dampers, and an adjustable anti-roll bar; and four-wheel cross-drilled ventilated disc brakes. Wheelbase: 105 in.

One of just 57 homologated 993 GT2s
Only 33,000 kilometers from new
Stunning Speed Yellow over black
The 911 GT2 took the top-of-the-line 993 Turbo to new heights, while reverting from the 959-derived all-wheel-drive to a traditional rear-wheel-drive configuration. Eliminating the front- wheel-drive system, rear seats, power-adjustable front seats, and various other items trimmed some 500 pounds from the GT2's curb weight, while, in racing form, the M64/60R engine with its twin intercooled KKK turbochargers developed 480 horsepower; the street version dialed that back a bit, to 430, along with 457 foot-pounds of torque at 13 psi. This still equated to only 6.6 pounds per horsepower, a figure that surpassed the fabled 959. All this energy was fed to the rear wheels through a new six-speed transaxle and an asymmetrical 40/60 limited-slip differential (ABD).

The GT2's bodywork included aluminum doors and front trunk lid, and very aggressive aero package, with a front air splitter with up-turned canards and a huge bi-plane rear-deck-mounted wing incorporating air ducts that fed the intercoolers. Special 18-inch diameter multi-piece Speedline alloy wheels with aluminum outer rims and magnesium centers filled the bolt-on fiberglass wheel arches.

The result was utterly stunning performance, including a 0–60 mph sprint in less than four seconds, and a top speed of nearly 90 mph. The new GT2's power-assisted four-wheel carbon-fiber/ceramic disc brakes were fully up to the task of hauling the car to a halt without fade.

To meet homologation rules, Porsche had to construct and sell at least 200 examples, of which 57 were road-legal. This special group of cars was specially hand-prepared by Roland Kussmaul's Race-Sports Department and were assigned the name 911 GT, while the track versions were labeled GT2. After 1997, both versions carried the GT2 name.

The GT2 immediately proved itself to be extremely competitive on the racetrack. One early example enjoyed high podium finishes at the Sebring 12 Hours in both 1995 and 1996, as well as at Watkins Glen and Daytona. In the hands of expert drivers, the GT2 was indeed a very sharp and reliable scalpel. The street versions were also brilliant performers, but many owners specified various comfort options, and as a result, the GT2 was the most expensive model within the 911 lineup that year.

Offered here is one of 57 homologated 911 GT coupes, a well-optioned example that was delivered in March of 1996 to a private collector in Japan. Factory records indicate that this ultra–high-performance street-legal Porsche GT version was delivered with Japanese market specifications around the first of March 1996, wearing Speed Yellow paint with a black partial leather interior with hard-shell sport seats, whose back rests can be adjusted for rake. It was fitted with a 40 percent limited-slip differential with ABD, 235/40 and 285/35 Michelin tires on 18-inch Speedline three-piece alloy wheels, a 92-liter fuel tank, power steering, electric windows, air conditioning, a tinted windshield, a suede-wrapped sports steering wheel and white-faced instrumentation, fog lights, external hood and engine lid locks, RS-style lightweight door cards, and numerous other items.

Its previous owner exercised the car periodically over the years and "wanted something different." As a result, modifications were undertook to re-trim the interior to Clubsport specifications, including the fitting of a roll cage and lightweight MOMO Porsche steering wheel, removal of carpeting, and installation of new racing seats. Recently imported to the United States, at the time of purchase it was discovered that none of the modifications were detrimental and that they were easily undone. Jim Newton of Automobile Associates in Canton, Connecticut, was then entrusted to remove the Clubsport modifications and re-trim the interior. Following federalization by the respected JK Technologies, the odometer now reads 33,000 kilometers, or about 20,500 miles.

Recently imported to the United States, this two-owner, now-Federalized, rare and desirable GT2 offers its next fortunate owner a combination of brilliant engineering and thrilling over-the-road performance.

To view this car and others currently consigned to this auction, please visit the RM website at rmsothebys.com/.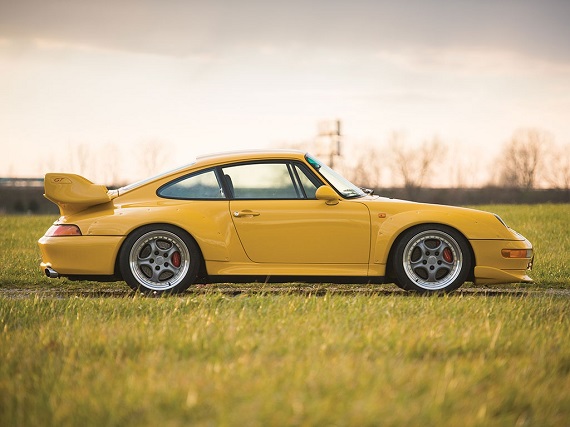 Only 57 road legal GT2s were produced as part of Porsche's efforts to homologate these wonderful machines so your chances of coming across one have never been very good. With estimated values already exceeding $1M the GT2 will always remain out of reach for most of us and, most likely, few will see much more time on the roads. This one has seen a decent number of miles for a car like this, though the mileage obviously remains quite low. Combined with the elegant curves of the 993, the GT2 brings with it a fair degree of menace surrounding a beautiful shape. It's both extremely pretty and also very aggressive hiding no pretensions about its performance capabilities. I don't feel the later models quite achieve this precarious balance in part because neither the 996 nor 997 are quite as pretty as the 993.
Draped in the always alluring Speed Yellow this one is just a wonderful example that takes the package a step further. A similar example will be auctioned at Gooding and Company's Scottsdale auctions next Saturday, but for me Speed Yellow catapults this GT2 well ahead in desirability. I'm sure other details of provenance and configuration will help distinguish each car and likely will separate their values. Either, obviously, would make prized additions to any collection, but purely on appearance this is the one I'd have. If you happen to be in Arizona next weekend, here's at least a couple cars to have an eye on.
-Rob