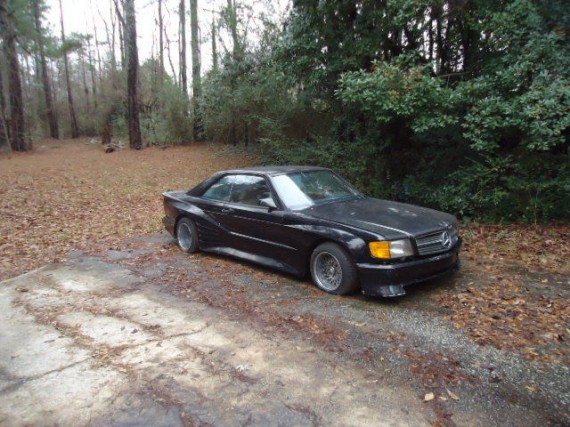 Need something to keep you busy in the continuing grey days of winter? How about a pair of 500SECs projects to keep you out of trouble? (Well actually this may get you into trouble, financially or with your significant other) Carter also noticed this ride and linked it off our Facebook page.
Here we have what appears to be yet another case of picking up the pieces where a previous enthusiast ran out of time, money, or interest, but the seller instead states that they are selling due to illness. This may mean that the projects aren't as bad as the ones being sold because someone got in over their head. Eitherway though that picture above shows a once great car looking sad. Not horrible though, we've seen a lot worse, but look at it just sitting there in a pile of leaves all cold and alone.
What we actually have is a rare, but non-running rare Koenig widebody 500SEC and a not as rare, but running parts car.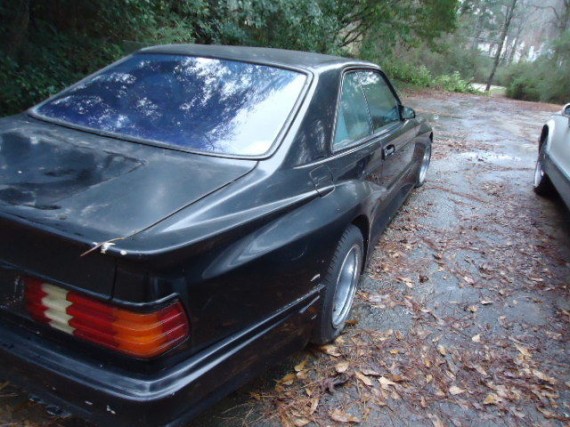 Year: 1985
Model:  500SEC Koenig Widebody
Engine: 5.0 liter V8
Transmission: 4-speed auto
Mileage: 89,533
Price: Reserve Auction, currently bid to $10,100
Year: 1985
Model: 500SEC "parts car"
Engine: 5.0 liter V8
Transmission: 4-speed auto
Mileage: Not provided
Price: Free with the purchase of the above car
From the seller:
I am selling my Custom RARE 1985 Widebody Koenig 500sec Mercedes with only 89,533 pampered miles. This car Has 20k extra customs done to it.I have brand new rear tires that cost 700.00 per tire. Also have a 1985 parts car RUNING to go with this Sale. I only selling due to illness, Its Not running at this time, needs distributor and fuel pump, which the parts car has Everything you need to get running. Or make both cars pristine.Ebay would not accept VIN – here is the correct Vin Number WDB1260441A110087 and VIN number for parts car is WDBCA44D7FA143866. THE PARTS 500SEC CAR HAD THE TOP HALF ENGINE REBUILT 12/2012 (camshaft,rocker arm ,timing chain tensioner and both valve cover gaskets done) The parts 500sec has Flow Master Exhaust, this car runs strong and very fast.The widebody Mercedes,when it was running last, Is very fast and strong.Both cars being sold as package deal.

 The widebody 500sec:

I have had the car for 15yrs.This car was custom made for racing,it also did have a supercharger on it but I no longer have it.But the setup is still on engine(brackets and pulley)

Widebody custom extras:

3-piece chrome BBS wheels+tires $9,300.00

Widebody kit+install+paint $15,000.00

Lowered Sport suspension $500.00

Custom wood door Trim and backseat panels $2,000.00

Nardi wood steering wheel $2000.00

Custom Exhaust $800.00

This Car is Very Rare and sought after, with a very low production in US.Last time a Widebody 500sec was on Ebay was 2003 and the starting price was $18,900.00. and sold for $89,000.00 I am not in need of the money,just due to my illness I cannot finish my prize possession and would rather someone else with the same Love for this car finish this very minimum repair to become a Classic Custom Rare 500sec Mercedes.


500sec Parts Car:

I bought this car off Ebay 2012, for the sole purpose of using parts and have extra parts for the Widebody.But when the car arrived, I was amazed how this car was running ,sounded and look. So I didnt want to dismantle this car for parts

500sec Parts car extras:

Full AMG kit

17in Custom wheels

Extra Chrome(trunk lip and wiper washers

Clear side maker lens.
Here is what I take out of that description. I like that the Koenig hasn't been traded around a lot, but has been with this one owner for 15 years. We see trouble cars get flipped over and over on eBay when a buyer realizes the car is not nearly as nice as the previous owner stated. This one hasn't been flipped around a bunch, which I see as a plus. Looking at the photos though this car is, as the seller says, a diamond in the rough. It looks like it has been sitting awhile outside, sad. The tires are flat and the paint is cloudy.
The Koenig isn't running because the owner states the car needs a distributor and fuel pump. I raise an eye at this a little. That is a fairly easy fix, especially with a second car where you can swap parts even just to test and make sure that is the problem. I understand if the seller is sick that they might just not be able to deal with this, but I think I would've tried to get that sorted before listing the car. It could be that there are bigger issues lurking. Eitherway a couple hundred to pay someone to do the swap off the parts car to show that this fixes the problem would've increased the sale price on the car.
It is also unclear what the seller means when he says the car was "custom made for racing." I think in this case it is just the seller indicating the car was setup with extra horsepower increasing modifications and not hat it was actually tracked or drag raced, I hope not anyway as that really isn't the W126's forte. Normally however seeing text like that in add for a street car is reason to be weary. The seller menti0ons that the car has the brackets for a supercharger and that it did at one point have one attached. The pictures show a modified intake, which if it isn't attached to anything may actually be impeding air flow. These bolt on supercharger kits can cause lean issues and premature engine wear, but the 5.0 liter is pretty robust and with under 100,000 miles should have some life left. The pictures make it look like maybe the car has been sitting a bit, the paint looks a little crazed and rough, but it is hard to tell.
The "parts car" (which looks like it is an easier fix than the non-parts car):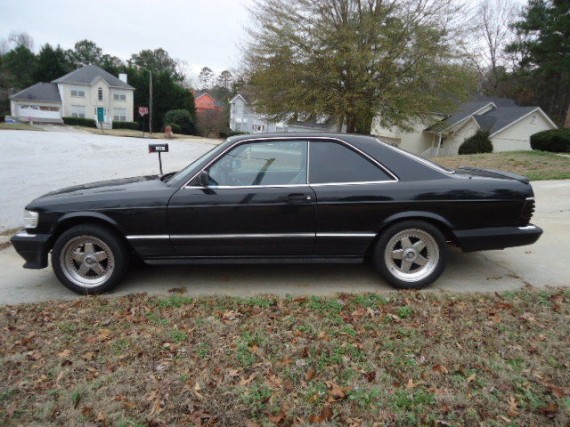 As the seller states, the parts car looks a little too nice to be separating. An eBay purchase by the seller, no doubt on the cheap, it looks like it was loved with someone investing $ to rebuild the top half of the engine in 2012. Not a stance guy, but there is too much space between the tire and the fender up front. Tucking that down or filling out the wheel wells a bit really helps the look of these cars.
I'm sure the seller is hoping for the top dollar that a nice Koenig widebody will bring in good shape. Unfortunately the presentation is just not here on this one. $25k as is would be surprising on eBay, last time it was up it ended at under $16,000. A little work, better pictures, and a cleaner presentation and I bet this would bring close to $10k more as these are rare cars with quite a following. It's all in the marketing. Note to sellers, put air in your car's tires before selling.
~Evan