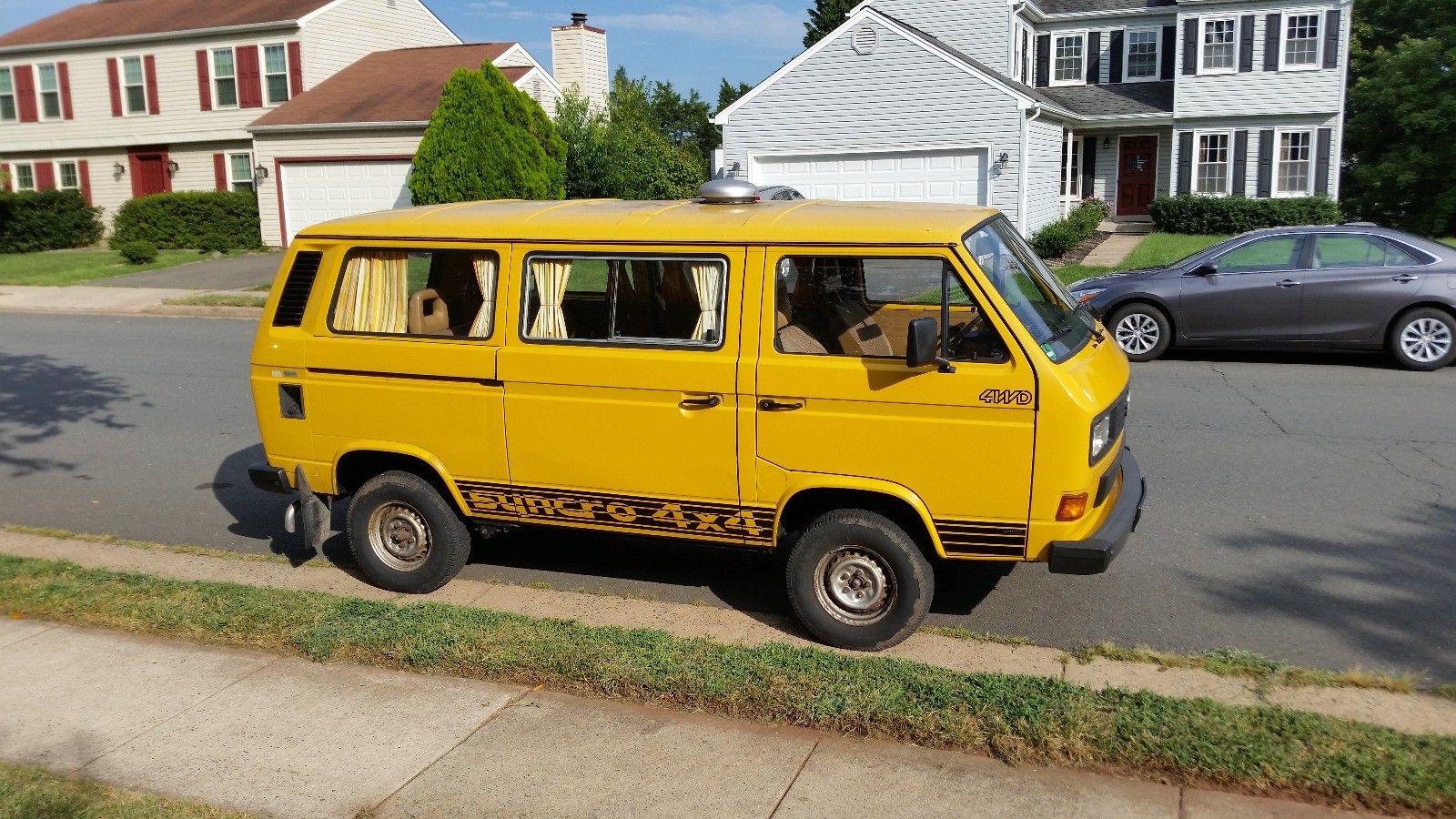 Boy, it's been a bit too long since we looked at a Volkswagen Van. In fact it's been over a year since I last looked at a Vanagon. For shame! Because while I often lament the lack of good 1980s Volkswagens to consider for these pages, there are predictably two models you can find at any time. One is the Cabriolet.
(crickets chirp)
Okay, admit it. While you tell your Corvette-owning friends that the Cabriolet was a travesty you'd never be seen in, they're actually kind of neat and certainly have their place. After all, what other cheap manual German convertible can you buy….a Boxster?
The other model that's ubiquitous with 80s search parameters is the T3. They occupy an interesting subculture within the German automobile ownership community. And once in a while, one pops up that I really take notice of:
Year: 1989
Model: Transporter Syncro Double Slider
Engine: 2.1 liter flat-4
Transmission: 4-speed manual
Mileage: ~44,000 mi
Price: $12,500 Buy It Now
1989 VW Vanagon Syncro Double Slider
72,000 KM on the odometer roughly 45,000 miles.
The VIN is WV2ZZZ25ZKG119158 ebay doesn't recognize it.

This syncro was legally imported from Belgium in 2016 using Busman from theSamba. It has all the import documents from CBP and EPA. It is titled in Virginia. It is not registered because it will not pass inspection (it currently has a KM only speedometer). I have a NOS MPH speedometer the correct 1600 for a syncro. I did not swap it because I wanted the next owner to change the odometer on their own. The vehicle is titled as having 44,000 miles on it.

The double panel door is not a model offered in the US. I believe in its past life this was a delivery vehicle. This syncro does not have lockers.

It has provisions for a webasto heater, but it currently is not working. It has a dome vent on top of the roof that can blow air in or suck the air out. It is pretty neat, but you could weld over it if you really wanted to. There is also a small cutout to the right of the steering wheel. I have no idea what that was for.

The van also does not have power steering, but an oversized steering wheel. It also has indications that it had an impact on the driver rear corner. It was fixed, but there is evidence of it. The engine looks good and clean. There is also a thick undercoating underneath.

The van only has a rear bench and non-swivel front seats. I may consider throwing in my westy front seats with armrests depending on the sale price (and if my eurovan seats are recovered in time).

The van also has curtains which are a bit strange. I am thinking it was added later in life.

Ok here are some of the issues the van has:
1. Driver side door lock sticks. It will need to be pulled and cleaned.
2. There is rust bubbling up under the front windshield and other windows around the seals.
3. The fuel gauge does not work it will need to be replaced ($35-$50 for the part).
4. The tank strap on the driver side is starting to rust. In the future this will need to be replaced. It will need the transaxle/engine be dropped. Parts plus labor will be about $1000. My mechanic told me even if the straps fell off the tank isn't going anywhere. The engine and transaxle are good and run strong so this job should wait until there really is a reason to drop either.
5. The fuel level sender needs to be replaced for the gauge to work. The part is about $60 dollars on gowesty. You do not need to drop the engine/transaxle to replace this.

I just got the van back from Valley Westy in staunton, VA DBA Complete Auto Care. I can give you Keiths number if you have any questions about the van.
He worked on the brakes, replaced the fuel lines (you should know the importance of this), and did a tune up on the engine. Since it is a syncro it does have a lot of pep compared to driving a westy. The engine runs well. It starts right up even during this cold snap we are having. Originally coolant/fuel gauges did not work which led me to believe it was a voltage regulator. Keith diagnosed it and fixed the coolant gauge so that works.

I can add a box of new window seals (van cafe) if the sale price comes close. It will be good to replace if you decide to work on the rust around the windows. The panel door seals won't work though because they have the chrome trim, but I'm not 100% on that.

The van is in Northern Virginia. You are welcome to inspect in person depending on my schedule. I will not let a person test drive unless they purchase the trip permit from Virginia DMV because it does not have plates or inspection. I will drive the person around the neighborhood a short distance.

I prefer pick up but it is up to the buyer to arrange shipping. The van just got a tune-up, brakes adjusted and rear drums turned, fuel lines replaced and other components inspected. I wouldn't hesitate to drive this a long distance home if you wanted to fly in and drive back. That being said it is still almost a 30-year-old van. I would have AAA premier, personal car insurance with roadside assistance, and money in the bank in case something happens. You could also rent a Uhaul car hauler for about 50 dollars a day. That is how I got it too and from the shop.

I tried to be accurate and honest with this posting. If you have any questions do not hesitate to ask. I will try to respond as fast as possible. I have no problem with having a mechanic come by and take a look as long as it works with my schedule (I cannot drive it to a mechanic). There is no warranty for this van. I am not a business just a guy who bought too many vans. There is a buy it now and also a reserve. After you win I require a $250 deposit within 24 hours. This is to cover the listing fee for this ad and the next ad if you decide to back out last minute.

I can't post HTML pictures, but this is a link to the album.

https://ibb.co/album/eCk8wF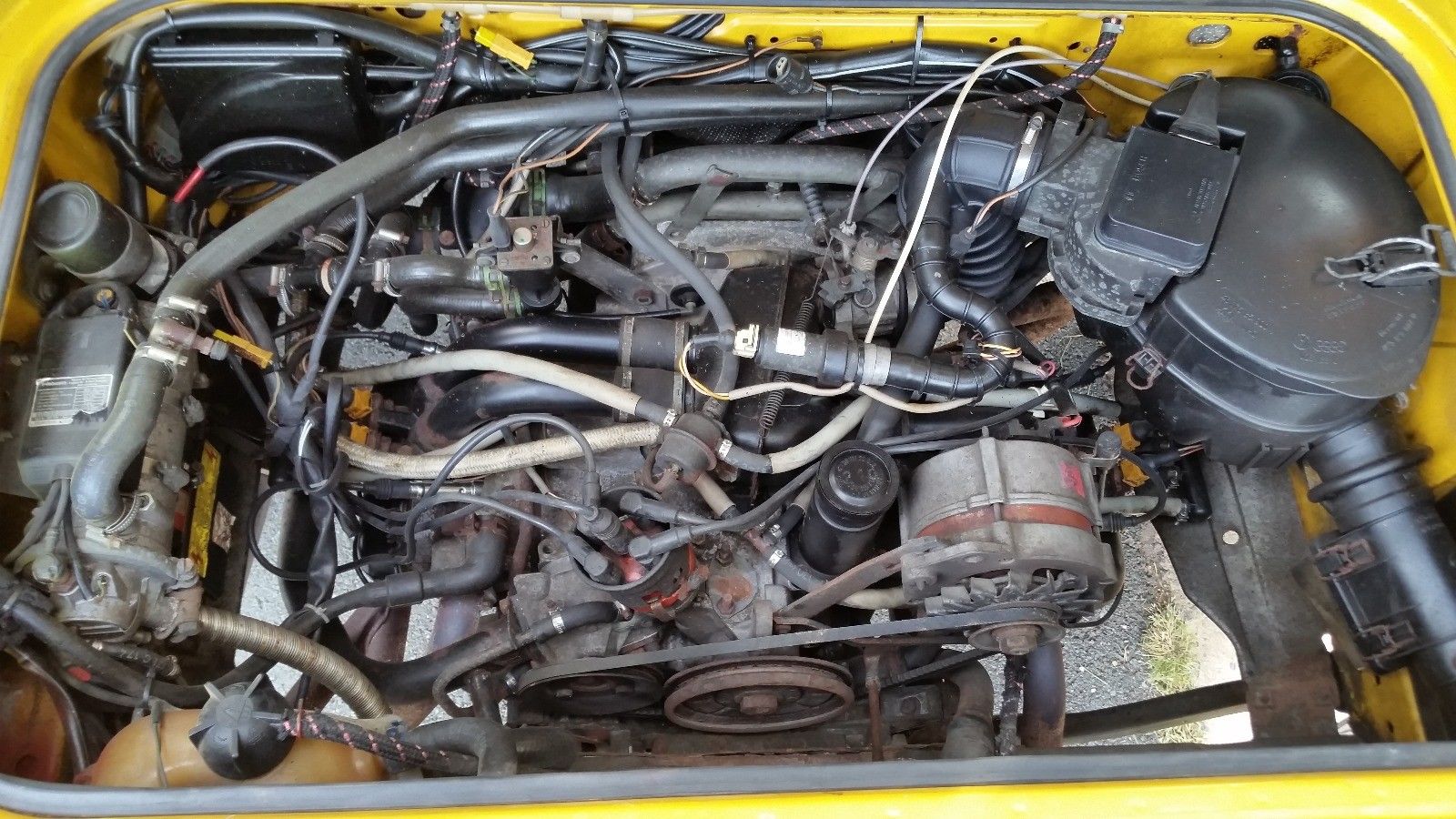 So, the obvious thing that drew my attention was the very yellow paint on this T3. Emblazoned on its rockers were the next magical key word – Syncro. The Syncro T3 is the legendary superhero of the 1980s VW range. But usually that's when they're specified as a Westfalia camper van, too – and that's when bids start to fly. I've seen T3s advertised over $100,000; this is a German boxer that even makes 911 pricing seem reasonable. So as it's not a wreck, even though it's not a Westy my immediate thought when I saw the $12,500 asking price was 'that's fairly reasonable'. Looking further, this Transporter was a really interesting specification. I either didn't remember, or didn't know, that you could get double sliders on the T3. But wait, there's more. It's a Syncro but wasn't opted with lockable differentials. I have to admit, that one sent me down the rabbit hole; I was unaware that you had to opt-in lockable diffs. You have no idea the number of websites I had to go through to confirm that information. It also seems like it was pretty low-spec with non-rotating Captain's chairs and a bench in the rear. It's lived an interesting life, too, with vents cut in it and curtains added for some 'Adventurevan' feel. The 2.1 Wasserboxer won't amaze anyone, but to me this T3 really represents a great period blank slate for Van fans. With more community support than ever and the Van Life poundsign trending more than #Covfefe, this looks like a neat opportunity to stand a bit apart from the crowd.
-Carter