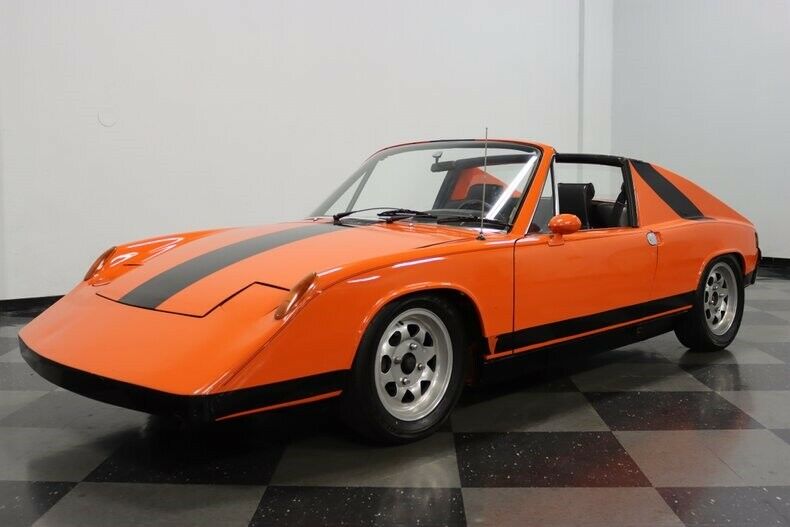 Welcome back to Fail Friday, where we try to explain the sometimes unexplainable. Today I'm trying to decipher why someone took a seemingly nice Porsche 914 and turned it into this "thing." It looks like someone grafted on a giant nose to the front end of the car as well as added some side support up from the rear of the car to the Targa bar. Now what was once a fairly short and squared off car is a long, swoopy one. Inside, it doesn't get much better as they went a little crazy with the diamond stitching as well as added some custom orange door panels. The price? Thankfully it isn't as crazy as this car.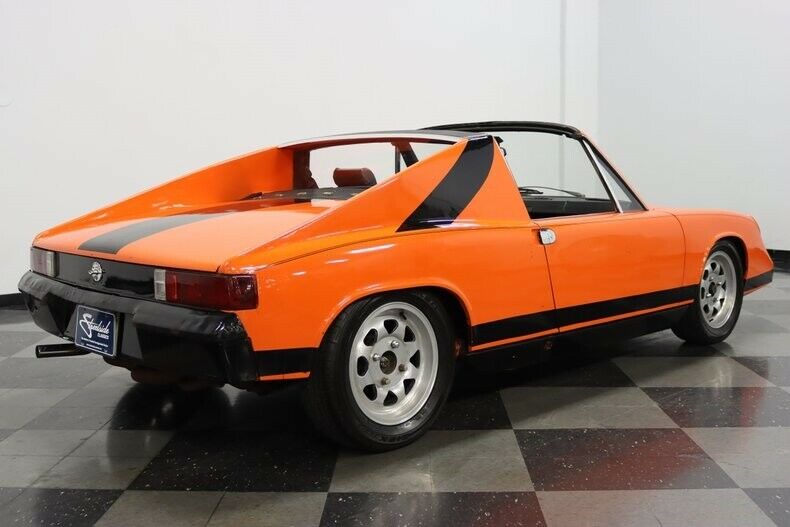 Year: 1970
Model: 914
VIN: 4702904843
Engine: 1.7 liter flat-four
Transmission: 4-speed manual
Mileage: 74154
Location: Fort Worth, Texas
Price: $11,995 Buy It Now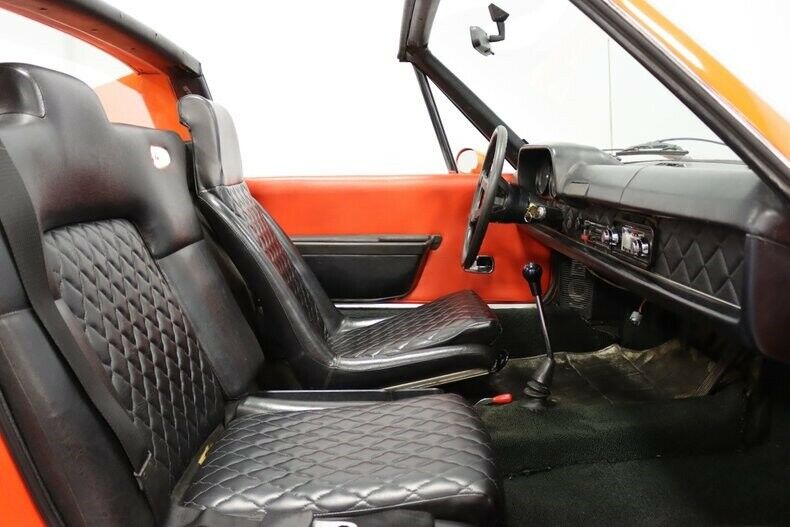 Low slung, agile, and blessed with a timeless look, this 1970 Porsche 914 Targa was a revolution in the affordable sports car game. And even though the 914 had an incredibly new and inventive design when it was introduced in 1970, that dynamic German styling simply wasn't enough for the owner of this beauty. No, this person wanted to show off even more, so he set out to transform this 914 into what many people now often mistake for a prototype. And in our opinion, he gave those engineers from Stuttgart a run for their money with this unique creation, dramatically kicking up the look inside and out, while leaving the famed mid-engine heart alone. The result is a one-of-a-kind Porsche that even has the snobs at Caffeine-and-Exotics buzzing.

Shortly after this car was purchased in 1970, the transformation into what you see today began. And it may carry a custom design that's 50 years old, but when it comes to automotive design, some looks just age better than others, with this unique compact German roadster being one of them. The original 914 DNA is obviously still present, but the body kit that features a custom nose cone, rear 'wings', and an oversized rubber rear bumper goes a long way to adding to the 'wow' factor of this little sport car. Dressed in Phoenix red paint that's contrasted with several black racing stripes, it exudes the promise of fun times behind the wheel and arrives at the present day looking very solid – no doubt the product of a sheltered existence during its lifetime, combined with attentive maintenance. The bright shade was applied several years ago but it still holding up fairly well, with a nice shine all over that's contrasted by the black rubber on the stripes and rear bumper. There are evident signs of use, particularly in the custom nose piece up front, but it's all commensurate with the age of the car and most of those issues are quickly forgotten once the viewer takes in the rest of the car. Its low-profile hints at its road hugging prowess and you can't help but notice its straight alignment – there are no protruding body panels anywhere you look. Also featuring good chrome trim around the window glass, the visual signs are everywhere that this is one vintage vehicle very ready to hit the road without hesitation. With the flip of a switch, the hidden headlights come to life, and its Targa top configuration allows you to transition from open air motoring to a more sheltered experience quickly and easily.

The interior is highlighted by the somewhat funky diamond-cut seats (although similar patterns are found in some ultra-luxury cars these days, so what do I know?), which are perfect fits for this custom 914 and make this Porsche an awesome trip back in time. Sure, they too show wear and tear from years of use, but the thin-shell buckets are featherweight and comfortable, and the driving position is arguably better than that of an early 911. Big, round VDO dials with the tach in the center will look familiar to anyone who has been in an air-cooled Porsche in the past, with secondary controls that are sensibly, if a little cryptically laid out. There's an uber-cool vintage AM/FM stereo in the center of the dash and we have to admit that the Phoenix Red (which if you haven't noticed by now, is essentially orange) door panels work rather well with the black carpets and seats. The roof lifts off easily and stows in the surprisingly spacious trunk, making this a true open-air cruiser. And with both front and rear trunks, there's a great deal of storage space for a car this size.

With its 1.8-liter 4-cylinder engine sitting just behind the passenger cabin, this 914 has a weight distribution that, combined with its low center of gravity, allows it to carve corners with ease. The easy-revving powerplant has been well-looked after over the years (including an upgrade from the infamously temperamental fuel-injection system into a classic carburetor set-up) and is in fine operating form. It's paired with a 4-speed manual transmission that shifts easily and securely to make for an involving and thoroughly enjoyable driving experience, and the stopping power of 4-wheel disc brakes simply cannot be beat on any sports car. This German fun machine sits with its characteristically low-profile stance on a set of 15″ alloy wheels, wrapped with 195/60/15 Falken performance tires that finish off the slick look.

Looking to take to the road for some open-air excitement at the wheel of a classic roadster with timeless bespoke good looks? You have to see this 1970 Porsche 914 Targa. Call today!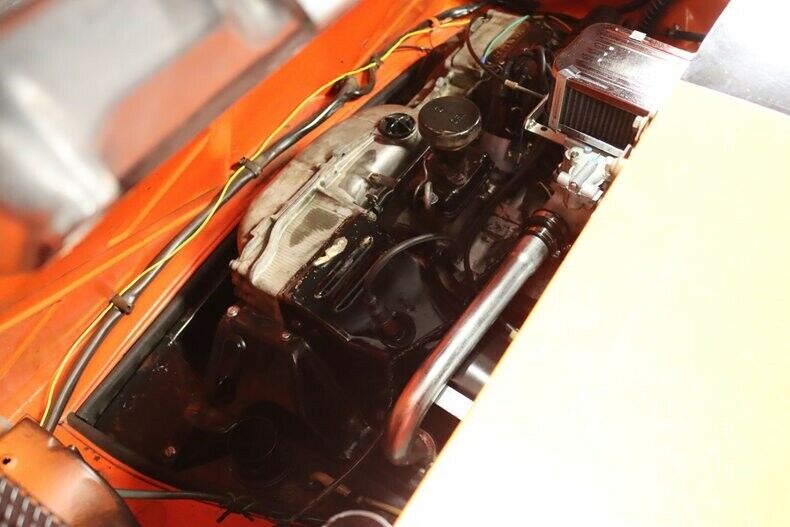 The selling dealer on this one tried to their best to buzz word this one up, but it is pretty clear this one someones wacky dream made into a reality. The rear bumper has something strange going on with it and that isn't a good thing. Inside, it looks like a regular seat was installed instead of the factory fixed-back seat, and of course diamond stitching everywhere. The orange door panels are as equally odd, and not sure why exactly they went that route. Then again, nothing really makes sense here.
Thankfully this car is only $12,000, which is becoming "cheap" in the 914 world as prices continue to rise on these. A nice 914 2.0 is somewhere between $25,000-30,000 now, with the lesser engines a little less expensive. I'm not sure what you do with this thing if you'd actually bought it, but I suppose it has potential.
– Andrew