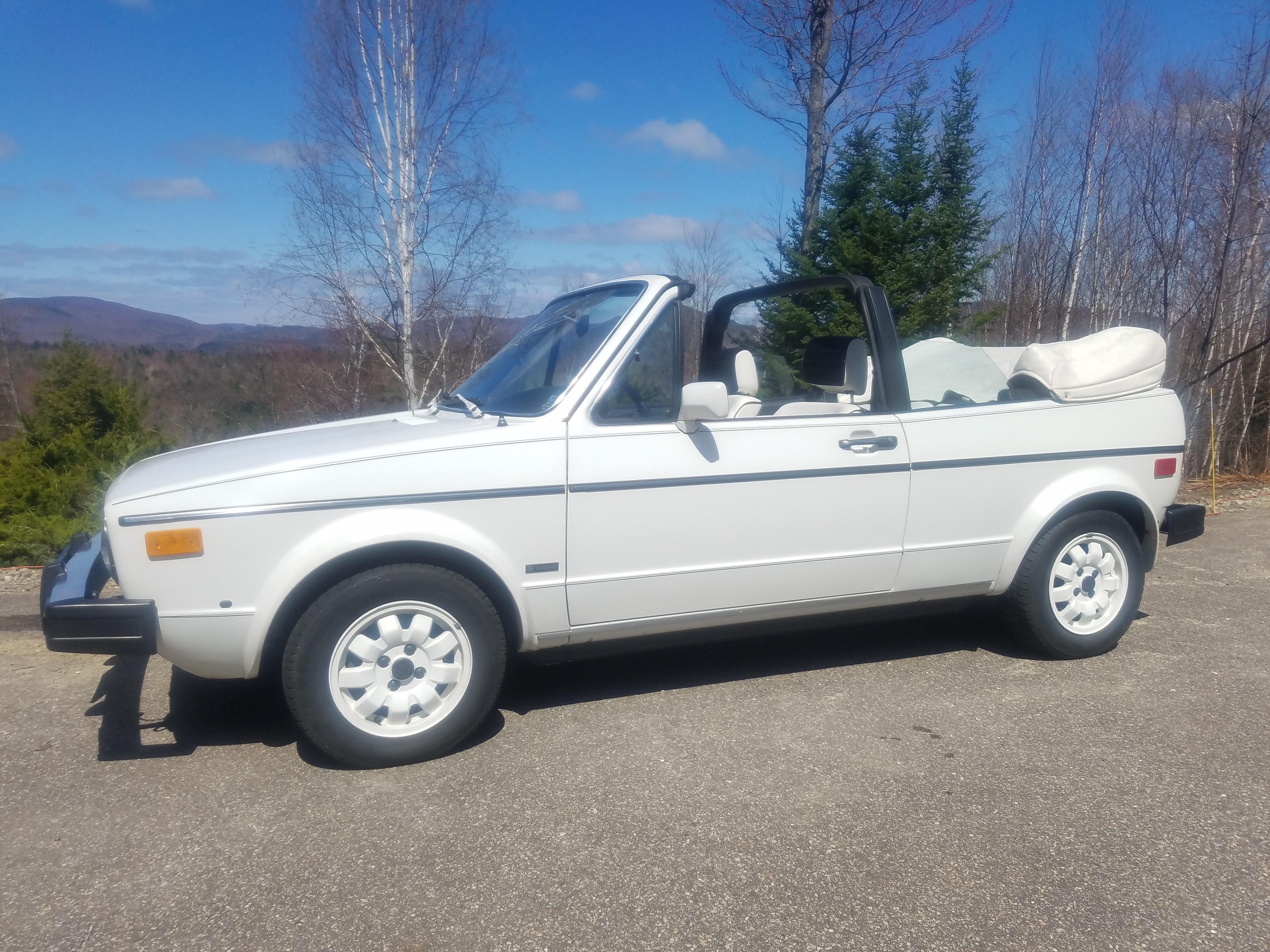 In the early 1980s, there were precious few options for open-air German motoring. Sure, there was the tried and true Mercedes-Benz SL; a luxury car aimed more at boulevard cruising and polo club grand-standing than the Sport Licht moniker would indicate. Porsche's 911 Cabriolet was certainly more sporty, but also too expensive for most to contemplate as a fun second car. BMW and Audi? The latter was over a decade away from having a factory convertible, and the former took until the mid-80s to introduce its drop-top 3-series. For the plebeians, then, the only real option was Volkswagen's Rabbit convertible.
Rabbit Convertibles were produced by Karmann in Osnabrück, Germany – about a two and a half hour drive west from Volkswagen's Wolfsburg plant. As they did with the Scirocco, Karmann's distinctive badge adorned the model, here on the front fenders. The intensive construction process laden with chassis strengthening and bespoke items like the added roll-over bar meant that VW's normal production line couldn't handle the task. Although these were the heaviest of the A1 models, compared to today's metal they were downright lithe; a manual early Convertible like today's, even with air conditioning optioned in, weighed less than 2,300 lbs. While never the most powerful in the lineup, the light weight and manual transmission made the original Rabbit convertibles one of the more entertaining ways to experience compact German engineering and open-air motoring in the notoriously malaise early 80s.
While the persona surrounding the model, and more generally the people who bought the model new, tends to steer away from the typical 'enthusiast', the Rabbit Convertible has nonetheless moved solidly into collector territory. It's a smart-looking, practically packaged and fun to drive convertible that can be run on a budget, fit four people in relative comfort and generate smiles throughout. In a world of increasingly serious automobiles, the Rabbit Convertible and Cabriolet models were just simple fun. Because they were so good at what they did, they've often been treasured more than the standard Volkswagen. But even then, few appear on our radar like this 1983 example: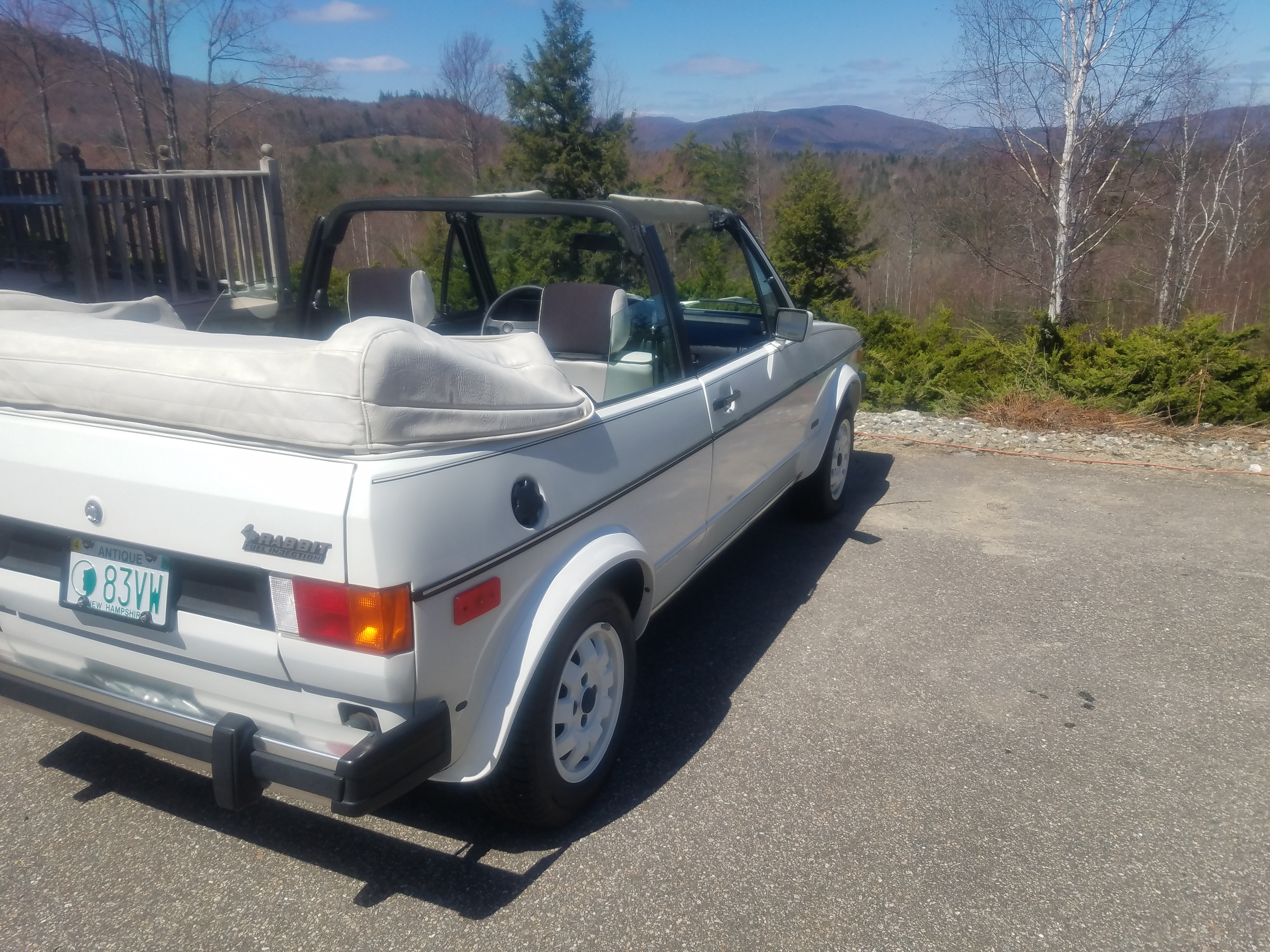 Year: 1983
Model: Rabbit Convertible Wolfsburg Limited Edition
Engine: 1.7 liter inline-4
Transmission: 5-speed manual
Mileage: 87,426 mi
Price: $6,950 or best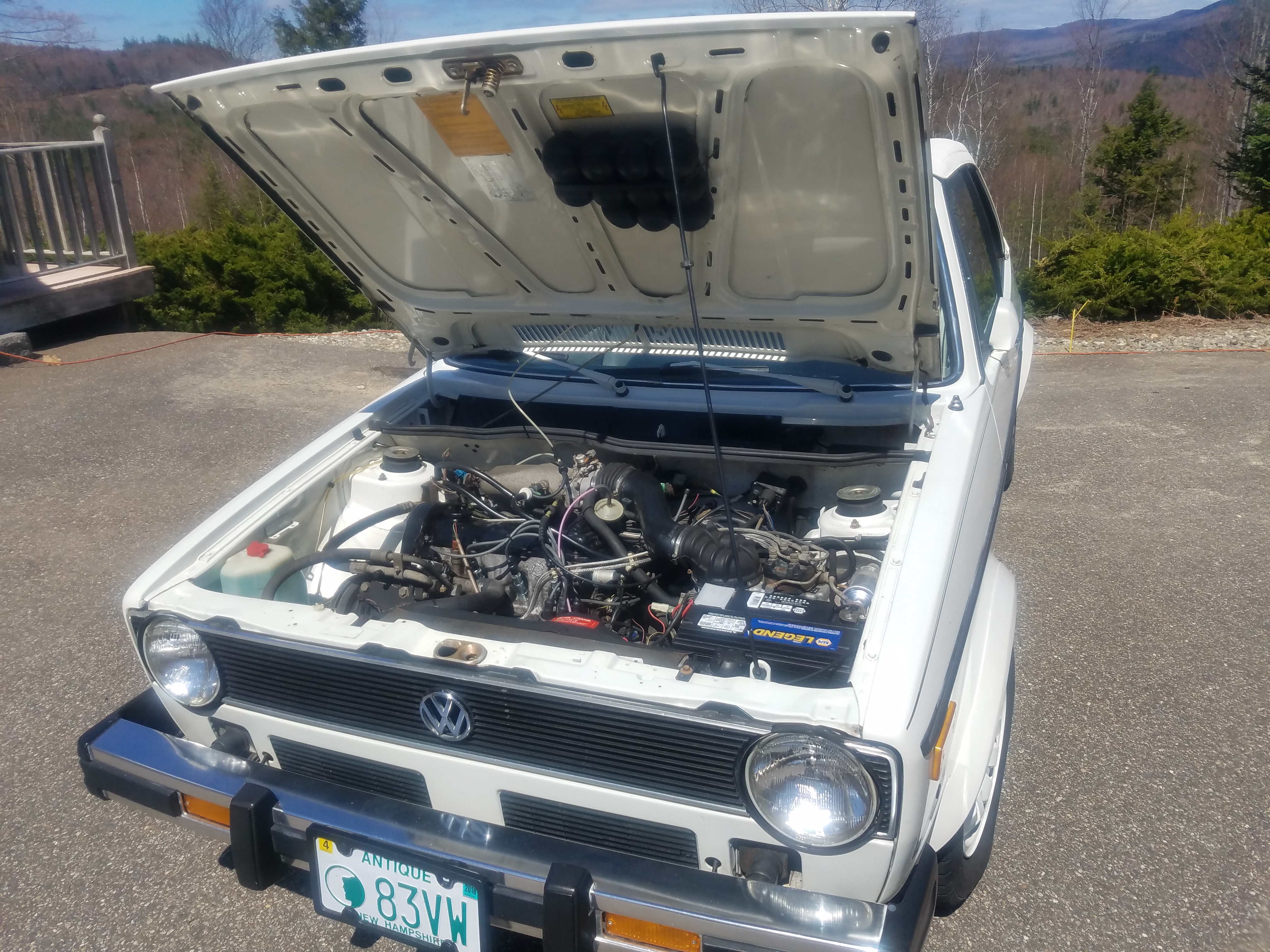 1983 Volkswagen Rabbit Convertible VIN: WVWCA0152DK011127
– All white Wolfsburg Edition with tarantula wheels
– Only three owners from new with full service records from 1997 onward – Fewer than 88,000 original miles and in fantastic condition (NAAA Grade 5) with only scant, superficial undercarriage oxidation – 200 miles on new clutch, pressure plate and throwout bearing – Factory A/C – All-original drive train and accessories except for normal service items and new, correct convertible top (1000 miles ago). – Seats re-upholstered in aftermarket fabric by previous owner but new, correct OEM fabric is included with this sale. Door cards and carpets are still original. – Two car covers (light and heavy duty), original owner's and workshop manuals and some service parts included
– Everything works perfectly!
For more information, please call Doug at (603) 744-8386.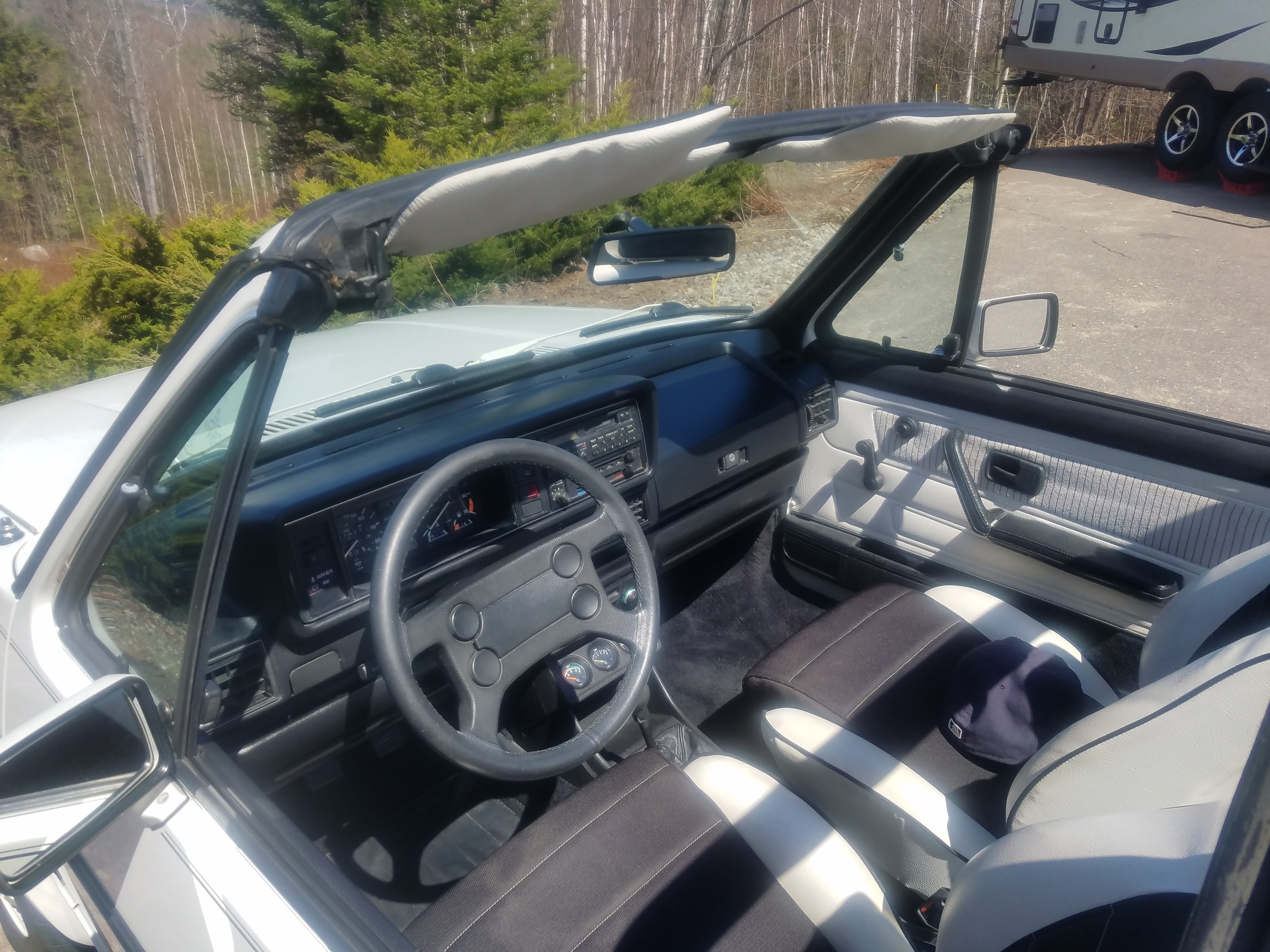 We don't often get a VIN decoder on Volkswagens, but I'll give it a shot here. The WVW is the German Volkswagen passenger car code. "C" denoted "custom" trim level above the base model. A indicates the lower output motor; in this case, the 1.7 inline-4, generating 74 horsepower and 90 lb.ft of torque. "0" means manual seatbelts, while "15" is the model type for Golf/Rabbit Convertible. "2" is a check digit, "D" is the year – 1983, "K" represents Karmann's Osnabrück plant. The remainder – 011127 – is the sequence number for the car. This car was opted with air conditioning and specified in Alpine White, as it is the upscale "Wolfsburg Limited Edition" model which featured the horizontal seat striping on the sport seats, leather steering wheel and shift knob, and of course color matched aluminum 'Tarantula' wheels. Out the door, this was about $11,000 worth of Rabbit in 1983.
The seller has extensive photos of the excellent condition of this vehicle, and it includes all of the original sales materials and original seat fabric, as well. They've also kept a maintenance log of work performed to the car. In short, this combination of factors is decidedly un-Volkswagen like when pondering one of Wolfsburg's creations. If you're looking for refined driving, passenger isolation and quiet cruising, look elsewhere now – this isn't your ride. But if you love the looks of the classic water-cooled Volkswagen's first foray into drop-top production, this example has been lovingly cared for and well-preserved as an attractive driver yet is available well under the cost of most other pristine A1 models.
-Carter