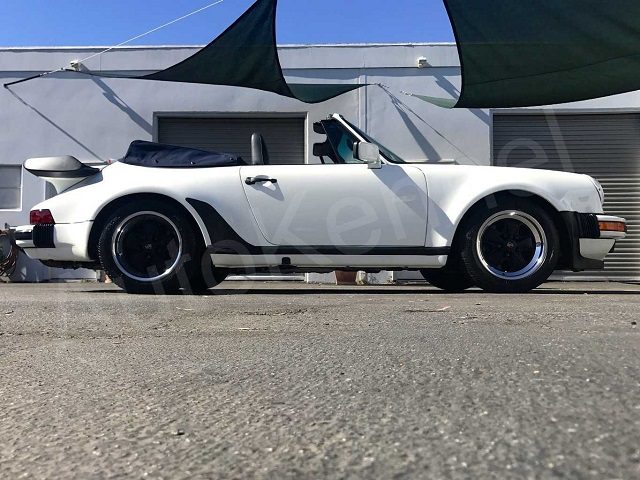 At the end of my post yesterday of a Carrera Targa Supersport I mentioned that the asking price was such that you could pretty easily find yourself an actual Porsche 930 in very nice condition for less money. Lo and behold we just so happened to receive this 930 for a feature and I think it does a pretty good job of demonstrating what I discussed with the Targa Supersport. I fully admit it's an apples to oranges comparison (different market, different model, different mileage, etc.), it just struck me as nice and timely.
Anyway, let's get to it:
Here we have a Grand Prix White 1989 Porsche 930 Cabriolet with 64,500 miles on it. An '89 930 always gets our attention. As the only year the 930 came equipped with a 5-speed manual transmission these are incredibly desirable and when one is in good condition it's always worth further investigation. This one even has a very subtle and unique attribute: Porsche script cloth seat inserts. The first I've seen!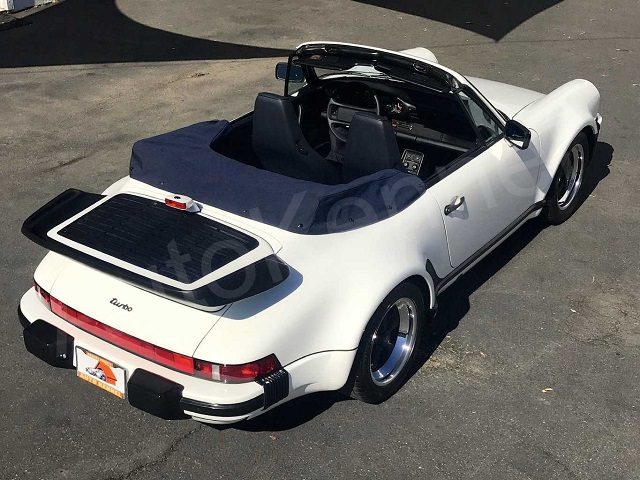 Year: 1989
Model: 911 Turbo Cabriolet
Engine: 3.3 liter turbocharged flat-6
Transmission: 5-speed manual
Mileage: 64,500 mi
Price: $124,990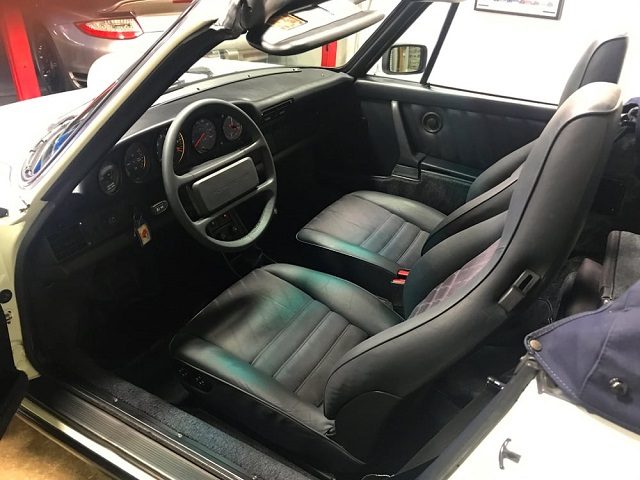 1989 Porsche 930 911 Turbo Cabriolet
G50/50 5-Speed Gearbox/Limited Slip Diff.

1 of 600 Built for North America

Past PCA President Owner

1-Owner for 23-Years
Stock #0827

VIN: WP0EB0938KS070124

ENG# 68K00178 (930/68)

Numbers Matching

64,500 Original Miles

Grand Prix White on Blue Leather & Porsche Cloth with Dark Blue Top
5-speed G50/50 Manual Transmission
Clean and Clear Arizona Title
No Accidents/Mostly Original Paint
2-Southwest Owners from New
Past PCA President Owned
Clean AutoCheck Background Report
Porsche Certificate of Authenticity (COA)
Offered at $124,990
More and more enthusiasts are beginning to see not only what wonderful cars the 930s are to drive, but also how important they are to the history of the 911. These Turbos were built between 1975 and 1989. The last year was a shorter production as Porsche was already introducing the new 964 body. As a result, only a handful of last-year 930s were built for North America. Only 600 cabriolets were actually delivered to the U.S out of 824 built in total for the globe. Plus, it was the only year 930 to get the all-new G50/50 5-speed gearbox. These two factors are making the 1989 Porsche Turbos among the most desirable.

This Porsche was built in August of 1988 and sold new by Beverly Hills Porsche on May 26th, 1989. Although these last year 930s were well equipped as standard, the following additional options were ordered:

Custom cloth seat inserts with "Porsche" embroidered
Blaupunkt Reno Radio
Amplifier
Limited Slip Differential (40%)
The total MSRP was nearly $73,000 (approximately $146,000 in today's dollars).

The first owner serviced the car regularly at the local Porsche dealer until selling it to the current owner in 1994 with around 28k-miles. The current owner has been a long time active PCA member and served on our local OCR (Orange Coast Region) board for over 10-years including the role as President. In the late 90's, he ended up moving to Arizona and the car has been carefully garaged there ever since. Most of the miles are from PCA events including national Parades. Over the years, this owner has serviced the car regularly and it has never needed any major work. Highlights of services over the years include:

Rebuild A/C system including new lines and compressor
Restore factory wheels with polished lips (by Al Reed)
New soft-top (by the Porsche dealer)
Replaced ignition control unit
Furthermore, we just had our local specialist go through the whole car, inspect it, and perform the following services:

Rebuild warm up regulator
Rebuild fuel distributor
Rebuild fuel pressure regulator
Remove and clean fuel tank and system
Replace hood and decklid shocks
Service A/C system (charge/check for leaks)
New factory horn
Check/fix all interior and exterior lights
General inspection
New correct OEM size Bridgestone tires
Adjust/service power top
New spark plugs
New injectors
Rebuild slide valve
Finally, a leakdown test was performed and the results were excellent (percentages off of 100%):

1) 4% 2) 4% 3) 3% 4) 6% 5) 3% 6) 4%

Our local specialist found this 930 to be in very nice, dry, and original condition. The bottom was dry with no oil leaking from the normal spots. The turbo system was also dry. Furthermore, there were no signs of abuse or damage.

This 930 is in excellent condition and typical for a low-mile, 2-owner, Southwest Porsche. The paint appears to be mostly original and verified with a paint meter. There is (undetectable to the naked eye) some blending on the front right fender, which shows on the paint meter. However, the car has been inspected and there are no signs of accidents or other repairs. The doors, hood, and deck lid are all wearing their original VIN decals as well as the original option decal under the hood (see pics). There are minimal signs of use as the owner used a car bra when traveling (included). There are two faint door dings in the right rear fender (see pics) and are barely detectible. All the glass is original (including the windshield) and in great shape. All the light lenses are nice with no cracks. The original factory Fuchs have been refinished/polished and are wearing new Bridgestone tires. The brakes have just under half-life remaining. All of the exterior lights function properly.

The interior is equally as nice. The original leather/cloth seats are in excellent condition with minimal signs of wear. The rare Porsche text fabric is in great shape with no rips. There is one small tear on one of the rear seat backs (see pic). The dash is perfect and has no cracks or warping. The door panels and carpet look fresh with no stains or warping either. The soft top was recently replaced by the Porsche dealer and looks near new with a clear rear window, perfect headliner, and no tears or rips. It is a full automatic power top and functions properly. All the gauges function properly. There was an older aftermarket radio system in the car that didn't work, so we had it professionally removed and a factory delete plate installed. The original Blaupunkt radio broke over 20-years ago and is not available. The A/C system has recently been serviced and blows ice cold. All the rest of the buttons and switches work properly.

This 930 cab drives fantastic. The mechanic and I have done extended drives in it and found it to be operating perfectly. It starts easily and holds an even idle. The boost comes on strong with excellent pull. The boost gauge reads .2 bar off, but the system was tested with a manual gauge and it is putting out the factory .8 bar. The brakes feel fantastic with great initial bite and no fading. The 5-speed shifts smoothly with no grinding or clutch slip. The shift bushings will need to be replaced soon though. The parking brake also needs adjustment. This 930 cab would be welcome on any PCA concours lawn as well as being at home on long distant vintage touring events.

This Turbo comes with its original owner's manuals, space saver spare tire, jack, Certificate of Authenticity, car bra, tonneau cover, and recent service receipts.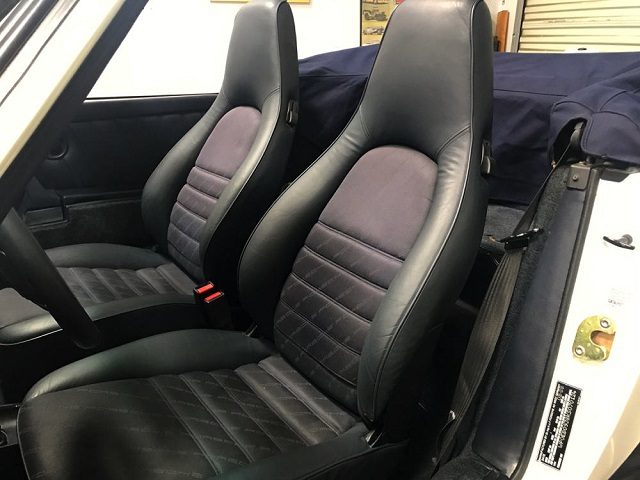 When I first saw these seats I thought something was wrong. They looked faded. Then I realized they were cloth. Then I thought the cloth had stripes or lines in it (but not intentionally). Nope, that's Porsche script. Of course, all of this is made clear in the ad text, but I tend to start with the photos. The point of all of that is that I've never seen this seat design before. Porsche is known for making available a wide array of options. Add this one to the list. These seats certainly are rare. How much any individual person might care about that rarity I'm sure will vary, but we must factor it in to any analysis. Of equal importance, those seats look in great shape! Even though 65K miles isn't a lot for a car of this age it is enough for wear to begin to show if the seats aren't shown good care. As for flaws: there is a small tear in the seat back of one of the rear seats. The original radio also is missing and currently replaced by a delete panel. That's too bad, but otherwise the rest looks good. With the exterior we find a similar situation. Everything looks clean and correct and well cared for. The subtle contrast of the dark blue top works well with the Grand Prix White paint.
Overall this 930 presents nicely. It isn't one of those 930s we see spec'd with a ton of options, but the cloth Porsche script seats do make for a bit of a conversation starter. It's a two-owner car with current ownership extending back to 1994 by a former PCA president. Added to that, it sounds like it comes with a good bit of documentation. That's the sort of stuff we like to hear and it fits the condition in which we find the car. With an asking price near $125K this 930 certainly is not inexpensive, but when we combine the condition with the rare seats and the one-year-only 5-speed transmission you can start to see how the price makes some sense.
For those who might have an interest in something with a bit more of a vintage feel to it, Auto Kennel also has a very pretty Signal Red 1964 Porsche 356SC Coupe for sale. Check it out!
-Rob