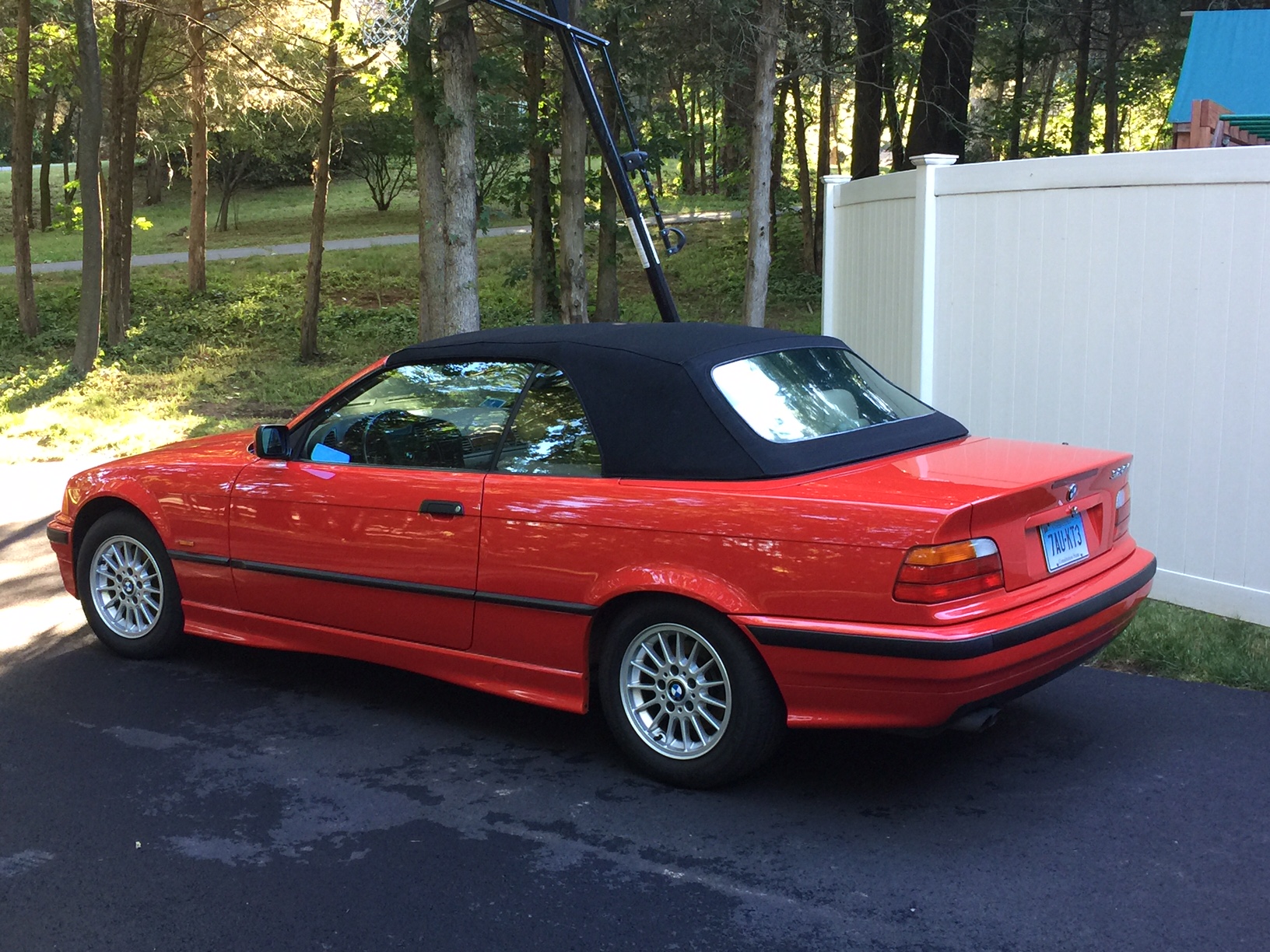 By 1995, the BMW 325i had long established itself as the benchmark by which all other sedans were judged. Though it had only appeared in the United States for the 1992 model year, Europeans had access to the E36 as early as 1990. That meant they by 1995, the model was in need of a refresh and BMW was happy to oblige. But as the U.S. market was occupied by the M3 launch, the new non-M range-topper's appearance would have to wait until 1996.
When the 328i did arrive, it was very much a case of 'meet the new boss'; while not a fresh design, the light updates were met with more power to continue the 3-series' reign at the top of the sales charts. The revised M52B28 was installed, and though it was more evolution than revolution, it was pretty good at spinning the needle thanks to 15% more torque than the M50 (207 v. 181). That meant real-world power and acceleration were at your hands, and matched with a manual gearbox the new 328i's 0-60 time dropped into the low 7-second range. The changes carried over to the popular convertible range, which offered considerably more 4-seat sport than either the Audi Cabriolet or the E320 Convertible. At over $41,000 out the door, perhaps it should have, but then that price guaranteed that the drop-top 3-series would be prized by those lucky enough to order them.
Today, finding an E36 for sale isn't very hard. But with the newest nearly 20 years old, finding a good one can be. These days, fewer and fewer appear like this very low mileage, well equipped 328iC: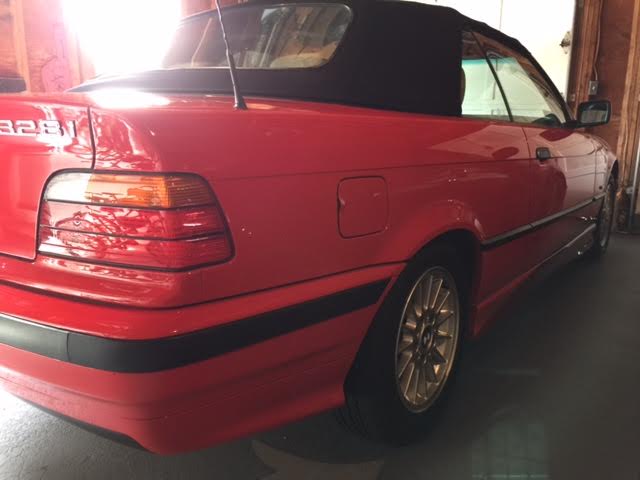 Year: 1998
Model: 328iC
Engine: 2.8 liter inline-6
Transmission: 5-speed manual
Mileage: 37,750 mi
Price: $12,500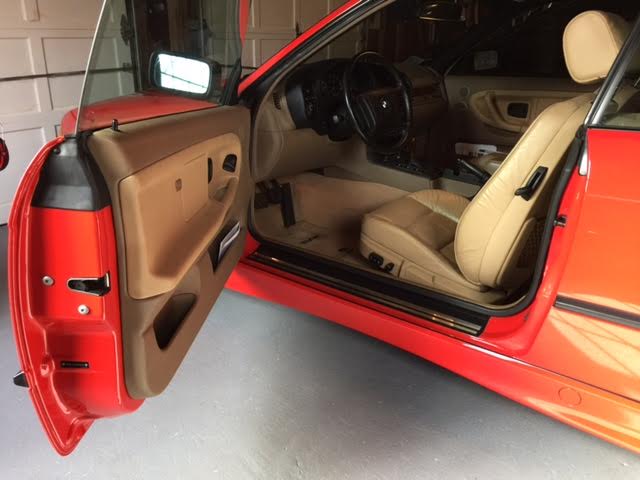 I purchased this car early spring 2015 from a BMW enthusiast in Chicago with 18,600 miles on it. The vehicle currently has 37,750 miles. Everything works / drives as it should. Factory installed Premium Package, Roll over protection package, Harmon Kardon stereo with new Alpine bluetooth head unit phone integration, factory wind blocker, stereo cassette head unit, cd changer, car cover, and Bentley service manual also included. Not a speck of rust or corrosion, vehicle stored Dec through mid April. I am a BMW enthusiast & CCA member. More pictures avail & happy to answer any questions, vehicle considered modern classic.

Minor items repaired by previous owner:
– Left front brake caliper was seizing, was replaced with OEM remanufactured caliper.
– Replaced front swaybar endlinks because they were making noise
– Rear parking brake drums have rattled, adjusted parking brake cable to fix
– Front left brakes were squealing, re-lubed front brakes pads (both sides)
– Insert Column C plastic inserts on headliner of convertible top failed, replaced both sides

Oil changes performed by BMW Hartford on regular maintenance schedule.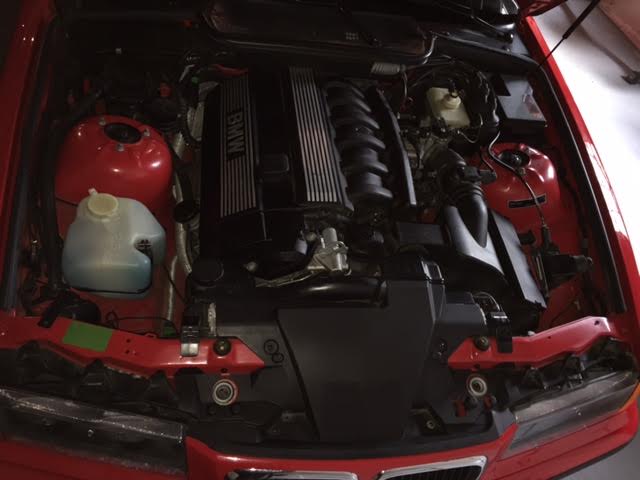 Produced in September 1997 at the Regensburg plant, this 328iC was well equipped from the factory. The color is 314 Hellrot (Bright Red) and the car was optioned with the P8SN beige leather interior. Standard features of the 328iC included automatic stability control (ASC+T), leather steering wheel, green stripe windscreen, electric windows, fog lights, and on-board computer. The U.S. market also got the Alusil version of the M52, denoted at option 961 on the build sheet. This joined other markets in the M52TU later.
Options were front passenger airbags (243, 260), heated windscreen washer nozzels (314), body color bumpers (341), black soft top (388), automatic roll-over protection bar (395), automatic top (399), wood trim (438), electric seat adjustment with heating (458, 473, 494), rear headrests (498), automatic climate control (534), cruise control (540), and Harman Kardon with CD prep (675, 692). The seller also has included a cover, manual, and optional wind blocker.
Condition throughout is impressive and commensurate with the very low mileage. There are those who specifically seek out BMWCCA-owned cars, and it's easy to see why. The paint is very glossy, the car wears top-dollar Michelins, it's been garaged and pampered. These are still very tactile cars which require driver input; the sound of a naturally aspirated inline-6 humming, the direct feel of the steering, the way the E36 is just thoroughly competent at everything it does is matched with the ability to cruise your favorite back road with the top down, heightening the experience in every way. This looks like a perfect example of the breed to do just that in.
This car is also listed on Cars.com and Hartford, CT Craigslist if you'd like to see a few more photos!
-Carter