Warning!
This post is in our archives. Links in this post may have been updated to point to similar cars available to bid on eBay.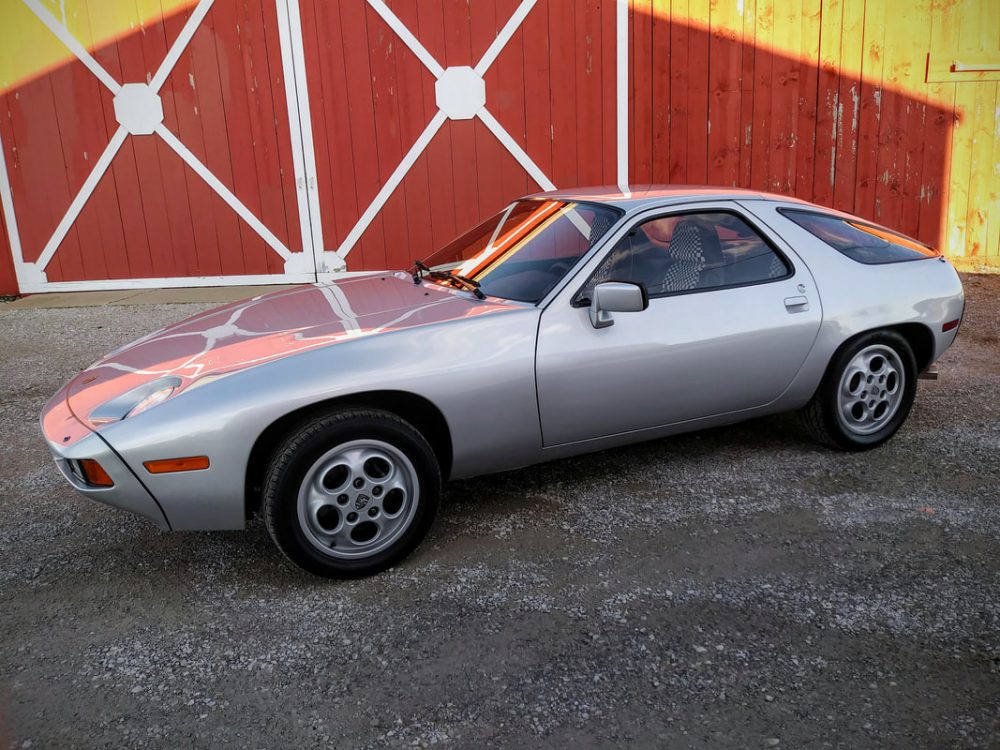 Is it possible that the early 928 is an even more futuristic looking car than the later models? Typically we'd probably consider the inverse where a model evolves and advances as it gets older. The 928 surely did advance and its evolution is clear, but I still think the earlier models look farther ahead than the later models. Some of that surely is down to their look relative to other options available at the time, but I think there's more to it than that. Their spaceshippyness (that's definitely not a real word) seems more pronounced. The round-in-the-back and pointy-in-the-front design is more apparent. The interior…well as soon as we take a look inside this one I think that part becomes obvious. It all seems like it's looking farther into the future and then with its evolution Porsche dialed it back some and smoothed all of the rough edges.
This forward looking design is a testament to Porsche's ideas and it really makes me wish the model had continued to live on so that we could see where it might have gone next. The Panamera isn't it.
These were my thoughts as I looked over this 928. It comes from early in the model's production so it showcases those early design cues and its black-white pascha interior is something few marques would ever consider utilizing outside of the '70s. This is very much a period-correct 928 and its restoration looks top notch.
Year: 1978
Model: 928
Engine: 4.5 liter V8
Transmission: 5-speed manual
Mileage: 63,446 mi
Price: $26,900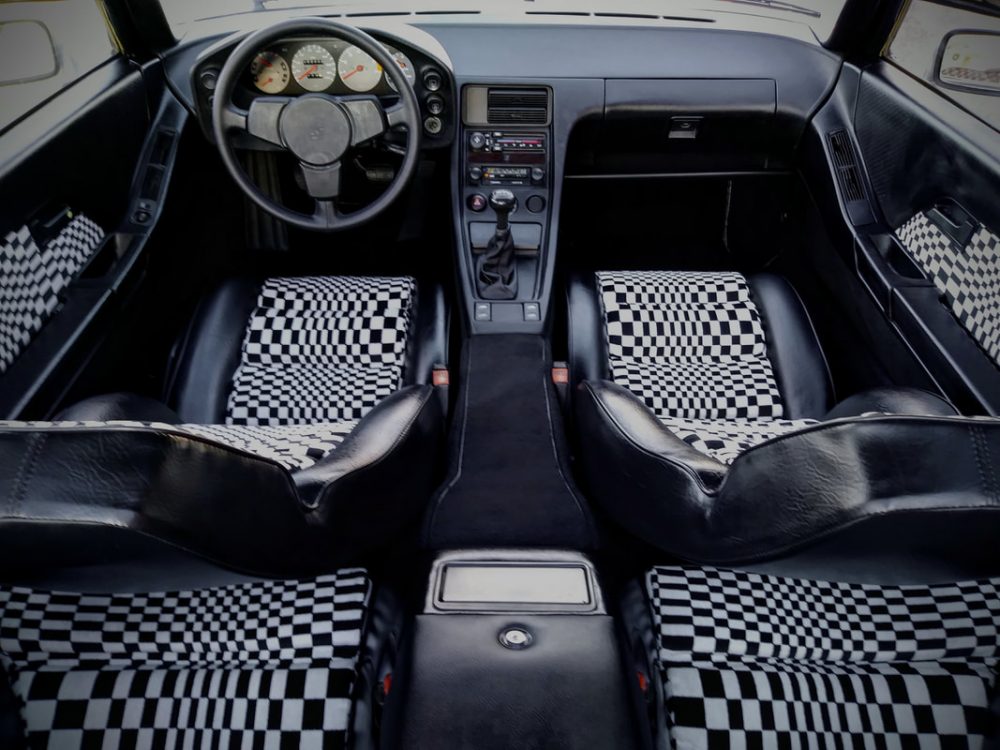 1978 Porsche 928 – US #338, 5-speed, Silver over Black w/Black-White Pascha

Very good condition early Porsche 928 5-speed, showing just over 63K miles on a working odometer. Recently repainted in its original Silver Metallic, finish shows good with some blemishes. Interior shows very good with reupholstered seats and Sliverknit carpet installed by Bob Budd at Classic9. Substantially mechanically & electrically serviced and restored.

This 928 has been prepared for consignment and offered here by 928 Classics.

VIN: 928 820 0338
Production Number 1739
Build Date: January 1978
Engine Number: M28/03 – s/n 8280348
Transmission Number: G28/03 – s/n 1181595
This is a 'numbers matching' original engine & trans, even though they don't match exactly
Exterior Color: Silbermetallic (Silver Metallic) #936
Interior Color: Black w/Black-White checkerboard velour (Pascha)
Original specification was Black w/Black-Blue Pascha

Key characteristics:
Early build, numbers matching, original silver w/pasha 5-speed 928 – no rub-strips, no sunroof.
Original spare tire, jack w/bag, lug wrench, tool kit w/yellow screwdriver, OSRAM spare bulb kit, spare belt w/tag, spare spark plugs (2), tire changing gloves, spare tire cover.
Many 78-only features – stainless steel gas cap, battery box cover, small-louver vents, chrome door locks
Matching and working locks & ignition – one key

Recent restoration:
Timing belt/water pump – rebuilt tensioner, new tension arm roller, idler, bushings & bolt
Camshaft carrier reseal – front & back, cam sprockets replaced w/excellent used
Fuel delivery – new fuel pump, feed hose, strainer & seal, fuel accumulator, fuel pump check valve, fuel filter
Clutch & clutch hydraulics – uprated release arm bushing, new throwout bearing, new clutch master & slave
Exhaust – Borla stainless steel 'cat-back' w/custom Y-pipe
Smog pump delete – w/correct fan belt tensioner and rear head plugs
EGR delete – w/correct 'euro' r-side exhaust manifold and custom intake plenum block-off plate
Ignition tuneup – Bosch 'Copper' plugs, cap & rotor, Beru plug wires, and 'Green Wire'
Fuel hoses – Greg Brown 'Lifetime' fuel feed & return hoses
Lower ball joints – new uprated steel
Steering – new inner/outer tie rods, and delrin rack bushings
Shift linkage – new front ball cup and shift lever bushings, rebuilt rear coupler
Lube – engine (Brad Penn 20W-50), coolant, gearbox, brake & clutch
Misc mechanical- coolant hoses, vacuum hoses (cloth-braided), air filter & intake seal, new engine dampeners

Interior – reupholstered seats w/period-correct-grain vinyl & properly-patterned Pasha cloth inserts. Dash, pod, console, glove box door, door panels, tool panel covered w/ period-correct-grain vinyl. Proper German 'Sliverknit' carpet installed (not domestic grade). Steering wheel, shift boot & surround recovered in leather. Center console restored including nicely repaired uncut bezel (often cut from DIN radio installs). Beautiful original rear quarter panel insert w/the early-style plastic substrate (doesn't warp).

Electrics – cleaned central electrics panel, new fuses, cleaned all ground points & 14-pin connector, new positive battery cable, new window switches, all lights, gauges, & primary electrical functions are operational.

Paint – Repainted original silver #936, 2013. All glass removed, headlamps removed. Doors & rear hatch jambs left original. Some seals replaced, new trim seals for front and rear bumper cover. Has some blemishes w/some fisheye and ghosting on the hood, and mild crazing on the left b-pillar. Polished w/compound & waxed but could use some wet-sanding. New front windshield.

Body – Generally very straight, but the car was tapped on left-front corner at some point. It was a non-structural impact, meaning the front-inner bumper beam or left longitudinal was not affected. Only superficial damage where the outer panels were tweaked. However repaired, it's most noticeable around the left headlamp fitment.

Chassis – Very clean and straight for the age of the car. Very little oxidation w/much original plating intact. Straight longitudinals.

HVAC – Rebuilt controller, all vacuum functions operational. AC inop but the system is intact, pump spins freely.

Misc restoration – new OE hoodliners, period-correct cold air intake tubes, and refinished phone dial wheels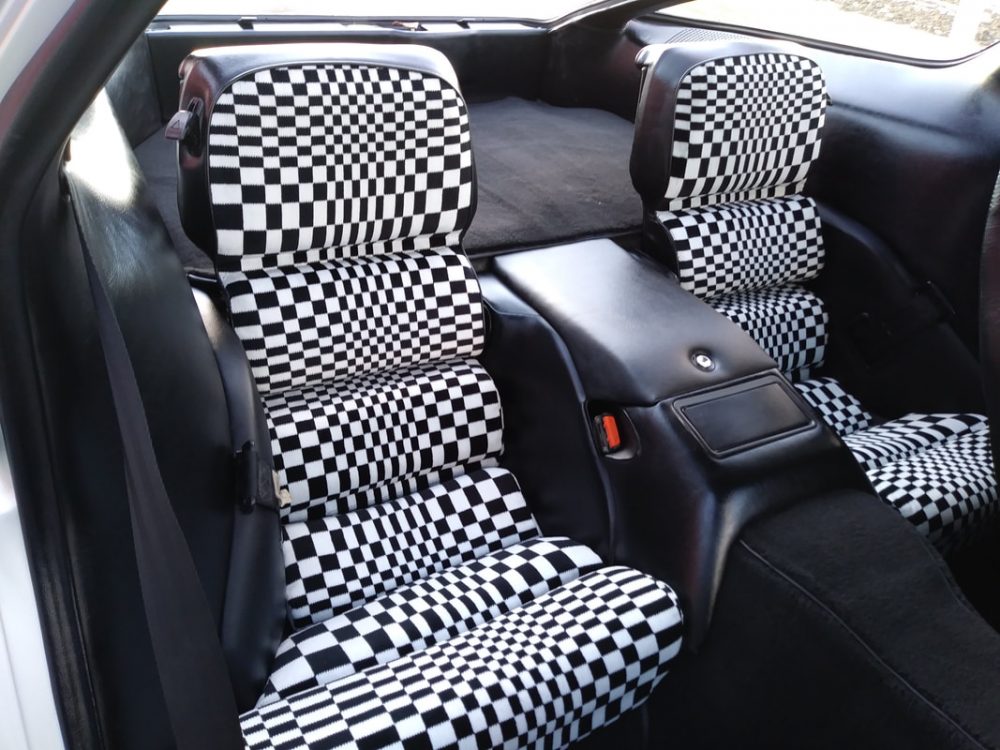 This interior really is wild. I have never seen a pascha interior in person and really would love to because I have no idea what it would be like to live with on a daily basis. The pattern itself gives me a headache if I look at it too long in pictures. I admit it looks in excellent shape though. This isn't the original color palette as originally this was a black-blue pascha rather than black-white. Black-blue must have really been something!
The exterior is still in this 928's original color of Silver Metallic. The seller classifies it as "good with some blemishes" but in pictures it looks pretty great. I'm sure those blemishes are present, but they don't detract from the overall presentation here. I'm a little confused about the numbers-matching engine and transmission, which are stated to be numbers matching "even though they don't match exactly." I'm not quite sure what that means. We're also told it had a light accident at some point that was largely superficial though does show fitment issues around the headlamp. This is another thing that I can't make out in the pictures, but might be apparent in person. It does sound pretty minor though. Otherwise, the rest of the car and chassis are said to be straight and clean.
Overall, for an early 928 this one looks really good. There are a couple points to nitpick as the seller has pointed out, but many of these seem the sort mostly apparent to a discerning eye and may be lesser issues than you're likely to find on other 928s on the market. Bringing us to price: At $26,900, we wouldn't consider this price low by any means. We certainly see plenty priced almost $10K lower. Those certainly are in lesser condition though. In this sort of condition and with this unique interior you might just find the extra cost worthwhile.
-Rob