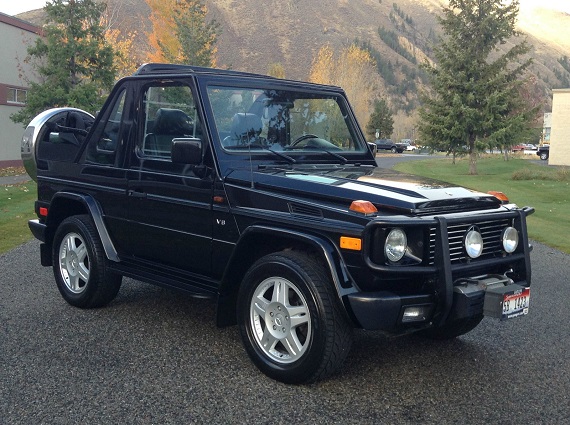 I have to admit, I'm not normally drawn to trucks or even cars that masquerade as trucks. You know that expression 'It's a Jeep thing, you wouldn't understand!'? They're right. I don't understand. They're loud, uncomfortable, hugely unreliable, rust quickly and accelerate slowly. They get horrible fuel mileage, launch their occupants out when they crash, and aren't really particularly attractive. And I'm pretty thankful that I'm married to a woman who generally agrees with me when it comes to these things. That's why I was particularly surprised when she rather unceremoniously announced that she'd be happy to drive around in a Mercedes-Benz Geländewagen. The surprise was doubled because in spite of my claims above, the G-wagen is something I love too.
For the last few decades, the G models have remained effective unchanged. While models like the Jeep Wrangler and Toyota FJ-Cruiser have tried re-imagined retro-rough styling, the Geländewagen marches on as an unapologetic Dinosaur from the late Cretaceous period. Sure, it's been updated with swanky interiors and more modern electronics and engines. Indeed, you can get some pretty nutter supercharged models if you need to pummel trails that much more quickly. And the Geländewagen has opened up into a new crowd who doesn't hit the trails, but fits large wheels and blacks out everything. It is one of the few mass appeal, truly do-anything vehicles ever produced. There are plenty of models to choose from, but the ones that always capture my attention are the rare Cabriolets such as this 2000 G500: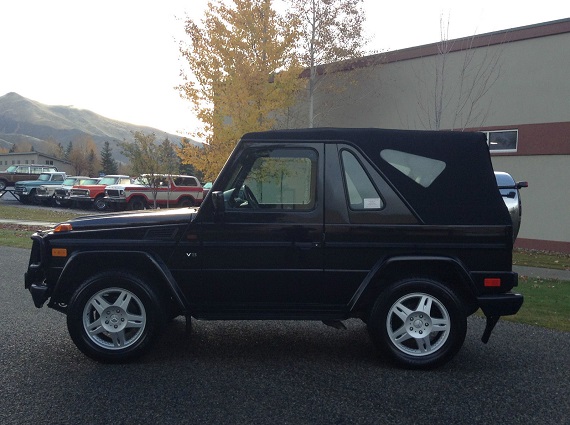 Year: 2000
Model: G500 Cabriolet
Engine: 5.0 liter V8
Transmission: 5-speed automatic
Mileage: 33,072 mi
Price: $110,000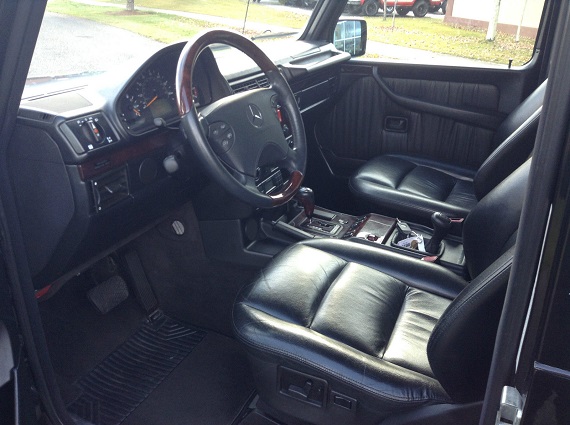 One owner.
No accidents.
Rust Free.
Never driven off road.
No mechanical issues.
Recent full service at Lyle Pearson Mercedes-Benz in Boise Idaho.
Legally imported through EUROPA in 2000.

Do you want what you cant have? Well here it is. The ultra rare G500 Cabriolet. If you know these, you'll know they were never sold from Mercedes-Benz in the USA. Europa, a certified importer brought these in for resale for us to enjoy. Never off road-ed and allays garaged this one is in stunning condition. The paint is dripping, and the interior is flawless. Optioned with the full spare tire cover, side steps, and front / rear heated seats your not buying a Suzuki Samurai. Especially when you cant raise and lower the top with the flick of a switch. This may be the only vehicle where you'll have one hand on a wood gran steering wheel and the other engaging the electronic differential locks. Being a traditional truck this 4X4 has a traditional body on frame design. On that note the body, in fact the entire vehicle is assembled by hand in Graz Austria. Being a G500 your buying one of the best engines on earth. The 5.0 liter. There are no warning lights on the gauge cluster and everything works as it should on the interior. This vehicle just saw a complete service to the tune of over 3,000 dollars. This is how you buy one of these. Ready to have what you shouldn't? Give Max a call at 208-720-8854 or Shep at 208-721-1973.

*Note the VIN # is incorrect because Ebay does not have the capability to understand that this car was imported legally. Their system does not recognize the actual VIN. THE CORRECT VIN # is as follows WDBEG4069Y7120725.

Click to view a test drive video
Click for additional photos

Fee and Tax Information: Out of state buyers will not be charged Idaho sales tax, you will be responsible for taxes in your home state at time of registration. In state purchases will be charged Idaho sales tax of 6% to be remitted by Sun Valley Auto Sales. Documentation fee of $195, In state temporary 72 hour registration $8, Out of state 30 day temporary registration is $5. Winning bidder must contact us within 24 hours of auction end, and make arrangements for payment at that time. A $500.00 deposit is due within 24 hours of end of auction. The remainder is due within 3 days of auction end. If no contact is made within 24 hours we reserve the right to re-list the vehicle, sell it to the next high bidder, or sell it otherwise. If you need financing I can work with your lending institution or I can help you arrange financing. You must have approved financing arranged before the end of the auction. Buyer is responsible for pickup or shipping of this vehicle. We ship 8-10 classics a month through our broker. If you want a quote call or email me. If you wish to have it shipped using your service, we will gladly cooperate. We reserve the right to end the listing if the vehicle is no longer available for sale.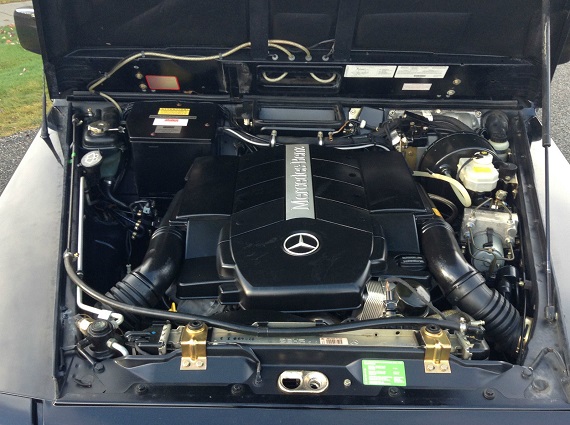 I do love the duality of the Geländewagen. Is it a serious offroader? Sure. Is it a Volkswagen Cabriolet? It pulls that one off too. Is it a swanky luxury ride? Absolutely! This is the automotive Wally Yacht, a beautiful design that executes its intended purpose with aplomb. Where else do you find locking differentials paired with wood trim and supple leather, a rumbling V8 and a soft top? This particular example is in near perfect condition and one of the rare Cabriolet models that are highly sought. With very few miles traveled, recent service and in all-original condition, this is offroading with class and the dealer is pretty well known to us to be great to work with on purchases. Don't get it? Perhaps it's a G-wagen thing, you wouldn't understand!
-Carter