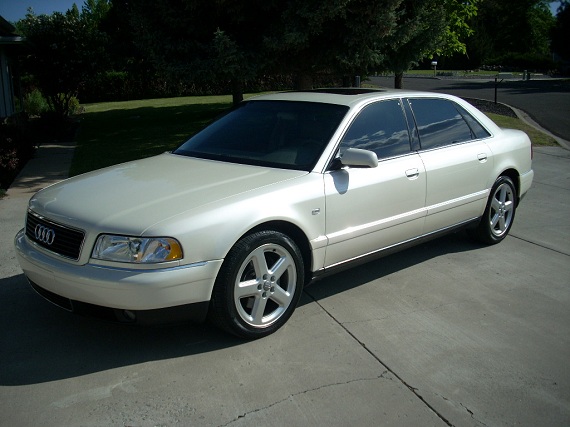 This car has been sold – we hope to see the seller back again soon!
Update 11/7/2014 – the seller of this pristine A8L contacted us to let us know one of the three issues – the backordered O2 sensor from Audi – arrived and has been installed, correcting one of the very few flaws on this stunning car. Despite the $500 bill, the seller price has remained the same. Don't you wish all sellers were like this one?
Earlier today I wrote up a brace of Audi S4s – undoubtedly, one of the best performance values going in classic German motoring today. However, if you move forward a generation, there's a similar stunning value in the S4's big brother – the Audi A8. Available in three configurations, the D2 chassis pioneered some new technology for Audi – the Aluminum Space Frame which stiffened the structure and kept weight down. The A8 was also completely new outside; while it's easy to point towards it as looking like a big A4, the reality is the opposite – the Audi space frame concept car actually predated the B5 A4 chassis and the first iterations of the D2 were near exact copies of the show car. First available in front drive 3.7 V8 configuration and 4.2 quattro, the D2 A8 was initially offered only in short wheel base before 2000. Styling was revised in 2000, which also saw the U.S. introduction of both the sport-oriented S8 model (2001) and ultra-luxury oriented A8L. Equipped with special wheels and fully optioned out, these cars were anything but subtle – commanding serious presence on the road. But that weighty look didn't necessarily translate to physical weight; despite the long wheel base and luxury bias, the A8L hit the scales only around a hundred pounds heavier than the C4 S4/S6. There were a few other minor details that separated the L from the regular A8 outside of the longer wheel base, too – a larger gas tank and upgraded brakes kept the performance in line with the normal A8. Coupled with the 40 valve V8 4.2 engine pumping 310 horsepower, this meant that the A8L was no slouch even though only equipped with the ZF-made 5-speed tiptronic. In a straight drag race, the A8L would actually give a stock C4 S4/S6 a run for its money. But a drag car the A8L was not; it's about luxury motoring, and the A8L excels there in droves as well. Despite the impressive package, these cars are available for very little money today – and when they're presented like this example, it's a compelling opportunity to get into one of the prettiest German luxury cars ever made for only a fraction of the original purchase price: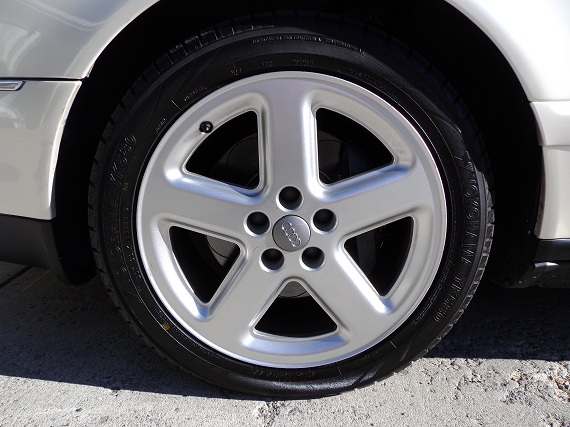 Year: 2001
Model: A8L
Engine: 4.2 liter V8
Transmission: 5-speed automatic
Mileage: 98,000 mi
Price: $ 6,500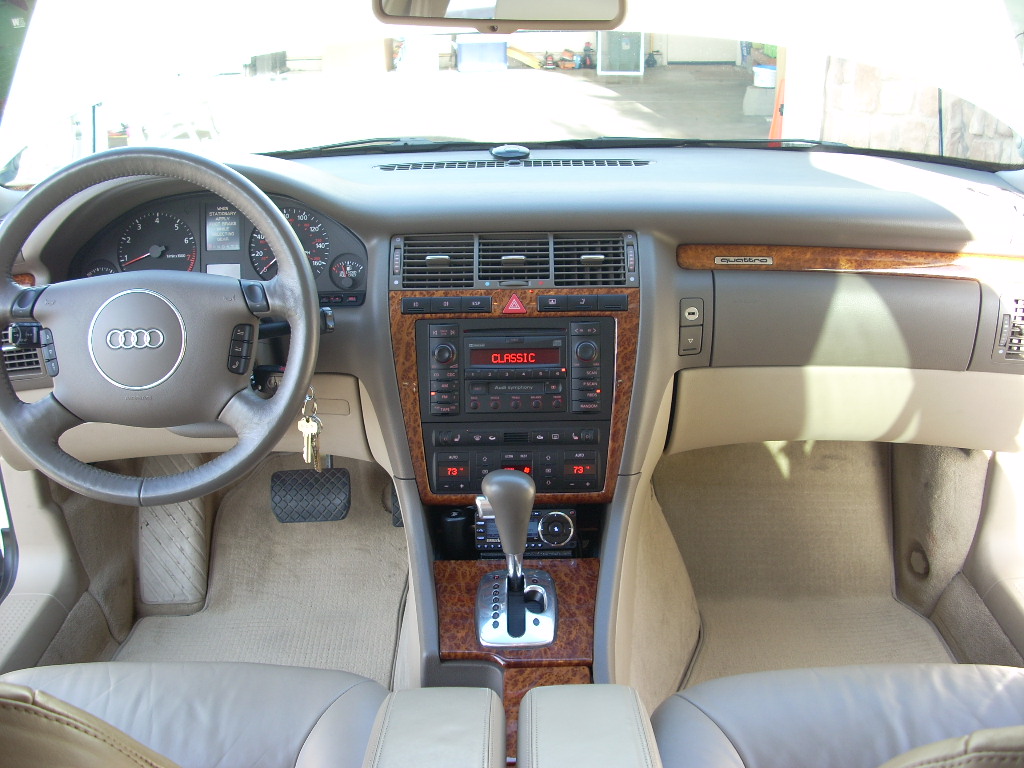 2001 Audi A8L AWD 98K mi. Pearlescent White Metallic/Tan

For those with the attention span of a goldfish: Reliable, clean, well-maintained, low-mile luxury with detailed records and shiny paint, $6500.

Longer version for enthusiasts that love autobahn-burning, luxo-beast Audis: Tons of eye appeal. Well-maintained with books and records in a binder with all receipts since my purchase at 58K miles, and some records from the previous owner. New timing belt, water pump, and seals 08/2014. New rear discs and pads 08/2014. Current synthetic oil change less than 500 miles ago. Yokahama mud/snow tires – great for winter driving – regularly rotated, 60-70% tread remaining. Even the motor-operated rear-window shade raises and retracts at the push of a button. This car was originally sold in Southern California and spent its life there until I brought it to Reno, NV in November, 2011. It's had an easy life and most of my miles are highway.

A8L was a step above the standard A8, and not only a refined and powerful driving experience for the driver of Audi's luxury flagship, but an equal passenger experience thanks to the extra 6 inches of rear leg room than the standard A8. With an all-aluminum, one-piece body and frame, the car weighs just 4200 lbs. And with a drag coefficient of just 0.29, it easily achieves the highway-rated 25mpg. (I've achieved 28.0 mpg roundtrip Reno to Las Vegas with cruise-control at 73mph.)

Audi aficionados already know, but the list of standard features on this model, which stickered at $75,000 when new, was unsurpassed in its day and includes:

310HP 4.2L V8
5-spd Tiptronic transmission with overdrive (no codes in the VAGcom scanner for those concerned)
Full-time Quattro all wheel drive
Optional 18″ alloy wheels
Dual, stainless steel exhaust with powder-coated tailpipe
4-wheel disc ABS, traction control, and electronic stability control
Navigation system
Full leather interior
8-way adjustable power/memory front seats – both
Heated seats – both front AND both rear passenger
Heated side-view mirrors
Power everything – windows, door locks, telescoping/tilt wheel, cruise control, fuel filler flap, trunk release
Home-link (garage door opener) built into the sun visor
Onboard mileage/trip computer
Bose AM/FM/CD/Cassette (now additionally equipped with i-Pod/MP3, and Sirius XM)
Power-tilt sun/moon roof
Remote keyless entry (both fobs included)
Headlights with automatic washers

So much more standard here: http://www.audiworld.com/model/a8/01/specs.shtml

Nowhere else will you find this kind of luxury – beautiful, and reliably maintained – for this price. Previous maintenance includes a complete re-spray of the front of the car by an Audi-authorized regional body and paint facility. Paint blending/feathering with the original paint is excellent – not visible even on a high-res camera.(Car was caught in a windstorm March, 2012 and severely pitted by wind-blown road sand) At the same time, I opted to replace many pitted frontal plastic parts including radiator, AC condenser, grill, fog lamps, headlights, windshield and trim pieces with new parts, topping it off with a full, clear frontal bra to protect the beautiful, shiny, new paint.

Repaired or replaced as regular or preventative maintenance:

11/11 – New 5-year Interstate battery
03/12 – New power steering hose, reservoir, and fluid
04/12 – New fan clutch
09/12 – New front outer CV/axle boots – both passenger and driver side
02/13 – Yokohama M/S tires with transferable lifetime spin-balance and repair warranty
02/13 – Alignment
08/13 – New cabin filter set, air filter, spark plugs; replaced combination switch-signal/hi-low beam stalk
08/14 – New timing belt, water pump (metal, not plastic impeller), rollers, thermostat, seals, lower radiator hose, right upper engine mount, rear brake discs and pad set.

Synthetic oil changes every 5k miles are routine and shown in the receipt binder so I did not list those.

There are 3 items on this car that I know need attention and hope to have compete by time of sale.

1) O2 sensor, front, bank 1, needs replacement (VAGcom code). My independent service facility tells me Audi-original sensors have been, and still are, on back-order from Audi of North America, nationwide. I'm waiting. Otherwise, it will be after-market sensor to pass smog. Update 11/7/2014 – Original Audi O2 sensor installed, correcting this problem.

2) Small 3-inch-long "press" into the sheet metal on front passenger fender. I parked too close to a steel railing – my own fault – and will have the dent professionally removed, though clear bra will now be missing from that one spot.

3) Interior, front passenger door handle does not engage the opening mechanism and cannot be opened from inside. My same independent facility has been trying to source new hasp/connector, but is NLA…not sure how I'm going to solve this one. However, opening the door for the passenger will make you always appear courteous, chivalrous, or both! My wife and daughter love it. Consider it a mixed blessing.

Anyway, paint looks great, interior is clean, car runs well, brakes work excellent with lots of life, same with tires. The original carpets are still clean – Audi rubber mats and after-market wool rugs (front and rear) are included. 2 key fobs, navigation CD library, cargo net, maintenance/record binder, and transferable tire warranty also included. No liens, clean/clear title in hand.

I am meticulous about my cars, and you will be buying a luxury gem at a great price with no needs from a middle-aged business man that spent way more than necessary to keep the car in top visual and mechanical condition.

$6500. Open to reasonable offers AFTER you've seen the car. Call 775-852-5367 hm or 916-730-4420 cell for more information, or for open discussion, and to make an appointment to see the car. You can contact me if you're interested directly at insite94@earthlink.net.

Link to photos: http://s1293.photobucket.com/user/insite94insite94/library/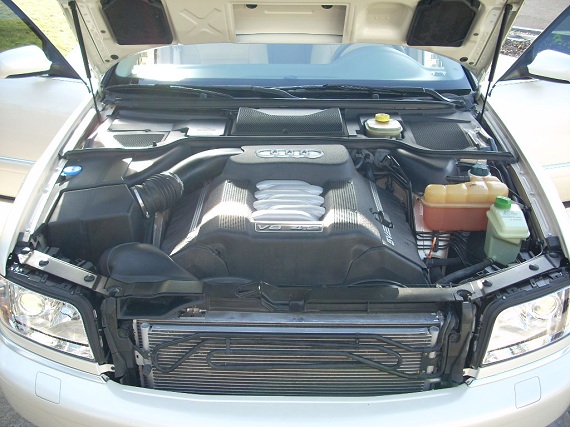 While there are plenty of A8s out there for sale, very few appear in the condition of this car. Aside from the solar roof, this car is fully optioned including the optional 18″ wheels and Pearlesant White Metallic paint – two of the few options that could be specified for this car. Condition is near flawless, and the honest description outlines not only the history but also the shortcomings – of which, frankly, there are few. Could you buy a more luxurious car in better condition than this one for less money? I don't believe so, and when you match that with the looks of the D2 A8 it's nearly enough to make me end my quest for the perfect S8. When I was looking for my current daily driver, I found a one owner car with all the records and a seller who not only took pride in the condition of his cars, but was meticulous in detail. But in all honesty, as nice as my Passat is it pales in comparison to the condition of this car. Kudos to the seller for a stunning condition, excellently represented car that is truly an incredible value. This A8L represents arguably the best overall value in the luxury market segment today.
-Carter