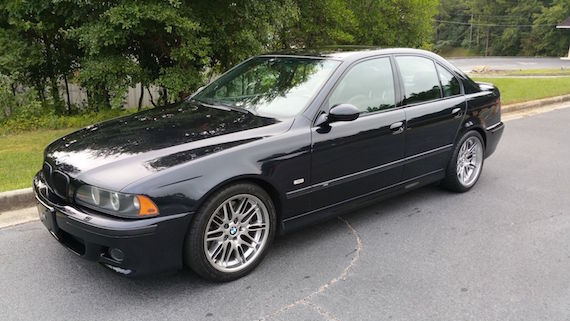 The BMW E39 M5 needs no introduction at GCFSB. This V8 beast is still a source of joy for many a Bimmer faithful. As compared to the current M5, with its myriad of options, the E39 M5 was more of a one size fits all package, available in sedan form only and the sole transmission being a 6-speed manual gearbox. Along with the earlier M cars, this generation M5 has appreciated noticeably as of late, with very good examples stretching past $30,000. Considering the performance at hand, however, it could almost seem a bit of a bargain. This 2001 M5 in Carbon Black is for sale from our friends at Encore Motors in Macon, Georgia. Showing just a bit over 100,000 miles on the clock, it has been pampered over its lifetime, has many recent service items addressed and comes with a full history.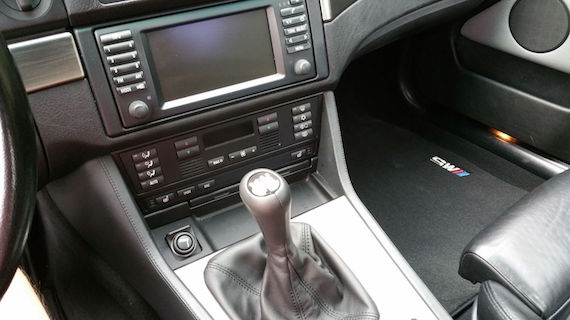 Year: 2001
Model: M5
Engine: 4.9 liter V8
Transmission: 6-speed manual
Mileage: 107,300 mi
Price: $19,700 Buy It Now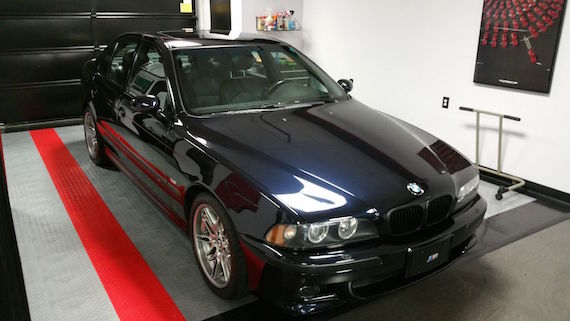 This is an exceptional E39 M5. It's a Southern Car since new, with a clean Carfax, and a deep service history. It's the second time I've owned it, having sold it to a good friend back in 2010. He's had some recent knee trouble, and cannot drive a stick any longer, so I was happy to buy it back from him. It's Carbon black with the two tone black and silver leather, and best of all, the aluminum trim work. Carpets, door cards, headliner, and dash /console are beautiful.

Since you're looking here, I assume you know that these are fabulous cars, one of the best BMW's ever built. You also know that the values of these cars keep rising. Some are stupidly priced–either way too much for a real shady car, or an insane number for a garage queen. This car is sensibly priced, only a little more than the iffy ones– and you can actually drive it–not just park it and look at it. It is a joy to drive, and people still stop and ask you about it when you park it. I just returned from a 500 mile trip with my car club buddies up to the Smokies and the Dragon–and the car performed flawlessly and got well over 20 MPG even under spirited driving.

The odometer shows 107300 ish today. It's parked on my indoor showroom, and fully detailed, clayed, and polished. I use only the best products from Meguiar's Griot's, etc, and am a concours judge and winner. The paint is almost totally original, panel fitment and gaps are perfect too. It is super neat in the trunk and under the hood. It is fully sorted–no warning lights or funny issues. In the last 10 -15 k it has had new front rotors, pads, and sensors, recent control arm bushings, New Michelin Pilot Super Sports about 1500 miles ago, roadforced and fine finished on the car. BTW, the wheels look excellent, I had them refinished for him a while back, and the color is proper. I recently replaced some seeping power steering lines, leaky rear main seal, and a leaky R side valve cover gasket. It has just had a fresh oil service also, and the lights are full green. I also recently replaced the slightly worn M shifter with a new one ($163!), and it has an almost new set of BMW M mats as well. Note that the tool kit is properly full and has a Euro warning triangle as well. The interior of this car is show ready, lighter and ashtray never used, and both compartments are neat as a pin. Glass is original and in excellent shape. It has been through the PDR guy ( I see zero dings anywhere), and our best local touch up/airbrush guy has recently been around it. Also take a look at the headlight lenses, nice and clear.

Here's what you WONT find on this car–burned out pixels–the cluster was just redone. No mirror blob–if you've looked at others, you know what this is. Already taken care of. Shoddy install on a aftermarket radio? Nah, this is all original and it works properly, as do the heated seats, central locking, cruise, drink holders and all the electrics. It is obvious when you look at it and drive it that it has been well treated, mechanically and cosmetically. Oh, and have you noticed how the windshield seal fails on most of these E39's? Already replaced on his one.

It is nearly 15 years old and I know it is not perfect. But I would challenge you to find a nicer, better kept car in this price range. If you will call me and dedicate some time to the call, I will describe every panel and compartment to you in detail, right down to the glovbox. It is tight, tracks like a freight train, no warning lights, and it rattle free. I have a ton of service history over the past 5 to 6 years, and would encourage you to talk to my local indie who has been under it many many times. I also have ALL the books/manuals in the proper leather pouch, as well as 3 keys with two masters, and yes, the central locking works properly from both of them. One thing that amazes me about this car is how quiet the drivetrain is. When you start it, and step out side the car, it is super smooth and quiet.

Take a look at the other cars in this price range. Make sure you check my feedback on eBay. It is 100%. Check my site out on the web and view my easy and transparent way of doing business. Take special note of the "testimonials". I am nearly 35 years in the business, and play by the Golden Rule. I 'm just south of Atlanta, and will do my best to make your experience easy and fun. I am a BMW geek, not some flipper selling junk, and I have the title in my possession. Also, I have no dealer fees, so that will save you another $300-600 as well. If you want to own a fantastic performing and great looking car in this range, this is a great choice. Call me, and I'll give you any other details or photos you might want. Thanks for looking!

UPDATE: a couple more fresh pictures are up. Several of you have asked about the condition of the driver's seat, and it is in terrific shape. Sorry, the pix are a little yellow due to the flash. Note also the picture of the service history book, there are dozens of pages, and of all THREE keys, with two working masters.I also forgot to mention that the swaybar bushings and track rod were replaced a few thousand miles ago, another item you'd want to know.One other nice thing–the prior owner of this car still lives in our town, and I will be glad to produce him for you, and you can grill him all you like. Ask this about the other cars in this price range and see what you hear……Great Car, thorough enthusiast seller–the right combination!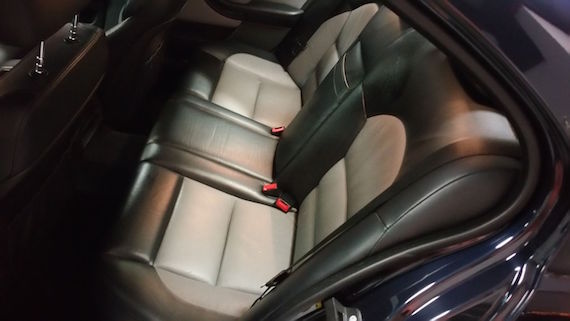 Normally a BMW M5 with over 100,000 miles would be cause for concern, but given the average age of the E39 M5 these days, it's becoming more of the norm than to find a low mileage garage queen with well under 100k on the clock. These cars are quite intoxicating to drive so it's no surprise people are using them as intended. Carbon Black has always been one of my favorite colors for the E39 M5 and looks great in conjunction with the two tone leather interior. Considering this car's well documented history and the fact that it comes from a reputable seller makes this one a pretty good buy for the price. The best part is that this car has been used, so you won't be afraid to press it into service over the long haul.
Those interested can contact the seller, Allen, at allenman@earthlink.net
-Paul