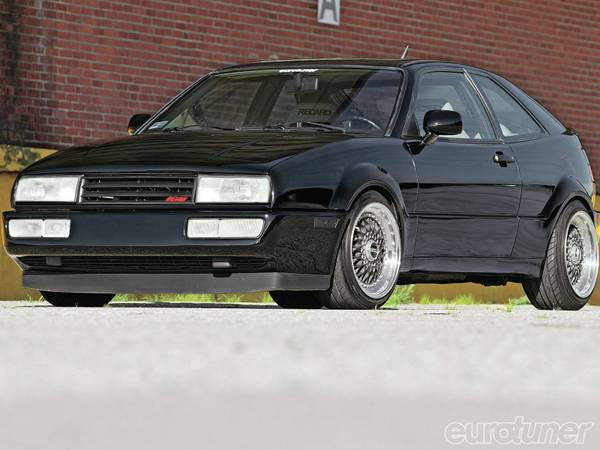 The promise of the all new Corrado was great, and on paper the specs sounded fantastic. A new and modern chassis was paired with a supercharged inline-4 and active aerodynamics. Volkswagen fans around the world united in collective salivation. But even at launch, Volkswagen was behind the 8 ball. Performance was lacking compared to the competition and the price for this attractive coupe was quite high, as generally all Volkswagens were at the time. Then the problems of running the G60 long term started to rear their heads. The G-Lader supercharger in particular was a finicky bit of kit, and coupled with notoriously poor Volkswagen electronics in the early 1990s these remained fan favorites, but also cars to stay away from – with many opting instead to get the more robust and better driving SLC model that was launched in 1992. Modern solutions have arisen to help the G60, including turbocharging instead of supercharging, but still there aren't a glut of these cars left. Today's example, though, certainly looks pretty spectacular and has gone the next level by swapping in a 2.0 16V from a Jetta GLi – and then turbocharging it!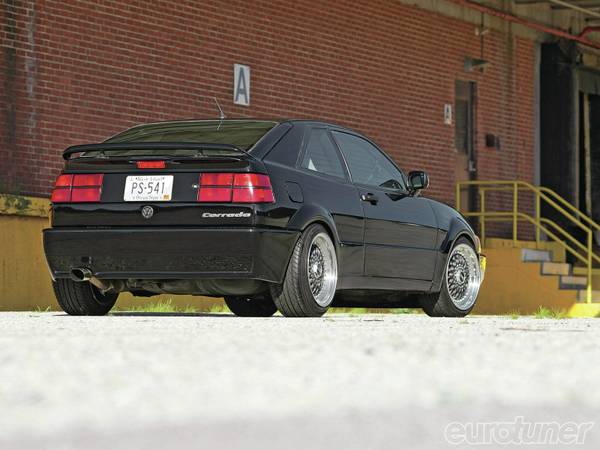 Year: 1990
Model: Corrado
Engine: 2.0 liter turbocharged inline-4
Transmission: 5-speed manual
Mileage: 103,000 mi
Price: $9,000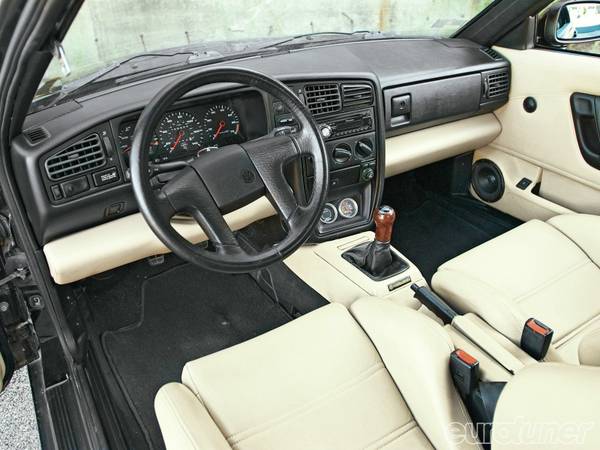 Price: $9000 OBO. Serious inquiries only.

Vehicle Information:
1990
VW Corrado G60
103,000 miles on the body
clean title (took 3 months coming from Rhode Island)
CT registration

Engine:
2.0 16v (Jetta GLI)
techtonics stage 3 head
techtonics street cams
JE 9:1 forged pistons
lightened and balanced bottom end
metal headgasket
garrett t3 super 60 trim turbo
2.5 turbo back exhaust
bahn brenner fuel rail
440 green top injectors
adjustable FPR
inline ford fuel pump
apr adjustable boost controller
running digi 1 fuel injection with an sns stage 5 chip
tranny is a passat 16v with a 394 final drive
crossflow alternator and serpentine belt setup
tech tonics adjustible cam gear

Interior:
93+ door cards from and rear
93+ rear seats
93+ dash and center console
all 93+ switches and knobs and door handles(which all work)
tan wrapped knee bars
93+ gauge needles
audi a4 shift knob
b3 glass sunroof with slider
black A, B, and C pillars
black carpet
mk3 vw mats
recaro SRD's wrapped in tan leather
boston acoustics speakers and tweeters

Brakes:
girling 60 dual piston from calipers
other then that its stock brakes all around

Suspension:
FK silverline coils

Wheels:
BBS RS017
16×9 in the front et 62
16×9.5 in there rear et 62
1″ front lips
2″ rear lips
running 25mm adapters front and rear
front tires are 195/45/16
rear tires are 205/45/16
half caps with new bbs carbon and gold centers and new bolts
centers painted gunmetal gray with a metalic flake

Body:
resprayed in GM super jet black
SLC hood
SLC front fenders
SLC front bumper, fog lights, and turn signals
SLC badgless grill
DD tinted mirror glass
all red tail lights
16v grill badge
euro corrado rear badge
rear wiper deleted
every seal and trim piece has been replaced
90mm front lip
smoked side markers

More info: http://www.superstreetonline.com/features/eurp-1203-1991-1990-vw-corrado-g60/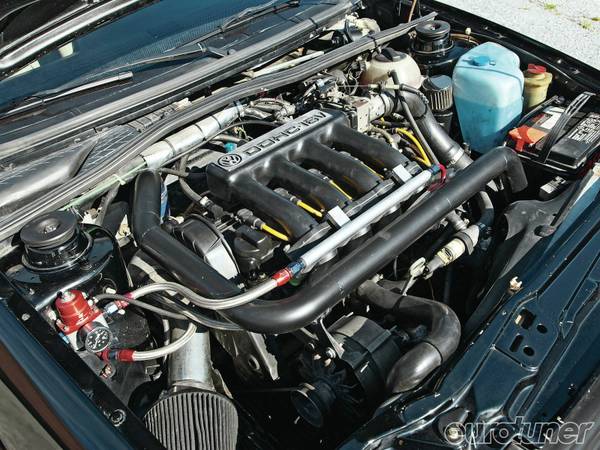 While the power that is produced by this 2.0 16V isn't listed, it should be pretty substantial and above 200. Now, that said, why you'd do this swap in place of a tuned 1.8T probably only makes sense if you want some wow factor and uniqueness at shows. The materials in this build are top notch, though, from the Techtonics bits and slick looking, color matched Recaros through the BBS RS wheels, though I think they're a little too staggered in the rear. The outside updates are subtle and mostly later SLC updates which look great too. Overall, this is a really clean looking and unique Corrado with lower miles that's right around the sweet spot for very nice SLCs. Which you'd prefer is up to you, but for something a little different than the normal this car will certainly draw a crowd at any show without breaking the bank.
-Carter