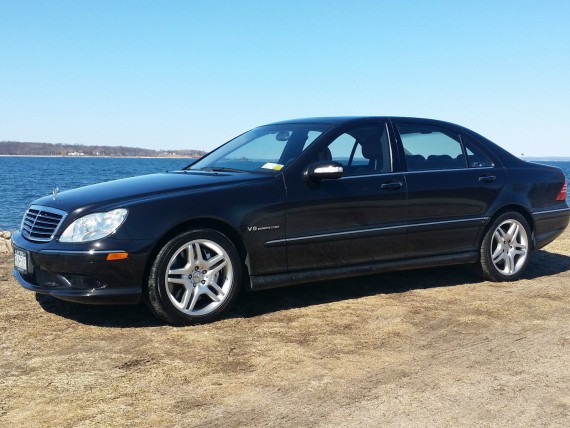 Depreciation: it's a wonderful thing if you're a German automobile fan with an affinity for a good bargain. What was once an astronomically priced vehicle could be firmly within reach thanks to the passage of time and a reputation for wallet draining repair bills. Of course the latter is the reason many people still steer clear of used German vehicles, even in today's world where any question you need the answer to is just a Google search away. Nobody should be afraid to work a car these days, unless it's so new that you can't do anything without a computer or you're completely helpless when it comes to wrenching. If you have the space, tools and the time, there's nothing you can't do. I say all of this because I know that right off the bat people will point out that the W220 chassis S-Class is a big scary car with little mechanical demons lurking in its bones just waiting to wreak havoc on your bank account. While it did have its issues, it was actually rather reliable and parts for these things are very easy to come by, even the AMG examples like this one. Sure there is a learning curve when it comes to working on over engineered vehicles but it's really not as daunting as armchair experts would have you think. Between brand-specific fora and YouTube there's plenty of information out there to keep you from loosing sleep over things like a vanity mirror door break or armrest failure.
The tradeoff for taking the plunge seems well worth it, especially with pristine examples like this one. The seller's pictures of the gorgeous Designo Espresso don't do the color justice which is too bad because the right setting would show off just how much this paint pops. Early morning light along the Hudson, now that would have been the way to go. Even with some glare the car still looks great, a testament to just how nice this color is. What he did do a good job of was taking pictures of the very clean interior with those cozy looking Light Brown Nappa Leather seats. It's hard to see some of the special details included in the Designo Edition from the photos, such as the extended leather (it even encircles the floor mats!), the Alcantara details and the lovely Elm trim. I have only been in one W220 S-Class and I was riding in the back, reclined with the massage function going and let me tell you, it's everything it's cracked up to be and then some. Of course this is the S55 AMG and behind the wheel isn't a bad place to be sitting either. The 493hp, 5.4L supercharged V8 will take you and 3 willing participants to 60mph in 5.5 seconds. Even by today's standards those numbers are impressive and this is a 4,260 lb car built in 2003 that you can generally get for under $20k. Just think, you could have this and some sort of two seat canyon carver with plenty of money left over to cover replacement parts for less than a Lincoln MKZ.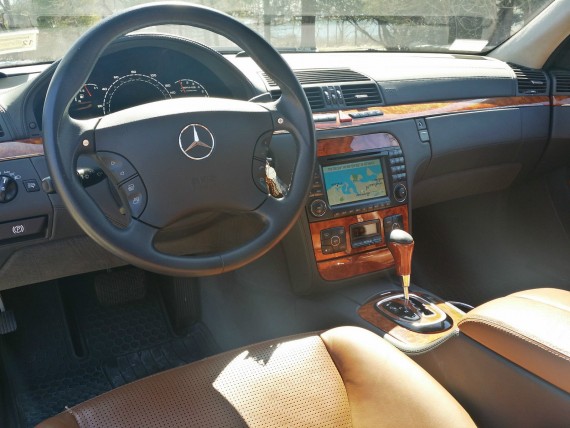 Year: 2003
Model: S55 AMG Designo Edition
Engine: 4.4 liter V8
Transmission: 6-speed Automatic
Mileage: 54,555 mi
Price:  No Reserve Auction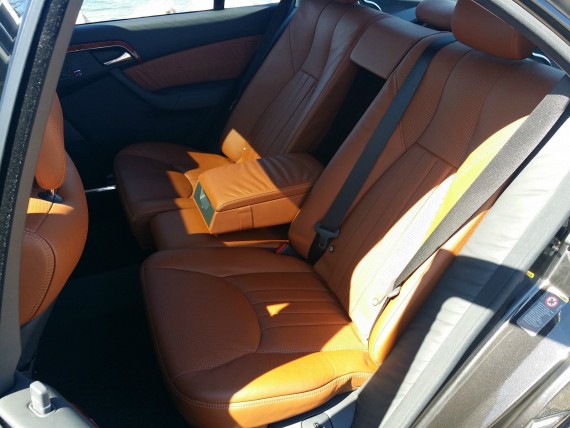 You are viewing one of the nicest W220 S55 AMG sedans in the world. 

I am the second owner of this special car and purchased it in March of 2013 with only 27k miles. The previous owner took exemplary care of this car and owned a fleet of 8 vehicles including an SLR McLaren, Aston Martin Vanquish, and another S55 AMG.

I thoroughly enjoyed this S55 AMG as my daily driver on nice days, while driving our SUV throughout the winter. I also drove the SUV on any days when rain was predicted. Vehicle was stored in heated garage and covered with indoor car cover (black in color, embroidered with S55 in red and included with sale).

The vehicle now has 54,555 miles.

This S55 is not your standard W220 S-Class. The listings you see above and below this one are inferior and if you want the best, this is it. No compromises.

There are NO ISSUES with this car. Nothing wrong with the ABC Suspension, no lights on the dash, no accidents, no secrets.

It has ONLY been serviced at Mercedes-Benz authorized dealerships for its entire life and I have full paperwork. 

I strongly encourage a potential owner to put the car through a Pre-Purchase Inspection at a dealership of your choice. It will pass with flying colors. The last time I went to the dealer, the service advisor said this car was the nicest W220 he has ever seen. 

The motor is Mercedes-Benz's 5.4 liter Supercharged V8. 493 Horsepower. Along with 516 lb/ft. of torque. Its fast, and you'll love it.

You may not recognize the color combination of this vehicle as it is very rare.

It is Mercedes-Benz's custom order Designo Espresso Edition. This Designo package includes full leather dash, full leather door panels, alcantara headliner, full leather rear package tray, special metallic exterior color, different interior color, better quality leather on seats, leather trimmed floor mats, and designo script on the seats. This was more than a $12,000 option when new.

I always had rubber floor mats in the vehicle. The sale includes those rubber floor mats, along with brand new condition black mats with black leather around the edges and also brand new condition black mats with brown leather matching the seats around the edges and Designo inscribed within. 

The exterior color is Espresso. It is brown metallic under the sun or detailing lights, and black at night.

I welcome anyone who wants to take a serious look at the vehicle, will accommodate your schedule to inspect the car. 

Options Include, but are not limited to:

-Heated and Cooled Seats Front

-Heated and Cooled Seats Rear

-Rear Reclining Seats

-Front Massaging Seats

-Rear Massaging Seats

-Rear Privacy Shade

-AUX input in glovebox

-Bluetooth Adapter (compatable with iPhone and Android)

-Dealer installed Passport SR7 Radar Detector/Diffuser ($2k option)

-4 Brand New Factory correct Bridgestone Tires ($1k purchased only 1k miles ago)

-Full Size Spare Tire and AMG Rim.

-Designo Espresso Edition

-Upgraded Leather and Wood Shift Knob

I am listing it at no reserve and it will sell.

Buy this car and enjoy a W220 S55 AMG the way that it should be, or go cheap and buy someone else's problem.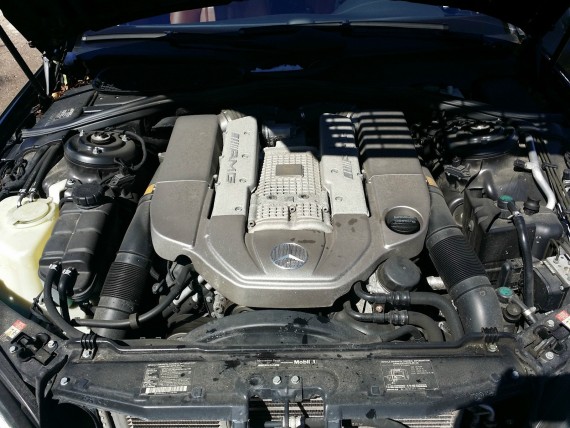 There are things in the seller's notes that I absolutely love. Right off the bat he claims you're looking at one of the nicest S55 AMGs in the world and you know what – he might be right. There is no evidence I can see in these photos to suggest otherwise. Considering that he is the 2nd owner and the first owner had 7 other vehicles to choose from, including another S55 AMG, I'd say this car has a very favorable history. 54,555 miles on a 12 year old luxury liner is rather attractive, especially given that the seller purchased the car two years ago with only 27k on it. That leads me to believe that this thing saw a whole lot of highway duty during its time with this owner and that's the kind of driving these cars were meant to do. The seller states that he recently installed 4 factory correct Bridgestone tires, which if that's the case means 245/45 up front and 275/40 in the rear. This is worth mentioning because this AMG wasn't just engineered for brute force but refined handling as well. The ABC (active body control) system was damned revolutionary at the time and from what I've read worked nearly as well as Mercedes claimed it would. 13 sensors monitor the car's body motions and work with hydraulic servos on top of each coil spring to make adjustments keeping the vehicle flat. Sure the system is complicated, but when it's working it works really well!
Ultimately I think this car would make a phenomenal daily driver for someone with a lengthy commute or a second vehicle for someone who likes to go on outings with friends or family. While it's not something that makes much sense at this point in my life, there is that little part of me that wonders what owning a hot rod W220 would be like. I have a feeling it would result in me taking numerous long distance road trips and flying a lot less. Could also be a really fun way to break into being an Uber X driver; can you imagine getting picked up in an S55 AMG when you're expecting a Scion? They don't have to know that the options originally selected on this car nearly cost what you paid for it, because after all it looks basically new! The seller is right, with a no reserve on the auction this thing is certainly going to sell, and though the general perception that these cars are unreliable money pits, a nice and properly cared for example like this offers the buyer one remarkable deal. I have a nagging feeling that I should bid on it, invest in a chauffeurs cap and take to making money on Friday and Saturday nights instead of sitting at home scouring the internet for a "deal" on an E30.
If you would like to contact the seller, he encourages you to do so through the eBay auction. The original brochure for the Designo Edition is also included in the gallery below, thanks to the seller for tracking it down!
Cheers,
-Andrew