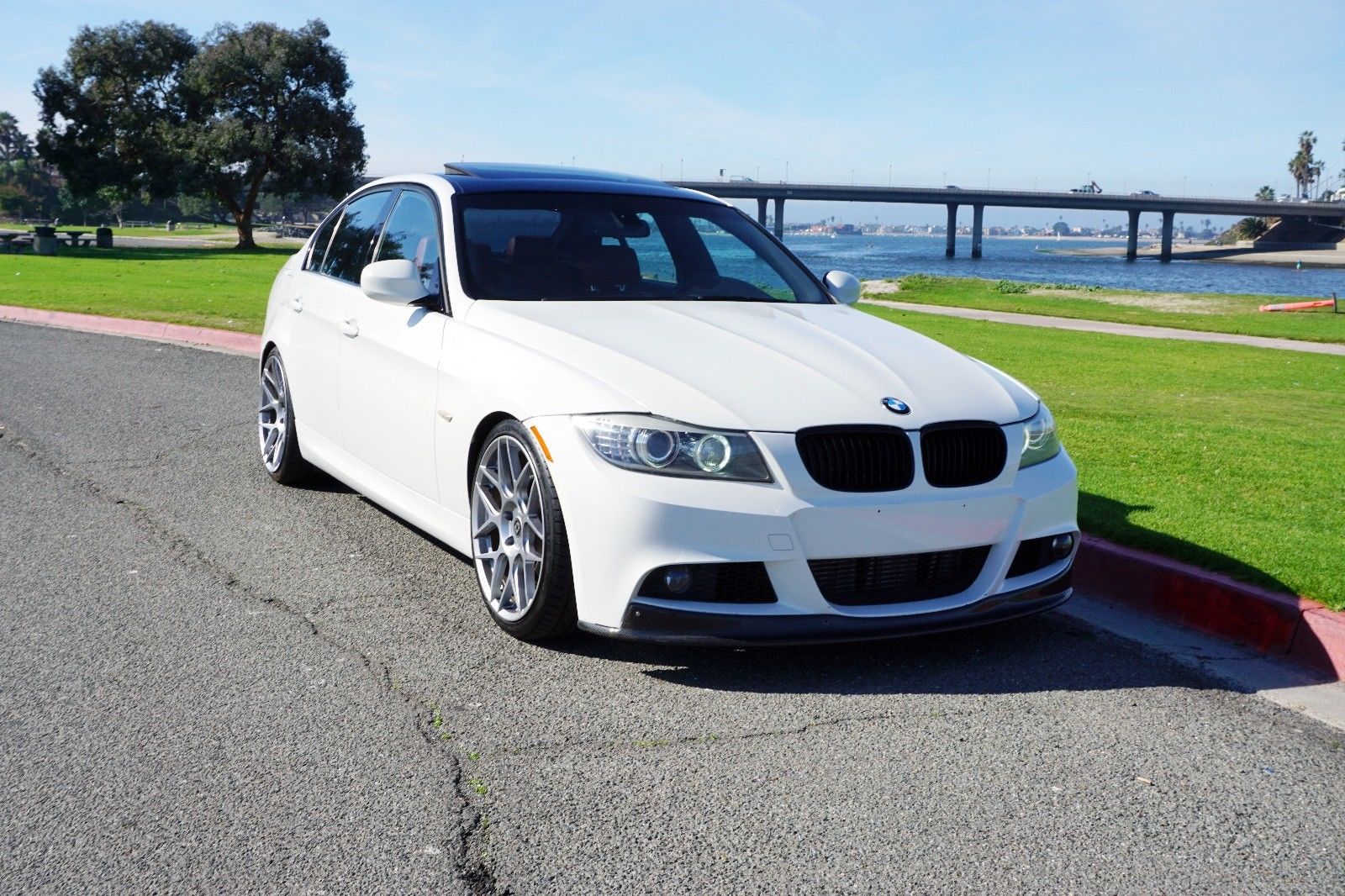 Since the 1990s, the proliferation of each premium marque's "special" brands has become dizzying, and for enthusiasts it seems as though they've continuously diluted the performance options in favor of profits. From S-Line to AMG to perhaps the biggest offender, BMW's M division, companies are badge slapping-happy when it comes to sticking a bigger set of wheels, some special trim and maybe, if you're lucky, a few extra ponies. And on the surface, this 335d would seem to fit that description perfectly. After all, how could you possibly compare the diesel to that sonorous M3's S65 V8 that cranks out over 400 horsepower and 300 lb.ft of torque with a 8,400 RPM redline? Pull up to a redlight next to one in this 335d, and the snickering owner would undoubtedly be laughing at the 'M-Sport' option package you ticked off. Because you'd think there would be absolutely no way that diesel would produce equal power to the M3.
You'd be right. The M57 under the hood of the 335D doesn't produce as much horsepower as the M3, at least not in stock form. But torque? It produces more. A lot more.
Starting at a leisurely 2,000 rpms, the twin turbochargers augmenting the inline-6 spool up to a mountain of power. In stock form, the 335d cranked out 428 lb.ft of torque. In fact, it's so much torque that gets used on a regular basis that the first person I met who had one had already consumed a transfer case on his X-Drive model, and he's not alone. Being a turbocharged model, it was also quite easy and possible to turn up the wick, such as has been done to today's Feature Listing. The result? The seller claims 410 horsepower, 650 lb.ft of torque, and yet this classy 4-door can still return 35 mpg. Try that in a M3: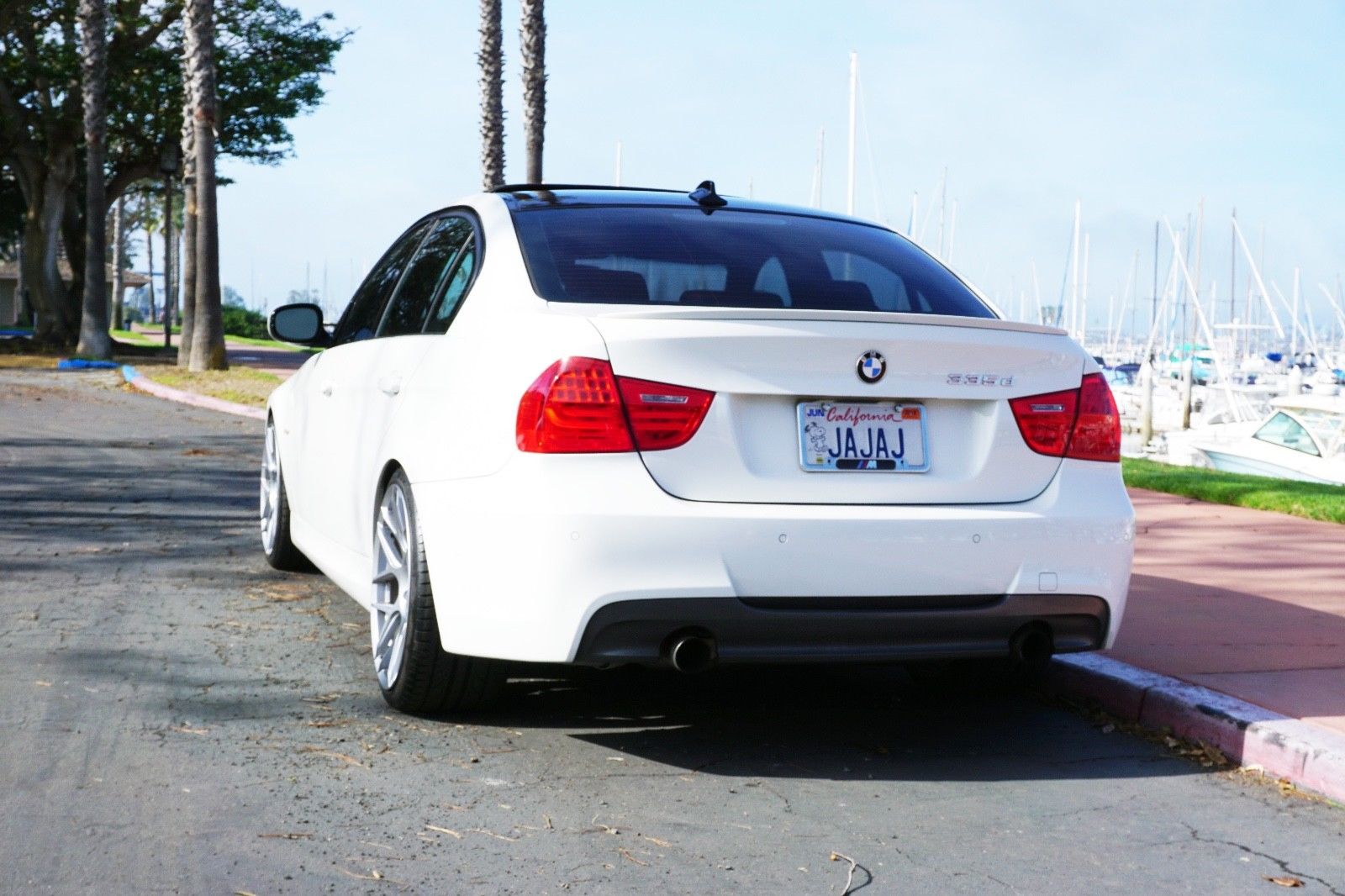 Year: 2011
Model: 335d M-Sport
Engine: 3.0 liter twin-turbocharged inline-6 diesel
Transmission: 6-speed automatic
Mileage: 91,000 mi
Price: $21,000 Buy It Now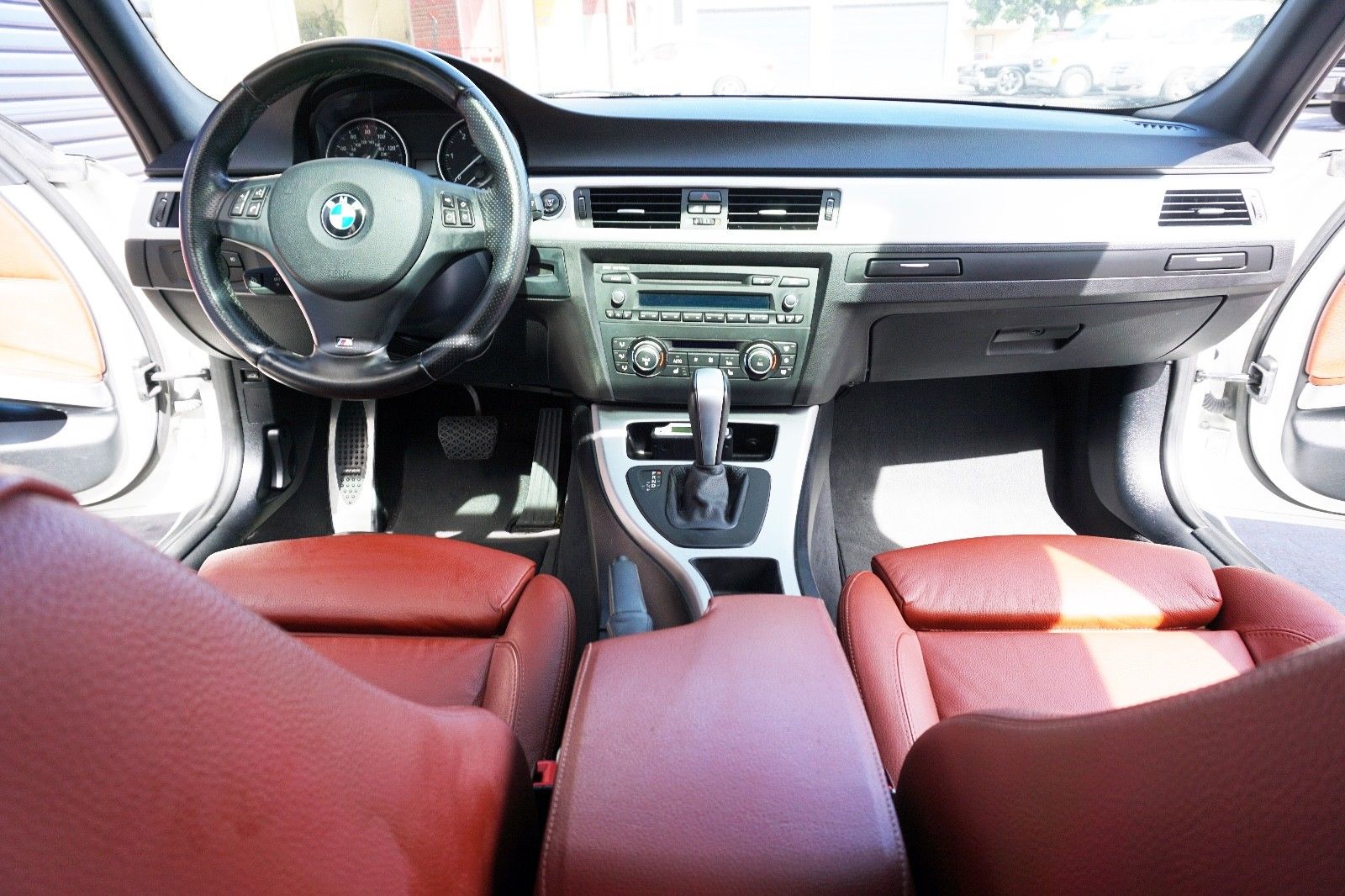 2011 335d M-sport model

I bought this car in May of 2015 and traveled 500 miles to pick it up.

It has the M-sport package

Aluminum interior trim

Dakota Red Brown interior

91,000 miles

Alpine white

4/26 production date

Only 751 M-sport diesels were sent to USA

300 of these M-sport Diesels are Alpine White

Only 13 M-sports Diesels are Alpine with Red Brown Dakota leather, 3 with Aluminum trim

No I-drive navigation this car was special ordered with just the M-sport package, HK stereo, and aluminum trim

One of 278 cars out of 10,816 e90's that have option S710A "M" leather steering wheel

An estimated 410 Horsepower with 650lb of torque and can easily achieve 35 mpg

I did quite a bit of performance/ reliability work on this car since purchasing.

Jarek stage 2.8 tune

Buzzken Downpipe

K&N air filter

SCR removal, the tank is gone as well

Egr removal pipe kit from AA Rodriguez

Custom Meth setup with Stage 3 Snow MPG MAX controller, Custom Stainless lines and fittings

Prometh fuel cell in the trunk (4.8 gallons). Prometh nozzles with welded bungs. Also has EGT sensor installed and it reads out psi, egt, and injection percentage on the controller. Snow solenoid. Upgraded 300psi 3/8 Devils own pump.

Custom Helix intercooler kit which is huge and completely removes the stock leaking boost hose

HRE 19 inch Flow Form wheels with newer Hancook tires

H&R springs

P3 vent electronic boost gauge (looks stock)

9 month old BMW floor mats

m3 rear lip spoiler

New carbon fiber front lip.

I had the roof professionally painted black by Fender Mender in Encinitas

5 month old LUX angel eyes

Burger Motorsports cowl elimination kit

Black kidney grills

As for Maintenance

all of my oil changes are done with Liquimoly and an Oem filter every 7,500 miles

Fuel filter was changed every other oil change

I did a complete tranny flush with new filter at 80K

Both pressure converters and euv replaced with new oem parts

Rear end fluid replaced with Red Line fluid

All glow plugs and the controller was replaced with new

Carbon cleaning and fuel injector were replaced

all receipts were kept in a huge folder

I have owned this car and driven it about 30,000 miles. I have tracked every single one of the miles since I purchased it using the fuelly app. I have only used HPR Diesel and filled with Chevron maybe five times when I was out of town. I have all of the old emission parts, cowl, and engine covers in storage. I am the second owner.

This car comes with a new February 2018 smog from California for change of ownership

Clean title no accidents

I live 5 miles from San Diego International Airport (SAN) I can pick up any perspective buyer almost anytime.

Vin breakdown below:

VIN long

Type code

wBAPN7C52BA949852PN7C

Type

335D (USA)

Dev. series

E90 (MUE)

Line

3

Body type

LIM

Steering

LL

Door count

4

Engine

M57Y

Cubical capacity

3.00

Power

210

Transmision

HECK

Gearbox

AUT

Colour

ALPINWEISS 3 (300)

Upholstery

LEDER DAKOTA/ROTBRAUN (LCCZ)

Prod. date

2011-04-26

Vehicle upgrades

SiriusXM satellite radio Read more

Order option

No.

Description

1CA

SELECTION COP RELEVANT VEHICLES

2MF

M L.-A. W. STAR SPOKE 193 M/MIX.T.

2VB

TYRE PRESSURE INDICATOR

205

AUTOMATIC TRANSMISSION

319

INTEGRATED UNIVERSAL REMOTE CONTROL

337

M SPORT PACKAGE

4B9

INT.TRIM FINISHERS ALUM.HIGH FINISH

4NA

INTERIOR MIRROR WITH DIG. COMPASS

403

GLAS ROOF, ELECTRIC

430

INT/EXT RR VW MIRROR W AUT ANTI-DAZZLE

431

INTERIOR RR VW MIRROR W AUT ANTI-D

459

SEAT ADJUSTM., ELECTR. W. MEMORY

481

SPORT SEATS F DRIVER/FRONT PASSENGER

488

LUMBAR SUPPORT DRIVER/FRONT PASSENGER

494

SEAT HEATING F DRIVER/FRONT PASSENGER

507

PARK DISTANCE CONTROL (PDC), REAR

521

RAIN SENSOR

522

XENON LIGHT

524

ADAPTIVE HEADLIGHTS

534

AUTOMATIC AIR CONDITIONING

544

CRUISE CONTROL WITH BRAKING FUNCTION

563

LIGHTS PACKAGE

570

STRONGER ELECTRICITY SUPPLY

6AA

BMW TELESERVICES

6AB

CONTROL TELESERVICES

6FL

USB-/AUDIO INTERFACE

6VC

CONTROL COMBOX

639

COMPLETE PREP. CELLULAR PHONE USA/CDN

688

HARMAN/KARDON SURROUND SOUND SYSTEM

693

SATELLITE TUNER PREPARATION

697

AREA-CODE 1

704

M SPORT SUSPENSION

710

M LEATHER STEERING WHEEL

715

M AERODYNAMICS PACKAGE

760

INDIVIDUAL HIGH-GLOSS SATIN CHROME

775

INDIVIDUAL ROOF-LINING ANTHRACITE

8SC

COUNTRY SPEC. RELEASE OF TELESERVICE

8SP

COP CONTROL

8S4

DECODING VARIABLE LIGHT DISTRIBUTIO

8TL

DAYTIME LIGHTS FRONT AND REAR AKTIV

8TN

DAYTIME DRIVING LIGHTS SELECTABLE B

840

HIGH SPEED SYNCHRONISATION

925

SHIPPING PROTECTION PACKAGE

Series options

No.

Description

249

MULTI-FUNCTION FOR STEERING WHEEL

497

CENTRE ARMREST IN REAR

5DS

LUGGAGE-COMPARTMENT EMERG. RELEASE

520

FOGLIGHTS

645

RADIO CONTROL US

663

RADIO BMW PROFESSIONAL

823

HOT CLIMATE VERSION

845

ACOUSTIC BELT WARNING

850

ADD FUEL TANK FILLING FOR EXPORT

853

LANGUAGE VERSION ENGLISH

876

RADIO FREQUENCY 315 MHZ

992

NUMBER PLATE ATTACHEMENT MANAGEMENT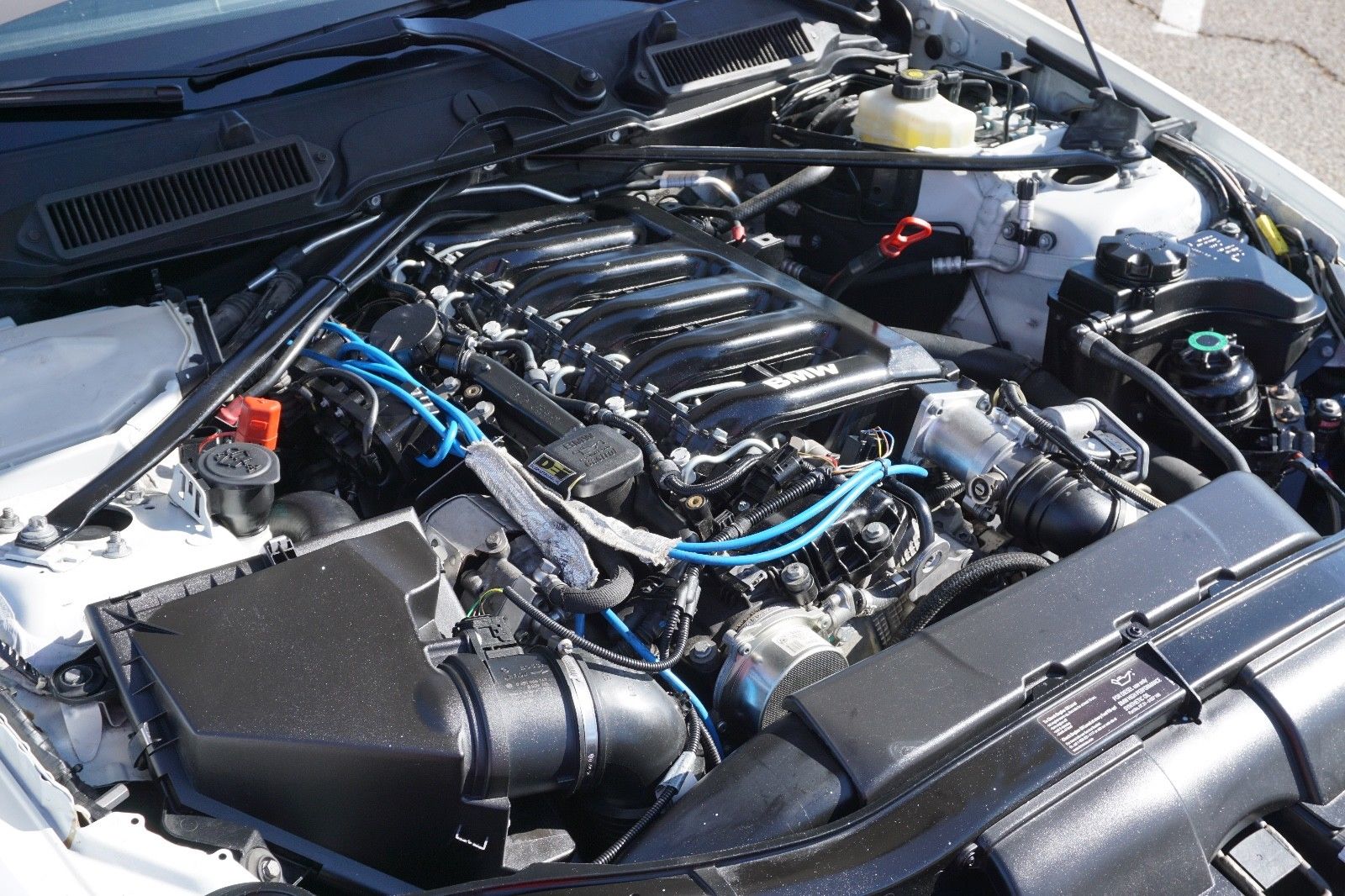 The M-Sport diesels are very rare to see, and this one is an absolutely lovely color combination of Alpine White with the unique Red-Brown Dakota leather interior. It's gorgeous. And while I was among the many that weren't crazy about the E9x design at first, I have to say that I think it's aged well, and especially the post-LCI examples like this are great looking cars; very striking, yet immediately identifiable as a 3-series. The seller also knows the car well and presents it as such, outlining the impressive modifications done. While wheels can be a very personal thing, the top-dollar HREs fitted here are just perfect; they suit the design well and don't look overdone, yet the hint at the improved performance on tap from the upgraded diesel. Frankly, outside of the pump you're filling up at, there are simply no hints that this car is anything but a high-performance 3-series. On top of that, there's the 'eat your cake and have it, too' realization that for most commuters, the more usable torque, the ease of the automatic transmission and the significantly better fuel economy – along with lower insurance rates and fly-under-the-radar looks, means this car is a better option than the M3. But the icing on the cake? The cost. Sure, you can get an M3 in the 20s, but they're usually not the best examples out there. Really nice E9x M3s are trending in the 30K plus range still. Yet this pristine and lovely 335d is priced much more reasonably at $21,000. Sure, an automatic diesel sedan isn't for everyone. But before you pass final judgement, go drive one. They're intoxicating.
-Carter