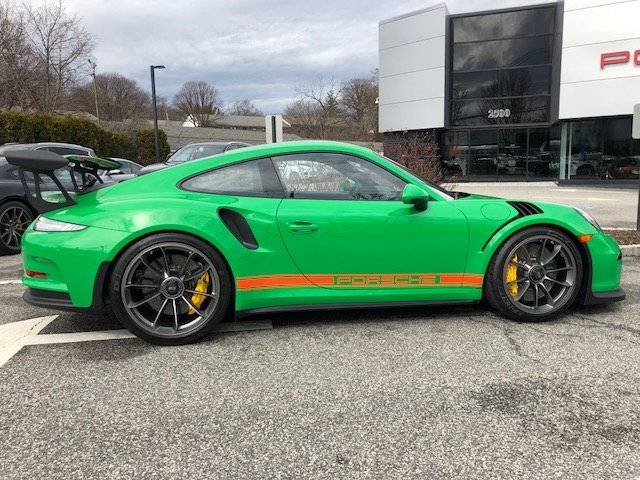 Quite simply this is a holy sh*t car. I can think of no other way to put it. Obviously the GT3 RS itself elicits plenty of similar commentary simply from its sheer performance capabilities. It also looks kind of crazy in the same way most super cars look kind of crazy. Wings, vents, scoops: it's all flashy and loud and of a singular purpose. As much as I think the appearance of the current GT3 RS has become a bit fussy, it is very much what it purports to be and makes no mistakes about it. If you want those capabilities with a more sleeper appearance, Porsche provides the 911R. If you want things toned down a few degrees, there's the GT3. When you decide the GT3 RS is your car, you also decide to give up on all pretensions of subtlety.
But what if the standard GT3 RS simply is too tame appearing? Well, then you get this: a paint-to-sample Viper Green 2016 Porsche 911 GT3 RS with a Black over Lava Orange interior and matching exterior stripes. If you're having any trouble getting noticed, this should solve that problem. Honestly, it just makes me giggle.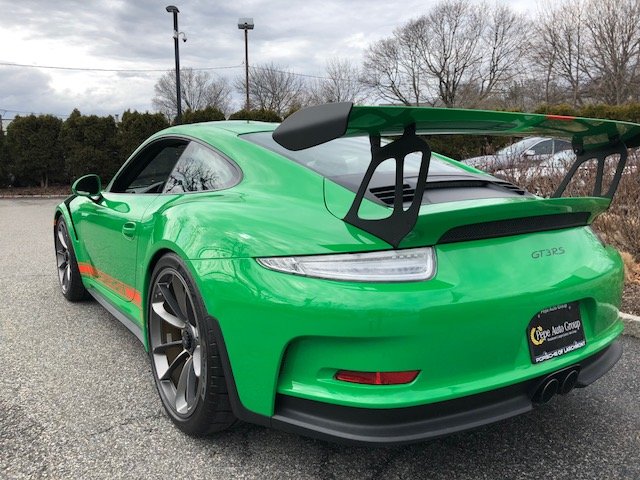 Year: 2016
Model: 911 GT3 RS
Engine: 4.0 liter flat-6
Transmission: 7-speed automatic
Mileage: 22 mi
Price: $249,000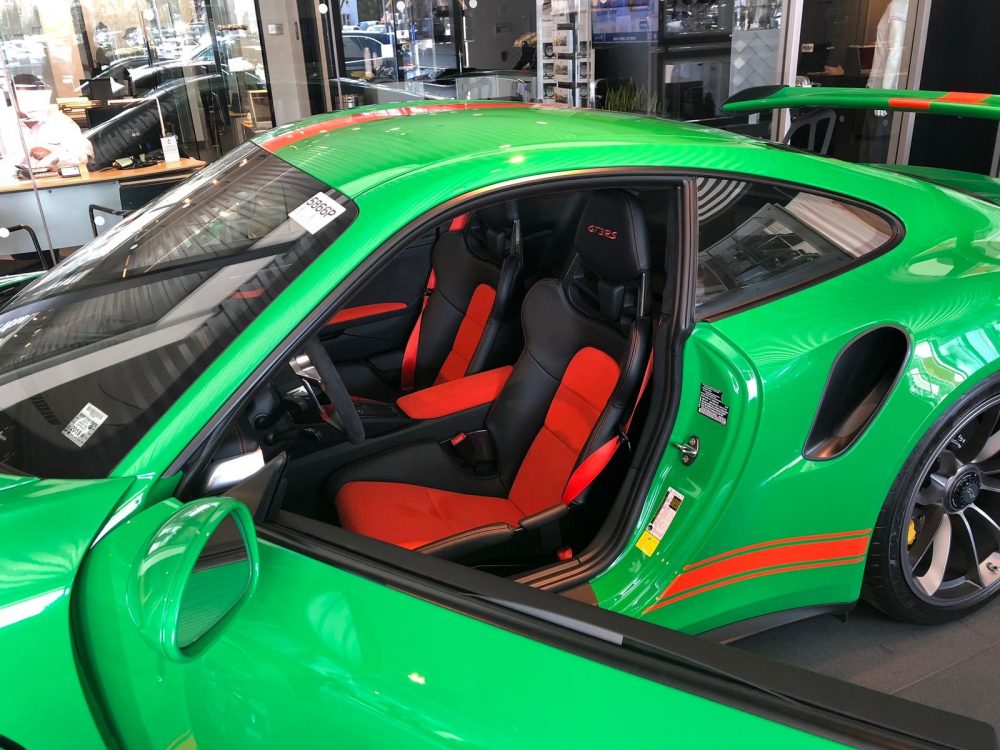 2016 Porsche 911 GT3 RS
Division: PCNA Commission #: 0
Prod Month: 2016-03-01
VIN: WP0AF2A96GS192602 Price: $215,585.00
Exterior: Exterior Paint to Sample NonMetallic
Interior: Leather Interior in Black/Lava
Orange (Microfiber)
Additional Equipment
BASE 911 GT3 RS
082 Extended Range Fuel Tank
192 Lightweight Battery (Lithium-Ion)
24931 Exterior Paint to Sample
450 Porsche Ceramic Composite Brake
(PCCB)
474 Front axle lift system
49 Leather Interior in Black/Lava Orange
(Microfiber)
490 Sound Package Plus
509 Fire Extinguisher
558 Seats Belts in Lava Orange
581 Luggage net in passenger footwell
583 Smoking package
630 Light Design Package
643 Sport Chrono Package incl. Porsche
Track Precision App
789 Code for Exterior Paint to Sample
888 12-o'clock Marking in Lava Orange
98 Exterior Paint to Sample, Non-Metallic
CFX Personalized Floor Mats with Leather
Edging
CLN Belt Outlet Trim in Alcantara®
CPK Vehicle key painted
CXX Custom Tailoring Option (special wishes
that require further communication)
EFA Pedals and footrest in Aluminum
P13 Automatically dimming mirrors with
integrated rain sensor
P23 Porsche Communication Management
(PCM) incl. navigation module
UN1 Online Services
XEY LED headlights in black including Porsche
Dynamic Light System (PDLS)
XLU Sun visors in Alcantara
XUB Headlight Cleaning System Covers in
Exterior Color
XXG Clear Taillights
XYB Fuel Cap with Aluminum Look Finish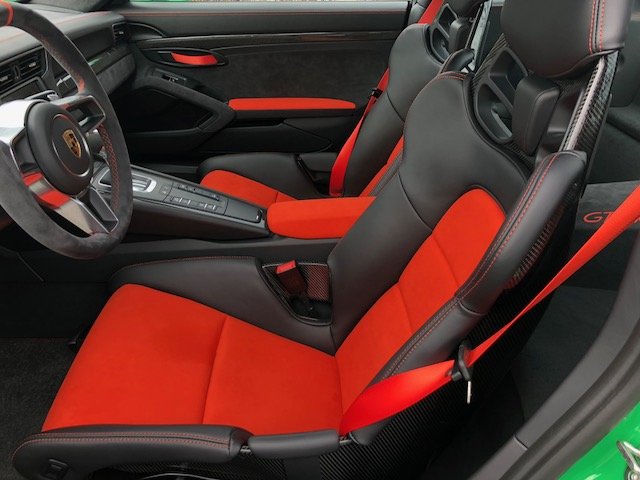 Green over Orange certainly is a bold choice. Especially when your choice of green is a bright green shade like Viper Green. The color combination won't appeal to everyone. The combination is wild and jarring. The GT3 RS is wild and jarring. It comes together wonderfully. One of the commenters in the Rennlist thread called it The Riddler. Perfect. The only other combination I can think of that might produce similarly audacious – and somewhat Batman oriented – results would be to pair an Ultraviolet exterior with a Black over Speed Yellow interior. The only thing I really don't like about it are the clear taillights. But I hate clear taillights so that's just me. I also imagine it's something that can be changed without much issue.
Otherwise, just look at it. And with only 22 miles on it this GT3 RS barely has been warmed up. I'll echo others' comments: someone buy this and drive the damn thing!
-Rob