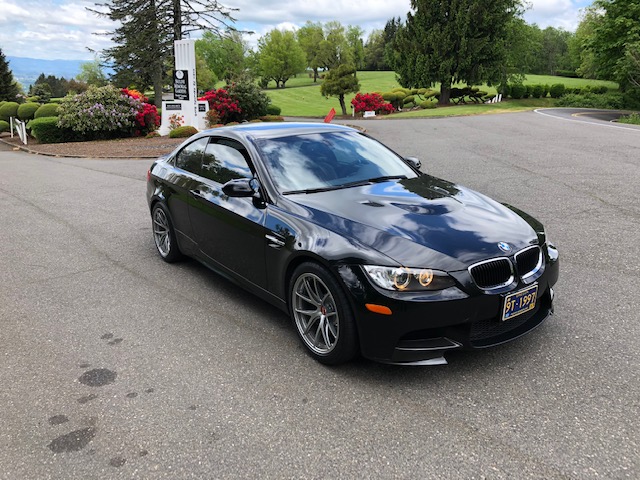 Update 5/7/19: This beautiful low-option E92 is on to a new owner!
While there's no doubt that the E9x M3 was instantly recognizable as the replacement for the outgoing E46 model, there was an inconvenient truth that had snuck into the lineup: weight. Part of what had made the E30 such a curb-hopping maniac was that lack of heft even with all the accoutrements. By the time the E92 launched, the M3 had put on nearly 800 lbs of weight.
To motivate it the extra mass, BMW did effectively what it had done with the S14; it took its top-tier motor in the S85 V10 and removed two cylinders. The result was the S65 V8, and 414 horsepower was on tap for your right foot's pleasure. That was a monumental leap from the E46; when the E46 launched with 93 horsepower more than the prior generation, I thought there was no way BMW could do it again. But they did, tacking on 81 horsepower to the prior generation's total without forced induction. BMW topped the E46's specific output per liter, too, besting 103 in the E9x – in a package which was 40 lbs lighter despite two more cylinders. Impressive, indeed.
Granted, if you were plunking down $60,000-odd worth of your hard earned credit, you'd want amenities like power seats, a nice radio, air conditioning – the normals that made it a better road car to live with day-to-day. But if you were clever in the boxes you ticked, you could still get the essence of what made the M3 the greatest car in its segment without a lot of frills. First would be the Competition Package, which gave you more variability on the suspension and more sideways action from the dynamic stability control. You got bigger wheels and stickier, wider tires to make use of that harder suspension.
Tick the 7-speed M-DCT dual-clutch transmission, and that track-readiness was taken to the next level. Then, you'd want to stop right about there. Of course, few people selected such a targeted, bare-bones performance oriented M3 out of the gate, which makes finding one today difficult: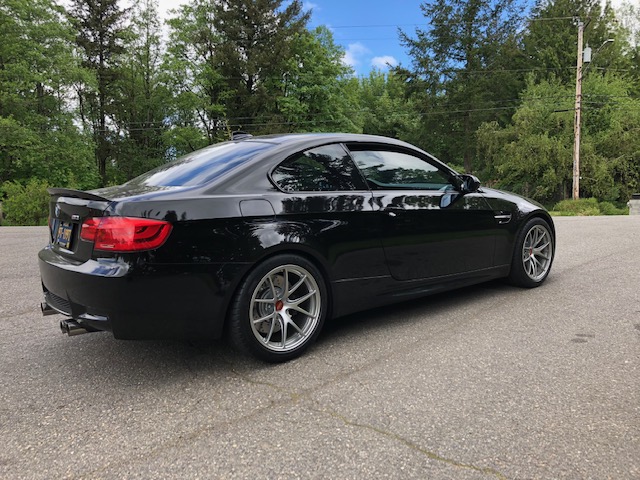 Year: 2012
Model: M3 Competition Package
VIN: WBSKG9C53CE798977
Engine: 4.0 liter V8
Transmission: 7-speed DCT dual-clutch semi-automatic
Mileage: 47,000 mi
Price: $34,900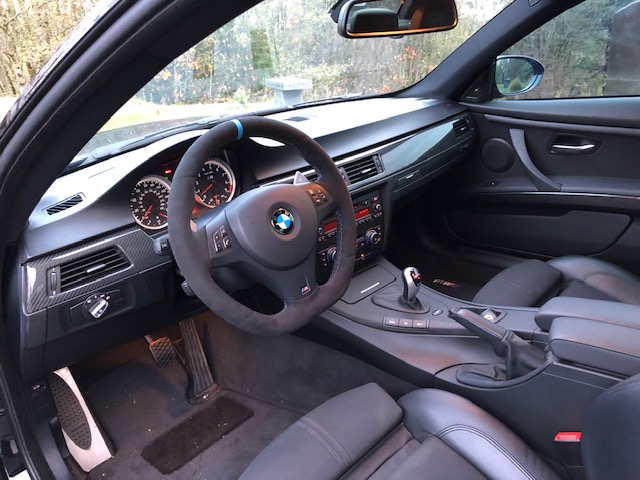 Model: 2012 Jet Black Competition Package E92 M3 (Carbon Roof)
Mileage: 47k
VIN: WBSKG9C53CE798977
Transmission: DCT

Price: $34,900

The car has two options:
– Competition Package (ZCP)
– Dual Clutch Transmission (DCT)

My M3 has fairly rare and very comfortable MANUAL adjustment, non-heated Speed Cloth seats.

Up for sale is my 2012 E92 M3. The car is in great condition, as I only drive the car 2-3x a month and is always kept in a heated garage under a cover. I am the second owner. I am a 20 year BMW CCA and Porsche CCA member and take meticulous care of my cars, this one being no exception. The car has been, in my opinion, tastefully modified with mostly OEM+ modifications, and a few tasty aftermarket choices to allow the car to really shine. The car has not been tracked, but I have done 3 HPDEs/Auto Cross events in the slowest group. I had hopes to be a track star, but it's not in the cards.

This M3 is tight as a drum. No smells, no kids, no smoke, no paint work, no accidents, no stories.

The factory rod bearings were recently replaced at 46k with BE Bearings and BE Spec ARP connecting bolts. This job was done at AR Auto in Lake Oswego, Oregon (these guys build and race VERY fast M3s and 911s). I have receipts of the work and pictures of old bearings for the next owner (along with the old bearings themselves).

Link to my rod bearings that were replaced: https://www.m3post.com/forums/showpo…&postcount=779

I have a binder of all maintenance dating back to when the car was new. All work has been professionally done at AR Auto, or at the BMW Dealer while the car was under CPO warranty (no longer under warranty). The car is completely up to date on its maintenance and is turn-key ready for its next owner to drive any distance and enjoy!

I also have both keys, the window sticker, all the manuals, original sales brochures, original tools in the trunk, original Genuine BMW LED flashlight in the glove box, the original genuine BMW First Aid kit, Genuine BMW all weather trunk liner, GT Spirit 1/18 scale model, and framed pics of the BMW Art Car E92 M3 (as seen in the garage pic) – all included.

PPIs welcomed and encouraged (on your dime).

The pictures below show 18″ BBS RIA (in Diamond Silver, not available in USA and very rare) forged wheels and BBS Forged Wheel Lug Bolts that are NOT included, however the original (in excellent condition) ZCP wheels will be included. If you want the RIAs we can negotiate the price with purchase.

Send me a PM and we can go from there.

Modifications:
– Genuine BMW M Performance Carbon Interior Trim Kit
– Genuine BMW M Performance Carbon Front Splitters
– Genuine BMW M Performance Carbon Rear Spoiler (Original lip spoiler included)
– Genuine BMW M Performance Version 2.0 Exhaust (Original exhaust included)
– Genuine BMW M Performance Alcantara Flat Bottom Steering Wheel (Original steering wheel in great condition included)
– Genuine BMW M F8X Tri-Color iND Seat Belts F&R (Original belts included)
– Drexler Limited Slip Differential (amazing!) (Original LSD included)
– Slonik/Brembo 6 piston front BBK (utilizes factory E9X M3 Rotors) (Original brakes included)
– Slonik DCT Oil Pan & SSP Viton DCT Mechatronics Gasket

Coding:
Auto unlock doors when ignition is switched off
Close windows with key fob
Enable one-touch window operation with doors open
Adjust fuel reserve warning from 1/4 to 1/8
Disable seatbelt chimes
Alpine GTS DCT M3 Flash
Euro MDM Tune
Alpine Japanese 241E engine Software 91 Octane
Brake Force Display CR
Limit engine to 3.5k RPM when engine cold
European Adaptive headlight (AHL2)

Maintenance Schedule from my spreadsheet:
Maintenance:
Kuni Work @ 35,550 – 5/2/16:
Wiper Blades
10w-60 Twin Power Turbo Oil & OE Filter Change
Brake Fluid Flush
Cabin Microfilter Change
Replace Driver Seat Belt?Replace Rubber Brake Pedal Pad
AR Work @ 36,500 Miles – 5/27/2016
Oil Change Redline 10W-60 & OE Filter
OE BMW Performance Carbon Fiber Interior Install
DIY @ 36,500 Miles – 5/26/2016
OE Engine Air Filter
Clean Leather with Obenaufs Cleaner
Apply Obenaufs Leather Oil
BMW Portland Work @ 36,900 6/2/16:
Replace Driver Cupholder
Clean A/C System
Replace L & R Front Bumper/Undercarriage Felt Splash Guards
AR @ 37,246 miles – 6/17/16:
OE Coolant Flush
OE PS Reservoir
OE PS Fluid Flush
Rear Diff Fluid Flush Redline 75W140 GL5
Spark Plugs NGK LKR8AP
Highline Customs 9/13/16: SunTek 40% Tint & Blackout Dotrix
12/10/2016 @ 40,440 miles
Redline SI-1 Fuel System Cleaner + Shell V Power (Noticeable difference in power and smoothness)
AR @ 40,588 miles – 12/21/2016
Redline 10W60 & OE Oil Filter
OE h/k Passenger Tweeter & OE h/k Surround
Check DCT for seepage: DCT Leaks Discovered
AR @ 41,170 miles – 1/30/2017
SSP Viton DCT Pan Gaskets & Stainless Fasteners
OE DCT Pan Replacement
OE DCT Fluid
OEM Vaico DCT Filter Replacement x 2
OE DCT Drain/Fill Plug
4 Wheel Alignment
AR @ 43,602 miles – 8/4/2017
Redline SI-1 Fuel System Cleaner (5/7/2017 @ 42,960 miles)
Oil Leak Resolved: Replaced both Oil Drain Bolts
RL 10W60 Oil & OE BMW Oil Filter
DCT Leak Discovered: Replaced DCT Cooler Line O-Ring
Checked Rust: No significant Rust, or any new rust.
Ed's Mufflers @ 44,100 – 9/9/2017
Install OE M Performance Inconel Exhaust
AR @ 44,985 – 10/16/2017
Install M Performance Carbon Fiber Rear Spoiler
Install M Performance Carbon Fiber Front Splitters
Install M Performance Alcantara Steering Wheel
Install CTEK Battery EZ Connector in Trunk
Install 2 caps on Rear License Plate Frame
Install M Emblem for Intake Plenum
Trunk carpeted piece
Engine Oil ///M Fill Cap
Oil Filter Housing Lock Cap
Attention To Detail 1/15/2018
Coat BBS Wheels & BBS Center Caps
AR @ 45,103 – 3/2/2018
Install BBS RI-A Forged Wheels & Red BBS Caps
Install Michelin PSS 255/285 Tires
Install OE TPMS
BMW Portland @ 45,688 – 5/19/2018
Replace TAKATA airbag module and OE Horn Cover
8/1/2018 – 46,100
RL SI-1 Fuel System Cleaner
AR @ 46,144 – 8/17/2018
Install BE Rod Bearings & BE/ARP Rod Bolts
Install OEM Lemforder Engine Mounts
Install OE Transmission Mounts
RL 10W60 Oil & OE BMW Oil Filter
Weld in TimeSert onto oil pan
Install Drexler Custom Differential
Install Diff Flange seals, bearings, drive flanges, shims, & pinions shaft seals, OE Diff Bushings, OE Diff Bolts, OE Diff nuts
Flush Differential w/ Castrol Syntrax Limited Slip 75W-140
Install OE Front M Tri-Color Stitched Seat Belts
AR @46,678 – 9/28/2018
Install Brembo 6 Piston Front BBK, Goodridge SS Lines
Ferodo DS2500 Brake Pads F&R
Brake Fluid Flush ATE Type 200 DOT 4
Install Slon-Workshop DCT Billet Transmission Pan
Add additional DCT fluid for increased pan capacity
Engine Coolant Flush w/ OE Coolant
sInstall OE Rear M Tri-Color Stitched Seat Belts
Fix Driver Door Carbon Trim (loose)
AR @ 47,445 – 10/16/2018
Oil Change w/ 9 qts. Redline 10W-60 & OE Filter
Flush Differential w/ Castrol Syntrax Limited Slip 75W-140

Issue:
– The front bumper/hood have typical road rash from 47k miles of street use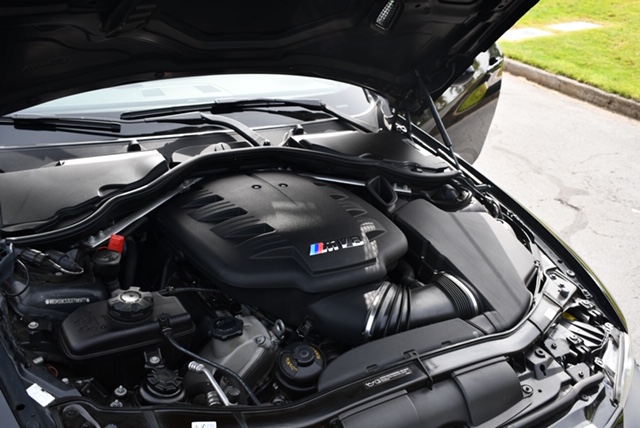 This seller took a compelling package and made it even more aggressive with an curated selection of the available M Performance options, along with some slick-looking and sticky performing Brembo brakes. This car should be set to dominate the next run group at the track, yet it appears in near perfect condition and was never a track rat. The seller's full documentation, as well as having all of the original parts still in hand that go along with the sale, further impress.
If you want to buy an M3, this is the type of car and type of seller you want. There are no question marks left on the table. Issues have been addressed such as the rod bearings, and if you're not a fan of the modifications those original parts are right there for you. On top of that, locating another lower mileage, perfect condition and fully documented very low option car is nearly impossible. When was the last time you saw a newer M3 with cloth, manual seats, after all?
For someone looking for purity of package, impressive presence and the potency of sonorous S65, this is a fantastic opportunity.
-Carter