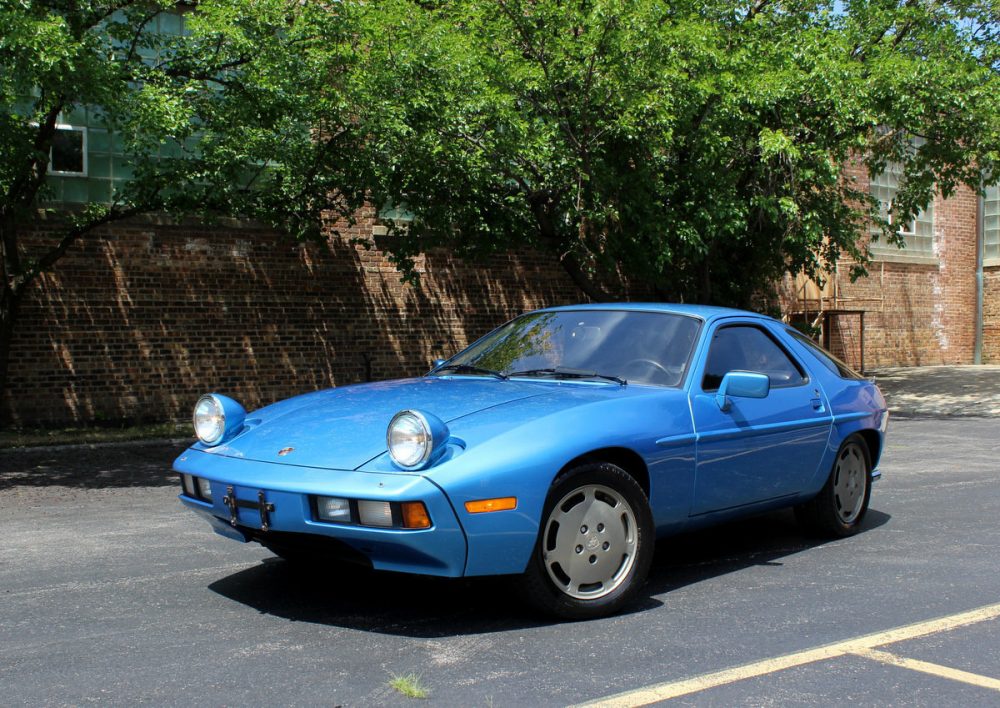 We all know I am a huge 911 fan, but I am really enjoying seeing the slew of really nice 928s that we've come across. From the wonderful early example we featured toward the beginning of the year to the very rare Wimbledon Green 928GTS it has been a treat to further my own appreciation for these fantastic cars. Here we have another and it honestly might be my favorite: a Minerva Blue Metallic 1982 Porsche 928, located in Chicago, with Navy Blue leather interior and only 18,915 miles on it. If you've read these pages long enough you'll know why this is my favorite: Minerva Blue probably is my favorite of Porsche's metallic blues. On the lines of the 928 it shows off just how stunning it can look.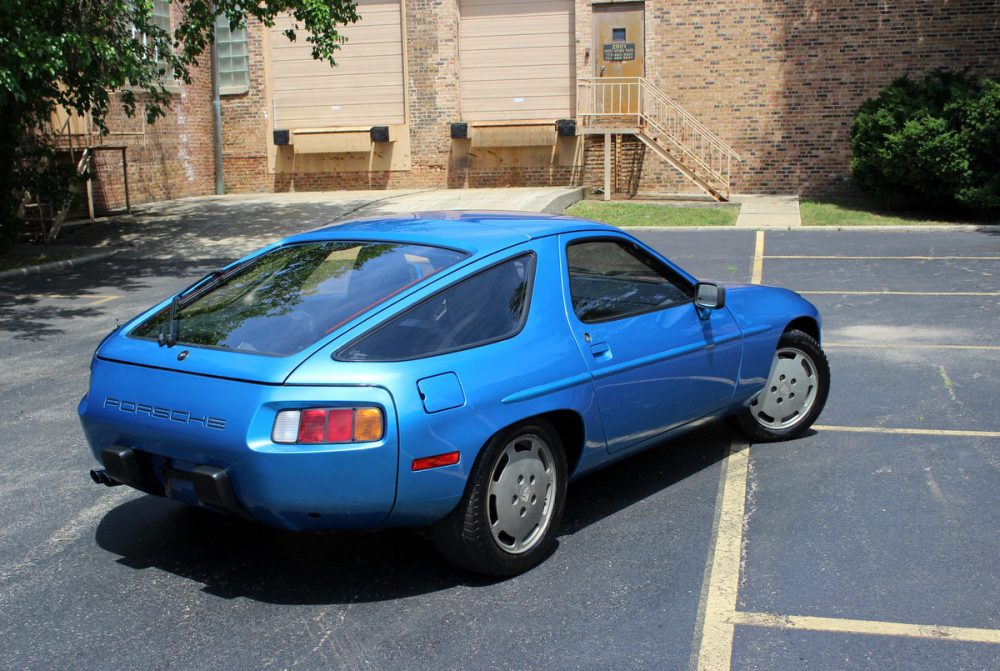 Year: 1982
Model: 928
VIN: WP0JA0926C5821859
Engine: 4.5 liter V8
Transmission: 3-speed automatic
Mileage: 18,915 mi
Price: $43,500 Buy It Now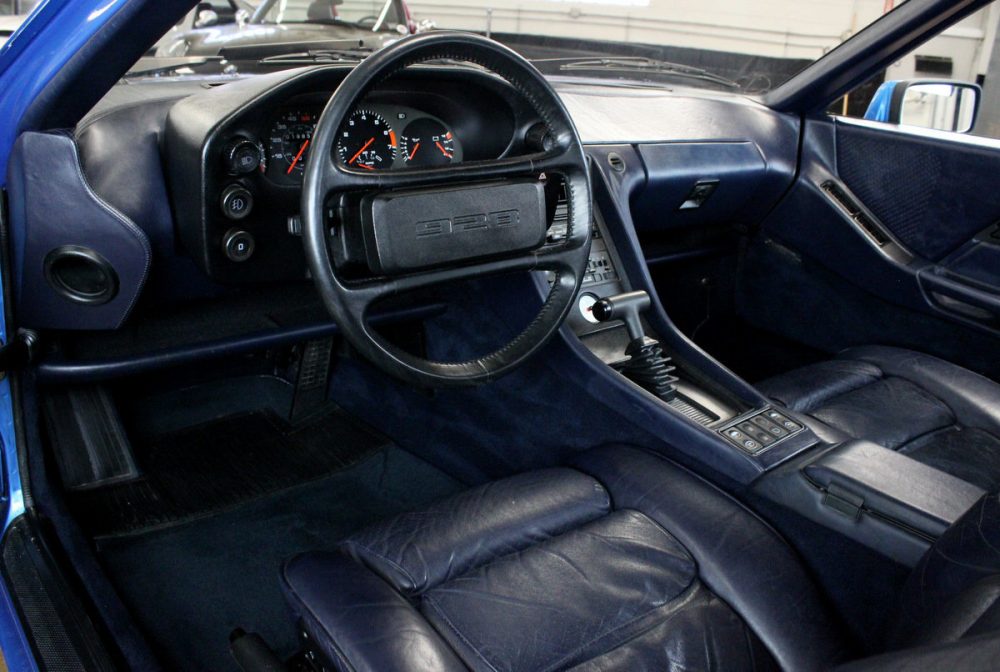 1982 Porsche 928

One Owner From New
Only 18,900 Miles From New
Original Minervablau Paint, Unrestored & Excellent Navy Leather Interior
Well-Optioned First-Generation Example – No Spoiler, No Sunroof
Well Documented (Original Manuals, Title, Plate Frame, Delivery Info, Receipts, COA)
July 2018 Major Service by Specialist (Timing Belt, Water Pump, Alternator, Belts, Tires, and more)

Numbers:
VIN: WP0JA0926C5821859
Engine: 81C6113
Transmission: 928.116.411.6R
Differential: 928.301.305.4R
Mileage: 18,915

Background:
The car was sold new through Jeffords Motor Cars in Brookfield, Wisconsin. Jim Jeffords, the owner of the dealership, was a very well known racing driver and team manager in the US. Best known for his time racing the "Purple People Eater" Corvette, he was later manager of the AMC Trans-Am team before being replaced by Roger Penske in 1970. There is an excellent article about his life and career that can be found on Hemmings. Jeffords brought the car into his dealership as a demo car, with the intention of keeping it in his own collection and having it on display in the dealership showroom. He kept it in his own collection under dealer ownership until late 1985, when his friend Marvin was finally able to convince him to sell the car. So while the car is an '82 and was first sold in '85, Marvin is technically the original owner. Marvin bought the car with 650 miles on it, and drove it throughout the summers around his lake house in Illinois until 2001, when he put the car in his garage for good. We purchased the car from Marvin in early 2018 and have spent the summer servicing, driving, showing, and enjoying the car. Since a timing belt, tensioner, water pump, alternator, and tires service in July, we have driven the car just about exactly 100 miles. And wow, what a fantastic car.

Exterior/Paint:
Original Minerva Blue paint, as confirmed with an elcometer, is absolutely exceptional. There is one panel that has been resprayed; the passenger front fender was resprayed in 2000 after being scratched in Marvin's garage. The fender was not removed; the bolts under the hood still have the factory paint on them with no wrench marks. The paintwork was done by European Auto here in Chicago and the paintwork is excellent. Absolutely no dust under the paint, no "orange peel", no difference in color whatsoever. In the video I have put together for the listing, I made an effort to show that fender in detail, at a variety of different angles, under direct sunlight. It appears as factory, and wouldn't be picked up on even by a well-trained eye. The remainder of the car's original paint is tremendously impressive. There are a couple very small chips on the lower driver front fender, as highlighted in the video, but absolutely nothing glaring or close to it. Condition is very much consistent with 18,900 miles of careful road use. No clear aging, no bubbling or other blemishes of any kind. Weatherstripping and all the window trim is all original and like-new, which we almost never see on 928s. Glass is all clear, crack-free, and original. All lights and signals are functional. Tires are brand new Ventus V2 Concept 2s. Wheels are excellent, with just one light scratch on the passenger front wheel. These were the optional, competition package, bronze-finish wheels, which Jim Jeffords had installed on the car when it was new. These slightly bronze-finish "manhole cover" wheels are by far and wide our favorite wheels on any 928, and offset the Minerva finish nicely. Another desirable aspect of this car is that since it's an '82 (no spoiler) and was originally spec'd with no sunroof, this is the purest expression of the bullet-like 928 design. Since filming the video of the car, we have cleaned up and painted the black license plate mounts. You'll note some oxidation on those in the video.

Interior:
As you can see in the photos, the interior is very, very impressive. The cleanest, most original 928 interior we've ever seen, by a long mile. No burst seams or any damage on any of the four seats whatsoever. The only signs of age on the seats would be extremely slight fading on the driver's outer bolster. According to Marvin, the rear seats have never been sat in. The dark blue leather contrasts beautifully with the Minerva exterior. The dash is in great shape, though there is the slightest bit of waviness around the passenger side defrost vent. We love that rather than just the steering wheel being adjustable on these cars, the entire gauge cluster moves up and down. You can make this car fit like a glove; it's extremely comfortable, with excellent ergonomics. The roll-out cloth cover for the rear hatch is a bit faded, and while minor, we'd probably consider this the most glaring sign of age in the interior. Gauges are all functional, including the odometer. Odometer reading of 18,915 miles is accurate based on known history of the car from new and outstanding condition throughout. The radio is a Blaupunkt Bamberg, which Jeffords installed when he got the car. It was a period-correct upgrade over the original Blaupunkt, and looks right at home. Radio and all speakers are functional and sound great. Door jambs and sills are like-new. No kicked-open marking on the door panels. Powered systems are all functional. This includes the original R12 air conditioning, which blows nice and cold, the radio, power windows, powered comfort seat adjusts, lights and signals, interior lights, and dash lights. Original carpeting is like-new, and the car will come with a set of dark blue floor mats as well.

Underbody:
The car has always been garage kept and it shows. The car is quite nice underneath. Rust is limited to various bolt heads and line clips, which are obviously very superficial rust spots. Actual structural components and suspension parts are in excellent shape. No scrapes underneath from bottoming out, no evidence of any leaks whatsoever. Most underbody components still show the red, yellow, or blue dots of factory paint. Engine bay is extremely tidy as well. This car has been in our showroom for months and hasn't leaked a drop.

Documentation:
The car will come with the original manual and warranty booklet, which shows that it was in fact a demo car at Jeffords Motor Cars. It will also come with the original license plate and dealer plate frames, Certificate of Authenticity, Blaupunkt manuals, 2 factory Minerva touch-up paint kits, a receipt for when Marvin brought it in for its 1,000 mile service, and Marvin's insurance cards/registration throughout the years. We will also provide a receipt for a major service completed in July of this year, which included the following: oil, oil filter, fuel filter, air filter, spark plugs, timing belt, water pump, timing belt idler, timing belt roller, power steering belt, alternator belt, air pump drive belt, A/C drive belt, hood struts, lug nuts, alternator, Hankook tires, and a brake service.

Overall:
With the fantastic ownership history, phenomenal spec, time-capsule-like condition, extraordinarily low mileage, recent thorough servicing, and recent exercise this is just about as good as 928s get. We've thoroughly enjoyed our time with the car and have brought it out to a few local shows, where it has been a huge conversation piece. The condition and color of the car has a magnetic quality; this car is a star everywhere it goes. In the Porsche community you'll hear people knocking 928s for being automatic-transmission-heavy, but honestly, the automatic suits the grand-touring nature of the car beautifully, and the argument could be made that the car is better with an automatic. This car is comfortable, usable, and buttery-smooth. This is, without a doubt, one of the finest 928s to be offered in recent years. If it were part of the business model, this is one we'd hold onto forever. We have a number of fantastic, high-resolution photos of the car, so please reach out if you would like to have those.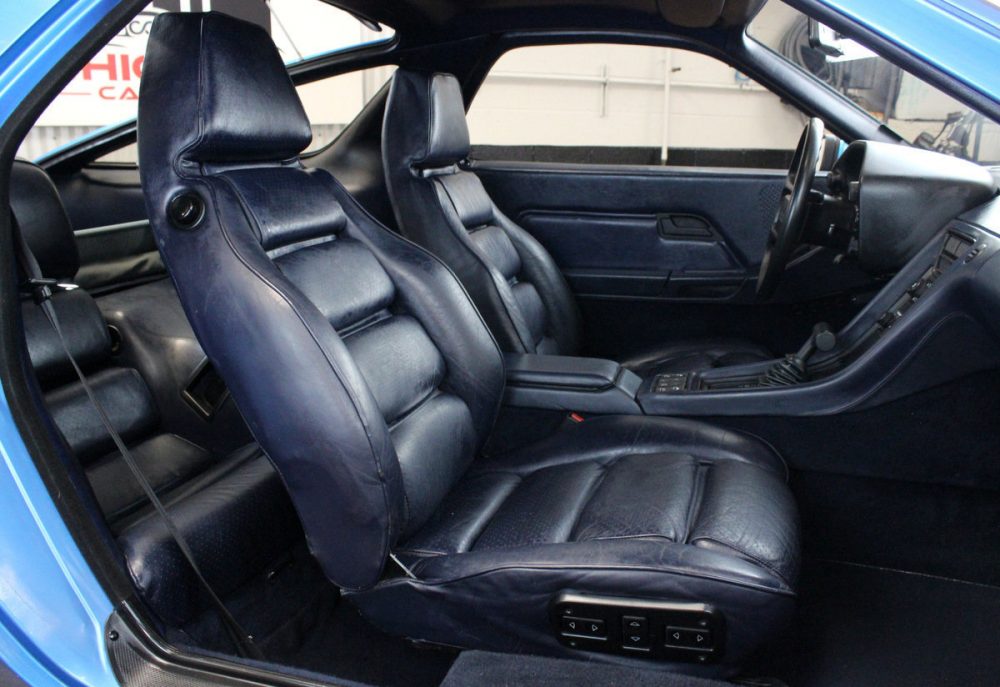 I have always liked the 928, especially its seemingly timeless styling, but its disappearance from the Porsche lineup also meant it more or less disappeared from my immediate consciousness. Excellent examples like this one certainly bring it back to the fore. This 928 originally served as a demo car at Jeffords Motor Cars before finding its first true owner in 1985. That owner (Marvin) would possess it and use it sparingly until 2018 when it passed into the hands of the current sellers at Chicago Car Club. That single long-term ownership means this 928 comes well documented with a full history including insurance and registration cards and the original dealer license plate frame. It appears to be almost entirely original to how Marvin purchased it.
The Minerva Blue paint is mostly original with only the passenger side fender having been resprayed due to a scratch. The pictures show the fender and without being told I'm not sure you'd guess it's been painted. Obviously, an in-person inspection would be the true test. But overall the exterior looks phenomenal with only the most minor of blemishes. The interior presents similarly with only very minor wear apparent in the seating, excellent looking dash, and clean carpets. I have mentioned before that this blue on blue look seems entirely confined to the '80s and while in some cases it can be a little too matchy matchy here there is enough contrast between the lighter minerva exterior and darker navy interior that it doesn't come across as monochromatic. In fact, I'm not sure I'd prefer a different interior color as this combination works very well.
All gauges and other electronics are said to be fully functional and the A/C blows cold. It also recently has received a full servicing so its mechanical condition should be quite good. Naturally, you'll want a PPI performed, but given the apparent condition I would approach that with some confidence. Overall, this certainly must be one of the better 928s we're likely to come across.
It is priced as such too. This is pretty much top of the market, especially given that it's an automatic rather than a manual. Unlike a 911 an automatic can makes sense in a 928, but purely on value the manual remains more desirable. With all of that said, given its extensive documentation, high level of originality, very low mileage, and wonderful exterior color this is the sort of 928 you'd be after if you were looking to spend top dollar. I'm sure some 928 collector would be happy to make it a part of his collection.
-Rob