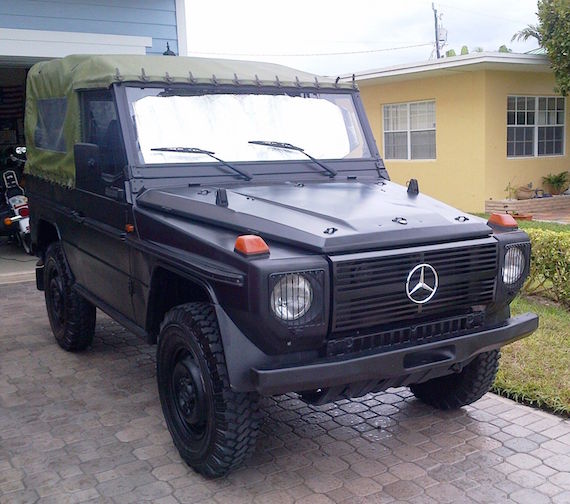 While it looks very similar to the models that have been rolling out of Germany since 1979, most of the G-classes we see in the US are of the W463 variety, an update that ushered in the 1990s. While the 11-year run of the W460/461 chassis probably seemed long at the time, I don't think anyone could have guessed that the W463 would still be produced 25 years later. While the actual aesthetic differences are few, I much prefer the older W460/1 models as they very rarely look like soft-roaders and usually carry a little more patina, history, and toughness.
Today's flat-black with green canvas top looks pretty mean and would likely be unstoppable off-road, but the devil is in the details. While the owner claims it has covered just 8,000km or 5,000 miles, the close-up pictures show some rust hidden under the too-easy black respray. Combined with a weak description, its potential is overwhelmed by more questions than answers and a terribly optimistic price.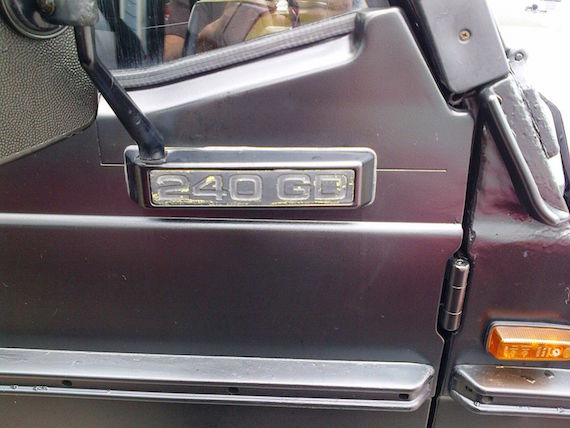 Year: 1988
Model: 240GD
Engine: 2.4 liter diesel inline-4
Transmission: 4-speed manual
Mileage: 5,000 mi
Price: $19,995 Buy It Now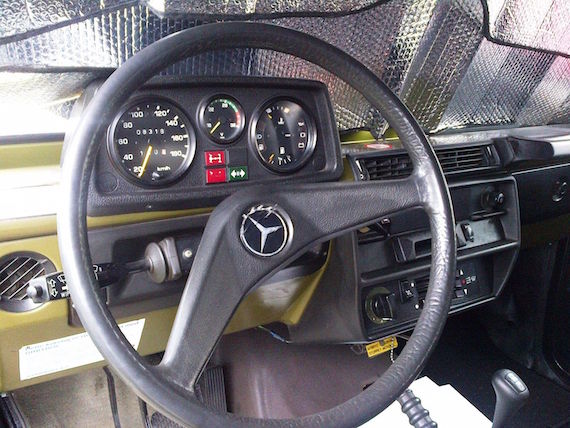 1988 Mercedes Benz Military Jeep, 6 Cylinder Diesel,4 or 2 Wheel Drive with high and low range , Full vinyl removable canvas top , all heavy duty steel construction, all light work, modern seat belts, new seats, 4 newer tires with a full size spare, 8000 Kilometers 5000 original miles, runs great and drives GREAT!!! one of a kind vehicle , a real head turner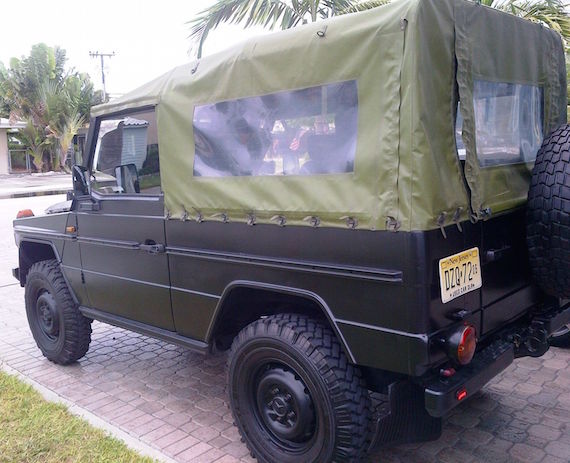 $20k seems like a price for a great W460 that leaves no questions unanswered; unfortunately, I don't think that's the case here. The 240D was a 4-cylinder model – is the seller confused or was there a swap? Why has it only covered 5k miles in 26 years? When and how was the repaint done?
This has all the signs of a seller who is just throwing flat-black poop on the wall and seeing what sticks. It does a pretty good Willys Jeep impression, but it's no more a Jeep than it is Kleenex or a Xerox machine. A few black rattle-cans and a mediocre job from your local boat-top canvas maker does not make this a one of a kind. There were literally tens of thousands of these made. If the Buy-It-Now was half of what it is now, I'd think "oh, sweet, seems reasonable for an old G-wagen to run in the woods!" For now, I just think it's a crack-pipe price with a disconcerting lack of information.
-NR