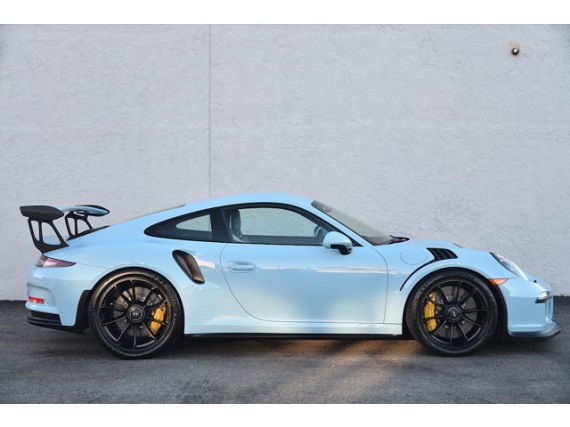 Last week I featured a Glacier Blue 911SC that the seller mentioned as being akin to a lighter shade of Gulf Blue. Well here we have the real thing: a Gulf Blue 2016 Porsche 911 GT3 RS located in California. The Gulf colors have long been synonymous with racing figuring most prominently at Le Mans on Ford's GT40 as well as Porsche's own 917. Since those early days the Gulf livery has found its way onto a wide variety of road cars and on a modern Porsche there's really no better option than to have Gulf Blue covering the lines of the GT3 RS. This isn't as shout-at-you vibrant as Lava Orange or Ultraviolet, but for its link to so many historically great race cars it certainly should stand as one of the best options on these ultimate 911s. My only quibble: the wheels should be orange!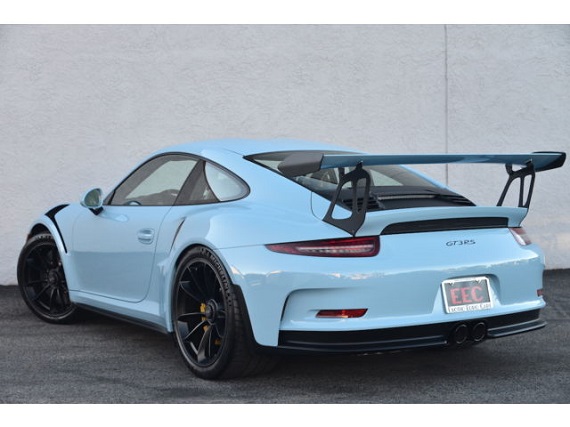 Year: 2016
Model: 911 GT3 RS
Engine: 4.0 liter flat-6
Transmission: 7-speed automatic
Mileage: 13 mi
Price: $329,900 Buy It Now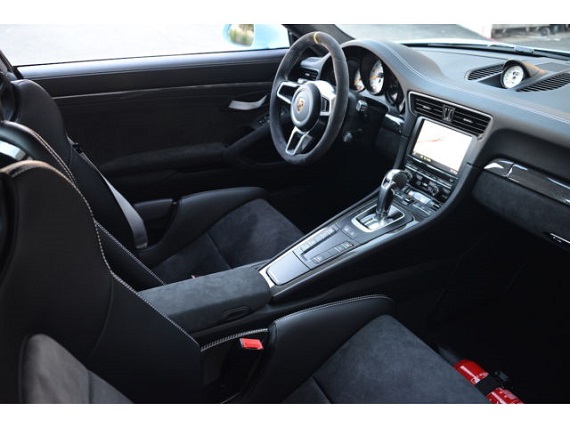 Exterior Paint to sample, (Gulf Blue), Leather interior in Black GT/Silver (Alcantara), Porsche ceramic composite brakes, Floor mats, Porsche communication Management includes Navigation Module, sound package plus, Fire extinguisher, Code for exterior paint sample, Instrument dials in white, Exterior paint to sample, Sport chrono clock dial in white, front axle lift system, Extended range fuel tank, 23.9 gal, Door sill Guards in carbon fiber, Illuminated, Fuel cap with aluminum look finish, smoking package, Luggage net in passenger foot well, LED Headlights in Black with Porsche Dynamic Light system, Sport chrono package (Porsche Track Precision App) Wheels painted in satin black. CONTACT INFO MIKE DROID PHONE 818-518-4775 OR MIKE@EXOTICEUROCARS.COM Terry DROID PHONE 818-470-8652 TL@EXOTICEUROCARS.COM TEXT QUESTIONS 24 HOURS A DAY DIRECT TO MIKE OR TERRY THE QUICKEST RESPONSE DURING OR AFTER BUSINESS HOURS! QUESTIONS WILL USUALLY BE ANSWERED WITHIN 1 HOUR IF ASKED BETWEEN 7AM-11PM PST. TRADES IF YOU HAVE A VEHICLE YOU WANT TO TRADE WE WILL NEED THE FOLLOWING FULL VEHICLE IDENTIFICATION NUMBER (VIN) MAKE/MODEL/TRIM LEVEL INT/EXT COLOR MILES PRIOR ACCIDENTS OR PAINTWORK SERVICE HISTORY FOR EXOTICS MAJOR OPTIONS OR ORIGINAL MSRP IF KNOWN PICTURES IF POSSIBLE/AVAILABLE (EMAIL OR TEXT) ALL CARS SUBJECT TO PRIOR SALE EXOTIC EURO CARS HAS THE RIGHT TO END ANY AUCTION AT ANY TIME IF THE CAR SELLS ON LOCATION OR WITH ANOTHER RETAIL/AUCTION SITE. WE DO OUR BEST TO REMOVE OR END LISTINGS / AUCTIONS AS FAST AS WE CAN BUT SOME TAKE UP TO 48 HOURS TO BE REMOVED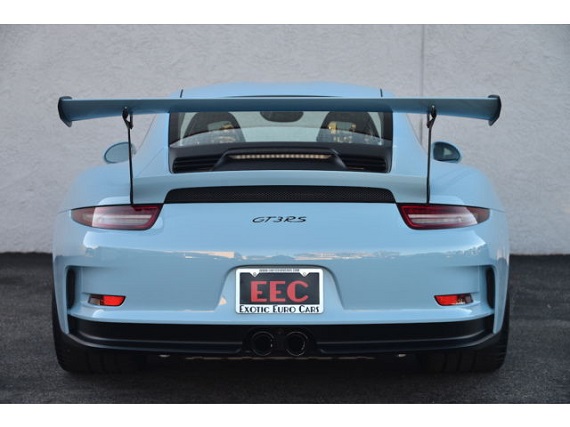 There isn't a whole lot to be said about this car; the appeal here relative to other examples of the GT3 RS lies entirely in the paint-to-sample color as otherwise this is more or less a new car and at this point most are familiar with the model. Prices have been progressively lowering as we now frequently see the GT3 RS priced a good bit below $300K. This one, however, thanks to its PTS paint remains above that number. It's a high premium to pay for an exterior color, but if your objective is to hold on for long term value then perhaps that premium will make sense.
Note: The seller has listed this car as a 2015 model, but I'm pretty sure the correct model year is 2016 so that is how I have written it.
-Rob