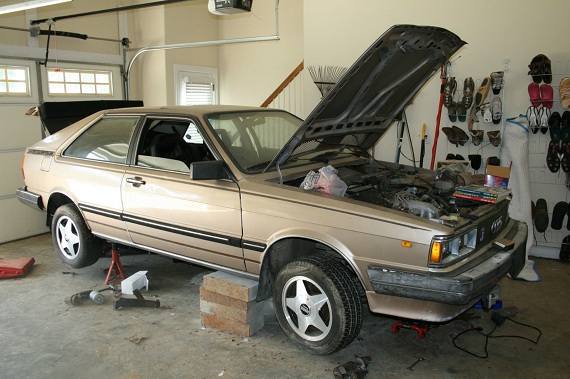 For quite some time, the B2 Audi was nearly forgotten with the exception of the quattro models. But in recent years, more appreciation has grown for the front wheel drive GT model. Indeed, in its day the Audi GT was considered by motoring magazines to be one of the best handling cars available, and having spent a the best part of two decades with one I have to agree. The Giugiaro design was one of the more subtle but also elegant designs from Audi, with great proportions and really neat details – in particular, the sweeping angular C pillar design and 3/4 view on the GTs is one of my favorite. Because they remained unappreciated for so long, though, unlike the E30 BMW crowd it's now quite hard to find one in good shape – especially true of the earlier models. However, one restoration candidate has popped up on Ebay and appears to be worth saving: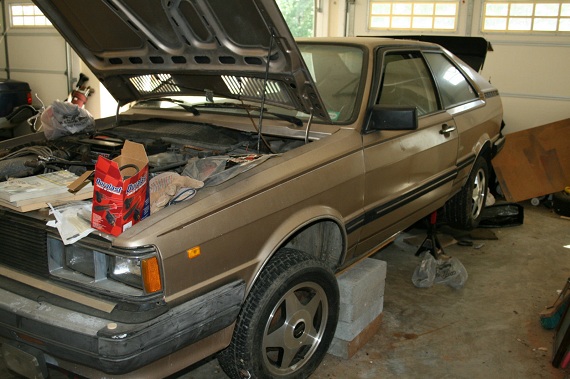 Year: 1982
Model: Coupe GT
Engine: 2.1 liter inline-5
Transmission: 5-speed manual
Mileage: 63,284 mi
Price: No Reserve Auction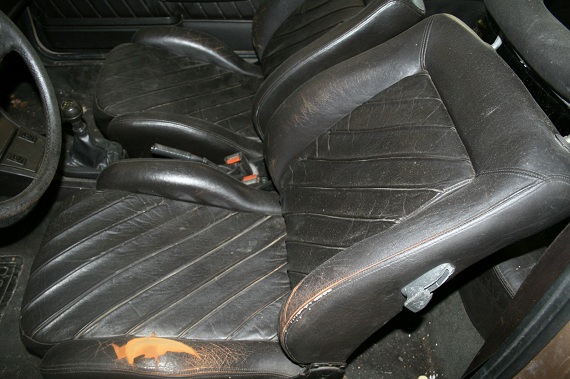 I bought this car on Ebay last year because I thought if it were in my garage I would actually work on it. I got started but not very far. I have not touched it in a year so I've decided it's time to let someone else take over.

The car has been in my garage since I received it. I have done very little – virtually nothing. It will not run in its current condition, so you will need to tow it away.

I have not been able to find rust anywhere but on the lower edge of the hatch door (see photos). I have included photos of the two rear wheel well areas to show how good they actually look. There is a hole in the leather of the bolster of the driver's seat, but otherwise the leather interior looks pretty good. I don't know about how anything functions because I have not spent that much time with it.

Feel free to ask questions. I will do my best to give you as much information as I can. I am not a mechanic, and from the appearances of things, I'm not going to become one any time soon….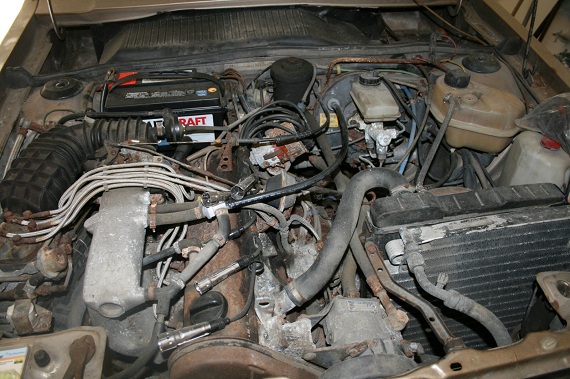 It's always sad to see what was clearly someone's pride and joy reduced to a sitting hulk, but I really don't think this car is far from being running again. Though it can be tough to source parts for these early GTs, overall they're not particularly complicated and in the worst case there are plenty of affordable engine swap options. The nature of the GT's engine layout – designed to incorporate the driveshaft heading to the rear end for the Quattro – means that everything from a 1.8T to a 4.2 V8 slots into that engine bay and bolts to the transmission, but the obvious choice are the numerous inline-5 candidates. Long term, it may be smartest if you want to keep the 5-pot design to look towards the much newer and lighter 07K motors that are sourced in Golf, Jetta, Passat and Beetle. Kits have become available to get these installed and they offer good power output with plenty of reliability and tuning potential.
Outside of that, the interior looks overall to be quite good minus the one bolster and some cracks on the dash. The trunklid is fairly easy to source and shared with all the GTs; I'd opt for a later lid with larger spoiler than the early "sponge" units that collected water and hence the rust. Outside, pop on a set of BBS RAs or 15″ x 7″ Ronals and some Euro-spec bumpers and call it a day. Brake upgrades on the early 4 x 100mm cars are easily sourced from Volkswagen, and performance wise these are competent cars out of the box. If it sounds like a lot of work, it is – but then, there aren't many of these cars kicking around any more so it's not like the A1 Volkswagen market that you can just wait another month for a good example to surface. The GT might not be everyone's cup of tea, but this example is certainly worth saving.
-Carter