From the Mercedes 230CE we featured a few days ago, let's move on to a later, distantly related model: the CLK coupe. Here's an example of one not often seen, the final year CLK350 Grand Edition.
Those that know me are aware of my penchant for Mercedes-Benzes. I've owned two C class sedans and between my mother, father and I, we've owned seven models from the marque. However, over the past 15 years, I've been less and less enamored with the styling direction on new models. Specifically, the E class coupe which replaced the CLK coupe in 2010. I was disappointed to see that it wasn't a true pillarless coupe, as it has a small fixed window at the rear side corner. Also, a lot of new Mercedes-Benzes have a lot of chrome and LED lighting all over the place which makes them look a bit flash. Maybe this is attractive to some, but I prefer the more conservative days, such as when the W124 E class coupe roamed the showrooms.
I was, however, a fan of the CLK. My favorite was the Grand Edition coupe, a package offered only in 2009. For the coupe version, the sole color on offer was Palladium Silver with Tobacco leather and white stitching. I saw a new one in person at the dealership in 2009 and the color combination was striking. Nothing was excessive about the styling and it's not an overtly large vehicle. Everything about this car just clicked for me. Unfortunately, the $57,000 entry price was too steep for me, even if the dealer had the car sit on their lot for several months and eventually marked it down to $44,000. Sadly, the car disappeared shortly after the markdown. I would love to own one of these someday, and here is a nice, low mileage example for sale.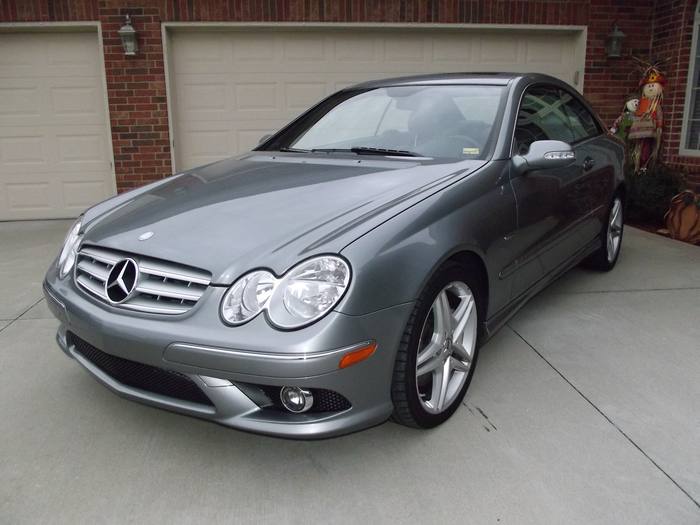 You are viewing a very nice 2009 Mercedes CLK350 Grand Edition with the 3.5 engine. This car has been very well taken care of and it shows. It is a one owner, doctor owned. The mileage represented is actual. It has never been smoked in with a clean smell throughout. Not one door ding. The automatic tranny and V6 are both 100% with no signs of trouble. All electrical options are functioning properly. The very classy charcoal exterior is in great condition. No scratches or dings anywhere. The black/tan leather interior is also in great condition. No wear. Some of the options are: leather heated seats, sunroof, tinted windows and the 18 inch staggered AMG wheels. The tires have over 50% tread remaining for the new owner. This CLK will come with a full factory warranty. Extended warranty is available at the time of sale.
This particular CLK is priced a few grand higher than your run of the mill 2009 CLK350, as most lower mileage CLK350s I've spotted these days are averaging in the $24,000 to $28,000 range. If this car could be had for just a shade under $30,000, I'd consider it well bought. These are great long distance cruisers and after owning a W203 C class (the chassis of which the C209 is based), I would highly recommend the car, as these models split the difference between sport and luxury rather well.
-Paul