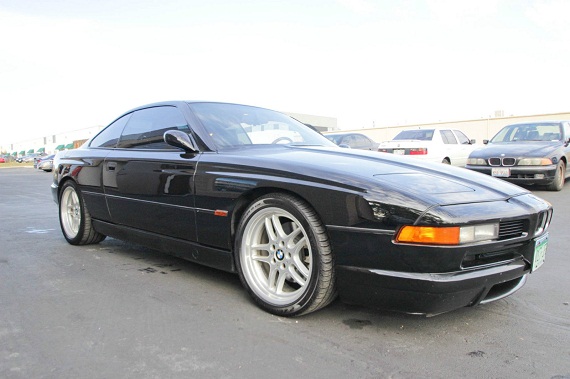 The question of badges, badge engineering and car's values are always interesting to me. Obvious car values vary considerably, but some times enthusiasts really gravitate towards one particular year or sub-model within a lineup and choose that model for value. Yesterday's 1995 M3 raised that point; while it was a neat color and lower mileage with good overall condition, it was the OBD1 status that had some claiming that it should be worth more than later models. In the case of the E31, it's obviously the big-dog 850CSi that stands out with its BMW Motorsport heritage and build. But let's say, for argument's sake, that there was arguably a nicer example of the lesser 850i 6-speed with some light modifications available at the same time – is the M badge that important?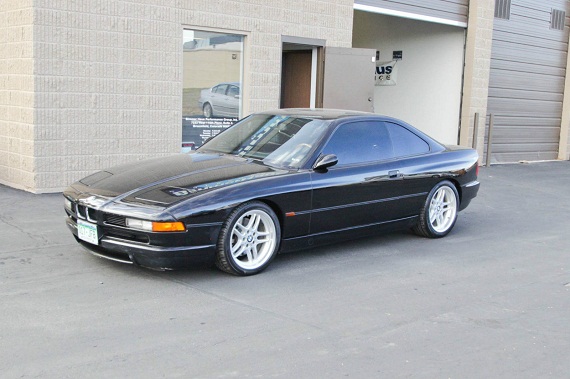 Year: 1995
Model: 850CSi
Engine: 5.6 liter V12
Transmission: 6-speed manual
Mileage: 103,200 mi
Price: Reserve Auction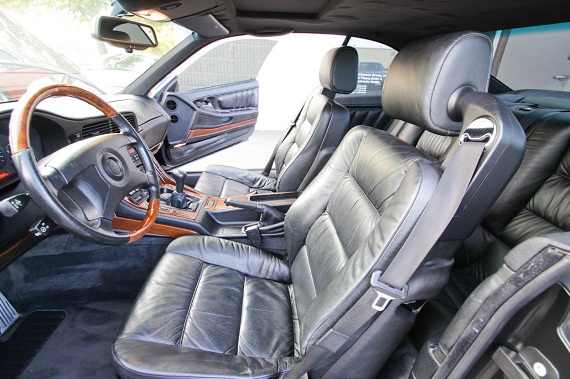 "At least once in your life,
you need to own a BMW V12″

Overview

Original MSRP (1995): $103,500 ($161,800 in 2014)
Production Date: 27-January-1995
Short Chassis VIN: CD00170
Production Number: 166th built out of 225 produced for USA market 1994-95
Condition: 2 – Good/Excellent
Engine: 372-hp, 5.6-liter V12 S70
Transmission: 6spd Manual
Length of Ownership: 9 years, 11 months

For Sale

1995 BMW M850CSi #170

Rare and beautiful. Effortless in design and function. Ahead of its time when introduced in 1989, the 8 Series is currently enjoying a continuing resurgence in popularity since the last worldwide 8 Series (E31) was produced May 12, 1999 (North American export production ended August 1, 1997).

According to BMW 8 Series Registry website, 8Coupe.com, the 8 Series' history and uniqueness forecast an automotive collectable in the years to come – it's the Number 1 collectable model for North America due to its rarity and number of survivors.

In the early 1990's, BMW produced several print ads spotlighting that the 'soul of a company' is expressed in its cars. Indeed, the 1994-1995 M5 and 850CSi were the pinnacle of BMW's soul – the last of the hand crafted BMW's. The impressive attention to detail was performed at BMW Motorsports' Garching Germany facility. BMW Motorsport produced a mere 1,510 850CSi's worldwide with only 225 coming to the USA. The 5.6 litre V12 engine, codenamed S70, is the lowest production engine in BMW history.

BMW 8 Series owners are a dedicated group. Following BMW's engineering and design greatness, they are passionate stewards of these grand tourers. This particular 850CSi (CD00170) has been owned and maintained by a rabid 8 Series enthusiast based in Colorado. It was his second 8 Series after owning a 1991 BMW 850i 6spd manual for many years. The owner believed in driving and maintaining his unique cars. This 850CSi was purchased 01/2004 with 26k miles and he proceeded to use it as his daily driver for the next 77k miles.

BimmerHaus Performance (bimmerhaus.com) of Broomfield, Colorado was sole shop used by the owner for all repairs and maintenance. Like BMW and the CSi owner, BimmerHaus is dedicated to excellence in its BMW repair and maintenance. They are one of the best independent BMW repair shops in the Rocky Mountain Region and intimately know this 850CSi.

The owner is no longer with us, but his passion and spirit remain with this 850CSi awaiting its next owner(s) with the joy, thrills, and satisfaction of owning one of BMW's greatest understated engineering achievements.

Thinking about getting the best of the best 8 Series model range – the 850CSi?

Then this car is waiting for you. Bid now!
Special Notes:

The Front Air Dam underside is cosmetically scrapped and will require repair.
Side Mirrors were installed by the 'previous' owner. They are Schnitzer branded mirrors. The original OEM side mirrors are unavailable.
The in-dash BMW OEM CD player is a late upgraded 1990's unit. The original 1995 Cassette with CD Changer was removed and is unavailable.
The M-Parallel wheels are an upgraded BMW OEM wheel. The original 17" Throwing Star Wheels were removed by the previous owner and are unavailable.
The real wood-accent Steering Wheel is a rare E31/8 Series option for the base 8 Series. Because of the rarity of the wheel, it's estimated that this steering wheel is worth at least $1,500. The original ///M Steering wheel was removed and is unavailable.
Light Window Tinting was installed by the previous owner prior to 2004 and is in good condition.
Inquiries and on-site viewings are encouraged
Contact via eBay email or telephone direct: 720-593-0850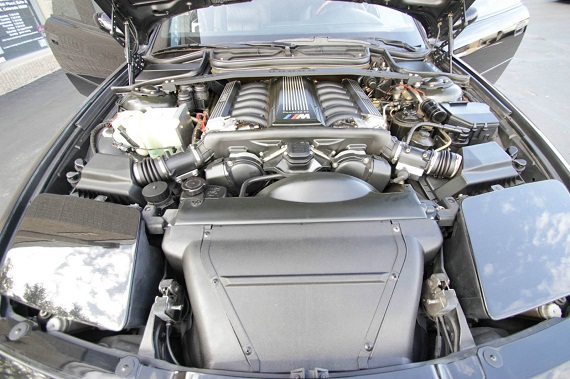 While I respect the seller's enthusiasm, according to me the E31 850CSi is certainly not the most collectable BMW on the market. Also, we don't talk about it often but unattributed (and often unnecessary) quotations bother me. Why the the "previous" owner in quotes? And why does the Autocheck say there were 4 owners, not 2? And who said I need to own a V12 once in my life? Then there are some original details that are gone, such as the steering wheel and Throwing Star M-System II wheels. To some that won't matter, but even as good as the interior condition appears to be the outside seems not quite in keeping with such a rabid enthusiast as described. The previous owner (who is apparently done being quoted) also installed the tint which I'm not a fan of. All in all, though, if the records pan out this seems like a nice example. It would be interesting to see what the reserve is set at, but I'd guess it's well into the $30K range if not more based upon the boasts about how valuable the steering wheel is and the assertions of collect-ability.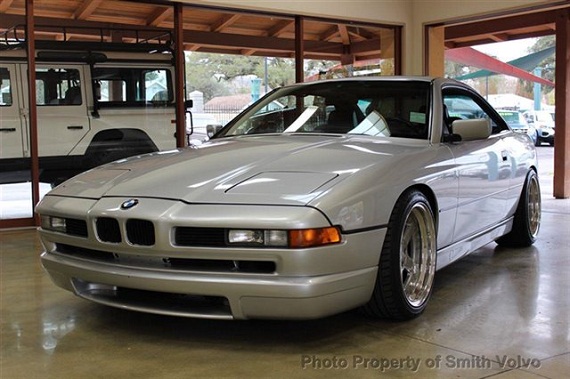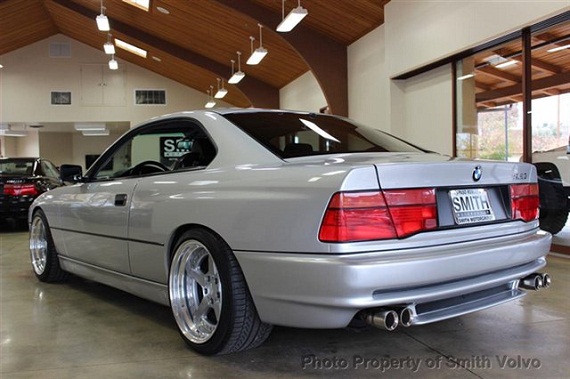 Year: 1991
Model: 850i
Engine: 5.0 liter V12
Transmission: 6-speed manual
Mileage: 96,132 mi
Price: $25,900 Buy It Now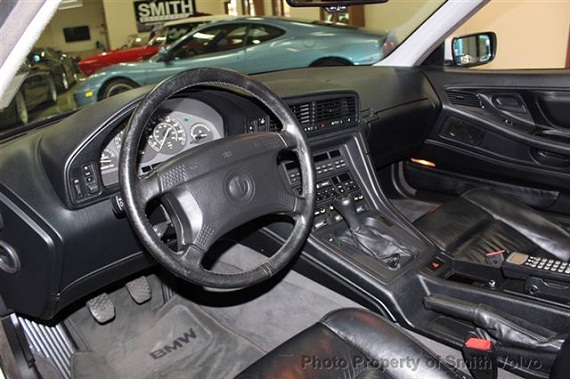 1991 BMW 850i CSI Body AC Schnitzer 3Pc wheels
This is an exceptionally clean 2 owner California 1991 BMW 850i with the 6 speed manual transmission. This 850i was just gone through by the second owner who installed the new Bilstein suspension with H&R springs, new exhaust, authentic 3 piece AC Schnitzer 18″ wheels with 245/40r18's in the front and 275/35r18's in the front and 275/35r18's in the rear. This 850i comes with the stock chrome BBS wheels and tires are stock springs along with all books and factory car cover. Please contact us with any questions.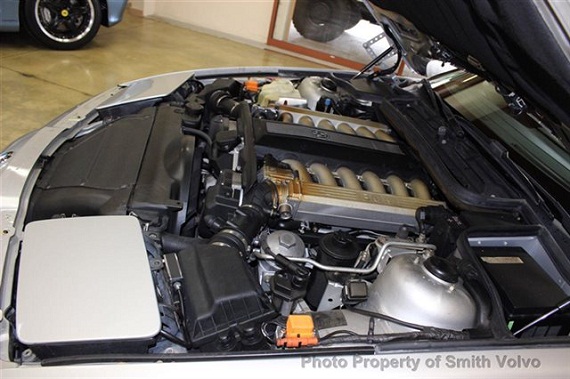 On the flip side is the rather unappreciated 850i 6-speed, which shares most of the characteristics of the CSi. Sure, there are small differences – but the exterior of this car has been upgraded to CSi specification and the AC Schnitzer wheels look pretty amazing. Inside is less wood but the same 6-speed transmission and black leather which shows a bit of wear on the bolster but seems to present well overall. The lowering springs and upgraded Bilsteins give the car the effective pose of the CSi. Of course, what's missing is the special M-division S70 motor – nearly 100 horsepower down on the big brother. But in the land of the 55 m.p.h. speed limit, is the extra power really all that necessary? Want and need strike a delicate balance with desirability and affordability here, as this 850i is brought to the market at half the rate of some of the CSis we've seen.
But do wheels, suspension and bumpers make this 850i worth so much more than a standard 1991? That's hard to say; the right person might want a turn key package, but I have to admit $26,000 seems like a lot for a 1991. This car, however, is certainly more than half of the experience of the CSi for only about half the asking price of many examples we look at. That said, we've also seen a nice similar mileage CSi hammer for $30,000 and that's where I'd prefer to put my money if I had the option. Which would you choose?
-Carter