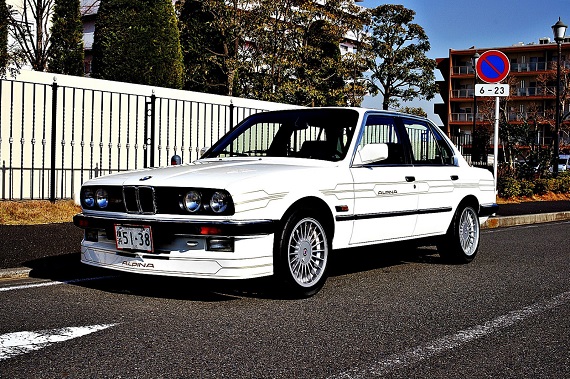 From earlier's obscure E21 B6 2.8 we move on to the much more popular (then and especially now) E30 model. Alpina once again worked their magic in many ways over the production of the E30, steadily increasing output to try to stay one step ahead of the factory. Up until 1986, that was a bit easier, but the introduction of the M3 model that year put some serious pressure on Alpina and would result in the M30 based B6 2.8 and 3.5 models, but the earlier Alpina models were based upon the M20 323i powerplant. Punching that out to 2.5 and later 2.7 liters as BMW released its own updates, the ultimate result was 210 horsepower from the larger unit. These were expensive cars in their day and consequently few were sold, but performance was top-notch and it was a premium product from the unique manufacturer: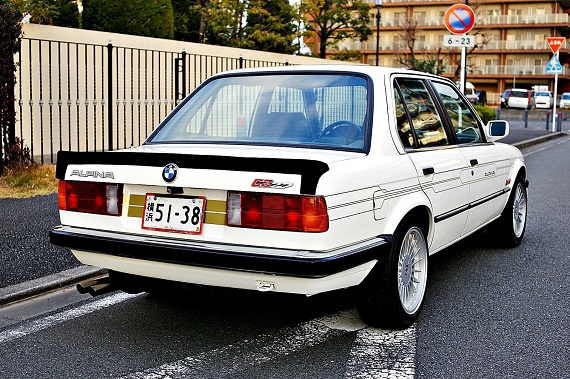 Year: 1986
Model: C2 2.7
Engine: 2.7 liter inline-6
Transmission: 5-speed manual
Mileage: 59,375 mi
Price: $32,900 Buy It Now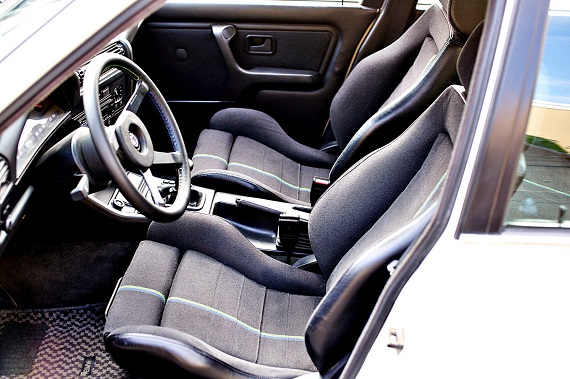 #028 C2/1 2.7 Euro version (210hp) produced 1986-1987 July only 2 years Very rare car.(108 produced)
original 95000km (59375miles) super clean exterior interior with perfect running car.
US buyer=> The car already past 25years so you can import and register the car. We charge 2000USD for shipping service and ocean freight to US RoRo line available port.
Euro buyer=> 30years old car. you can import and register the car. We charge 2200USD for shipping service and ocean freight to Euro RoRo line available port.
Other countires=> Please ask
model, engine

Make: BMW
Model: C2/1 2.7
Type: #028
Year: 1986
Body Type: Standard Car
Doors: 4
Seats: 5
Steering Position: Left-hand drive
Owners: 2
VIN Number: 00000000000000000
Body Stamp Number: WAPC227006C210028

59,030 miles, 95,000 km

exterior, electric

Exterior Color: White

Super mint condition. No rust. still has classic Alpina deco line All working order
A/C works really good

interior, suspension

Interior Color: Black

Super clean. no damage at all. Dash so clean too. Only not original is Shift knob (You can buy them not so expensive)
Alpina Spec original suspension are all in perfect condition. Brakes shocks all took care.
C2 2.7 called perfect balanced car in all E30 models

engine, equipments

Engine Size: 2700 cc
Cylinders: 6
Power: 207 Bhp (154 kW)

Engine runs perfect no leaks no smokes very smooth Keen and powerful engine.
The C2 /1 2.7 custom flat head pistons provided by MAHLE. Originally Alpina modified cylinder head with bigger intake valves, larger air intake ports, and redesigned the valve chamber for better flow. A more aggressive camshaft was used, with higher lift and duration, and harder valve springs were installed. Compression ratio was increased to 10.2:1. The C2/1 2.7 made 210 bhp with 267 Nm of torque and was the fastest E30 available at the time (227 km/h top speed).
transmission, special features

Mission: Manual (5)

5 speed shift perfect. clutch holding tight
1986 BMW C2/1 2.7 #028
history records
Newly imported to Japan from Alpina Euro 1986. The car is very first production lot car #028.
2 owners in a past. The car well maintained almost every 2 years.
Engine Transmission all # matching car
maintenance records
Every 2 years maintained by Alpina specialist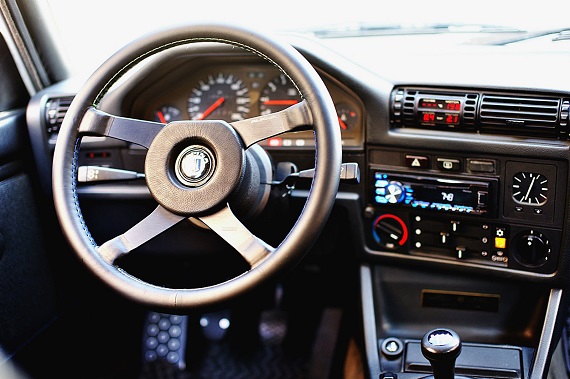 These Alpina models are really hot in the marketplace right now, and a C2 2.7 compares pretty favorably to a M3. Collectability is arguably slightly lower, but then this relatively top-notch example is priced at only about a third of what really top-tier M3s are trading for. History is better documented on this C2 than the E21 B6 I looked at this morning, and this car does appear in the correct configuration and colors in the Alpina Archives. There are a few items out of place, most notably the aftermarket radio, and it appears that the original Alpina side decals have been replaced – somewhat poorly – from how the car appeared originally. We looked at a more rare, but quite similar C2 2.5 model back in June 2015. The ask was lower, but then so was the power output and that car had 40,000 more miles – however, it was already in the U.S.. $33,000 is certainly steep but not unheard of for Alpinas these days, but it will take a bit of correcting and money for importation to get this one to be the top example it could be.
Thanks to our reader Daniel for the spot!
-Carter