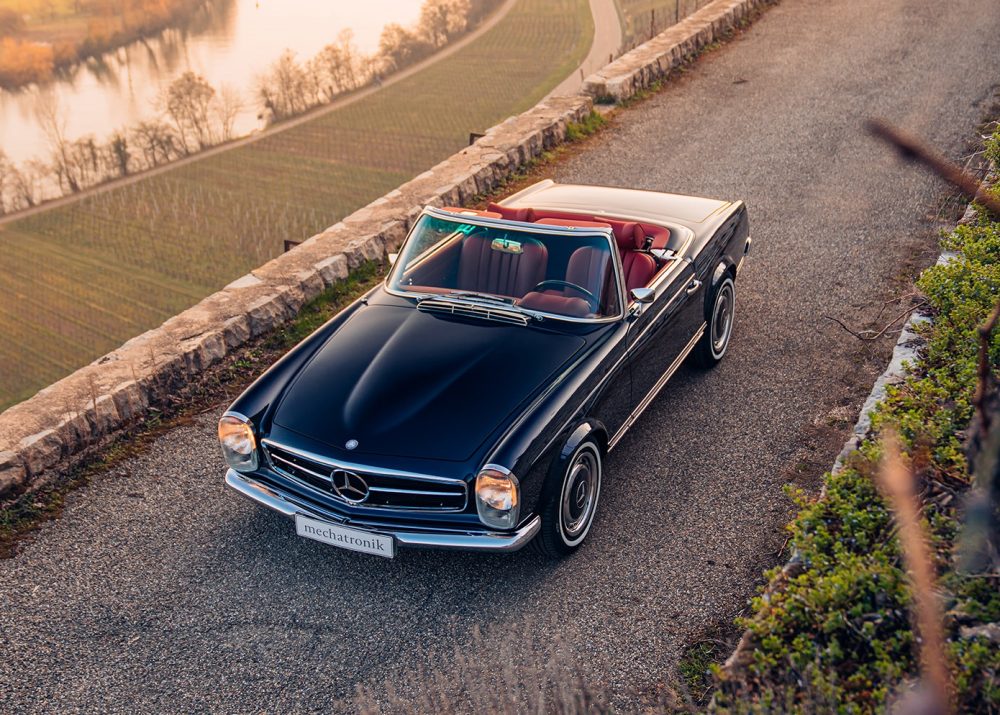 It's one thing to swap an engine over a couple weekends in your home garage. Not an easy task at all. However, it is a whole other thing to swap an engine and have everything be so perfect and finish every single little detail that nothing looks out of place. You tie in all the modern systems while keeping that classic look. It's literally the best of both worlds. That is what we have today.
This is a 1969 Mercedes-Benz 280SL with an M113 V8 and a five-speed automatic transmission. That isn't the end of it. 15″ wheels with full covers, KW suspension, four-wheel disc brakes with ABS and ASR, and an absolutely perfect red leather interior. It just doesn't stop.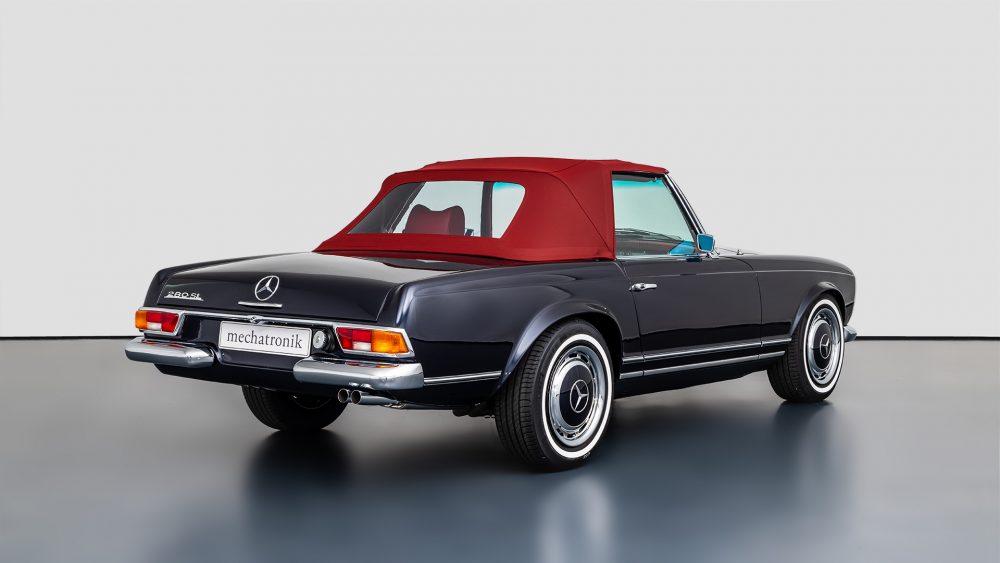 Year: 1969
Model: 280SL
VIN: N/A
Engine: 5.0 liter V8
Transmission: 5-speed automatic
Mileage: 50 km (31 mi)
Location: Fort Lauderdale, Florida
Price: €450,000 ($499,657)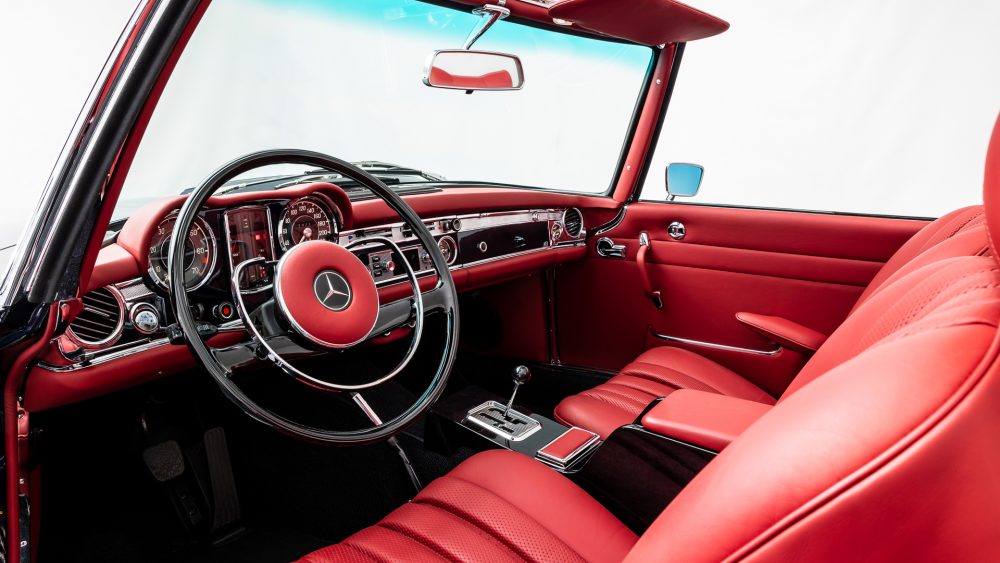 The Mercedes-Benz M-SL 500

For us, modern automotive technology, implanted in the Mercedes-Benz classics that are still visually true to the original, means using a great deal of creativity to ensure that the synthesis of old and modern technology gives our customers lasting driving pleasure. Our high quality standards, both in the development work and in its implementation, are the basis for our work, which is characterized by the fact that the conversion of the vehicles preserves their special charm and their unique shape. A maxim that demands the respect we feel for the classic cars with the star. Our aim is to ensure a combination of optical originality and technical performance, as well as suitability for everyday use. The heart of the M-SL is of course the engine. In this case the Mercedes M113 eight-cylinder with 5.0 liters displacement and 320 hp/235 kW. This V8 engine was introduced by Mercedes-Benz in September 1997 and has been continuously developed and improved over the years. In 34 Mercedes models of different series it served as a powerful drive until 2007. The decisive factors for this were its well-known high reliability and the impressive power development. Due to these properties, the engine is also the first choice for our conversions. It is also 30 kilograms lighter than the original drive and ensures optimal weight distribution in the M-SL, which in turn has a positive effect on driving dynamics. All engines that find their way into a new-tech conversion must meet strict quality criteria, before they are approved for a general overhaul in our in-house engine shop. Low mileage and the successful completion of an extensive review process by our engine experts are basic requirements. All engines are then completely overhauled in painstaking manual work. Before the units are installed, a final test is carried out on the engine test bench, where all functional values ​​are then checked again. The drive unit is supplemented by a 5-speed automatic transmission from Mercedes-Benz, which must meet comparable quality requirements before installation. The optimal coordination between the engine and transmission ensures superior driving comfort on the one hand and sporty and dynamic driving behavior on the other. Another important aspect of this drive package is the workshop service. In principle, every mechatronic vehicle can be checked by any Mercedes-Benz service partner worldwide using engine diagnostics, making the time-consuming search for a classic specialist unnecessary. It is this unrestricted suitability for everyday use that makes a mechatronic conversion what it is – a modern classic. The high demands that we place on the drive with the M-SL are also reflected in the chassis. Excellent traction and high agility with precise steering and balanced load change behavior are guaranteed thanks to the completely retuned chassis. Performance springs and shock absorbers developed by KW Automotive are used in the chassis developed by us. Our mechatronic sports suspension also enables a setup that is precisely tailored to your expectations and your driving style, which can also be individually adapted to your wishes and requirements. One of the top development goals of our chassis specialists was to keep the body movements as small as possible and thus more comfort, even with a dynamic driving style. In combination with the 5.0-liter engine, the mechatronic locking differential installed on the rear axle ensures even better power distribution between the drive wheels. The mechatronic high-performance brake system ensures that the M-SL can be controlled reliably and safely at all times, even when braking, thanks to the use of high-quality components and the standard installation of the anti-lock braking system. The brakes are precisely matched to the engine output and the chassis, thus ensuring uncompromising safety and optimum braking performance. Each individual part is specially tested and thus meets the high requirements. The larger two-piston brake system with perforated and internally ventilated brake discs is used on the front axle. The discs are optimally cooled and impress with their good response even in wet conditions. On the rear axle we rely on the revised standard brake system of the W111. Of course, every M-SL we convert offers far higher safety standards than was the case when it was originally launched in the 1960s. Nowadays safety and assistance systems have a much higher priority, which of course also receives the best possible attention in our conversions. In view of the significantly higher engine and driving performance, we therefore equip our vehicles with modern safety systems such as ABS and ASR as standard. This ensures that when you step on the gas pedal, the power arrives on the road and the vehicle remains constantly controllable and steerable, even when braking. We also equip all vehicles with three-point belts and headrests on the front seats as standard. that when you step on the gas pedal, the power arrives on the road and the vehicle remains constantly controllable and steerable, even when braking. We also equip all vehicles with three-point belts and headrests on the front seats as standard. that when you step on the gas pedal, the power arrives on the road and the vehicle remains constantly controllable and steerable, even when braking. We also equip all vehicles with three-point belts and headrests on the front seats as standard.

The vehicle offered here is one of only 5 M-SLs built per year from the production year 2022, which was designed as an exhibition vehicle. Delivered in the special color combination of tanzanite blue in combination with red leather. With a mileage of only 50 km since completion, this M-SL is in absolute new condition. For detailed questions, please contact our sales staff.

Special equipment:
Special color tanzanite blue

Wheel caps in body colour

heat-insulating glass

Electric windows

Mechatronic radio with navigation, hands-free system and Bluetooth music streaming

seat heating

air conditioner

Sports seats with improved lateral support

central locking system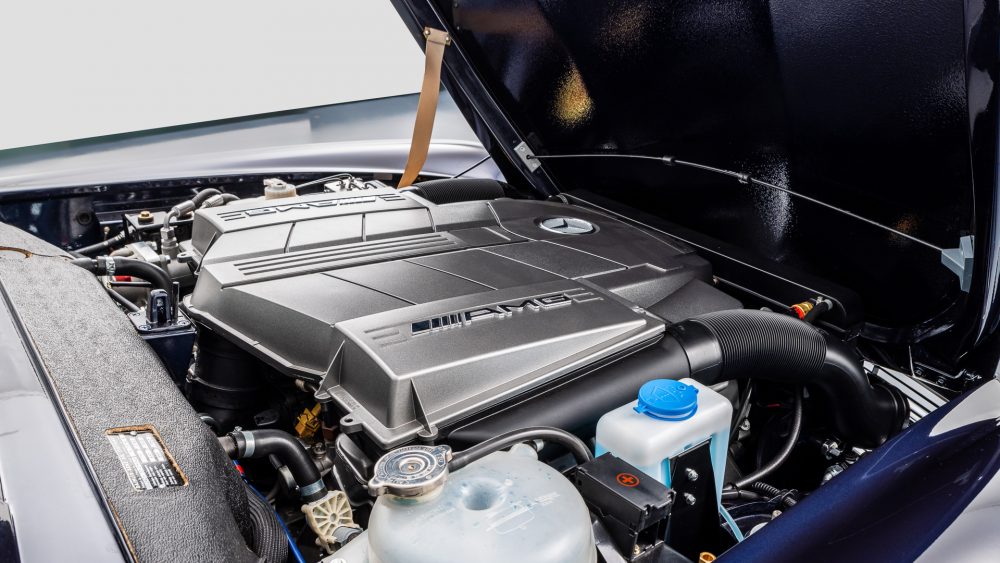 The madmen at Mechatronik have done it again. Reportedly they only crank out about five of these per year, all custom orders, but this one is offered to whoever brings a fat check. A very fat check.
Without the VAT, you can take this piece of perfection home for $500,000. That is what this kind of craftsmanship costs. Doing the quick math here, the very best W113 280SLs will ring you around $200,000. Is there another $300,000? Maybe. It isn't just the cost of the parts plus the team of mechanics to put it all together. It is the engineering cost of putting ABS and ASR in a car from 1969. The custom shifter that still looks factory but uses a 722.6 shift gate. All that costs time and money. You can keep going. Will it sell for this price? Surely. There are enough ultra-rich people in Europe where this won't even make them think twice. And honestly, I don't blame them.
– Andrew