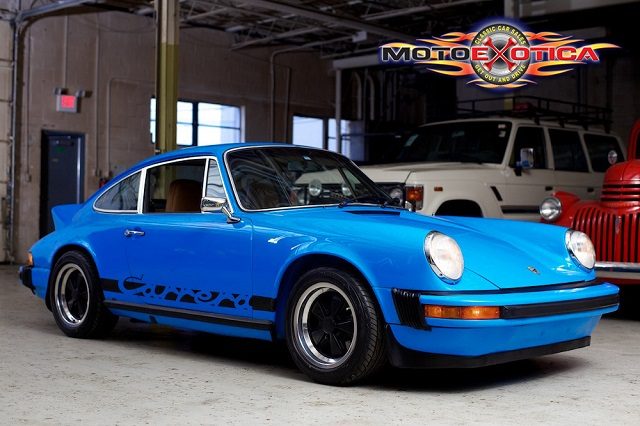 I'll admit: I'm slightly torn about this 911. Not about its appearance or condition, or even its current level of performance. It's more about originality versus modification. There's always debate surrounding any modified air-cooled 911 and whether it would be better off in original condition, but here that debate makes the most sense to me.
I'll start with the basics: originally this was a 1974 Porsche 911 Coupe – just the base 911, not the Carrera. While we aren't provided verification, the ad suggests that its Mexico Blue exterior was its original exterior color. It has been repainted, but the color is correct. Whether the interior was also the original color of Saddle isn't made known, but let's just assume it is. It is the exterior color that I think is more important anyway. It's been restored and based on the many detailed pictures provided here, the condition looks excellent. It is also said to be well documented (though again we aren't shown much in the way of documentation). So, a base '74 911 is far from the most desirable option in the 911 market, but an original Mexico Blue example in fine condition is well deserving of attention. At some point in its life it was upgraded to what we see before us: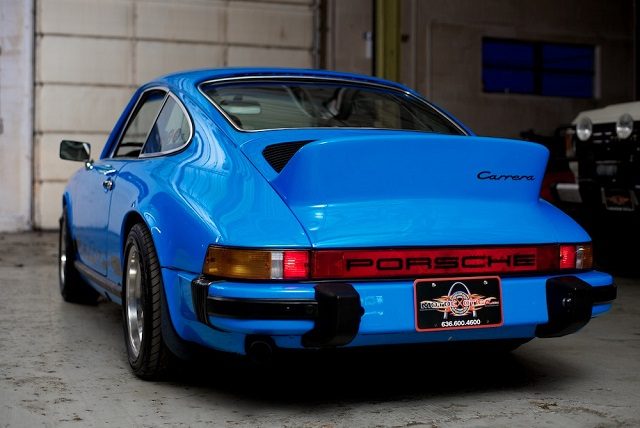 Year: 1974
Model: 911
Engine: 2.7 liter flat-6
Transmission: 5-speed manual
Mileage: 104,084 mi
Price: Reserve Auction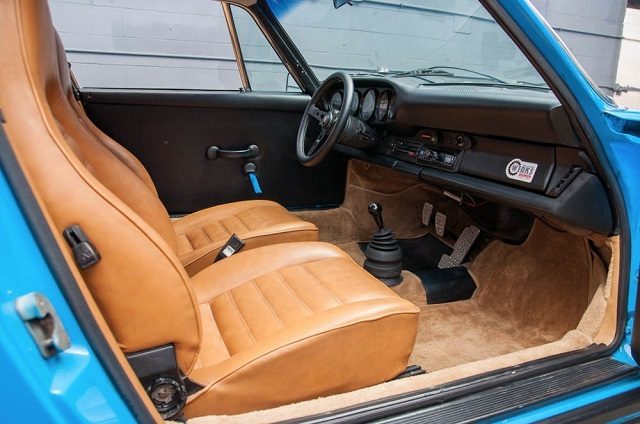 1974 Porsche 911 Carrera RS Replica

Desirable 1974 2.7 Liter 911 with complete PMO carburetor kit
Mexico Blue (code 336) exterior with saddle interior
RS Ducktail Spoiler and Carrera Paint Scheme
RS door cards with pull handles
Extensively maintained with documentation
Very tidy and dry undercarriage
Five-speed manual transmission
Four-wheel disc brakes and a revised and stiffened suspension
VDO gauges and Momo Prototipo steering wheel
Genuine 8×15 Black Fuchs aluminum alloy wheels
Fresh engine out re-seal in October 2016
Less than 200 miles since serviced
Documentation includes original books, two keys and a file of records and receipts
Another German classic has arrived at MotoeXotica Classic Cars in the form of a very well done 1974 Porsche 911 Carrera RS replica. These models are sometimes considered by enthusiasts to be the most "classic" 911s. This Carrera looks absolutely striking and has the performance to boot with a 2.7 six with PMO carbs producing 174 horspower at the rear wheels! Fitted with a RS rear ducktail, RS front spoiler, RS door cards, Momo Prototipo steering wheel and Fuch 8×15 aluminum wheels, this Mexico Blue Carrera really stands out!

The Carrera name was reintroduced from the 356 Carrera, which had itself been named after Porsche's class victories in the 1950s Carrera Panamericana races in Mexico. The RS was built to meet motorsport homologation requirements. Compared to a standard 911S, the Carrera RS had a larger engine with Bosch (Kugelfischer) mechanical fuel injection, revised and stiffened suspension, a "ducktail" rear spoiler, larger brakes, wider rear wheels and rear fenders.

Assembled in October 1973 and dressed in a very desirable Mexico Blue (code 336) exterior, the car's paint is in excellent condition and its trim, including the black Carrera graphics and it's iconic rear ducktail spoiler. It was professionally repainted in 2014 and the paint is extremely vibrant. The glass panels are clear and crack-free and the rear window includes an electric defroster. All of the vehicle's lights are in very fine shape and the car rolls on its great black and silver Fuchs 8×15 aluminum alloy wheels, wrapped within Yokohama S Drive tires, 205/50R15 at all four corners. All of the car's body panels are straight and solid and the bumpers are in very good shape and engine bay is very tidy.

Under that ducktail is a 2.7L flat six-cylinder engine with the performance desired PMO carburetor kit mated to a five-speed manual transmission, the car produces 174 horsepower and 166lbs of torque at the rear wheels. The car also has performance upgraded four-wheel disc brakes, a revised and stiffened suspension and a fresh engine out re-seal was done in October 2016. The car has had less than 200 miles put on it since its most recent service and the car has been extensively maintained with a large file of documentation. Also the undercarriage really tells the true story on this 911 with a very dry original belly pan and tidy details all throughout.

Open the driver's door and a pair of saddle leather bucket seats greet you with the contrast of the RS black door cards with matching blue pull handles. They, too, are in very good condition, as is the matching carpet and light-colored headliner. The black instrument panel, with its VDO gauges and ignition switch on the driver's side of the steering wheel, is also in very good order. In front of those gauges is a three-spoke Momo Prototipo steering wheel. Finishing off the interior is an Alpine AM/FM stereo with CD player. Documentation includes original books, two keys and a file of records and receipts.

Competition to this Porsche in 1974 included DeTomaso's Pantera and Chevrolet's Corvette.

This car is currently located at our facility in St. Louis, Missouri. Current mileage on the odometer shows 4,084 but a reported 104,084 actual miles. It is sold as is, where is, on a clean and clear, mileage exempt title. GET OUT AND DRIVE!!!

VIN: 9114101107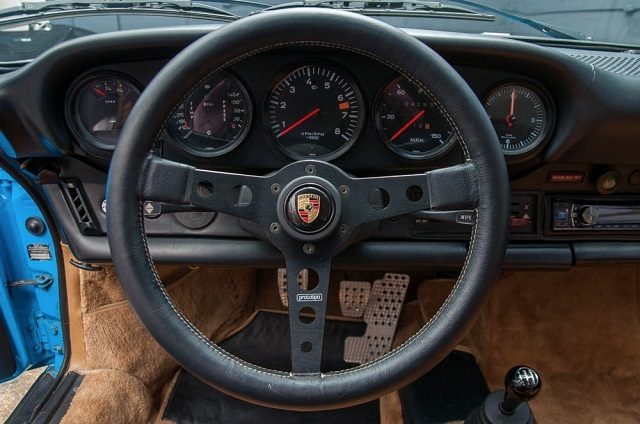 As Carrera RS replicas go this one looks pretty good, but given that it started as a '74 911 I suppose that's not unexpected since it wasn't far removed from the original. If I really wanted to be pedantic I'd probably call it a RoW Carrera 2.7 MFI replica, but that is splitting hairs and I think anyone seriously considering this 911 will be clear on the distinctions. A few RS items have been added to give it the right appearance: ducktail, Carrera graphics, RS door cards and pulls. Of greater significance the suspension, braking, and engine have all seen performance upgrades. With 174 hp at the wheels power levels are now right about on par with the Carrera RS. Everything looks fantastic and the driving is probably pretty great too.
I'm torn because I wish they'd have taken it all a step further and converted it to a long hood. Then we'd really have an RS replica and one that would stand out. While I do like this 911, and it probably provides a much lower cost of entry into this sort of performance and aesthetics, I'd probably have been content with it being wholly original as one of the better '74 911s on the market. Much of that comes down to the Mexico Blue paint. While it's a silly distinction, I'd feel better about the modifications if the paint originally had been a bit more boring and they decided to give it a better color.
I am curious how bidding plays out. A '74 base 911 doesn't tend to be all that valuable and with bidding here up to $40,100 (reserve unmet) it actually may prove to be more valuable modified than it would be were it original. I can't say that would surprise me too much and speaks to the potential value of the work put into making this 911 into what we see today. Yet I still remain torn.
-Rob