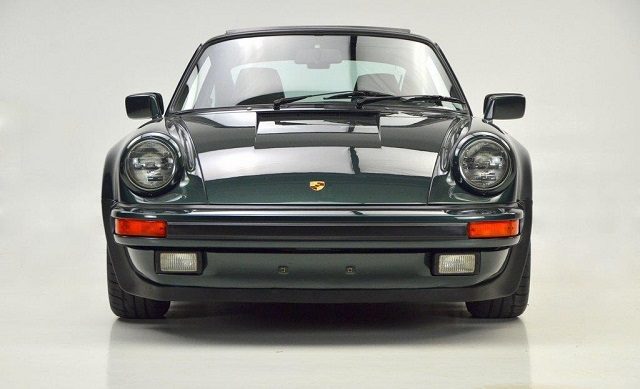 At the end of last week I closed with a Marine Blue over Linen 930, a color combination both attractive and rare. Perhaps even more rare than we might first think. I wasn't sure the value was quite right, but the car itself looked really nice.
Here I will continue along those same lines with another darker metallic exterior that we rarely see. The mileage is a good bit lower and I suspect the price will be a good bit higher. Whether the value again is off remains to be seen, but this 930 itself looks in great shape and will certainly attract attention. This is a Moss Green Metallic 1986 Porsche 930 Coupe, located in St. Louis, with a contrasting dark green and black interior and just 19,810 miles on it.

Year: 1986
Model: 911 Turbo
Engine: 3.3 liter turbocharged flat-6
Transmission: 4-speed manual
Mileage: 19,810 mi
Price: Reserve Auction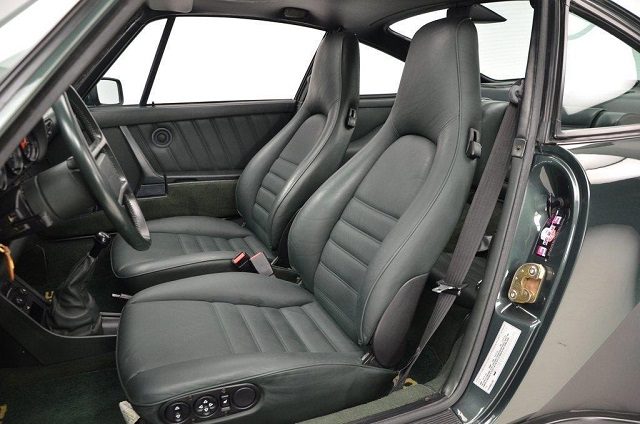 Call David Humphrey of Aston Martin St. Louis / Cell: 314.600.4562

Or, at the Aston Martin St. Louis Showroom / 636.449.0000 Extension #328

You are viewing a 1986 Porsche 911 Turbo Coupe (930) in Moss Green Metallic over Dark Green and Black with just 19,810 miles driven from new.

This stunning 930 Turbo is the genuine article and in its original and factory stock configuration.

It not only looks stunning but it drives exactly as designed, we know of no faults or issues with this car.

With us on consignment from a much valued client of ours, we did re-charge the air conditioning system and mount and balance 4 new Bridgestone Potenza tires for him this August and it hasn't covered 50 miles since.

It also had the best Ceramic Pro paint treatment applied to the stunning original paintwork at this time (a $2,200 value) which comes with a lifetime warranty.

Obviously, being a very collectible car built way back in March of 1986 we are happy to work with your choice of a Pre-Purchase Inspection provider (if so desired) it may be performed right here at the St. Louis Motorcars Service Center.

I can take your trade, call me with the details.

I can arrange enclosed shipping anywhere within days; call me for your final cost.

Call David Humphrey of Aston Martin St. Louis / Cell: 314.600.4562
I said in my previous post that the '86-'88 model year 930s stand apart from the '89 with regard to desirability and value and I think there are some good comparisons we can make between this one and the Marine Blue '88. Both are attractive and rare color combinations on the 930 and both are fairly low mileage, though this one moves several notches in that direction. With fewer than 20K miles this doesn't fall into the ultra-low sub-10K category, but it's still very low and surely enough to attach the sort of premium that we are unlikely to see with those above 50K miles. It's still not an '89, but it should rank high among those looking for a nice 930.
Outside of that low mileage the biggest selling point for this 930 as a collectible probably is the interior. A dark green exterior on these mid-80s cars is pretty rare; a matching dark green interior is very rare. At first glance I thought something was amiss with the seating as the colors looked muted, but that was when I assumed the interior was black. Closer inspection revealed it to be a dark green with a few black accents. Given how closely it matches the exterior it does make the overall look a bit monochromatic so I wouldn't say it's my favorite, but it does look nice and monochrome or not it is a nice variation on the much more standard blacks and tans of the world.
All in all, this is a very nice looking 930 with really low miles and in seemingly excellent condition. The price surely will be high and at the moment it has received zero bids at its $129K starting point. We'll have to see whether that changes and how high it actually goes.
-Rob