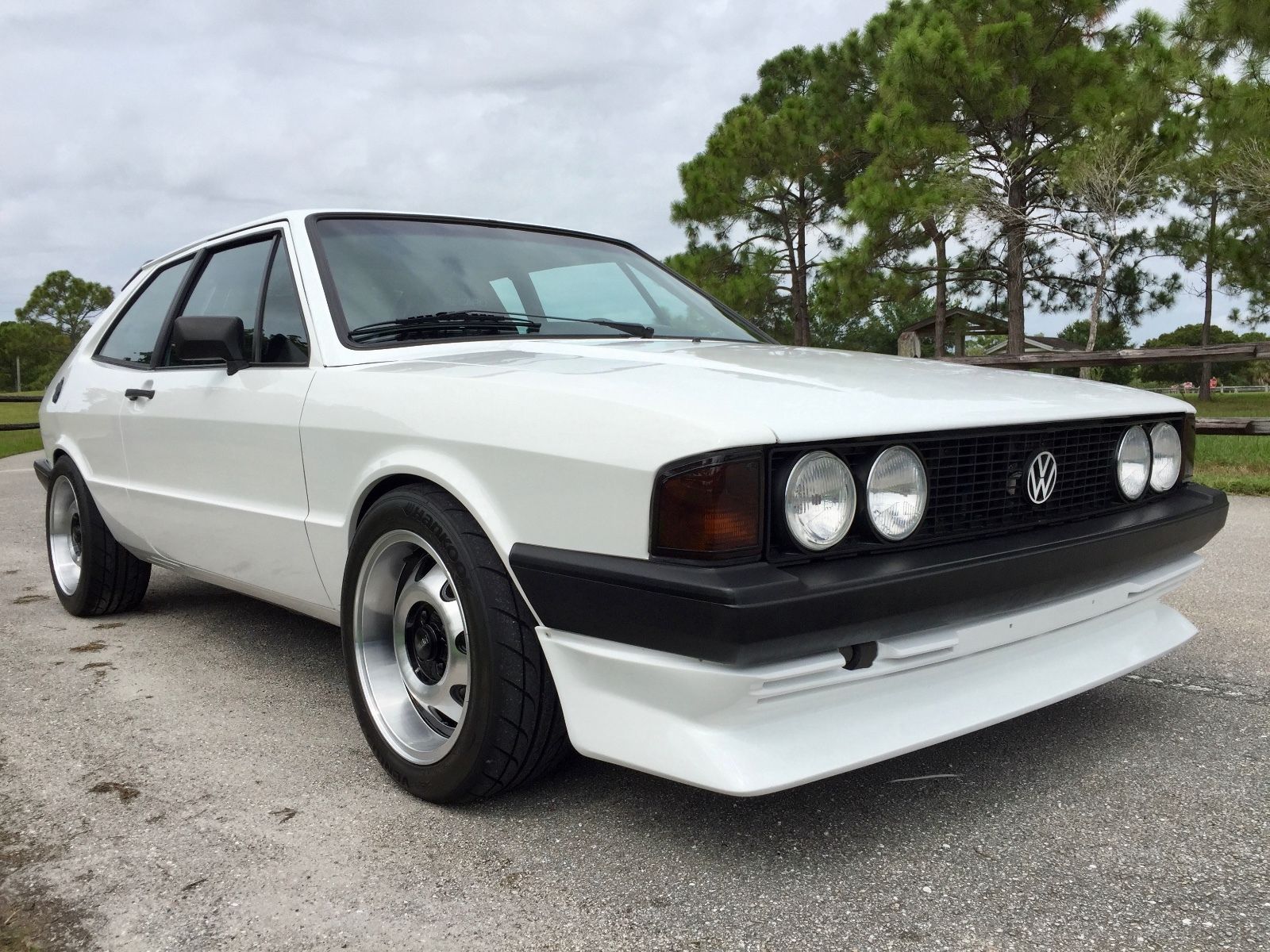 There aren't too many period-correct tuned Volkswagens that we get to see. Those that do turn up are usually home-brewed, and consequently usually aren't built to a high standard.
Today's is something special, though.
Finding a clean first generation Scirocco is difficult enough. This one also happens to be one of the limited Champagne Edition cars, though you'd not know it unless I told you so, because so little of the original outside of the silhouette remains. From top to bottom, this Scirocco has been through a whirlwind of changes. But this car is far from a garage project, as some of the more legendary VW tuners in the U.S. had their hands on it since it was close to new. This car was the original test bed for the Santa Clara speed shop New Dimensions, and features some of the best items you could source. New Dimensions bought the production rights and experience of Callaway Turbo Systems in the mid 1980s, and continued to offer turbocharging for Volkswagens into the early 2000s. The result, after a painstaking period of rebuilding it, is a nearly flawless execution and one of the best tuned VW 2-doors out there: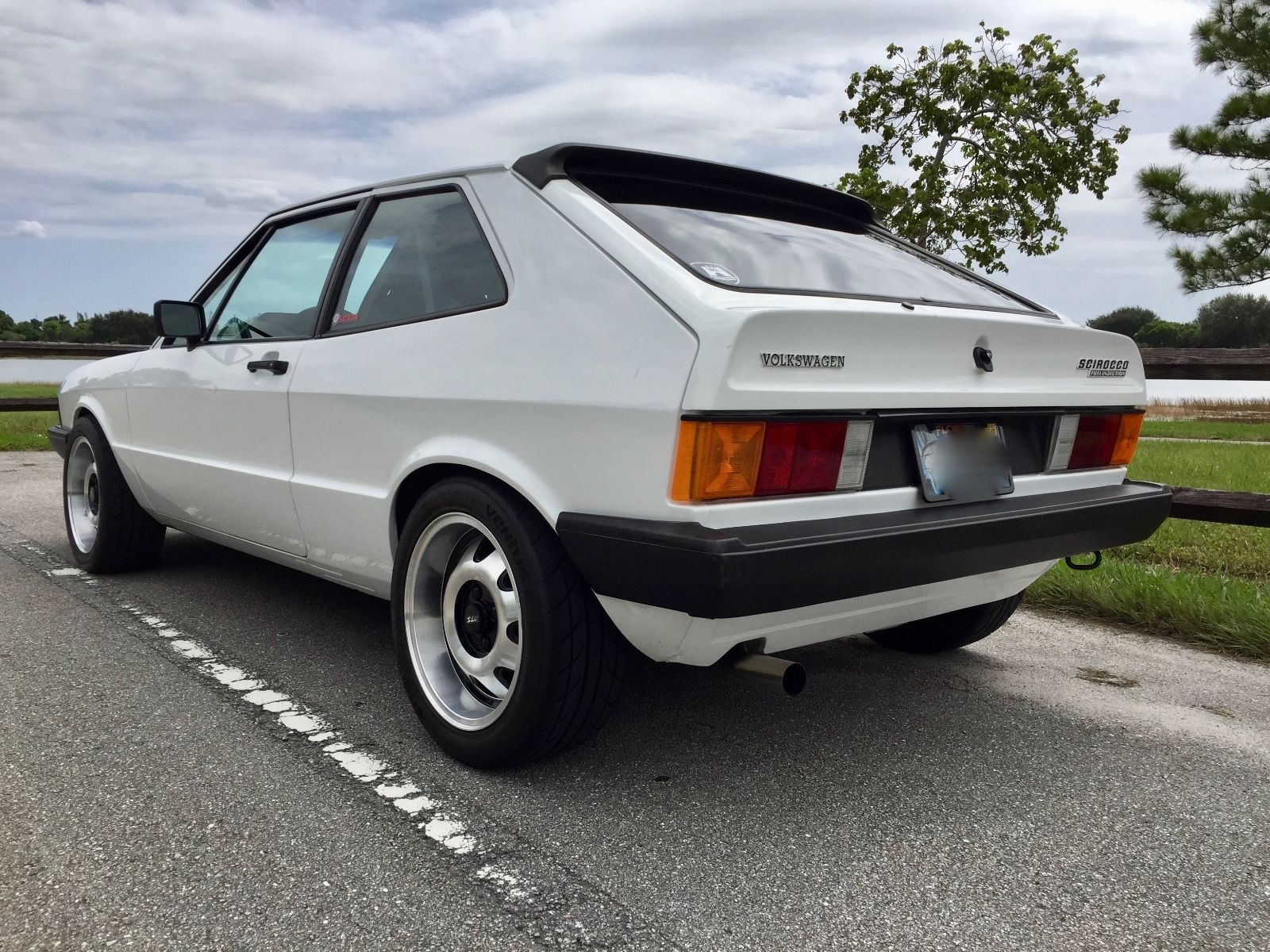 Year: 1978
Model: Scirocco Callaway Turbo
Engine: 1.8 liter turbocharged inline-4
Transmission: 5-speed manual
Mileage: 137,485 mi
Price: No Reserve Auction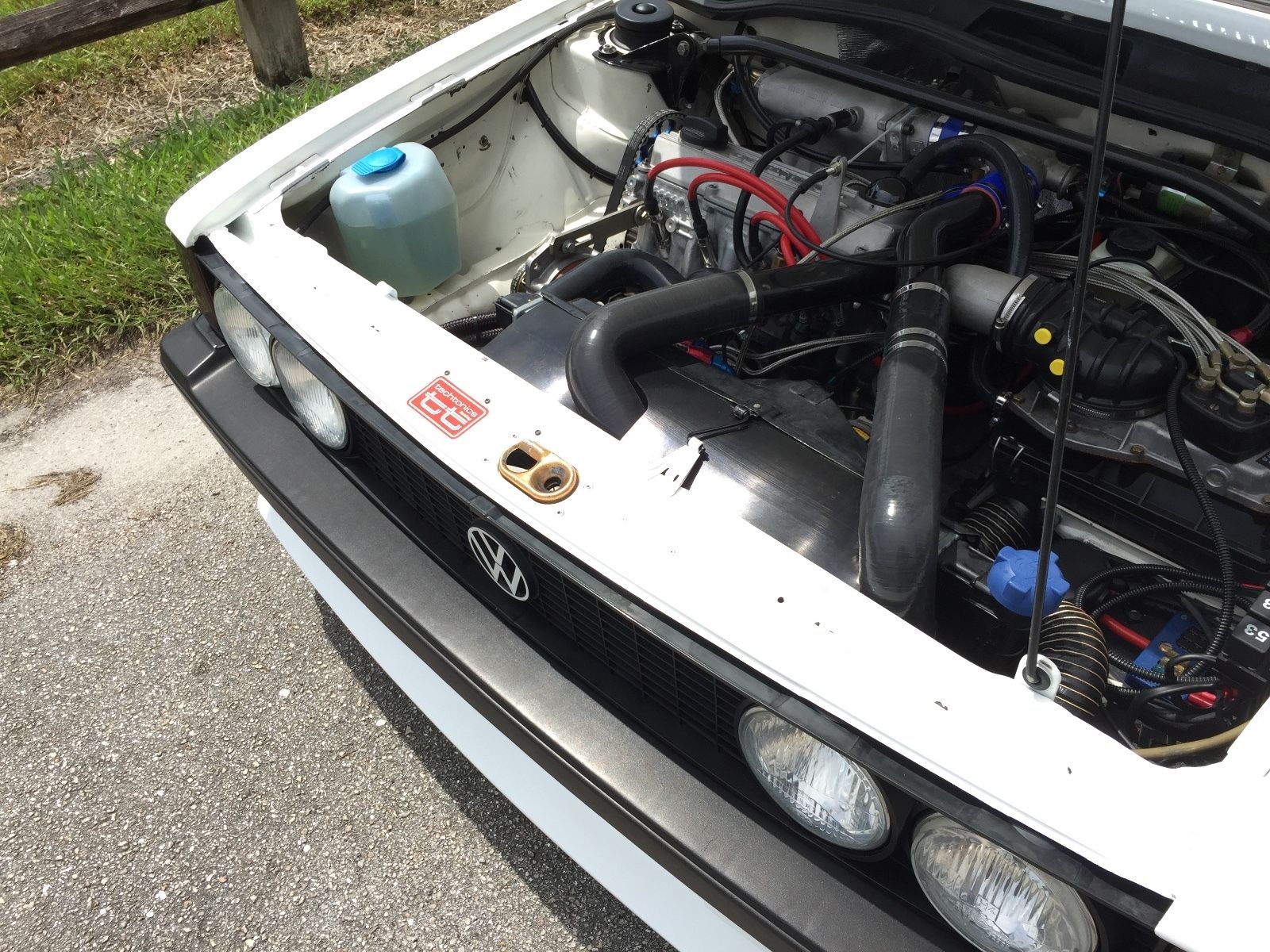 1978 Volkswagen Scirocco Callaway Turbo

Featured in VW & Porsche Magazine in April 1984 article "Hurricane Force Scirocco." Also known as being the test bed for New Dimensions Turbo Systems & "Turbo-Tim" Hildabrand, the previous owner of this Scirocco and original owner/president of New Dimensions in San Jose CA. I purchased this Scirocco from Tim back in October 2014 knowing it was a resurrection project. The car was not running and had not run for quite some time and needed much TLC to get it back to its former glory. After having the car shipped from Northern California to South Florida, we pushed it off the truck and into the garage to begin the resurrection.

Being a VW/Audi Parts Manager for the past 16 years, I began sourcing replacement parts and got the process underway. This car is full of period correct and very rare performance parts and I did not compromise any of the provenance when bringing this car back to life. The Stage 2 Callaway Turbo System is fully intact & functional along with the Callaway Micro-fueler and updated Tial external wastegate. Throughout my ownership, I have rebuilt this wonderful car and have had a wonderful time reliving my past, driving the car and sharing its history with friends, family and all the enthusiasts at shows and Cars & Coffee events. I am always amazed at the attention this Scirocco attracts and the questions the younger generation ask when admiring the car. This car is true old school water-cooled Volkswagen nirvana, I will regret parting with it however it is time to move onto another chapter in my life, it will be missed.

Here's the details:

BODY & CHASSIS:

Rust free 1978 MK1 Champaign 2 Edition Scirocco, original California car, now in South Florida, No rust, rock solid floors, undercarriage and wheel wells, repainted by previous owner in late 1990's and then garage stored (I don't have the exact dates). The body has a few dings & scratches from while it was stored away in hibernation. White paint is deep & glossy, no signs of oxidation or cracking. Features Ultra-rare Zender front spoiler, Zender upper rear hatch spoiler and OEM European spec bumpers. Radio antenna delete and body molding & graphics delete.

Chassis & suspension features new urethane suspension bushings, Auto-tech hollow rear 28mm anti-sway bay, Eurosport front lower tie bar, and Suspension Techniques (ST) upper strut tie bar. New H&R MK1 Coil-over suspension & bushings installed. New Steering rack and steering column bearings.

BRAKES:

Scirocco 16V 4-wheel disc brake conversion. Stainless steel brake lines, New StopTech gas slotted brake rotors front & rear with Hawk HP brake pads. (NEW EBC Yellow race pads in box included in sale).

WHEELS/TIRES:

15×7 ATS Cup Wheels. Super rare & discontinued, period correct, NEW from UK. NEW Hankook Ventus R-S3 tires, size 195/50R15.

ENGINE/TRANSMISSION:

1.8L GTI (JH) engine block, BIG BORE rebuild completed September 2016. Techtonics Tuning Forged 83mm Big Bore pistons, 8.7:1 compression. Scat H-Beam Forged Connecting rods with ARP fasteners. NEW Techtonics Tuning Big Valve, Fully Ported 8V hydraulic lifter cylinder head. 42mm/35mm valves, HD valve springs and Techtonics 272 Camshaft with lightweight aluminum adjustable camshaft sprocket, ARP Head Bolts. Balanced Crank

Callaway Turbo System, Stage 2 with Callaway Micro-fueler & custom intercooler. T3 Rotomaster Turbocharger rebuilt August 2016 by Blaylock Turbos. New Callaway Turbo exhaust manifold, New TiAl 38mm wastegate, New Forge blow off valve, New custom silicone turbo hoses and hardware. Turbo heat blanket, heat wrapped & high temp painted turbo downpipe, new Techtonics 2.25" stainless steel exhaust with Borla muffler. Forge & Turbo XS mechanical boost controller.

Rare European oil cooler thermostat flange, remote oil cooler with custom lightweight Earl's hoses & hose ends, Techtonics Racing baffled oil pan w/windage tray, Silicone coolant & vacuum hoses, Ultra-rare Oettenger Valve cover, ABA rubber valve cover gasket retrofit. Dual speed radiator fan, 70C degree thermostat and matching dual temp fan switch.

New ignition components, knock sensor ignition retrofit, new fuel pump, fuel accumulator, baffled fuel tank, new fuel lines installed.

16V 2Y 5 speed transmission with Quaife Limited Slip Differential, Red Line MT90 Synthetic gear oil, Eurosport short throw shifter, Delrin shifter bushings. New 16V Clutch Disc & Pressure Plate.

ELECTRICAL:

Stereo delete in lieu of VDO gauge package. VDO Gauges, Turbo Boost, Volt, Oil Temperature, Oil Pressure & Exhaust Temperature (Pyrometer). 180mph speedometer, recently recalibrated by Lauderdale Speedometer. 90-amp alternator, new high torque MK3 starter, trunk mounted Optima Battery with custom billet aluminum mounting tray. Hella E-Code H4 & H1 headlamps, custom relay bank for high wattage bulbs (100/80W H4 & 55W H1). LED interior/dash lighting.

Rear wiper delete.

INTERIOR:

New Old Stock (NOS) Recaro front racing seats, drivers side 4 Point Schroth seat belt, rear seat delete. New Momo MOD 88 flat bottom suede steering wheel, Autopower Race Roll Bar, Vintage Electric Life Power windows. All interior components are in excellent condition and super clean, no cracks in dash, original clean carpet, new custom black and white COCO Mats. DynamatExtreme sound deadening applied to all flooring throughout car. Rear seat from a Scirocco S & rear hat shelf (w/speaker holes) and a host of spare parts included in the sale.

Terms of Sale:

Serious inquires only PLEASE! You are welcome to inspect the car at any agreed upon time providing you are a serious buyer. $1000.00 Deposit due upon agreement of purchase, this can be in the form of Cash, Cashier's check, Wire Transfer or PayPal. Payment in full will be required within 7 days in Cash, Cashier's Check or by Wire Transfer. Shipping & vehicle pick-up is solely the responsibility of the buyer. Local pick up is fine or I will assist in collaborating with your choice of vehicle carriers. Please note, Vehicle MUST be paid in full and all funds cleared prior to releasing the vehicle to the Buyer and or Shipper.

On Aug-30-17 at 06:27:46 PDT, seller added the following information:

VW Vortex Classifieds Listing with more Pictures & Videos:

1978-Scirocco-Callaway-Turbo-West-Palm-Beach-FL

On Sep-02-17 at 13:36:00 PDT, seller added the following information:

*** Several inquires had been made regarding boost levels. The car produces 15lbs boost on a toasty Florida day at sea level ***

On Sep-02-17 at 14:31:22 PDT, seller added the following information:

*** Big Bore Engine Build occurred at 137,368 miles. There are ONLY 132 Miles currently on new engine assembly! ***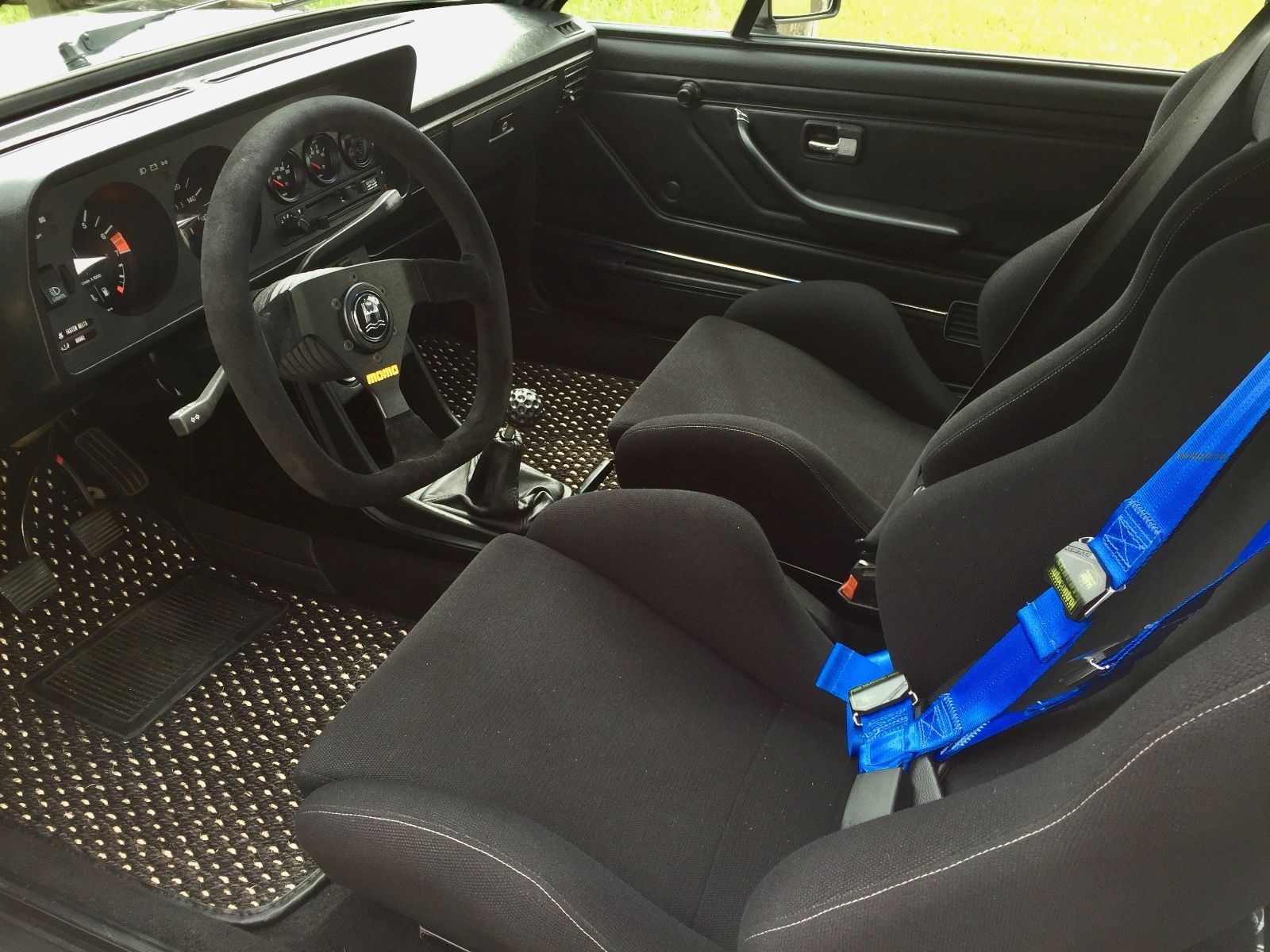 There's little to say other than this car is very well presented and has top-dollar items throughout. From the Zender bits to the Callaway turbo system through the Recaro seats and ATS wheels, it's a veritable who's who from the 1980s and 1990s in VW tuning. Judging value on clean Sciroccos that have been modified can be quite tough, but we have a pretty good example from a modified 16V '76 we looked at in 2015. That car sold for $22,000; as someone at the time noted, a good deal relative to trying to build it yourself. With only a few hours to go on the no reserve auction, this Turbo seems unlikely to reach that amount as the current bid is only at $12,000. It also seems unlikely to match the clean, original '81 we looked at a year ago at $17,100. It would seem that although this car has all of the headline-capturing items for a period correct presentation, the current market values original examples even more.
-Carter