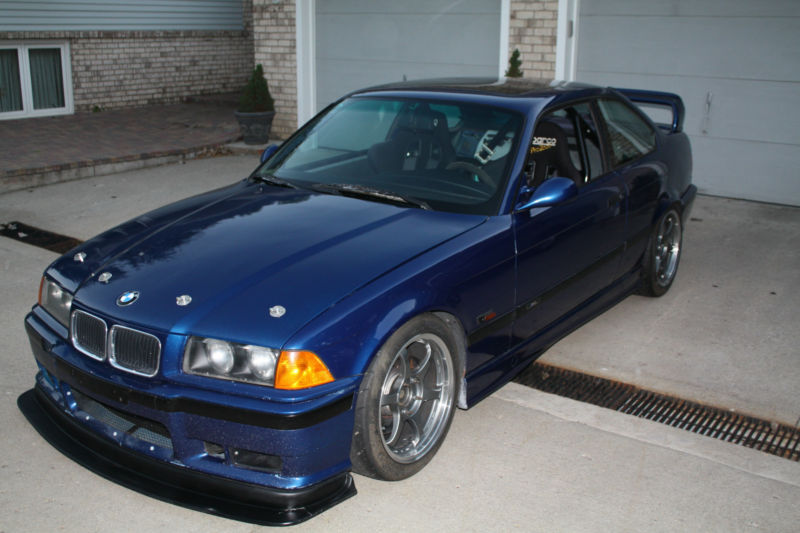 For quite some time when talking about track cars, when the answer hasn't been "Miata" the solution usually involves an E36. It's easy to understand why; low entry price, good looks, practicality (with fold down seats, you can carry a whole set of track rubber in the back. Try that in a Cayman or Miata!), engine options a plenty, and cheap and plentiful modifications and aftermarket support make this a natural choice for the track enthusiast. As with earlier E30s too, many of these cars – especially the M3s – have been taken to the next level as a driver's education, autocross or race car. Provided they're not a complete wreck from overuse, these cars are generally solid values and cheaper than trying to build one yourself. Today's example is a great case in point in one of my favorite BMW shades, Avus Blue: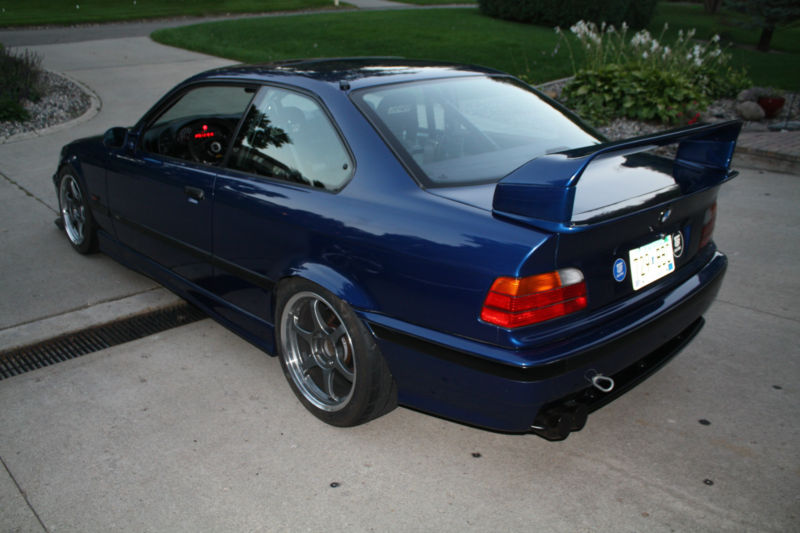 Year: 1995
Model: M3
Engine: 3.2 liter inline-6
Transmission: 5-speed manual
Mileage: 130,305 mi
Price: $18,500 Buy It Now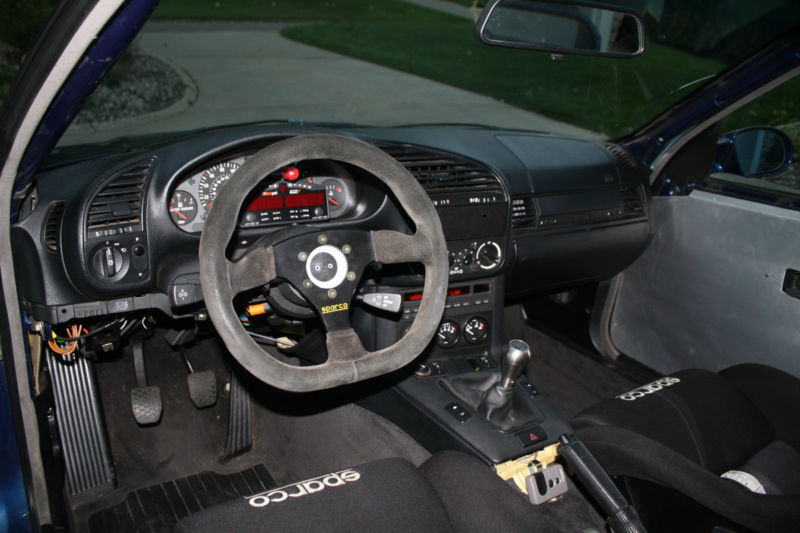 1995 M3 Street Legal I‐Prepared – Track Car, but not race ready

Brief history of the car: I have owned this car for just a few months. As driving instructor and occasional race car driver, I bought this car to practice on the track. Bottom line, I just have not had time to get the car on the track as racing (in a different car) has taken up more weekends, so I am selling. I purchased the car from a long-time chief instructor of a BMW car club; I have known the owner and car history for nearly 10 years. The car was assembled over this time with much of the work professionally done by a local BMW specialty shop (Orr Autosport). The description below is mostly from the prior sale. There is a lot of information here. Since I am only a casual mechanic, I am not sure I understand all of the hardware listed, but I though more information would help those who are mechanical experts. If you are serious and have questions, I can get the answers from the BMW shop or prior owner.

This car has a partial roll cage, not a full race cage. This would be the primary alteration to get race-ready, but other items would also be required based on the sanctioning body (cut-off switch, window net, carpet removal, etc.). This car has been tracked, but not raced. While I have not had the opportunity to get the car on the track since I purchased it, I will say this – it is an absolute blast to drive around town, and I drive it every chance I get.

This probably goes without saying as this is a track car, but there is no radio, the sunroof has been replaced with a carbon fiber panel, and the A/C was removed a long time ago. The carpet remains in the front for some sound deadening (and it is in very good condition), but not in the rear. The heater/defroster, power windows / locks, and factory instrumentation still work, in addition to the track data-recorder. Thanks for looking.

Engine and Driveline
S52 3.2 motor rebuilt by Orr AutoSport (Eden Prairie, MN)

Dyno Tuned to 279 HP and 242 Ft/Lbs torque OBD 1 w/Dyno Tuned Custom Chip
New Rings, Bearings

Vac Oil Pan Baffle

BMW DME, tensioner pully, and antifreeze replaced 9/24/2103

Head Mods

Ported and polished

Ferrea Stainless Racing Valves

Ferrea Valve Keepers and Spring Retainers Sunbelt Springs

Spal Electric Fan

BimmerWorld 3.5″ Silicon Air Intake Tube Sunbelt Cams
TC Kline Large Throttle Body

Euro Mas Air Flow Conforti Cold Air Intake SuperSprint Headers SuperSprint Cat Bypass

UUC Cat Back with DTM exhaust tips

Turner Solid Engine and Transmission Mounts Turner Engine Mount Crossmember Reinforcement Turner Solid Diff Mount

Koala Motorsport Diff w/ 3.64 Gears and 75% lock-­‐up Aluminum large capacity finned diff cover

B&M Short Shifter w/ UUC Shift Rod Sachs Power Clutch Pressure Plate Clutch Masters Ceramic Disk

UUC Underdrive pulleys E46 Oil Cooler

Twin Fuel Pumps
Transmission recently replaced with 60K Mile Used Trans

Chassis

TCKline Double Adjustible Coil-­‐over Struts

TCKline Camber Plates

650# Front 700# Rear Springs

Corner Balanced and Aligned for Track

Solid Front and Rear Control arm mounts

Turner Subframe and Rear Control Arm Reinforcement

Turner Rear Sway Bar Reinforcement

Adjustable Lower Rear Control Arms

Front Strut Bar Rear Strut Bar

Ground Control Front Way Bar with adjustable Links UUC Rear Sway Bar.

Extended Wheel Studs

15mm Wheel Spacers

Slotted Cryogenically Foating Rotors All Around

Turner Carbon Fiber Front Backing Plates with Silicone Ducting to Front Bumper Cover

Body

MA Shaw Fiberglass:
Hood

Trunk (Factory trunk included in excellent condition)
Lightweight Style E36 M3 Rear Wing
Hood Pins

Evo II Front Splitter (original air dam included)

AutoPower Roll Bar

Carbon Fiber Sunroof cutout

Rear Wheel Wells Rolled
Interior

Sparco Pro 2000 Driver Seat w/16″ Width

Sparco EVO Passenger Seat w/ 19″

Seats Mounted on Sliders
6 Point Harness

Sparco Steering Wheel

Quick Release Steering Wheel Hub

G2X RacePak Data Recorder:
Lateral G-force

Brake/Acceleration

RPM

GPS Speed
Two O2 sensors in Header Collectors
Gauges:

Oil Pressure

Oil Temperature

Ammeter
Aluminum Door Panels

Aluminum Trunk Panel
Wheels and Tires

4 -­ 17×9 SSR Lightweight Wheels with slicks mounted (Some life remaining)

4 -­ 17×9 DForce Light Weight Wheels with slicks mounted (Not much life remaining)

4 -­ 17×8 Borbett wheels with Michelin Pilot Sport tires (tires in good condition)
Extras

2 -­ New Slotted Cryogenic Treated Rear Rotors (on car)

2 -­ Used Extra Slotted Crygenic Treated Rotors to Carry to Track Extra used Track Pads to Carry to Track

Car Cover for storage

Miscellaneous minor spare parts including bumper covers for tow hooks.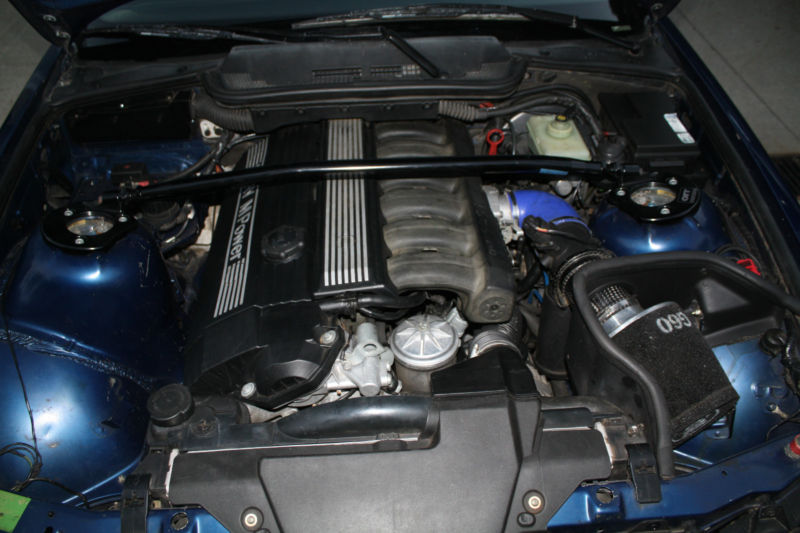 There hasn't been a tremendous amount of enthusiasm for my most recent Motorsports Monday posts, and I attribute most of that to the cost of the cars rather than the feature itself. As I said in the Turner M3s post, "Racing ain't cheap", folks. And if you just heard "1995 BMW M3 for sale" followed by "$18,500", you'd think one of two things – pristine museum piece or the seller is nuts. There's a solid third option though, and that's well built track car. This car fits solidly into that category; most of the upgrades you'd want in a race car while retaining the ability to drive on the street. That ride down the street might not be comfortable, but I'd be willing to sacrifice.
As with last week's E92 M3, the parts alone would exceed the asking price of this car. Well built 3.2 S52, TC Kline/Turner suspension, several sets of wheels; this is the go-to answer for a track ready weapon. So stop ruining your daily driver and think about picking up something like this M3. It may not be a Miata, but to me it's the perfect answer.
-Carter