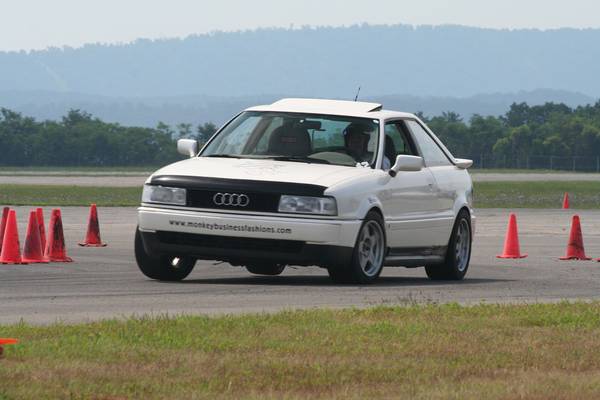 Want to get into motorsport but lacking the budget to pick up a budget-racer like the Porsche 912 I wrote up earlier? Perhaps you own that 912, and just don't want to trash it? Well, there are plenty of fun alternatives, and not all of them are on the beaten path. Take today's twin 90s, for example. One has all the fun stuff to go through corners, and the other gets you there more quickly. Which would you prefer? Let's start with the carver: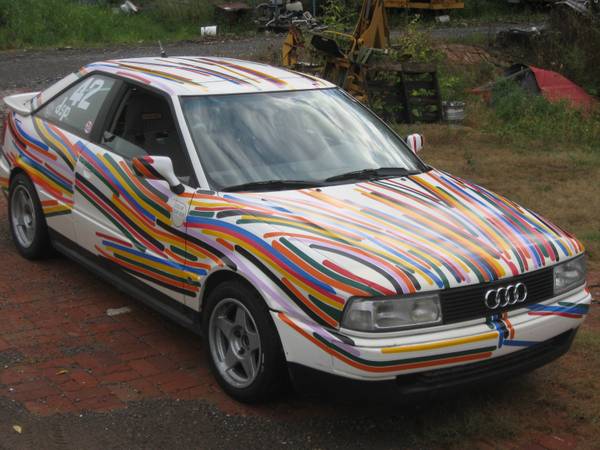 Year: 1990
Model: Coupe Quattro
Engine: 2.3 liter inline-5
Transmission: 5-speed manual
Mileage: ~275,000 mi
Price: $3,500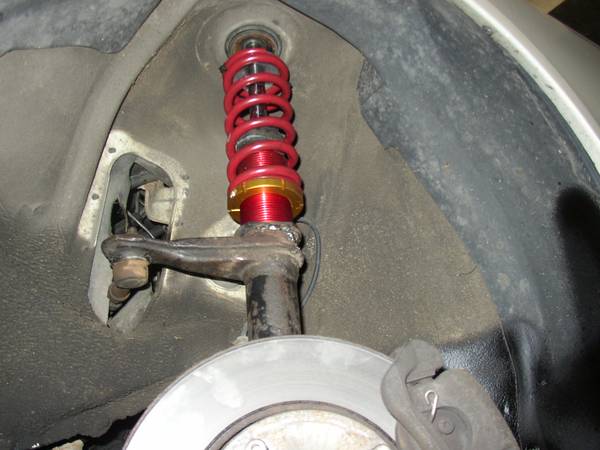 No emails! Phone calls or Text Messages only to make appointment to view the car. I will negotiate only in person.

This ad will be removed if the car is sold.

I have had this Audi for over 15 years… lost my garage lease Friday 3/28/2014 – need to be gone by end of May so…

and want to see if anyone will buy it for a portion of what I have spent.

I bought the car with 255k on it, it was maintained meticulously. I drove it on the street for about 2 years, 20,000 more miles (speedometer broke) then started modifying it for Autocross Racing.

For 7-8 years it has been kept inside (mostly) ONLY been driven to nearby (3 miles r/t) airport for autocross, so 10-12 runs 6 times a year. It fits into SCCA DSP, but is fun, has been dead reliable but not competitive to run with big dogs.

Action video – http://www.youtube.com/watch?v=g0WNYDUOKFo

It is no longer a nice street car, due to the mods I have done to make it carve corners. Semi gutted interior, no stereo, no A/C and it rides like an empty gravel truck.

I have kept the car licensed, insured and registered until last October at the end of Autocross season.

It needs TLC, but includes:

Engine:

034 ECU Hack (programmable) http://store.034motorsport.com/034efi-rip-chip-7a.html
034 Big Injectors
O34 Big MAF http://store.034motorsport.com/maf-housing-7a-big-maf.html
Cold air with K&N type filter
Stock Bundle of snakes exhaust, no cat 2 loud mufflers 3″ tip.
Engine gets bounced off of rev limiter, is 100% original (never cracked open) 280,000+ miles, strong still
Stock TB with mild port and hacked to open all the way very fast

Motor & Trans Mounts

Custom Poly Motor Mounts (Poly mounts from Mustang Transmission)
Porsche 911 engine mounts where OE trans/rear diff mounts belong

Spec Clutch (stage2?) it is street/track version
Aluminum Flywheel (Spec?)
BillzCat Short Shifter

Suspension:

Koni Sports with Eibach 400#450# coilovers from Ground Control
Mance Mounts in front
4000Q Sway Bar on back
Camber mod to front knuckles so you can get 2-1/2 degrees negative
Stock Shock towers (no camber plates)
90Q Strut tower bars F&R

Body/Interior:

Kirkey Road Race Aluminum Seats x 2 with 1X Schroth 4 PT Harness ~ 10 years old
Front and rear bumpers gutted and tucked in – saves about 40#
Genuine Original OE German Euro Lights with good clear unscratched/un-pitted glass and Hi-watt bulbs/relays
Battery relocated to trunk low center location.
Deep Dish Foam Steering wheel on Grant hub (no horn button) Not shown in Pictures.
Underhood A/C removed
Trashed Pearl White Paint with striped stickers falling off – straight & no rust
Hatch leaks
Door seals leak
Front half of carpets gone.
I have ratty f&R stock Gray Seats I will include

Wheels/Tires

4X Compomotive 15 x 8 ET25 Wheels Hubcentric, perfect offset with steel inserts for OE style Ball seat lugs or nuts.
**************** (straight & true, clearcoat peeling) *************
4X Hoosier 275/35-15 (Used up)
4X Stock Set of 15 x 7 Speedlines + caps w/ junk tires go along.
Long studs with Porsche ball seat (OE style) steel nuts

Problems:

Throttle cable @ TB zip tied in place
Rear brakes binding, or could be cooked rear diff or dry CV
It rolls freely until it gets hot…
Needs tires (I have been buying USED road race compund and AX compound Hoosiers for several years, about $300/set shipped)

It really need paint. Mostly original Pearl white with clear all rubbed of and stickers all over it.

PLEASE DO NOT ASK ME ABOUT PARTS! I will sell it without the Compomotives that were $1,200 8-9 years ago, probably $1,500 today and 6-8 weeks wait.

WITHOUT COMPOMOTIVES for $2,900 I'll chuck in a second set of 15 x 7″ Audi 90 OE Rims (junk tires) @$3,000

WITHOUT COMPOMOTIVES OR KIRKEY SEATS @ $2,500.00 will include original Gray Leather Seats, installed.

Clean Clear MD title in hand.

Located in Cumberland, MD 2-1/2 Hrs WEST of DC/Baltimore in Mountain MD.

PHONE CALLS OR TEXT ONLY PLEASE 3,o;l // six-9-sevn O-4+0l "Doug" Leave a message if I can't answer.

do NOT contact me with unsolicited services or offers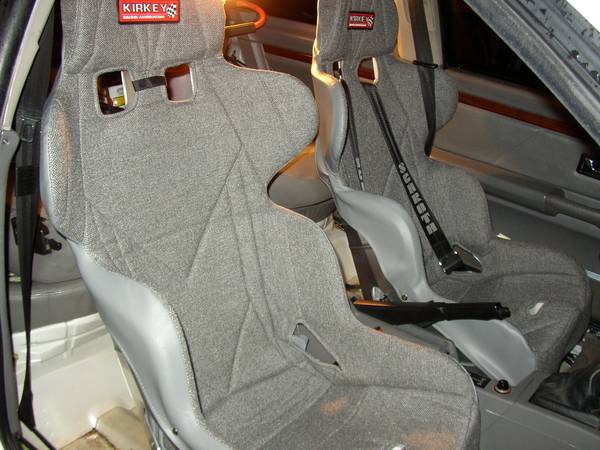 The build on this car leaves lot of opportunity for improvement, but to me it was done the right way; suspension, tires and safety equipment before turning up the speed. As the seller writes, these 7A motors are great though they're not the most powerful option; coupled with the relatively heavy weight of the Coupe Quattro they're not particularly competitive. There are some needs, but the list isn't insurmountable and if you're looking for a great way to have fun on a budget this could be it. There's certainly most of the asking price worth of parts built into this project. Sure, the sticker job is rather unfortunate but if you did a budget paint job that could be fixed. Rather have a bit more go?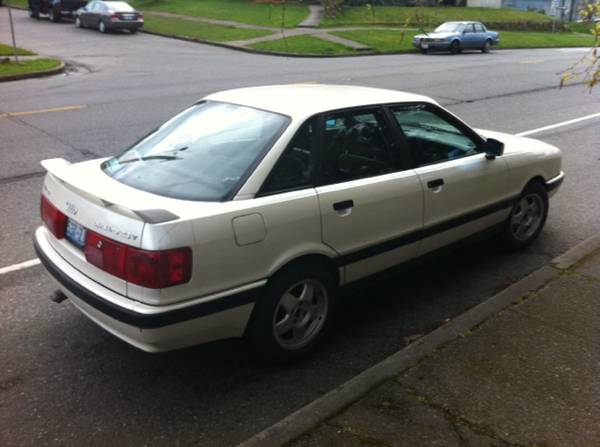 While stuffing a big-brother turbo motor into the little-brother chassis is the common practice amongst Audi folks, those with a bit more adventure look towards the Audi V8 as a source of motivation. Typically the 4.2 is the motor that most want, but the 3.6s came up early and often in the tuning scene because they were more plentiful and inexpensive. Though they have a few less horsepower than the 4.2 models, coupled to the lower weight of the 90 chassis they provide plenty of scoot with over 100 horsepower more than these cars came with stock and instant throttle response: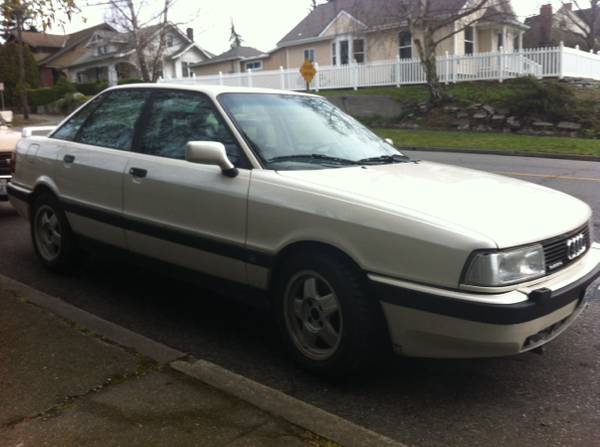 Year: 1990
Model: 90 Quattro
Engine: 3.6 liter V8
Transmission: 5-speed manual
Mileage: ~200,000 mi
Price: $2,500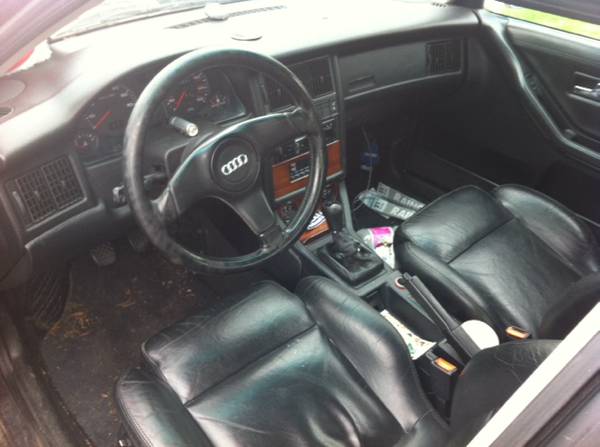 This is a neat car. It's actually gorgeous in my opinion. Pearl white with Black leather. S2 steering wheel! There's $3or400bux.. Fresh hankooks on cabriolet rims. And yep it's a V8 conversion. 3.6(PT) they used a 4000q tranny for it, I didn't build it but the build thread is out there on motorgeek I believe.. I believe the car and motor are at less than200k. This is more of an enthusiat car… This thing is SOoho fun in the snow! I'm thinning the herd so txt email or call. Three60 54Zero71deuce2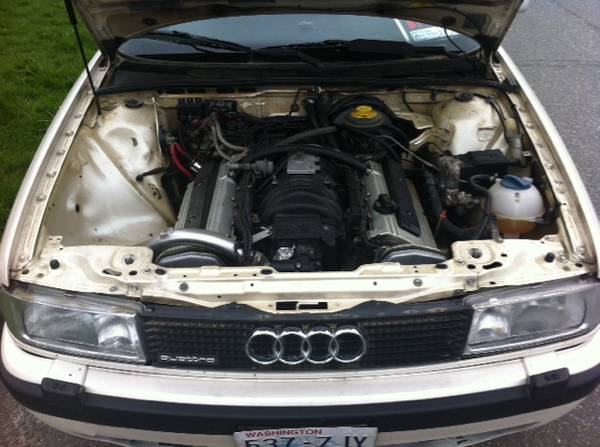 This car is clearly not going to be a turn key, trouble free rise, but if you want something a little different than most this car looks like a pretty solid basis for either more suspension modifications and turning into a track car, or refreshing to be a fun occasional car. There's a S2 steering wheel and Euro lights, as well as the 15×7 Ronal cabriolet wheels. Cleaned up, it could look really nice! Priced fairly appropriately at $2,500, you're buying a lot of backyard engineering, but it could be a really fun ride!
Thanks again to John for spotting both these 90s!
-Carter