While all of the major German marques played in the rough stuff from time to time, Audi was the undisputed king of the mud in the 1980s. By revolutionizing the World Rally Championship to include all-wheel drive and turbocharging, Audi set the bar at a new high. Truth be told, the A1 was a fairly flawed car compared to the monsters it would spawn later, but it's the legend most think of when talking about the legendarily rally cars of the 1980s. Even the A1's replacements – the beefed up A2 and later the S1 Sport were quite flawed and by 1985, despite creating one of the most powerful rally cars ever run, Audi was out of the game with the end of Group B. The death of Group B did more to solidify the reputation of these cars than any victories they won; they were "too fast to race", a myth that still lives on today. In reality by the mid 1990s modern tire technology and updated turbo and computer technology meant that even in regulated form (I'm looking at you, Toyota), the new generation of WRC cars were faster than the fearsome Group B cars ever were – they were just a whole lot easier to control at the limit.
But none of that matters, because what you and everyone else who knows these cars remembers were the roaring 5-cylinders, belching flames and chirping blow-off valves, and images of Walter left-foot braking it to keep on boost, resulting in lurid power slides through the forest with trees and people only inches from the hood. Dramatic scene for sure! The result is that many replica rally cars have been created from street Quattros, such as the one we're looking at today: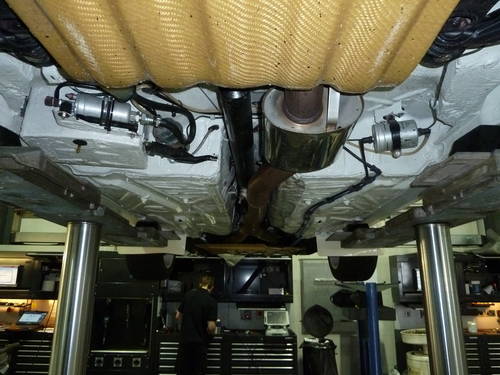 Year: 1983
Model: Quattro
Engine: 2.7 twin-turbocharged V6
Transmission: 5-speed manual
Mileage: N/A mi
Price: GBP 49,995 ($80,792 today)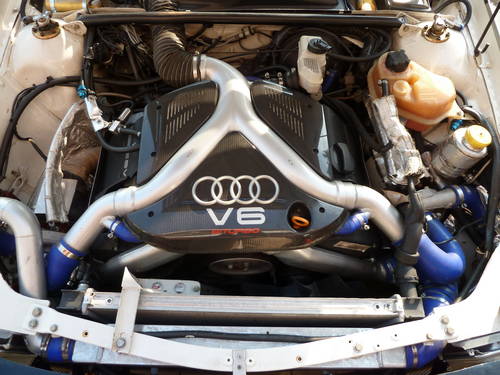 I have for sale a UR Audi Quattro Turbo rally car.

The car was made several years ago by the previous owner and consists of the following specification:

1983 UR Audi Quattro Turbo shell

Stack dash with analogue tachometer, digital boost, lap timer and various other info.

Full bolt in rollcage

Movit front and rear callipers

Seperate rear calliper for 2nd handbrake

Hydraluic handbrake

Strengthened jacking points

Bosch 044 pump

Adjustable front tie bar

Works type wishbones

Rear ARB

Enginer undercover protector

Rear differential undercover protector

9J x 16 Azev wheels x4 + spare

New tyres x4

Proflex hydraulic fully adjustable front and rear suspension

Aluminium passenger kick plate

Full Sport Quattro LWB bodykit and headlights

4 Hella driving lamps

2 zenon hella spotlights

Custom made spot light brackets

3″ bespoke Miltek exhaust system made from titanium costing £6K

Tuned RS4 V6 twin turbo engine fitted and mapped by QST to a reliable 650 BHP and limited to 198mph

Competition clutch

Motordrive rallyseats with adjustable platforms

Rally 5 point harnesses

Full fire extinguisher system

Tripmeter

Intercom – Peltor

Bespoke alloy fuel tank with 110 litre capacity

This vehicle has run as the OO pace car in the 2011/2012 Circuit of Ireland rally and the 2011/2012 Ulster rally + others. It is MSA Log booked but currently has no restrictors fitted.

It is very reliable, extremely fast and handles like you wouldn't believe.

The car will be MOT'd this weekend and taxed.

Build cost was approximately £70K.

More pictures available on request.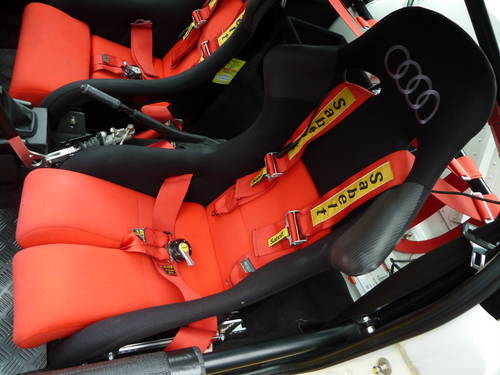 Unconventional is a good descriptor for this build, but in many ways, it makes sense. 650 is possible but expensive out of a 20V Turbo, plus unless you score one of the mega-rare aluminum 5 cylinder works blocks, you're looking at a huge iron lump out in front of the wheels. Moving to the V6 chops a few inches of metal out and pushes the weight distribution back, plus the V6s are a little quicker on spoolup than the single turbo inline-5s. It has a bolt in cage and some trick replica bodywork and graphics, so it's ready to hit the track. There are additional nice items like the huge baffled fuel tank, wide white wheels, the skid plates and enough lights to land a 747. It sure looks the part.
I do have a few problems with it, though – first, if I was driving this car in anger in the forest, I'd want the cage welded and probably beefed up. I've seen some nasty accidents and the bolt in cages act like can tabs, peeling the floor apart. It could really be a matter of life or death. Second, although I understand why they went V6, I wouldn't want anything other than a 5 cylinder in there even if it was slower. The soundtrack alone is worth the price of entry! Finally, the price; at $81,000, this car is replicable for less than the asking price. It wouldn't be easy or quick, but unlike most of the builds we've shown, you really could build a car like this for less than the ask. Figure you could get a basket case 10v for less than $8K, there's $8-10,000 in paint and bodywork, another $10,000 in go fast stuff, and then even a well built 20V turbo would run in the $10,000 range installed. By my math, I think the car could be done for under $50,000 pretty much any way you wanted it. Despite this, it's neat to see a fairly well executed tribute that's ready to run, and this car is such; I'm just not sure this is the one I'd Sport for.
-Carter