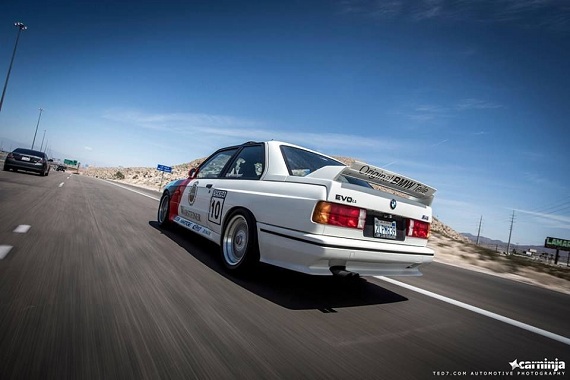 I know this probably comes as a surprise, but in general I try to stay away from posting E30s. There are several reasons for this; first, it seems like we have an E30 posted on this site nearly every day. In part that makes sense as it's one of the best small sports sedans ever produced and there are many different versions, but we like variety here at GCFSB and I like to find the lesser appreciated examples of German motoring. Then there's the second reason I stay away – the market on these cars is just nuts, especially when you're talking about the M3. You could list all of the merits of the E30 M3, and there are many to choose from, but at least in my mind the bubble that these cars are experiencing just isn't justified. Sure, they're solidly worth $30,000 to maybe $40,000 for the best, show ready examples in my mind – but at double that amount, I find it hard to explain. After all, you can get so many equally (if not more) rare, equally (if not better) performing, and equally attractive cars both from within BMW and from other manufacturers too for less money. When cars like this go through bubbles, to me they just become unappealing. I remember going to the track when these cars were throw-aways; it's not that I wished I had bought one when they were more affordable, it's more that I wish the folks with money hadn't soured the experience for me. Such is the market today that even non-original, less than pristine examples are commanding a serious premium over other desirable cars. The perfect illustration of this is today's DTM-liveried 1988 M3: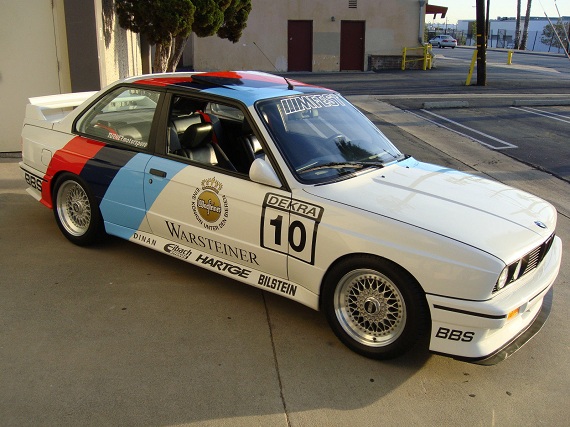 Year: 1988
Model: M3
Engine: 2.5 liter inline-4
Transmission: 5-speed manual
Mileage: 104,500 mi
Price: Reserve Auction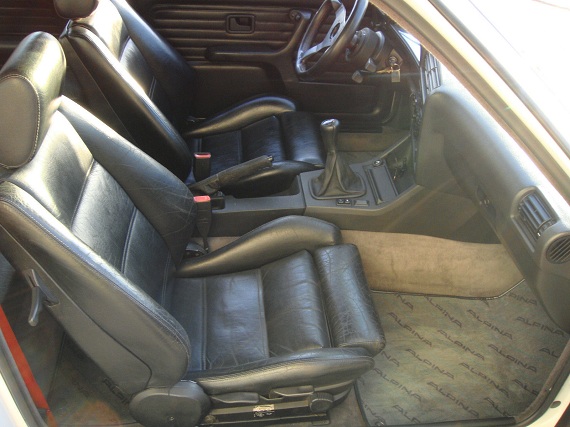 I HAVE FOR SALE MY 1988 E30 M3 WITH 104K ORIGINAL MILES. I BOUGHT THE CAR 3 MONTHS AGO SINCE I LOVED THE M3'S SO MUCH. I SOLD MY E60 M5 FOR THIS CAR BUT FOUND OUT THIS IS NOT AN EVERYDAY DRIVER. THIS CAR IS 1 OWNER CAR FROM CALIFORNIA & I HAVE THE TITLE WHICH I DIDNT TRANSFER TO MY NAME YET. THE CAR HAS NEVER BEEN IN ANY ACCIDENTS OR FENDER BENDER, EVERY VIN TAG IS ON ALL THE PANELS ON THE CAR. HERE IS A LITTLE INFO.

SHE HAS A 2.5 STROKED ORGINAL ENGINE WITH DINAN KIT. THIS WAS DONE ON THE ENGINE AT 61K MILES. SHE IS PUSHING 250HP ON THE REAR WHEELS. I JUST DROVE THE CAR TO MFEST SHOW IN VEGAS & SHE KEPT UP WITH M5'S & M3'S. SHE IS SUPRISINGLY FAST & HANDLES GREAT. PLEASE DO NOT WASTE MY OR YOUR TIME BIDDING. CONTACT ME TO DISCUSS DETAILS. I M NOT IN ANY HURRY TO SELL THE CAR. I KNOW VERY WELL WHAT THE CAR IS WORTH SO NO NECESSARY TO LOW BALL ME. SERIOUS BIDDERS CONTACT ME WITH YOUR OFFERS. PLEASE DO YOUR HOMEWORK FIRST BEFORE OFFERING ME A PRICE. I WILL NOT REPLY BACK & YOU WILL LOSE THE CHANCE TO OWN THIS VERY RARE CAR. CALL ONLY 323-707-9457

HERE ARE THE FOLLOWING UPGRADES.

DRIVETRAIN

2.5 KIT FROM DINAN, CRANK, PISTONS

EVO2 WHITE INTAKE PLENUM, VALVE COVER

EVO3 INJECTORS

EVO3 AIR FLOW METER

TURNER D MOD CHIP

EVO LOWER AIRBOX LARGER CUSTOM INLET BEHIND BUMPER

EVO3 SPARK PLUG WIRES, GSP WIRE LOOM

VAC MOROSO GROUP A REPLICA OIL PAN WITH BAFFLES AND FLAPS

EVO3 OIL PUMP

E36 M3 TIMING CHAIN TENSIONER

AC DELETE, CONDENSER, EVAPORATOR, COMPRESOR [LARGE OIL PAN WILL NOT ALLOW AC COMP MOUNTING]

AC FAN REMOUNTED TO ALLOW DELETE OF FAN CLUTCH, AUX FAN TRIGERED BY LOWER TEMP SWITCH OR BY PUSHING AC BUTTON

EVO3 INTAKE, EVO2 EXHAUST CAM

48MM THROTTLE BODIES, HEAD PORTED TO MATCH, DINAN GASKET KIT

CERAMIC COATED STOCK HEADER

2 INTO 1 CUSTOM 2 1/2″ EXHAUST WITH 3 BOLT MUFFLER FLANGE, 2 MUFFLERS

HD ENGINE MOUNTS, 1/2 LOWER, NO FLUID FILLLING

HD TRANS MOUNTS, TRANS SHIMMED DOWN TO ALIGN WITH MOTOR POSITION

E34 M5 FLEX DISC

CUSTOM LENGTHENED UUC EVO3 SHIFTER, DOUBLE SHEER SELECTOR ROD

EVO LIGHTWEIGHT FLYWHEEL

4.10 REAR END GEAR

QUAIFE DIFFERENTIAL

M COUPE FINNED DIFF COVER

DELRIN DIFF MOUNT, PRESSED IN AND SECURED BY A BOLT THROUGH DIFF COVER INTO MOUNT

EXTERIOR

EVO3 FRONT SPOILER SPLITTER ASSEMBLY

EVO BRAKE DUCTS MOLDED IN

LICENSE PLATE MOUNT AREA SHAVED ON FRONT BUMPER

EVO3 AERO SEAL FOR TOP OF FRONT BUMPER, HOOD SEALS

EVO FRONT GRILLS, LEFT, RIGHT, CENTER

HELLA SMILEY HEADLIGHTS BLACK, XENON LOW BEAM, H1 100W HIGHBEAM

SIDE MARKERS, SHAVED FROM SIDE OF FRONT AND REAR BUMPERS

EVO SIDE MIRRORS

EVO 3 REAR WING

REAR TAIL LIGHTS WITH ONE EXTRA BRAKE LIGHT PER SIGHT

SUSPENSION

BMW GROUP N SHOCKS (BILSTEIN VALVED TO SPEC)

BMW GROUP N SPRINGS (EIBACH MADE TO SPEC)

OFFSET UPPER STRUT MOUNTS, WITH ADDITIONAL PLATES TO ADD MORE NEGATIVE CAMBER

EIBACH FRONT STRUT BAR

HARTGE REAR STRUT BAR

22MM FRONT SWAY BAR

19MM REAR SWAY BAR

ADJUSTABLE END LINKS FRONT AND REAR

GROUP N REAR SUBFRAME MOUNTS

ADJUSTABLE REAR TRAILING ARM BUSHINGS, USED TO ELIMINATE SOME REAR CAMBER AND TOW

ALUMINUM LOWER CONTROL ARMS

DELRIN LOWER CONTROL ARM BUSHINGS, DRILLED AND SECURED BY BOLTS THROUGH MOUNT INTO BUSHINGS

BRAKES AND WHEELS

BBS 3 PIECE 16X8 & 16X9 RS WHEELS WITH 225-50-16 FRONT & 245-45-16 REAR

FRONT BACKING PLATES REMOVED TO ALLOW COOLING AIR DUCTS AND FRONT SPOILER

STAINLESS BRAKE LINES 6 PIECE SET, STAINLESS CLUTCH LINE TOO

BRONZE BUSHINGS FRONT AND REAR

ATE SUPER BLUE FLUID

REAR BRAKE FORCE LIMITER REMOVED

ABS DELETE SWITCH IN PLACE OF FOG LIGHT SWITCH

INTERIOR

M DEAD PEDAL

M LIGHTED SHIFT KNOB

HARD WIRING VALENTINE 1

GT3 STEERING WHEEL QUICK RELEASE, MOMO WHEEL, NO HORN ACCESS

EVO RED SEAT BELTS

ALPINA FLOOR MATS

ALL STOCK INTERIOR OTHER THEN DRIVER SEAT LEATHER WAS REPLACED WITH VINYL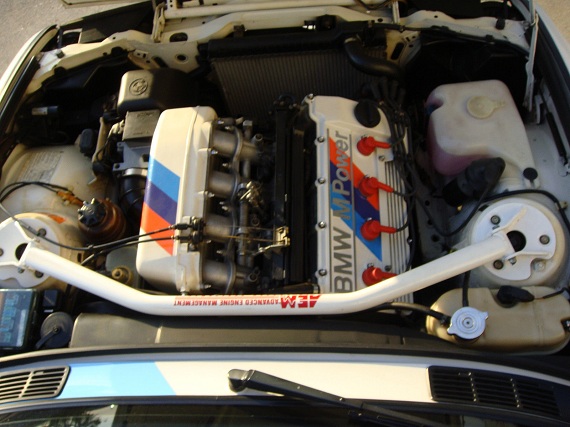 At first look, this car really looks great in many ways. The 1980s BMW racing livery is some of the best and always looks great. The BBS RS wheels are a subtle upgrade from the original units. But upon reflection, there are several problems with this car to me. First, it's not a race car. So, aside from attracting the unnecessary attention of the law and every boy-racer on the way to your event, you look a bit of a fool rolling around with race stickers all over your car. Then there's the engine build – impressive for power figures, but it's not particularly the best setup for a street car and the value on these cars means it's probably not the best example to be tracking regularly. So, sort of pointless – plus in the drive for power you've lost the A/C and the everyday driveability of the stock S14. Then there's the suspension – setup for the track but again too extreme for much comfort. I'm not just talking without personal knowledge; I'm just two days out of 500 miles in my 1986 Audi Coupe GT that is set up for track events. Sure, it looks cool, sounds great and is a blast on the track; but the 3 hour drive to and from the track is mostly a nightmare and I see this car the same way. Nearly all of the value of originality is gone, and while the modifications are reversible you'd be better just buying one that was stock at that point. A few years ago a car such as this would have sold for around $15,000 – and frankly, at that price point it makes sense and can be a fun occasional track/show car. Yet as of writing, with 6 days still to go on this auction the price on this example is more than double that amount with the reserve still on and active bidding. Sorry folks, it's nice to look at, I'm sure it's a blast to drive in a spirited fashion briefly, but this car to me personifies just how crazy the E30 M3 market is today. At even the current amount this car is demanding ($31,800 at writing) I'd take a clean, original and lower mileage E24 M6 any day – and I'd imagine the reserve on this car is set in the $40,000 – $45,000 range. There's a great line in the movie Tommy Boy when Dan Aykroyd's character proclaims that Tommy's father "could sell a ketchup Popsicle to a woman wearing white gloves". To me, this car at this price is just that ketchup Popsicle and this market is full of white glove wearing women.
-Carter