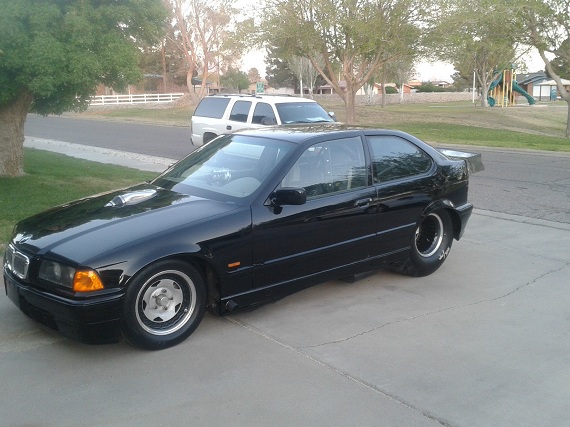 There are a fair amount of people who don't get the "stance" scene, and there are many others who don't understand modifying a car to go to the track. There are those who don't understand Concours shows, those who don't understand not putting miles on a car, and an equal number who don't understand daily driving a high-performance machine. There are diesel fans, turbo fans, V8 fans and even fans of the supercharger. There are people who love modifications and those who prefer their cars stock. For the most part, I "get" all of these camps; I don't necessarily agree or favor any one in particular, but each has its own merits. There is one that still leaves me a bit mystified though – drag racing. I understand it takes tremendous skill to get a car dialed in; I appreciate the engineering that goes into overcoming physics. I am awed by the raw speed that these vehicles can produce – ballets of explosive violence, a concoction of sound, smells and disappearing cars. But I've never really understood the attraction of drag racing, though an unusual suspect can sure make me smile: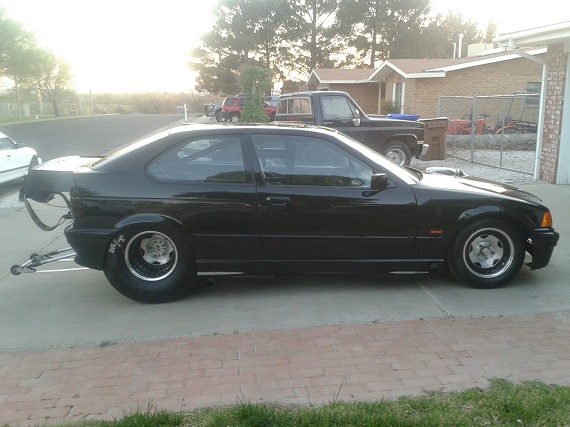 Year: 1997
Model: 318ti
Engine: 7.4 liter twin-turbocharged V8
Transmission: 3?-speed automatic
Mileage: Not Listed
Price: No Reserve Auction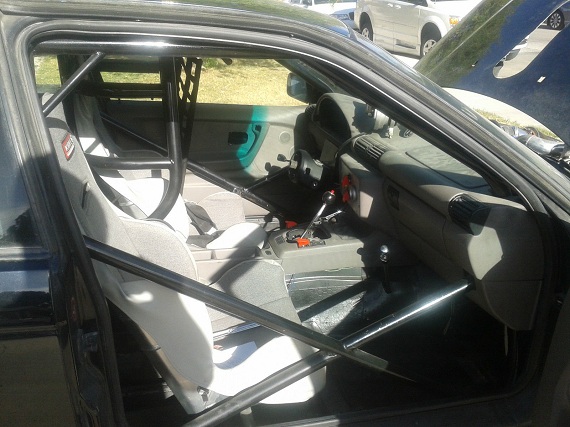 I HAVE TO START THIS OUT BY SAYING IF YOU DON'T HAVE YOUR WIFES, GIRLFRIENDS, BOYFRIENDS OR YOUR FRIEND'S PERMISSION TO BUY THIS, DON'T BID. I AM GETTING TIRED OF PEOPLE DREAMING OF WANTING A HOT ROD LIKE THIS ONE AND NOT HAVING THE ABILITY TO FOLLOW THROUGH. SO PLEASE DON'T WASTE MY TIME OR YOURS IF YOU DON'T INTEND TO FOLLOW THROUGH WITH THE PURCHASE OR YOU DON'T HAVE THE FUNDS TO PAY FOR IT. I WILL VERIFY WITCH EVERY BIDDER THAT BIDS THAT THEY ARE IN FACT LEGIT. IF I DO NOT RECEIVE A RESPONSE IN THE AFFIRMATIVE WITHIN 24 HOURS, I WILL CANCEL YOUR BID SO THAT THOSE WHO ARE SERIOUS ABOUT BUYING IT HAVE A CHANCE AT IT. HAVING SAID THIS….

Up for sale is an AWESOME Prostreet 1997 BMW 318ti, with a twin turbo charged big block Chevrolet! This machine is a complete one of a kind and a total head turner. I purchased this vehicle about two years ago and have done a ton of upgrades to it since I have owned it. The reality is I don't want to sell it but I have too many other projects and only so much time and money so one of them has to go. I have a clean clear title in my name and this monster is ready to go at the track or on the street. The following is a brief description of what all this baby has in it.

BODY: As stated it is a 1997 BMW 318ti. The body is in excellent shape and the paint is in great condition. It is not a show quality paint job but it looks very nice. The rear hatchback has an aftermarket foil / fin on it and the rear glass has been tinted. All of the glass is in there and in good shape. The hood has been cut (see pics) to allow for the carb hat and the hood does need a new release latch and new factory hood pins (no more than $150 to get these on line). I normally run it without the hood but if you wanted to do the work yourself, the hood could be operational for about $150 (latching, etc.) I also have new front grill pieces that will go with it or that I will install before delivery.

CHASSIS / SUSPENSION: Most of the original chassis is gone. In its place is a full tube chassis with a full cage (believe it is a 14 point cage). The front is a coil over independent front suspension with disc brakes (Strange). The rear is an adjustable 4 link, coil over set up with a narrowed full tub, narrowed Dana 60 with 4.11 gears, and strange axles and full ladder bar set up. I believe I have a set of 3.55 gears for the Dana and would include them with the vehicle. The chassis on this is rock solid and will provide you years of service. The wheels are Centerline Convo Pros all the way around (15×3 fronts, 15×15 rear). The previous owner had the center of the wheels painted so that is the black you see in the pictures. The fronts are Hoosier drag skinnies (they should be replaced for street use and one has a slow leak) and the rears are brand new M/T Drag Radials 15x17x32.5 – they are monsters! There is also a single chute with a release that runs to the handle which is located between the driver and passenger seats.

INTERIOR: The door panels are there but they need some work. Additionally the power windows are currently non-operational. It has a full dash in place but none of the factory gauges are hooked up. It has internal switches for electric fuel pump, electric water pump, radiator fans, and a switch I was using for intercooler pumps. It also has the factory head light switch. There are no working windshield wipers on this vehicle. As you can see from the pics most of the interior has been removed for the full tub sheet metal. The rear side interior panels are there but they are not permanently affixed. The head liner is also gone but there is sound deadening material on the roof. The center console is also in place and houses most of the aforementioned switches. Both battery compartments are also behind each Kirker Racing seat (only one battery currently hooked up). The shifter is a Hurst shifter with trans brake button (no trans brake in the tranny currently). There is also a dash mounted tachometer and boost gauge. The wiring in this car works, but if I was going to keep it, I would probably rewire it just because I am anal about neatness. The steering wheel is also removeable and the driver seat has a 4 point harness (I am sure its cert has expired however).

DRIVETRAIN: The drivetrain consists of a 454 cubic inch big block Chevy. As far as the long block goes it is a relatively mild build. It has a mild hydraulic cam with a Performer RPM intake. Ignition is a MSD box and coil along with a MSD billet distributor. Fuel is supplied via a fuel cell mounted in the interior between the wheel tubs, to an all Aeromotive fuel system (pump, filter, regulator). The carb is a 750 BAN Quick Fuel carb specifically designed for blow thru set ups. The turbos are twin 57mm water cooled turbos and the wastegates are set up on 7lb springs. I believe the air / water intercoolers are rated at 800-1000 HP each but I currently do not have them hooked up and I removed the water pumps for the system some time ago so you would have to put new pumps in the system and run the lines for them if you wanted to have it intercooled. I do have the water / ice reservoir which mounts inside the cab if you decided you wanted to hook up the intercoolers. The BOV is a Tial 50mm BOV. The headers are custom made and have cut outs behind the front wheels are you can run it through the full exhaust which terminates in front of the rear wheels. The radiator is a dual pass aluminum radiator with twin Derale fans that move 4200 CFM of air. It also has a CSR high flow electric water pump. The engine is also supported by front and mid plates for extra strength. I have not had this bad boy on the dyno, but if I had to guess it is somewhere between 600-700 HP or maybe more. I will also attempt to get it weighed and I will list that weight here in the listing.

In all this Beamer runs good and is a total BEAST! I have not taken it to the track since I have owned it but I can tell you at 1/3 throttle this thing FLAT OUT GETS AFTER IT! If you are looking for a daily driver, this is not your vehicle. If you are looking for something that you can take to the track or out on cruise nights and cruise around town, this is the vehicle for you. You could not begin to bulid this bad boy for what my reserve is set at. If you have any questions or need clarification on any part of this listing, please message me and I will send you my phone number so you can ask questions. Again, this Beemer is a one of a kind strip / strip monster and gets hard looks and thumbs up everywhere it goes. Also the odometer reading is not accurate per my title if that matters to you.

I will be putting up a couple of videos this week on youtube and as soon as I get them up I will link them on this listing. Please, if you do not have the money or do not intend to follow through on the purchase, please do not bid. If you want a serious street / strip rod, this is the one. If you want to know more about the car, feel free to message me with you phone number and I will call you as soon as I can. Thanks and good luck bidding!

HERE IS A VID OF IT RUNNING. I WILL ADD ANOTHER VID SOON OF IT GOING DOWN THE ROAD. ENJOY! https://www.youtube.com/watch?v=8NNTbpR8JaQ&feature=youtu.be

THE WINNING BIDDER WILL BE RESPONSIBLE FOR ARRANGING ALL SHIPPING AND ALL COSTS FOR SHIPPING WILL THE BUYERS RESPONSIBILITY. ALL SALES ARE FINAL AND THERE ARE NO WARRANTIES OR RETURNS. I HAVE DONE MY BEST TO LIST THIS VEHICLE AS ACCURATLEY HAS I CAN. IF YOU NEED MORE INFORMATION, PLEASE MESSAGE ME AND I WILL SUPPLY YOU WITH MY PHONE NUMBER SO THAT YOU CAN ASK WHATEVER QUESTIONS YOU WOULD LIKE. THE WINNING BIDDER WILL NEED TO PAY A $500 NON-REFUNDABLE DEPOSIT WITHIN 24 HOURS OF THE END OF THE AUCTION. THE BALANCE OF THE FINAL AMOUNT WILL BE DUE WITHIN 5 BUSINESS DAYS. I WILL ONLY ACCEPT CERTIFIED CHECKS AND THE VEHICLE WILL NOT MOVE FROM MY PROPERTY UNTIL THE FUNDS HAVE CLEARED MY BANK.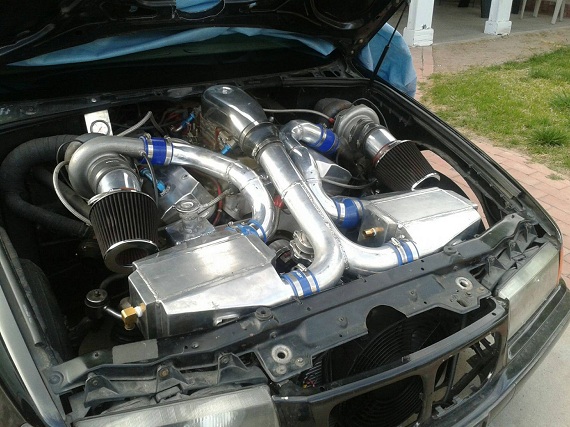 7.4 liters of American brute force fed through two turbochargers is pretty awe inspiring, and moreso when it's hiding under the hood of a lowly 318ti. It's pretty shocking that combination only produces 700 horsepower – figures that aren't unheard of for Audi 20V Turbos or 911 Turbos despite only less than half the displacement. There's some development work and finishing that needs to be done, but boy, if I had the means I think it would be really neat to drive this to a few Cars and Coffee events, or better yet a BMWCCA event. Just imagine the reactions of the Munich faithful – be sure to pop the 'chute as you roll by, for effect!
-Carter