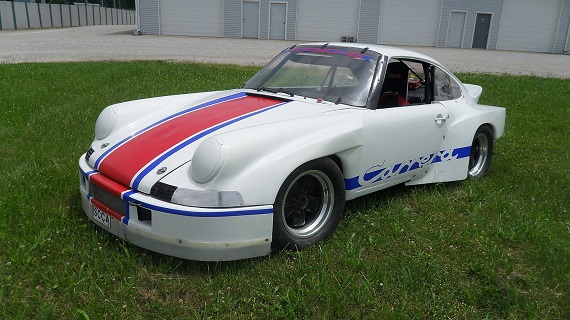 Well before the market on classic air-cooled 911s exploded, they were often used as intended – hard. If the 911's natural habitat was the race track, enthusiasts outside of the factory efforts were happy to oblige as voluntary park rangers, taking streetable examples and turning them into race cars. While in international competition the FIA was the governing body, in the U.S. one very popular racing body many turned to was the Sports Car Club of America – still very active today. In stark contrast to earlier's RSR tribute, then, and well before values were on the rise, an enterprising racer took today's 1969 911S and turned it into a race car. Raced extensively in SCCA as early as 1980, this is one unique 911S: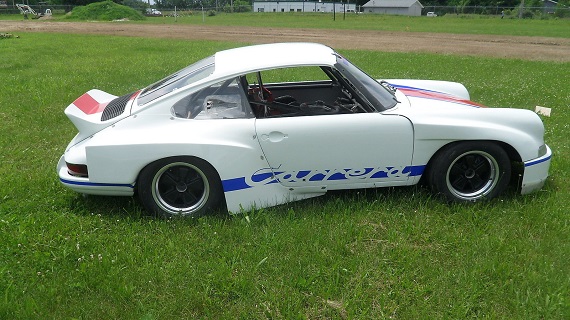 Year: 1969
Model: 911S
Engine: 2.0 liter flat-6
Transmission: 5-speed manual
Mileage: Not Listed
Price: No Reserve Auction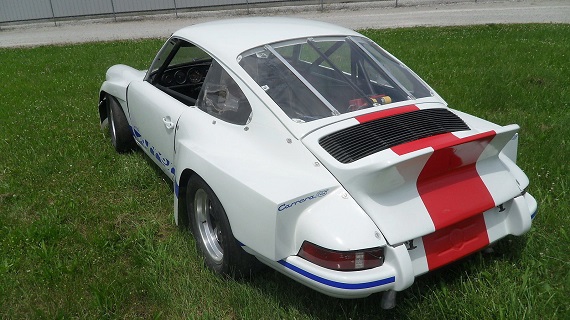 First prepared for racing in 1979 by Lee Johnson Performance 23 Birch Street, Midland Park,N.J. 07432 **** SCCA Log Book # 022-748 **** Sept. 1980 Lee Johnson started racing SCCA CP & DP ***** Oct. 1984 car was changed to GT-3 Aug. 1989 was last SCCA race **** During this time period Lee Johnson was the only owner & driver of the Porsche. He competed in SCCA regional & national events, mostly in the Northeast region. ****Here are the results taken from 2- SCCA Log Books for the car. ***** SCCA DP & GT 3****** 46 Total Regional races ***** 31- first place finish **** 6- second place finish **** 4- third place finish **** 5- DNS or DNF ***** NARRC Runoff Finals 3- first place (champion) *** 2- second place **** 1- DNF ***** SCCA DP & GT 3 8 Total National races 2- second place finish **** 1- third place finish **** 2- forth place finish **** 1- fifth place finish **** 2- DNF ****I purchased the Porsche from Lee Johnson in 1995 with the intention to race it when I would retire,as a Vintage Race Car. Unfortunately a health issue has stopped that. ***** new extra rear body work,& front bumper(used) I also have Lee Johnson's Data Sheets,car setups for many tracks, motor specifactions & winner photos **** This car is a PROVEN WINNER, first prepared for racing in 1979, from a 1969 911S S#119800614 absolutely straight & rust free *** ROLL CAGE structure is "semi tube frame" with additional support & protection is provided for front bumper/ oil cooler / fuel cell areas *** ENGINE is 2.0 liter FULL RACE magnesium case freshend 1/2015 by Air Cooled Racing in PA. **** TRANSMISSION 901 5 speed w / limited slip differential , plus extra gear ratios . Chassis has been modifed to allow gear ratio changes from inside the car interior (NO ENGINE REMOVAL) **** FRONT SUSPENTION Re-located & reinforced mounting points for Anti-Dive geometry & bump steer 2 1/2″ coil over springs & Koni double adj. shocks **** REAR SUSPENSION Re-located & reinforced mount points for Anti- Squat geometry , shock mounts are moved & reinforced for strenght & extra travel. Torque tube removed ( no trosion bars) , camber & toe in Adj. by shims & spherical rod ends Cockpit Adj. anti-sway bar 2 1/2″ coilover springs & double Adj Konis shocks ***** BODY Modified porsche steel monocoque with semi-tube frame roll cage reinforcement, special aerodyamic fiberglass F & R fenders, F & R bumpers , trunk & Carrea engine cover, lexan windshield , plexi glass side & rear windows. Every effort has been made to lighten & increase serviceability. Substantial ballast weight +/- 90# has been added to underside front to reach minium weight of 1900# weight distribution 49-51% F-R Oil cooler, dual oil filters & 15 Qt.dry sump, battery, fire bottle and fuel cell & pump are all located in front trunk ******* I also have spare 2.0 lite motor & 901 transmission !!!NOT INCLUDED IN THIS AUCTION!!!! that needs freshing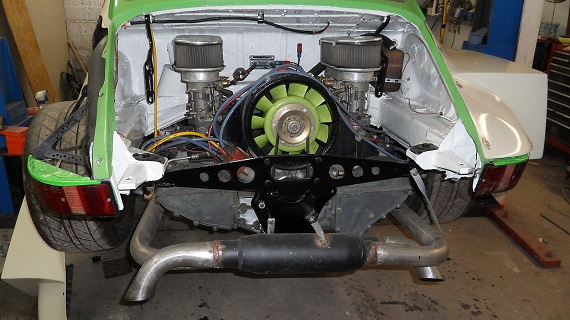 Obviously, this car has been extensively modified from its original configuration, but it appeals to me as a neat reminder of what these cars were originally intended for, rather than many of the current examples that have turned simply into investments to sit in showrooms. The car has been at least partially restored, and features neat 911R-like lightening plus a magnesium crankcase. The 2.0 flat six is period correct; 1969 was the last year of the 2-liter configuration. It may not sound like much of a motor until you read the curb weight; with ballast added it hits 1,900 lbs – or about what the seats in a current Cayenne weigh. This car, with extensive and documented race history, should be an easy fit on the vintage race circuit. Though the '69 911S isn't as highly sought as the later 911 models in some regards, they still have impressive value compared to when this car began being raced – from $100,000 for a condition 4 through an estimated $220,000 ceiling right now. Of course, as a race car – and not a factory effort – and with some really wild flares, this car has much more limited appeal. I, for one, think it's pretty awesome, though the no reserve auction with a few days to go still has yet to gain much traction. The opening bid hasn't been met at $39,000 – by my thinking, if you could get this car for anywhere near that amount, it would be a stellar value in the classic 911S world.
-Carter