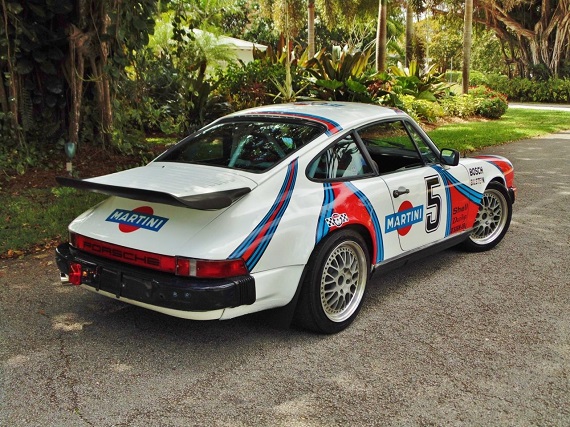 In my opinion, there is no better livery ever than the various iterations of Martini Racing colors. It was hugely exciting when the colors were reintroduced on the 2014 Williams F1 cars; one of the most storied and celebrated color combinations, the Martini colors have graced everything from Formula 1 to Rally Cars and everything in between. Yet wherever they turn up, they always seem to fit just right. Even the Martini edition 924, which was really nothing more than an appearance package, somehow looks so much better than the standard 924 because of the white background with red stripes. My favorite rendering of the Martini colors is probably the Elford/Larrousse 917LH from 1971 Le Mans. With a silver background and the Martini colors cascading elegantly over the sinuous curves of the long tail 917. However, number 21 wasn't the winner of the 1971 Le Mans; instead, it was the sister 917K driven by Helmet Marko of recent Red Bull fame and Gijs van Lennep (the name rolls of the tongue) in the magnesium framed short tail that won. That car was Martini sponsored too, but a white background with the red and blue stripes falling over the fenders – mimicked by today's 911 Carrera: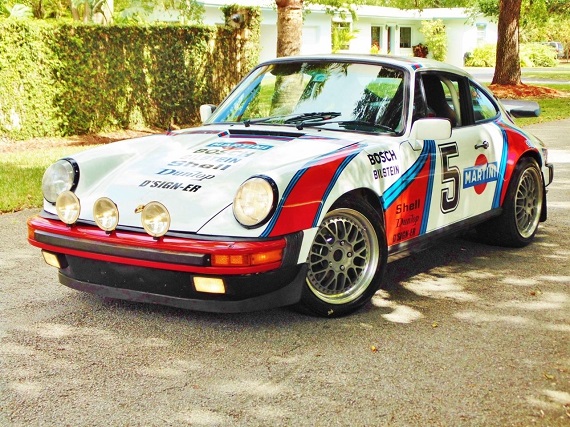 Year: 1984
Model: 911 Carrera
Engine: 3.2 liter flat-6
Transmission: 5-speed manual
Mileage: 60,273 mi
Price: $31,500 Buy It Now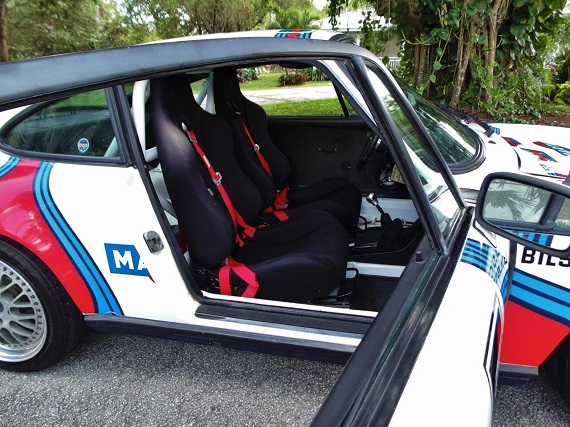 1984 Porsche 911
Martini Racing Edition Carrera

1 Owner, Clean CarFax, No Accidents

3.2 liter engine well built with Porsche Racing mild cams .

Custom mandrel headers and muffler

Factory front spoiler and rear whale tale

5 speed transmission heavy duty clutch .

930 front turbo 4 wheel disc brakes .

3 piece kenis racing light weight wheels

BF Goodrich G-Force tires

Billstein suspension

Euro spec h4 head lights and added rally fog lights

Momo steering wheel and shifter

Chromoly racing cage

Carbon Fiber Interior Paneling

APC – American Products Company Racing Seats

RJS Racing Equipment 4 Point Harness Seat Belts

JVC Single DIN Stereo

Kenwood Sub Woofer Speakers

Clean title and clean vehicle history

This Porsche was used for club rally's and shows

it was not a race car
Racing Stripes Can Be Easily Removed to Reveal Original White Body if Desired

Shipping is Available Worldwide
Car is located in Miami, FL 33156
Please Call Me, Peter 305-772-8635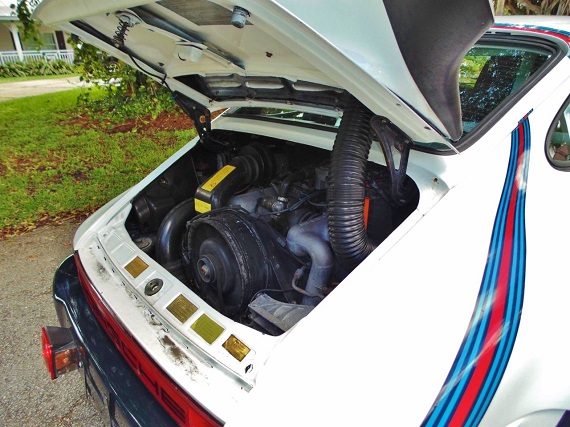 Minus the large amount of typos in the various products that adorn this 911, the build is conservative it looks as though you could have fun at club rallys or the occasional driver's education event, or even an autocross. It's not a full race car, but that's okay – because you could road drive it, and then when you tired of these events and the mid-80s 911 values took off as they appear to be doing, you could revert the car towards stock and have a valuable possession. The stripes appear to just be a vinyl addition which is great since they can be easily removed, but this car captures the spirit of some of the rally cars that Porsche ran in the 1980s but with the Martini flare. Personally, I think the car would look much better with white Fuchs and both headlights working, but otherwise it's pretty good. Is it a $31,500 car? To me, it would perhaps reach that value were it all-original and pristine; but the modifications if anything detract slightly from the value in my opinion. However, the 911 market is such that this may be soon the new normal.
-Carter