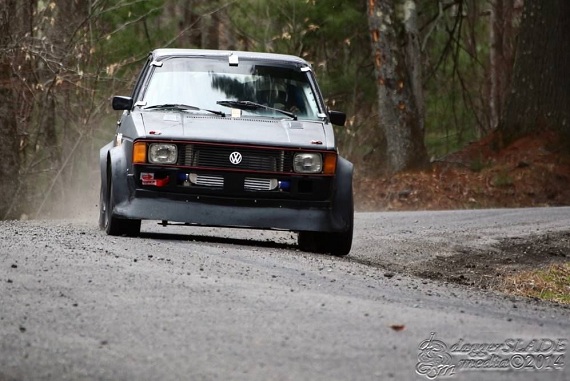 While last week's Corrado SLC track car sure checked the right boxes for me, for some it was not extreme enough to be considered a "race car". Fair enough, it was a track car at heart for high performance driver's eduction or perhaps some solo/time trial events, but it was mostly just a stripped Corrado. Well, for the Volkswagen faithful today I have a much more extreme example – a GTi ready to tackle just about anything you're ready to toss at it. Stripped down, beefed up and widened, this GTi sure looks the racer part – check out that cage! But to make it go like it promises outside, the heart has been replaced by a turned up 1.8T motor. Having been in a similar package on track, you're mind can't fathom what a light car like this with that much power will do compared to the original: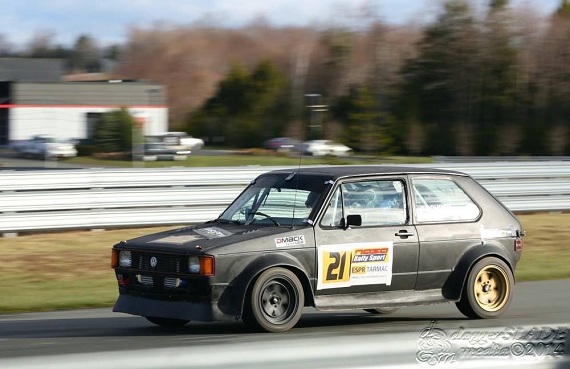 Year: 1984
Model: GTi
Engine: 1.8 liter turbocharged inline-4
Transmission: 5-speed manual
Mileage: "400" mi
Price: $8,999 Buy It Now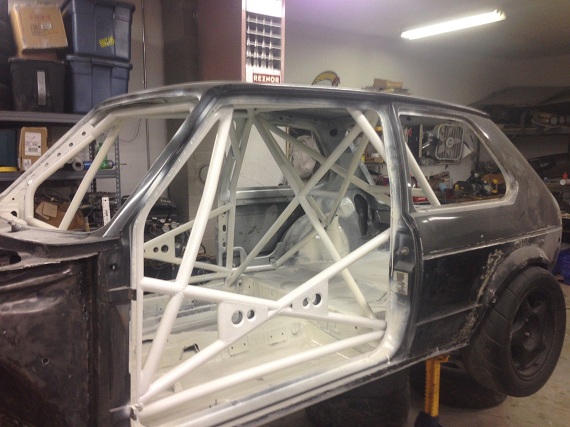 Oh this pains me to list for sale, but I have too many projects right now, and it is a shame she is sitting here in the shop.

This is a 1984 GTI that rolled into the shop as a daily driver – and rolled out as a full blooded Tarmac Rally Car.

Here is the history and SOME of the build notes.

She rolled into the shop
Fully stripped down to the frame
Sand Blasted and ground to bare metal
full shell, floor pans replaced with new metal
Custom 12 point roll cage installed (.125 1.5 Inch DOM tubes used and stick welded by cage fabricator) along with all strut towers
Rebuilt 1.8T AEB (bigger ports) with brand new FMIC and K04 Turbo along with GIAC Tune (head ported, polished, valve job, gaskets, etc etc etc)
Upgraded O2A tranny with new clutch, flywheel, and a brand new KaaZ LSD
Carbon Fiber WideBody kit made here – and all molds go with the sale
Carbon Fiber Dash board – molds go with the sale
Carbon Fiber Hood – mold goes with the sale
Painless Wiring Harness for all accessories
8 Stock Wheels included (GTI)
8 Racing Rims and RA1 tires (April 2014) included
Boxes and Boxes of spares, including the original 8v 1.8L motor if you want it, and trans, etc
FIA 3.5 Fuel CELL, stainless AN lines
FIA Seats, drivers side is Sparco Circuit
FIA Belts good for 2014 (HANS STYLE_)
PEDAL BOX 3 Resevoir / front rear bias
16V Brakes, new rotors, pads are Hawk Track Pads
HYDRAULIC E.Brake
Etc Etc. This is a new built race car with one race day on her…..

I raced it in the ESPR Tarmac Rally this year – 2014 – and have both video and pics to share upon serious request.

This car starts and runs as a freshly built car should – and could do a track day tomorrow !!!!!!!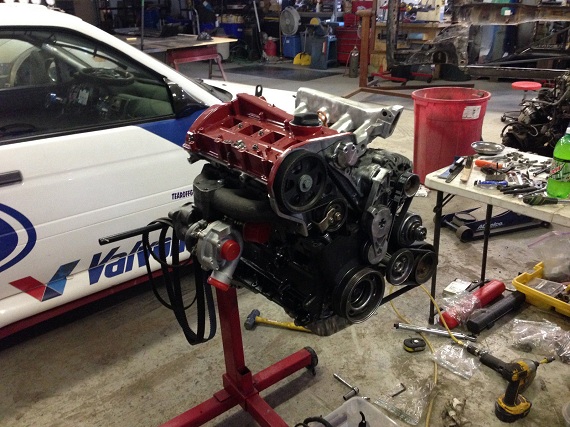 A fresh, well executed build on one of these GTis always makes me smile no matter what the intention of the car is. This one certainly looks great; I'd opt for a better paint job outside, but overall the build looks solid and the custom-made carbon-fiber wide body is impressive. The 1.8T GTi I rode in had adjustable boost and was pushing around 300 horsepower – perhaps a bit more than what this one has, but not much. That car, on R-compound tires with a limited slip differential, spun the tires in 4th gear at 90 m.p.h.. Coming off the track, I remarked to the owner/driver that he needed to immediately invest in a cage if he wanted to live. This car has one impressive cage built, and certainly looks like it would be a ton of fun for tarmac rally, track days or even hillclimbs. The best part, though, is that it's affordable – the hallmark of the GTi. Build a car like this yourself and even if you were clever your bills would certainly be higher than the "Buy It Now" price.
-Carter