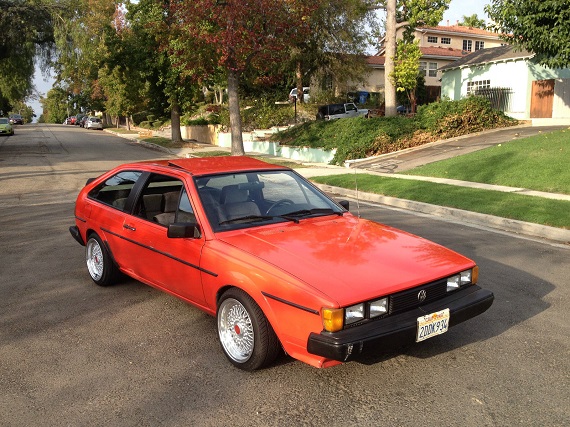 I've always pondered how the Audi Coupe GT compared to the more popular Volkswagen Scirocco. For the past 17 years, I've owned one GT or another and obviously I'm a big fan; I think they're massively underrated compared to many of their contemporaries. The Scirocco, similarly, seems to be the odd-man out in the Volkswagen lineup; yes, it has tons of fans, but most of the attention over the past few years has concentrated on the rapidly appreciating Corrado SLC models and earlier Giugiaro-designed first generation Scirocco. Of course, in appreciation of both seems to pale in comparison to the highly sought and much more common E30 BMWs, but in their own way each offers a unique alternative. In the Scirocco's positive column is a slick design that's low and lean; 16V models got the great motor coupled with 4-wheel discs and some cool teardrop alloys and a nice bodykit. In the GT's positive column is a much more refined and polished package, capable of carrying 4 in comfort with it's more upright sedan-based stature. The drivetrain is a wash; the Audi has more torque and horsepower from its inline-5, but then weighs a bit more than the Scirocco too. But mid-corner balance has to go to the Audi, plus the equal-length drive shafts eliminate the typical torque-steer prone FWD problems and the Audi feels more neutral on the fly than the Scirocco. The best of the bunch are the last run "1987.5" GTs with 4-wheel discs and the upgraded 2.3 engine with more torque and horsepower. Plus, the Audi has the better WRC soundtrack – at least, in my mind. While today I don't have a 16V Scirocco v. 87.5 GT comparison that I think would be very interesting, I nevertheless have an interesting comparison – a later Scirocco that's quite clean compared to an earlier GT that shared some of the traits of the Scirocco. Which is the winner?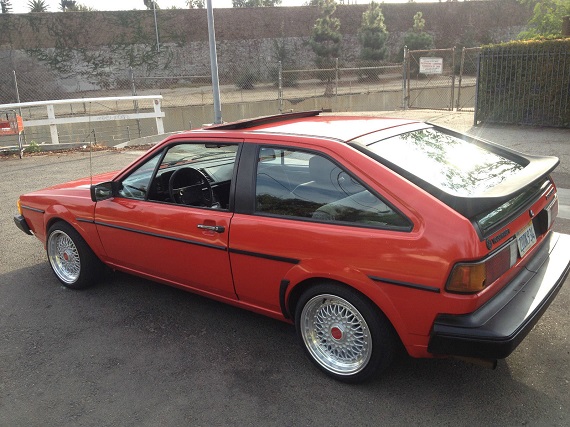 Year: 1986
Model: Scirocco
Engine: 1.8 liter inline-4
Transmission: 5-speed manual
Mileage: 94,000 mi
Price: Reserve Auction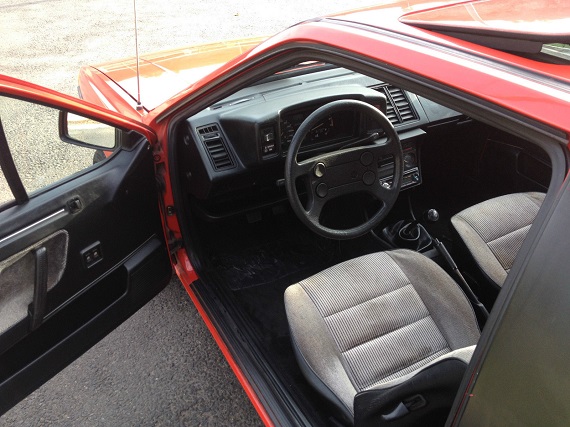 I purchased this car from its original owner this year, was going to keep it as one of my projects, but will have to let it go. Technically it is a one owner car. Original California plates.
Currently it is in my name, and I have the title on hand.
Car is in excellent condition except passenger door. Looks like it was scraped against pole.
Recent things that I changed include oil change, throttle cable, all shifter bushings. Car drives amazing, transmission shift smooth.
You will not find another one like this.
Car all original except wheels. Send me a message if you have any questions.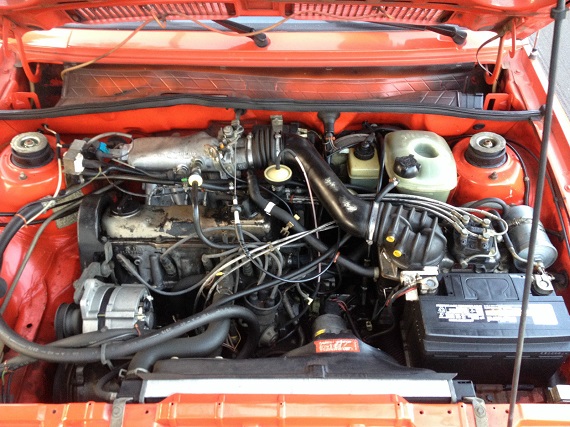 Overall this Scirocco looks quite clean at first glance. The Tornado Red paint seems to shine wheel and unlike last week's 1987 Scirocco, this one has the right 5-speed transmission. Inside looks clean and if you're a fan of the Volkswagen scene, you're probably loving the BBS replicas that adorn the car. Miles are relatively low relative to what we normally see and even under the hood looks tidy and original. However, there are some problems – notably, this car has encountered some hard objects. The front bumper is displaced and the passenger door has a nasty looking ding. The front air dam on the passenger side appears to be pulled apart too, and those BBS replicas are cheap Chinese wheels that look blingy but have a spotty reputation with enthusiasts. Still, wheels are easy to change and the damage doesn't look insurmountable – perhaps this is a good opportunity to swap on the much better looking European bumpers. The auction is reserve and has just broken $2,000 with the reserve still on; again, much more realistic than last week's 1987 but we'll see if that reserve comes off before the end. I'd expect this car to be valued between $3,500 and $4,500 in this condition.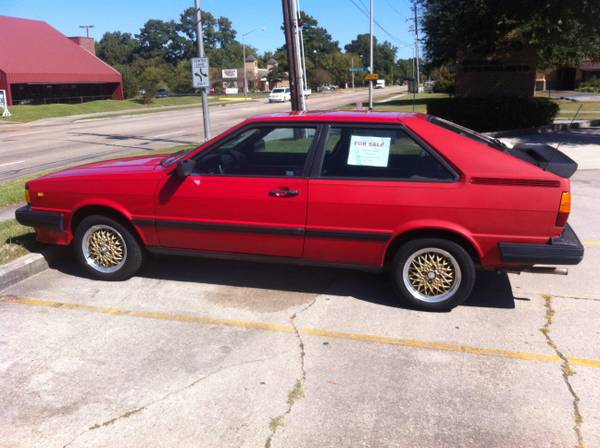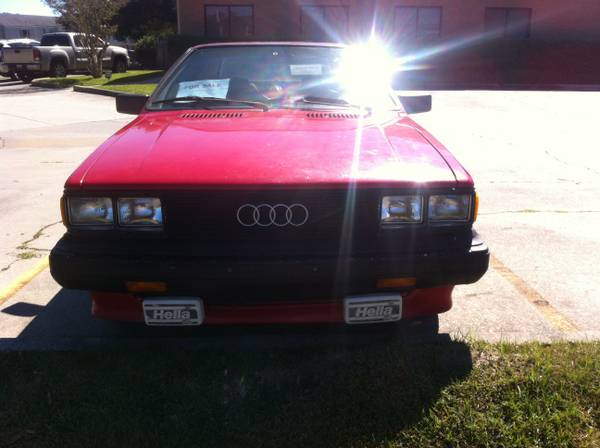 Year: 1984
Model: Coupe GT
Engine: 2.2 liter inline-5
Transmission: 5-speed manual
Mileage: 101,200 mi
Price: $3,500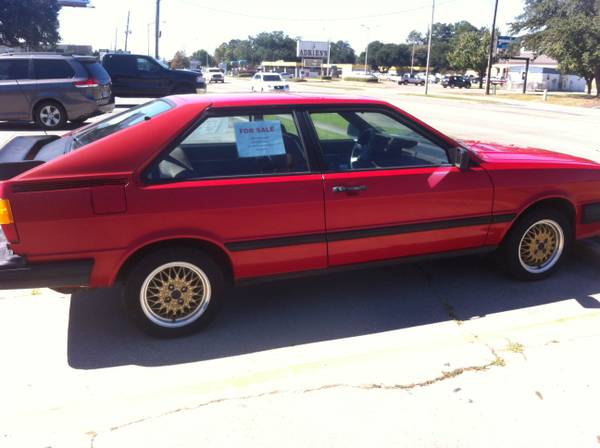 1984 Audi GT Coupe. 101,200 miles. All original, built in Germany.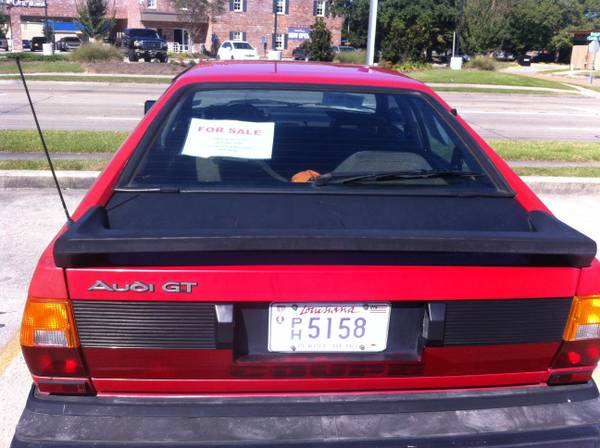 Visually, the pre-1985 GTs look quite similar to the Scirocco. The long hood doesn't hide a massive radiator support like the Volkswagen, but rather that legendary 5-pot motor. Smooth and torque-laden, the inline-5 isn't a screamer – but it is legendary for longevity and simplicity. This example sports some real and period-correct BBS RA wheels; the gold may not be for everyone, but both paint and center caps are easy to sort for these. The U.S. spec bumpers look awfully close to the Sciroccos's units – that is, awfully awful and massive. Proper European-spec units are hard to come by but can be found and would really transform the look. I've never been the biggest fan of the quad sealed-beam headlight setup, but visually this car is a little closer to the U.S. spec Quattro than the later aerodynamic bumpered Coupes. We don't get pictures under the hood or of the interior, but overall this car looks pretty nice. Without more info, supporting the $3,500 asking price is hard – but if this car doesn't have rust, it's not far off and pre-'85s are notoriously hard to find.
Which is the winner? We have much better info and pictures on the Scirocco and the condition appears to overall be a little better than the Audi; but I've always liked the underdog Coupe GT and I think in this case it'd get my vote again. It may not be the smartest option, but the GT is so much more rare to spot than the already rare Scirocco – and I love to be a little different.
-Carter