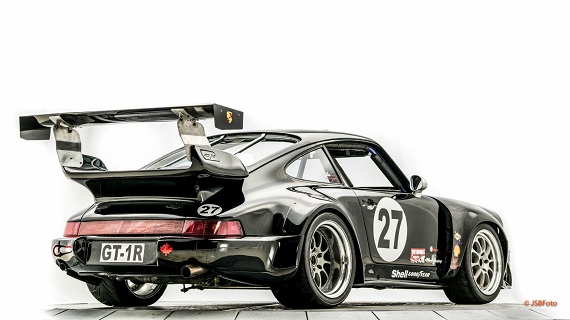 It's hard to fathom any Porsche 930 as "reasonably priced" these days, but after the $500,000 SLS AMG GT3 from earlier this 1986 Porsche 930 seems positively a cheap way to consider track time. What interests me about this car is something the seller mentions in the listing; this is an original Turbo, and still retains the original motor casing and transmission to prove it. Rob's recent modified 1984 911 "Turbo" model and Nate's odd M30 turbo M5 from yesterday prove that turbocharged motors popping up in unexpected packages isn't particularly uncommon, but original 930s rarely turn up in race car form:
Year: 1986
Model: 930
Engine: 3.4 liter turbocharged flat-6
Transmission: 4-speed manual
Mileage: 61,930 mi
Price: Reserve Auction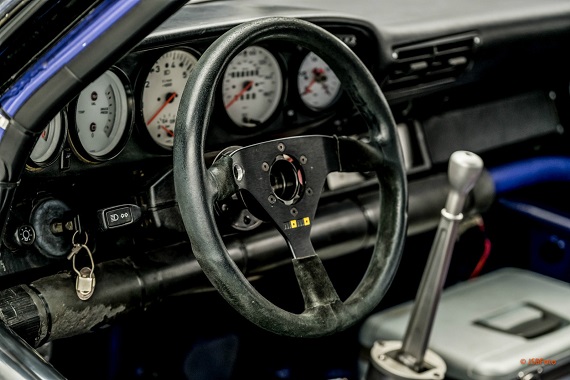 1986 Porsche 930 Turbo Race Car

PCA GT-1R

WP0ZZZ93ZGS051003

61903 Miles

This great looking Porsche Race Car is a real 930. Very few turbo racecars truly started out as 930's. This car has had very little race time on it, but lots of $$ spent on the best stuff you can get. It never has been in a accident, and started life as a nice road car. It has a proper full cage that is tied into all the correct pick up points. It comes with a Fuel Safe fuel cell, and all the legal safety items. The car retains correct number matching engine and transmission. Everything about this 930 is done right and professionally. Just recently it was at Rothsport and Jeff Gamroth with through the car and set it up, upgraded wiring, and replaced most of its plumbing. Also installed a Rothsport raised shift tower, new fire system, and serviced all the fluids. Also a new WEVO tall shifter is in the car. The car as a great look to it with the RSR style early fenders and 993 bumpers. It has fiberglass doors, and deck lid. It The car would be an excellent competitor in PCA racing, or with a few mods would be great in vintage events too.

The 3.4 98mm Turbo engine has been fully rebuilt. It has a K27/29 fresh Turbo. Fully built to full race specifications. ARP hardware, Ti retainers, Race rods, Custom dual plug heads, all new bearings, Turbosmart 50mm wastegate, New Head studs, Full Comp valve job, It has full Motec M84 fuel injection, massive intercooler and full race exhaust. All work done by Rothsport, Dyno sheets included with car. Zero race time on engine.

All the suspension is the best race components you can get for this era of racecar, plus massive Brembo brakes. It has full coil over suspension and adjustable sway bars. It is sitting on 315/30/18 rears and 265/35/18 fronts. It comes with Fiske three-piece alloy wheels. It is set up with a dual master brake set up for adjustable balance. Under the hood is a 935 style tower support.

It comes with the following spares: 2 Complete sets of new Toyo Race tires, Extra matching set of wheels, Spare Hargett shifter, Race Cam System, Spare fire Bottle, Aim Data system, Spare Recaro drivers seat, Spare Sparco seat for passenger, Spare 12 plug distributor, Cool Shirt system. Buyer will have to make arrangement to pick up spares separately at time of sale.

Over $30k just spent on prepping this car for the track.

The car can easily be set up for race to track day usage because of it easy drivability. With demand of Porsche racecars on the dramatic rise, this is a great car to get into PCA club racing or other local events. Please look at all the pictures to see the details on this 930.

Please Call 503 819 9007 for details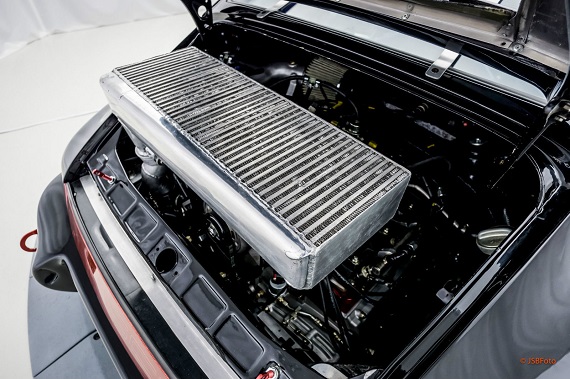 This car has obviously been extensively modified to race, but even with values in a slight decline on 930s, I wonder if there's still a market to take this car apart and return it to original. While that wouldn't be for the faint of heart, it's certainly possible and only requires money. Concours examples of 1986 930s are currently valued around $290,000; with the current bid at $42,000, that certainly leaves plenty of budget to do a full restoration if the reserve was reasonable. Or, you could drive and enjoy a more budget-friendly 930, which isn't likely to cost anywhere near a roadworthy example. The photography is beautiful, there's a lovely and appealing amount of patina and the build appears thorough – all that's left is the pillage the retirement account, mark a track day on your calendar and enjoy the wooshy widowmaker.
-Carter