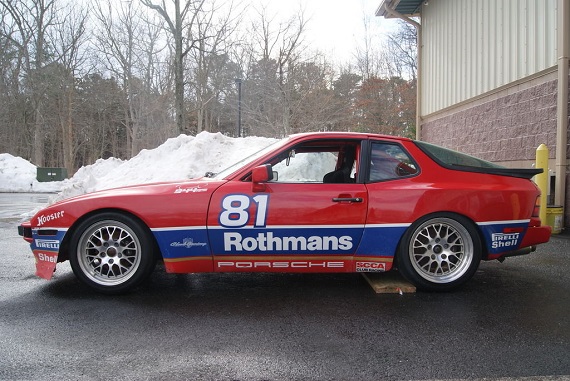 I still recall my first trip up to Mosport well in the early 2000s. I accompanied my father to a Porsche Club of America race up there, and his 924S was running against some pretty stiff competition. The fastest cars in his class at that event were a pair of pale yellow and black 944s, both wearing "Rothmans" livery. At the time, I figured these were custom graphics applied to mimic the look of the period Porsche race cars, but it didn't take long for me to be corrected, as one of the owners schooled me about the Rothmans Cup series. Even with a fair amount of brand-specific race knowledge, I had only been aware of the Turbo Cup that was run concurrently around the world as a support series for larger races, but Canada also had an earlier normally aspirated 944 Cup. These racers were the lightest 944s available, and though modifications were quite limited they were still very potent in original form when driven well. As the seller notes, only 31 of these lesser known racers were built, making them much more rare than their later Turbo counterparts, and these cars are now accepted at events such as the Rennsport Reunion, though properly driven they're still class leaders in PCA 944 Cup racing: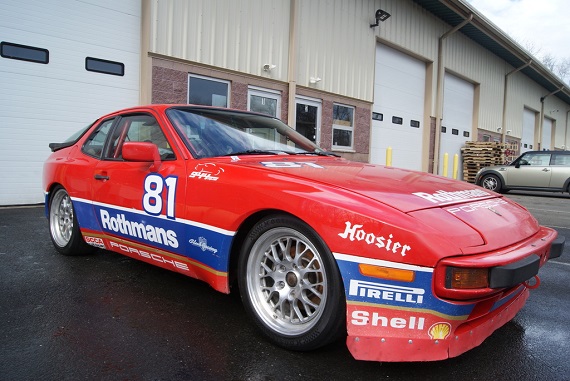 Year: 1986
Model: 944 Rothmans Cup
Engine: 2.5 liter inline-4
Transmission: 5-speed manual
Mileage: Not Listed
Price: Reserve Auction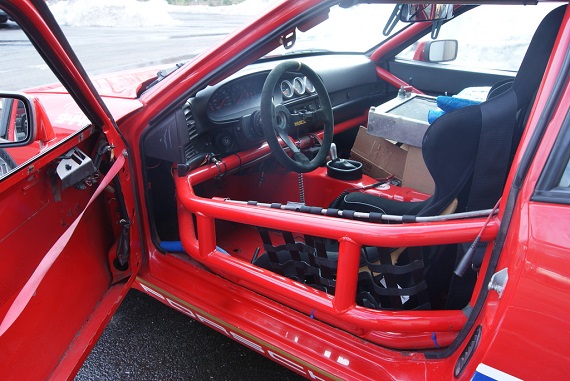 1986 Porsche 944 Cup Factory Race Car

1986 Porsche 944 Cup Car (chassis WP0ZZZ94ZGN455888) is one of 31 factory built 944 Cup cars originally constructed for the Rothmans Challenge Series in Canada.

Drivers in that Series included the likes of Scott Goodyear, Paul Tracy and Ron Fellows. Imported from Canada in 2003 and driven by the late Joe Hrymack to two national championships in 2006 and 2007 in 944 Cup Racing.

The car was raced on the Rothmans Series all through 1986 and 1987. It ran at all the races including Mosport, Montreal, Mont-Tremblant, Sanair and Shannonville, and finished mid to back of the pack at the hands of its first owner, an amateur driver.

Included with the sale is the Canadian CASC log book documenting it's history.

It was purchased by Hrymack in 2002 and he set out immediately to make the car as competitive as possible. He tore it apart and rebuilt the engine to a very high standard. Not until Joe Hrymack bought and sorted the car with tons of effort and research did he and the car get great results. He attacked the service and set up like not very many other racers who don't have professional teams behind them. No expense was spared. The receipts are voluminous. Joe is shown below following his victory at Mid-Ohio, which is referenced here on Rennlist in 2007 by forum poster "944Cup" who congratulates Joe on the win and states that "Joe has the car prepared in its original Rothmans livery and is in such fine shape that it could win a Concours event."

The car was last competitively raced by Hrymack before he passed away in 2011.

This is a rare opportunity to own a factory built race car with an interesting history for a very affordable price.

The current owner has had a mishap in the motor, though not diagnosed will need to be rebuilt, as you will see in pics, the motor is in pieces and ready for assembly to its previous glory.

Bear in mind, this is purely a track car, and not street legal!

Owner purchased the vehicle and has decided he does not have the time or ambition top take on this project.

Priced to sell !!!

Located in Central New Jersey 07753

Contact Dean at 848-459-7776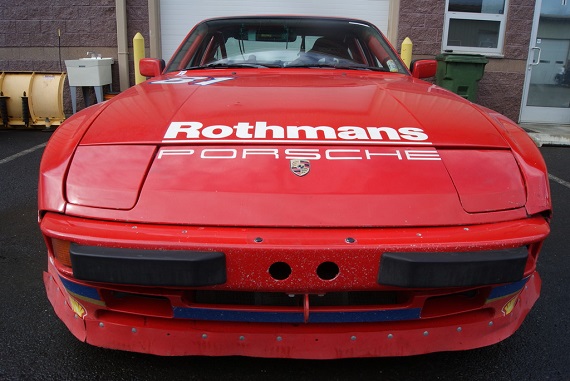 This car has been heavily modified from its original configuration and from a collector standpoint that's unfortunate; however, most of the parts that have been modified like the bumpers and valance could be returned to stock. These cars originally ran Fuchs wheels which would be a much more expensive retrofit for the correct units, but that pales in comparison to the cost of a proper engine rebuild. If you want a class-leading "stock" motor on one of these 944s, be prepared to part with somewhere between $30,000 and $40,000. The result will be 200 plus horsepower from a motor that supposedly only produced 150 and you can be a local hero briefly, but most will probably figure you're cheating. Figure in a bit more for development costs and suddenly these poor man's Porsches have indeed made you a poor man. Yet there's a market that is willing to spend that amount of money for these obscure factory cars, and current bidding – even with a blown, disassembled motor – is over $9,000. Most will shake their heads at that, but it's still a very rare bit of Porsche race history and ultimately that still generates some serious dollars today.
-Carter