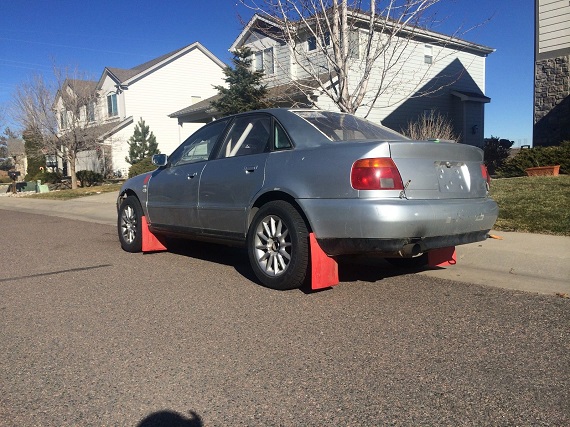 This past weekend, thanks in no small part to the atrocious weather pattern that seems to be sitting over my head in New England, I missed an opportunity to head to Warner Lake in New York and do some ice driving. While my participation in these events has generally involved instructing students and having a lot of sideways fun, the Audi events I attend are usually run in conjunction with a ice racing organization. If you think Audi quattros are top dog, then you need to see the heavily modified sprint cars on studs running around the ice. They put anything you could drive on the road to shame. But presuming you actually did want to drive there, older Audis are still pretty attractive options to have an ice racing car. First off, they're good on the ice – especially the older generation cars with less electronic interference. Secondly, they're generally pretty cheap and mostly reliable. Along with older Subarus, they seem to make up the brunt of cars that head to the ice. Of course, finding a decent older Audi quattro these days isn't always easy. One possible solution is to look towards the glut of cheap A4s that litter these shores.
I was recently having a discussion about this with my cousin. We both owned 4000 quattros as our first cars, and both are nostalgic about having one, but coming by a decent one can be difficult and the reality is that they're pretty slow out of the box. The A4, in comparison, isn't much quicker out of the gates thanks to a heavier chassis; but unlike the B2 they're plentiful, parts are easy to come by, and select one with the 1.8T motor and you can turn the wick up quite a bit. Plus, near us there's an A4 for sale every day of the week for less than $2,000 – most of them in pretty reasonable shape, amazingly. But instead of building an ice race car yourself, maybe it's easier to just buy one that someone else has already built: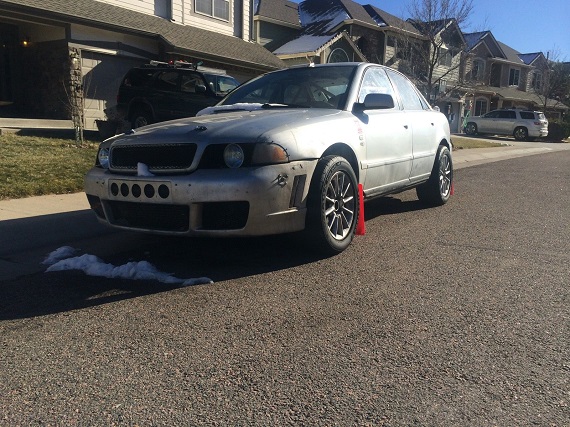 Year: 1997
Model: A4 1.8T quattro
Engine: 1.8 liter turbocharged inline-4
Transmission: 5-speed manual
Mileage: "3,200" mi
Price: $13,000 Buy It Now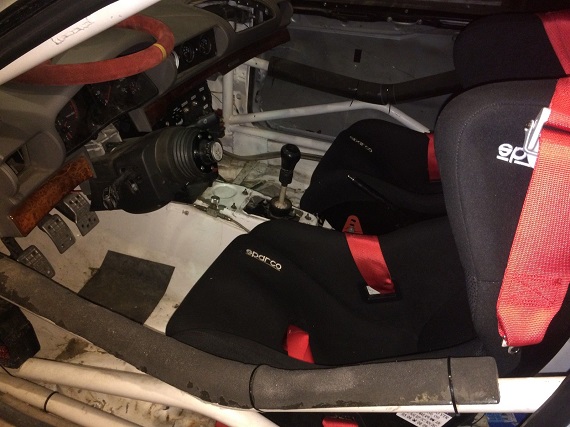 This is a 1997 Audi B5 A4 built for many types of racing right now is mostly set up for rally. The car has a fully built 20v 1.8T right now it is tune for 255AWHP and 305AWTQ. The motor is built for 600-650HP it can hold 33LBS of boost and the Garrett turbo is good for 27LBS. The Haltech it tuned for 91 right now but could be tuned for E85. i have two sets of rally tires, the rally computer, a hill climb exhaust, it has extra s4 suspension with 35,000 miles. There is also a 16 point roll cage and a custom spare tire holder. There is currently a RS4 bumper on it but i still have the stock one, same with the headlights. It also has Sparco Circuit Pro racing seats a Sparco steering wheel with a NRG quick release.
There is a lot I'm forgetting message me if you have any questions.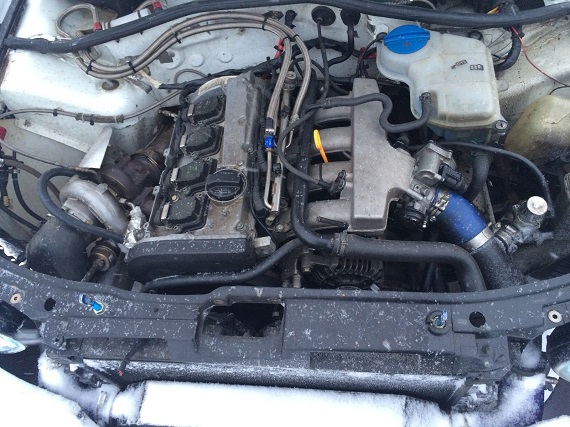 This car looks pretty stoutly built, though the intention was clearly not ice related as I've suggested. Would the A4 make a good rally car? Why not! I'm also a huge fan of rally, and though I must admit I don't think I've the attachments to thread the car through trees like Walter Rohrl the appeal of a cheap rally car is undeniable. The question is, though; is this car a good deal at $13,000? I'm afraid that's where I'd suggest you could probably do better building one yourself. Granted, build the car properly and you might come up with the same (or higher) bills as this build, but you could do what you wanted. If I wanted an ice race car, for example, having an engine capable of a claimed 650 horsepower would be pretty pointless. A stout cage, plenty of lightening, a functioning heat/defrost and a few sets of aggressive studded snows would be my priorities, and I think that could be done for less than half of the asking price of this car. But it's so infrequent to see race-prepared A4s come up for sale, it's still neat to contemplate this car. It has the makings of a good, cheap race recipe; this cake is just a bit too expensive for my budget tastes though.
-Carter