Why does the Audi S4 not get more attention on Motorsports Monday? Well, for most the generally heavy platform coupled with the forward bias of the relatively heavy motor doesn't equal track excitement. Motivation has never been a problem with Audi's fastest small chassis cars, but braking and turning aren't where the excel – especially compared to the competition from Munich and Stuttgart. However, a recent ride in my stripped-out and stiffened-up Audi left me the best part of an inch shorter and thinking. Going to the track is such a great time, but there must be a better balance between the 95% of the time that the car isn't at the track to the 5% it is – if you're lucky. And while in all out track performance, it's hard to argue with the E36 chassis as the best value going, the B5 S4 is a compelling alternative to have plenty of fun in between – and, year round: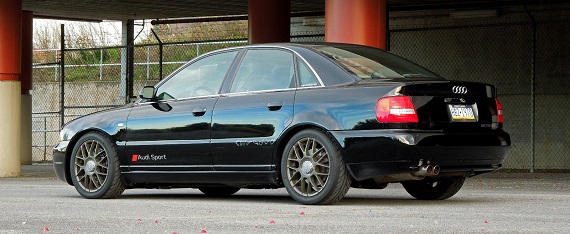 Year: 2000
Model: S4
Engine: 2.7 liter twin-turbocharged V6
Transmission: 6-speed manual
Mileage: 150,000 mi
Price: No Reserve Auction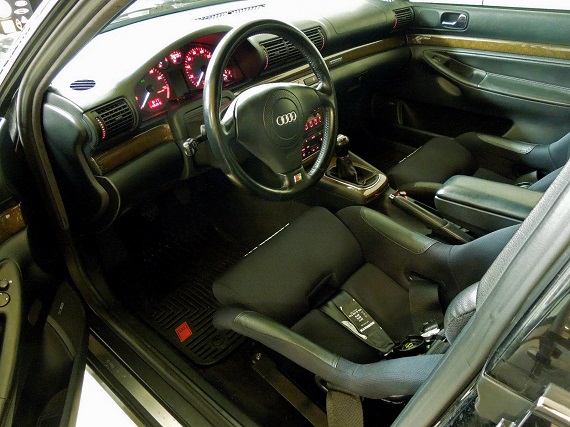 It is with a heavy heart that I'm selling this car, because it is SO much fun to drive, but I have too many cars and I only use it a few days a year, so it must go to free up some space.

I bought the car in 2009 to use for SCCA autocrosses and general fun driving on the street. After amassing a huge pile of event and season trophies with the car over a few years, I got more into HPDEs (track days), and the car began a slow but steady evolution into a track car. I never want to buy a tow vehicle or make a car unreasonable to drive on the street, and I always wanted to maintain the quality feel of an Audi S-car, so every decision about modifying the car was carefully weighed to make sure it would make the car better on the track, but not compromise the ability to drive to and from events and enjoy the car on the street, and not make it look like it had been hacked up. What has resulted is I think an outstanding car that strikes the perfect balance of being a real weapon on the track but still being comfortable, safe, and attractive.

Normally it's hard to compromise between track and street use; a car that is great at one will be terrible at the other, and it's hard to make a car that is good at both. I would say this car feels incredible on a racetrack, and feels good on the street. The rigid seats, stiff suspension, and competition alignment mean it certainly isn't the most comfortable to drive on bumpy public roads, but since it still has a full interior and solid Audi build quality, it's not out of place on the road. I recently drove the car from central Pennsylvania to Atlanta and back for a weekend at Road Atlanta, and it was a really enjoyable trip. If you are used to driving Audis, this one will definitely feel weird to you at first, but after you drive it for a bit you'll come to love it.

In addition to making decisions based on not ruining the car for street use, I've also been very careful not to make any decisions that are irreversible. No cutting/welding/bodywork/etc. has taken place. If you wanted to, you could convert this car back to a showroom-stock street car using nothing but normal hand tools. If that's your goal, this may not be the best car for you, but there's nothing stopping you.

Although I do have a few modest power modifications (APR Stage I tune and cat-back exhaust), the main focus of development has been on handling, safety, reliability, and driver comfort. The result is a car that is extremely easy to drive very fast on track; instructors who ride with me routinely comment on how well the car handles and how capable it feels. Handling is very neutral and the traction limit arrives with plenty of warning, and the car is very "friendly" when it loses grip. It never does anything surprising at all, it always behaves just how you expect, and it's very easy to control either with steering or throttle. The suspension is stiff enough to provide quick response and level cornering but compliant enough that you can use a lot of curbing if that's your style.

The car is very rewarding to drive fast. You will have the cheapest car at almost any HPDE event you attend, and yet you'll have no problem keeping pace with everybody there. This car has passed M3s, 911 GT3s, Vipers, Corvettes, Ferraris, etc. Certainly not because it's actually faster than those cars in all cases, but because it is *drivable*. While the GT3 driver is worrying about whether his car is going to swap ends on him, you'll be on the limit with supreme confidence. The S4 may not be the best down the straightaway against expensive new cars with twice the horsepower, but the rate at which this car can go through a turn is alarming.

In terms of lap time, the car is capable of the following comfortable, repeatable lap times without taking any risks or abusing the car. A better or more daring driver than me could no doubt beat these times. Slick tires would also help.

* Road Atlanta: 1:49
* Watkins Glen (full course): 2:25
* NJMP Thunderbolt (no chicanes): 1:39
* NJMP Lightning: 1:24
* PittRace North Track: 1:09
* PittRace Combined North & South: 2:11

I have a full spreadsheet of all the modifications that have been done to the car that I'm happy to share with interested buyers. The following are the highlights:

Engine/Drivetrain:
* Stage 1 APR tune with stock, 91, 93, and 100 octane programs
* AWE Tuning drivetrain stabilizer
* Vibrant cat-back exhaust

Wheels/Tires:
* BBS RC 17×7.5″ wheels (16 lbs each)
* Dunlop Direzza ZII tires, at least 50% tread left
* Original 17×7.5″ Avus wheels available if interested

Suspension
* 034 Density Line front control arms and solid metal tie rod ends
* 034 Density Line front strut mounts
* Vogtland lowering springs
* Bilstein dampers
* Hotchkis H-sport hollow 35mm front swaybar with updated links
* Neuspeed 19mm rear swaybar with updated links

Brakes
* Porsche/Brembo 928GTS 4-piston fixed calipers (same as Porsche 993 "Big Reds", just black instead of red)
* Larger B6/B7 Audi S4 rear rotors (300x22mm) with 034 caliper relocation bracket
* Braided stainless steel brake lines all around
* Hawk HP Plus pads all around
* Front brake cooling scoops/backing plates from VW Phaeton

Interior/Safety
* Corbeau FX-1 Pro rigid composite seats with custom slider brackets
* Schroth Clubman III 6-point harnesses with 2019 FIA expiration date
* Custom harness bar

Condition
* ~150k miles
* Interior 10/10
* Exterior 8/10 with some stone chips on the front, no major dents or scratches
* PA safety and emissions inspection through 6/2016

My 100% feedback rating is your guarantee of satisfaction. Feel free to email with any questions or to schedule a time to look at the car. I'm located right off I-80 and I-99 and can easily pick you up at a local airport if needed. I've bought and sold a lot of cars with both in-state and out-of-state buyers and will make the process painless and easy for you and you'll be on your way in your new car in no time!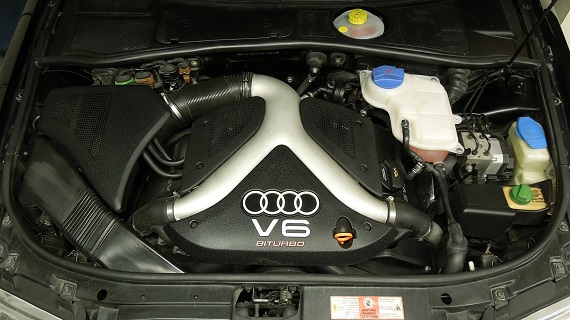 In terms of balance, this car may not be the perfect 50/50 weight distribution that track junkies love to flaunt, but it's a car that retains the livability and use of normal car functions much better than many cars we write up. The modifications are subtle and perfect; big Porsche brakes and stiffened suspension address the weak points of the B5 chassis, while a tune that isn't over the top retains drivability and cost a maintenance. Inside, 95% of what made the B5 a great highway car is still there, meaning you're arriving at – and more importantly, departing from – the track in relative comfort. Those who track lap times won't be staggered with the ones reported – indeed, my less powerful and front drive-only Coupe GT could best the WGI time without too much difficulty. However, as a total package this car is much more compelling and tastefully done. On top of that, there's still active aftermarket support for these cars and they're massively tunable. I especially like the A6 2.7T sport package BBS RC wheels – often overlooked as not flashy enough, they're super light and a nice addition to the aesthetic. But the really nice thing to look at is the price – at currently under $10,000, you've got a nice dual purpose car with style that will entertain you quite a bit. Yes, for more money you could go faster – but this car represents an awfully large amount of package and performance for the dollar.
-Carter