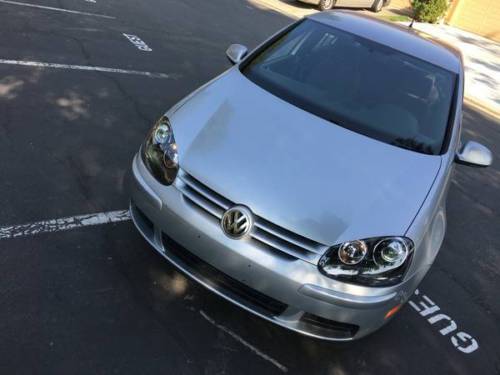 This is a $18,000 11 year old Volkswagen Golf. And, by Volkswagen Golf, I mean Rabbit, because for a short time VW North America apparently decided to resurrect the small fuzzy bunny name which dated back to the first generation. Hey, it had worked with the Beetle, right? Except that most people had negative associations with the Rabbit which outweighed the negative associations with the Mk.4 Golf. It was a strange choice that was pretty quickly abandoned. Whatever, it's the same car with a bunny symbol on it so you'll make Playboy fans all excited to see a kindred spirit driving. Yes, that's why they're giving you a thumbs up.
Okay, back to the price. It won't take anyone long to see that you can pop over to Volkswagen and buy a brand new Golf for under $20,000. This one is 11 years old and has nearly a quarter million miles on the chassis. I know Golfs retain silly residual value, but this is a bit ridiculous – or, is it?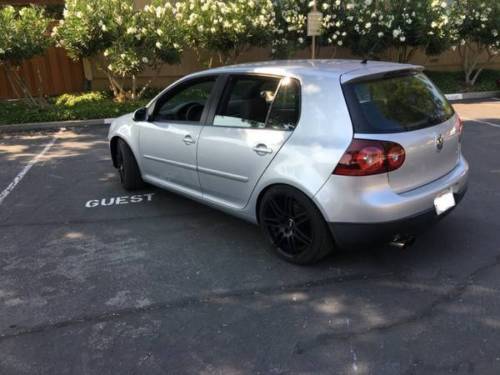 Year: 2006
Model: Rabbit
Engine: 2.5 liter inline-5
Transmission: 5-speed manual
Mileage: 248,472 mi
Price: $17,995 Buy It Now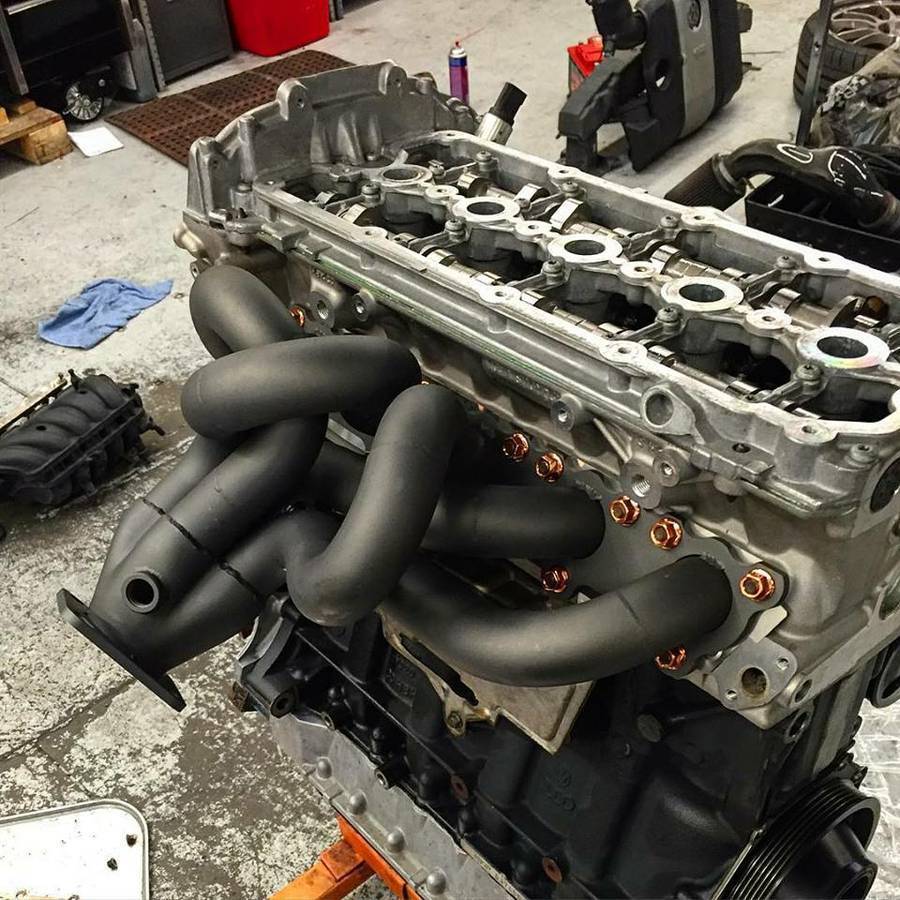 For sale is my 2006 MKV Volkswagen Rabbit. This car has been completely rebuilt for track use and or sprited driving. This project has taken me approximately five years with the help of 034 motorsports to tune and acquire the parts necessary to complete. I have invested $50k into this project not including the price of the car. I am the second owner of this car and have a clean title in hand with current registration. I purchased this car from a good family friend that used it as a commuter car since new. This car was featured at 034 motorsports for winter fest 2016 and summer fest 2016 and has never seen a track day since completed. I am selling this car due to the fact my priorities have changed and no longer have room for it. I have all receipts and documents to back up the work done since day one. This car is tuned for standard 91 pump octane and is normally aspirated. The current output of this engine is making 207 whp per the dyno chart included and the rev limiter is set at 8,300 RPM. I also have 80% of the original parts that were removed from the car and are included in the sale. Stock spare engine transmission, suspension, and interior parts come with the car. I have put 545 miles on this car since built and is garage kept.

A list below is what has been done to the car. Serious offers only! Test drive = cash in hand.

Thank you for looking!

I also have more photos upon request if needed.

If you have any questions please feel free to call 408-710-0144

Engine specs:

Stroke 92.8 mm x Bore 83mm
Catcams intake/ exhaust
1mm oversize high flow intake and exhaust ferrea titanium valves and springs
VW oem forged crank 6 bolt pattern
Integrated Engineering sri intake manifold
Integrated Engineering manual serpentine pulley tensioner
Integrated Engineering coolant hose kit
Integrated Engineering connecting rods w/ new crank bearings and rod bolts
Integrated Engineering vacuum pump block off plate
Integrated Engineering oil filter re locator plate
Integrated Engineering SAI BLOCK OFF PLATE KIT
Integrated Engineering fuel rail (billet finish)
New 20mm wrist pins
New JE forged pistons 11:1 compression
New ARP re usable head stud kit
New water pump vw oem
New a/c compressor
New re man alternator
New serpentine belts
New idler pulley assy
All new timing chains and components complete vw oem
New oil pan with bolts vw oem
New oil pump pick up tube assy vw oem
New radiator complete vw oem
New vw oem lifters
New a/c condenser vw oem
New water pump
New fuel pump assy complete
New spark plugs qty 5
Qty 5 Audi tt-rs Red top ignition coils
034 motorsports intake grommets
Custom 034 motorsports stainless steel cold air intake with APR intake filter (re chargeable)
034 motorsports catch can (black) w/ new hoses and fittings complete
034 motorsports track density motor mounts
Billet finish aluminum valve cover with one off 034 motorsports badge bolted on
19 row high efficiency oil cooler and hoses w/ new fittings
New odyssey red top battery
New coolant expansion tank
New Porsche coolant cap oil cap and washer cap matching oem
All new oem vw gaskets and engine seals

Transmission specs/ Drive line/ brakes:

Used transmission vw oem with aprox 60k miles inspected and tested (5spd)
New South bend stage 2 clutch kit with fly wheel
New Wave track limited slip differential
New vw oem clutch slave cylinder
034 motorsports street density Transmission mount
034 motorsports shifter cable end links
Neuspeed short shift kit
New replacement axles both lh and rh w/ new axle bolts
New steering rack boots
New wheel bearings on all four corners of car
New replacement front lower control arms both lh & rh w/ ball joints
New front tie rod end links w/ ball joints
New brake rotors and pads for all four corners of car

Suspension specs:

B&G RS2 3 way full adjustable coil over kit for front and rear of car
B&G adjustable front sway bar end links
Integrated Engineering front adjustable camber plates
Neuspeed front anti-sway bar 25mm
034 motorsports track density strut mount bearings for front both lh & rh
034 motorsports sub frame locking collars
034 motorsports 28mm solid rear sway bar kit w/ busings and hardware
034 motorsports rear anti-sway bar adjustable rear end links
034 motorsports rear trailing arm bushings both lh and rh

Exhaust specs:

Evolution tuning stainless steel exhaust manifold ceramic coated (hand made)
Stainless steel USP Down pipe decatted 2.5″
Eurojet 2.5″ full high flow stainless steel cat back system

Body/ lights/ interior and wheels:

Rennline aluminum front belly pan/ Skid plate
New replacement wheel well liners for front w/ new hardware complete
VMR Audi RS4 black replica wheels 18″ x 8.5″
New Hankook 225/40zr16 92y Ventus V12 Evo2 (all four)
New Depot Black projector headlights (gti style)
New H7 4k HID low beam kit complete
New stubby whip antenna
LED third brake light
Dark smoke Turn signal indicators for mirrors to match wheels and head lamps
VOTEX rear tail light set (dark red)
Reupholstered head liner and pillars w/ black foam back suede
New/ used matching interior pieces to match black head liner and pillars all oem
LED interior light kit

The rest of the car is full loaded minus sun roof/ moon roof the body does have some minor dents and dings from the previous owner that I did not care to fix.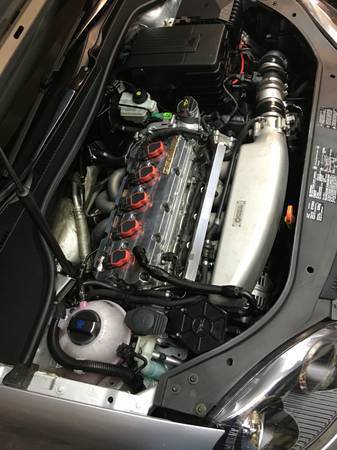 Why not just build a GTI? That 5th cylinder in the 07K, of course, because the Rabbits from this generation came with the transversely mounted 5-pot rather than the current small displacement turbo. The 07K has become very popular as a tuning base, but usually the applications add a turbo. This one doesn't, with a high-revving naturally aspirated motor in its place. 207 wheel horsepower is the result of the build and it's pretty impressive; factoring drivetrain loss, figure this custom-built atmospheric inline-5 is cranking out close to 100hp/liter. The seller has fully upgraded everything else to go along with that additional power, and it is presented in a very discrete package. From what's shown, it's all pretty impressive – though, frankly, it should be for the claimed $50,000 invested.
Back to the question above, though – why not just build a GTI? You can get a 5-door in this generation, and though the 2.0T has some drawbacks, you can easily get them past 250 horsepower with even more torque. It won't be the instantaneous response and screaming Audi-rally soundtrack, but it'll be faster. And, it would be cheaper – a lot cheaper. For example, I found a 2007 2-door 6-speed on eBay for under $6,000. While it's not perfect or a 4-door, it's got 100,000 miles less and you'd have a $11,000 budget to turn it up. I respect that the seller of this Rabbit went in a different direction, and the 07K build is pretty cool. But the reason everyone is jumping on them is because they're dirt cheap (you can buy a whole motor, sometimes with wiring, for about $600) – and this Rabbit isn't.
-Carter