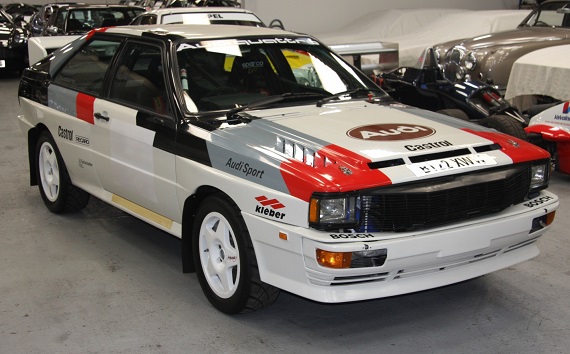 While I'm sure we've all had moments of regret, I'll share one of mine. It involves a crazy story of how close I got to a owning Quattro. Several years ago, my then brother-in-law was really into Toyota pickup trucks from the 1980s, and seemingly was buying every single one on Craigslist. He called me,quite excited, one day saying that he needed a hand picking one up not far from where I lived. As a bonus, he told me, the guy owned an "old Audi race car" that I'd like seeing. This somehow turned into me driving to my parents home to get the car trailer, then back to the guy's home to pick up this Toyota. The wheels were locked and I had to use the tow straps as come-alongs to tow the wreck of a pickup onto the trailer. Once done, sweaty and annoyed I turned my attention to the boxy silhouette that lay behind where the truck had been. The red and brown stripes were unmistakable in their journey over the flared arches and up over the angular C-pillar; it was an Audi Quattro. And, it was in a horrible state; sitting in weeds, the composite hood was warped and full of holes; no engine lay under where it haphazardly lay. Closer inspection revealed that the flares were larger than normal, too – but it was a bit of a wreck. Proudly the owner told me how he was going to restore this car to it's former glory as an SCCA ProRally car; I nodded in the knowing way that it was unlikely under his ownership to turn another wheel judging by the pickup I had just dragged onto my trailer. I left, shaking my head a bit that it was a car wasted.
Fast forward a few years and I got a call from my brother-in-law; he had heard from the seller of the pickup who wanted to get in touch with me about the Quattro. I told my relation that I wasn't really in a place to pay for another car – especially one which looked like that car did. But a call to the owner revealed he was in a spot of bother and needed to get rid of the car. If I simply turned up and dragged it out, it would be mine. Hurriedly, I jumped in my truck and was off to pick up the trailer. About 3 miles from my parent's home, a loud "BOOM" greeted me when leaving a stoplight. The truck still moved but the transmission was obviously not right. I got underneath to find a large hole in the transfer case; so began my complete hatred of General Motors. I called the owner, disappointed, telling him I couldn't make it. He, too, was disappointed, but put a call in to another potential party who turned up to pick up the car. I was about 20 miles from classic Audi Quattro ownership, and it slipped through my fingers. True, it was probably a mixed blessing – the car needed a full restoration and would have been a bit of a money pit, and it wasn't an original factory works car but one that had been converted – but running across a listing like today's similarly converted car makes me wonder what it would have been like: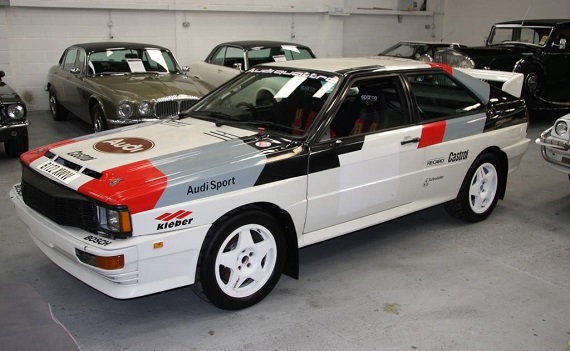 Year: Not Listed
Model: Quattro
Engine: 2.1 liter turbocharged inline-5
Transmission: 5-speed manual
Mileage: Not Listed mi
Price: GBP 37,995 ($59,562 Today)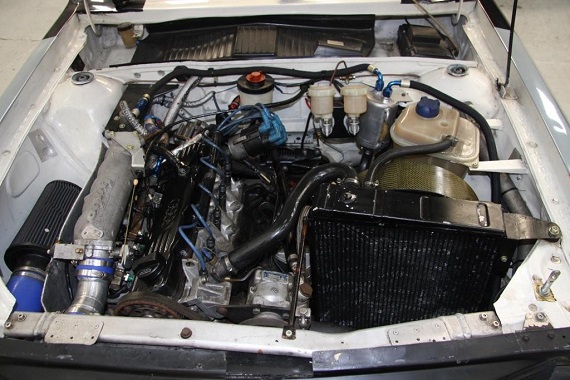 Built by an Audi Tech mechanic, this Quattro has been in the same family for 20 years, and has been used at club level events only. Comprehensive specification includes: Brembo brakes, slave cylinders & master cylinders, LSD, green injectors, Lumenition engine management system, uprated fuel pumps, forged pistons, aluminium sump, big turbo with adjustable boost, 3″ stainless exhaust, Speedline competition alloys and full safety equipment. Front mounted oil cooler, large uprated radiator, braided hoses and fuel lines.

The seam welded shell has an FIA cage, rear fire wall, Sport Quattro bonnet and a high level boot spoiler. Coil over suspension, Sport Quattro arms and aluminium strengthening bars.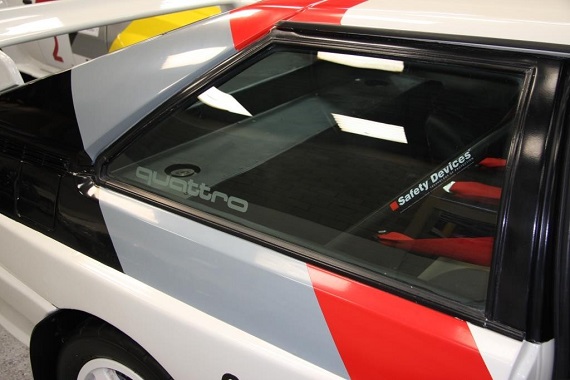 Much like E30 M3 race cars, it was popular to convert these relatively cheap Quattros into WRC replicas for some time. With values on the rise and quite a few convincing replicas out there now, it's unlikely to be a trend we'll see continue. This one has some of the right bits; upgraded suspension and engine along with period-looking Speedlines and what was likely a visit to AM Cars Limited to get some rally-bits and livery. All in all, it looks like the real deal to most. And with values of the real factory cars in the hundreds of thousands of dollars, perhaps at $60,000 it's not a bad value. It appears top-shelf items were used in the build, but no interior shots are included and it's not clear what year the car is or what engine configuration was used; though it's clearly an early 10 valve build, it's interesting that they used the later black Audi Sport colors instead of the early brown stripes. But it's so pretty it seems to be a shame to contemplate hurling it at trees and through muddy crossings – perhaps the failing of making a car so clean. You could build one yourself for a bit less than the asking price of this car, but then you'd be taking another Quattro off the road, and that would be even more of a shame considering how few remain in serviceable shape. It'll take someone with a large amount of disposable income to run this car in anger but it's a history lesson for enthusiasts today that someone should undertake. The fire-belching, roaring inline-5s are a glorious reminder of an age gone and even though it's a replica, this car reminds us of how special that time was.
-Carter