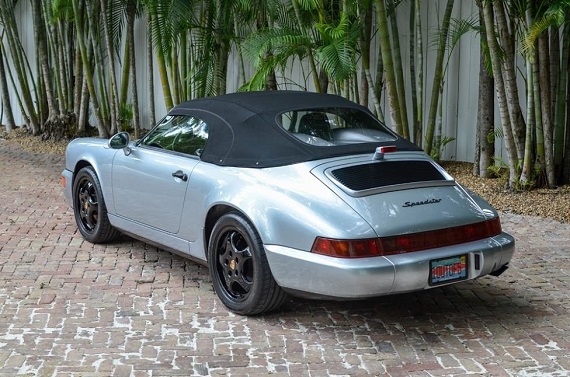 The very rare Polar Silver 1994 Porsche 911 Speedster we featured back in early April is back up for sale. The price has been reduced by $10K, but at $225,000 it's still quite high. With only 5 examples produced in this color will someone be willing to take the plunge?
The below post originally appeared on our site April 6, 2015: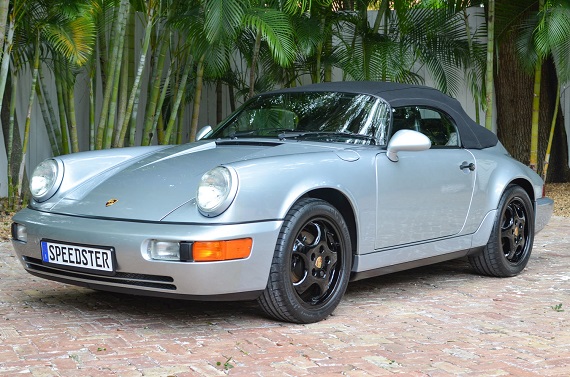 What happens when a rare color doesn't seem so rare? Or at least it isn't a color that we would expect to be very rare. That is the peculiar situation in which we find this Polar Silver 1994 Porsche 911 Speedster, located in Miami. These days coming across a Silver Porsche or Mercedes is a daily occurrence, but the presence of the color wasn't always so ubiquitous. Still, it is difficult to think of Silver as possessing a degree of rarity, even if it is a particular shade of Silver, in this case Polar Silver which does have a lot of fans, but that appears to be exactly the case with the 1994 911 Speedster. With a purported 5 produced in total in this color that makes this a rare find of an already rare production vehicle. The question, of course, is how much does the market care? Really striking rare colors, especially pastel colors, tend to command a premium all else being equal, but can Polar Silver see the same results? The auction of this car should help us in that regard.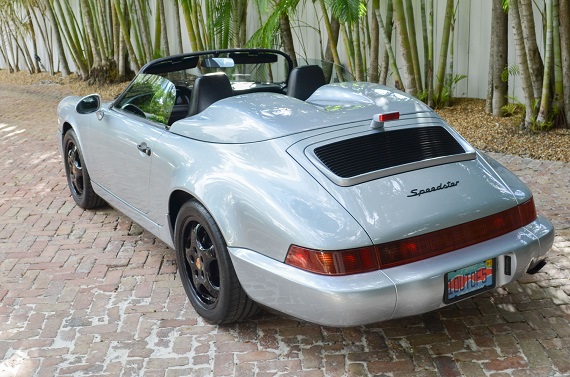 Year: 1994
Model: 911 Speedster
Engine: 3.6 liter flat-6
Transmission: 5-speed manual
Mileage: 19,000 mi
Price: $235,000 Buy It Now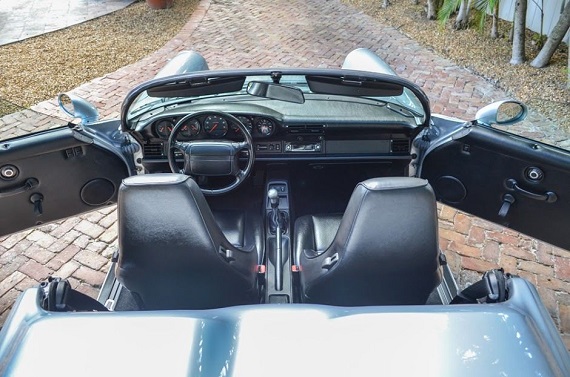 Mileage: 19000
Trans: Manual
Condition: Mint
Exterior: Polar Sliver
Interior: Black Leather

Description: Looking for something rare. 1994 Porsche 964 Speedster in Polar Silver. 1 out of 5 in the world produced in polar sliver. Total number produced 409. This car comes with black leather interior and is in concours museum condition with 19k original miles. no paintwork no scratches no dents no scuffs. Includes tool kit, air pump kit, books service records and manuals. Everything is stock and original. The car is kept in a climate controlled garage by a private collector for over 9 years. Car has been serviced and maintained on a regular basis. This car has been published in Porsche 911 Enthusiast Companion by Adrian Streather and numerous magazines. Formerly owned by Don Watson. It comes with original certificate of authenticity and a letter from vice president of Porsche stating that it's only 1 out of 5 in the world polar sliver. 19k perfect miles. $235k. Over 100 additional photos are available upon request. Serious inquiries only please. http://www.turn1photos.com/1994-porsche-964-speedster/

Shipping: Local pick up only
Items location: Miami Beach, Florida 33139, United States

Phone: +1 305-753-8197
Price: $235,000.00
Payment: Wire transfer, Pay Pal, Cashier Check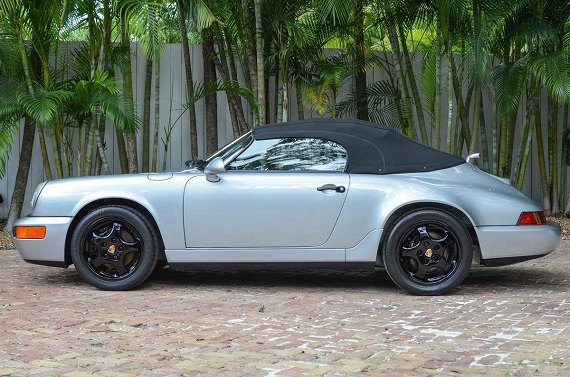 I'm fairly certain I've seen this car for sale for a while now so the market clearly has not accepted this asking price as representing the going rate. The painted wheels probably aren't helping, but I can't imagine they would discourage too many buyers given the value of a Speedster in general. That said, as I noted above, Polar Silver has its fans and it is a striking variant of the shade given the way its hints of blue shift the color in sunlight and in shade. So this may be a case of waiting for the right buyer to come along.
-Rob